The Whitechapel Gallery in London today was previewing The Production Line of Happiness, a retrospective of the work of Christopher Williams.
The show is fierce and energising, and unlike most retrospectives, is totally alive.
The show has already appeared at the Art Institute in Chicago and MoMA in New York, but arrives here in a fresh form that responds to the space and the history of the building.
His art is academic and involved, often with a story or meaning that remains hidden.
But it is also generous.
Williams works with photography, but isn't a photographer. To look at the images isolated misses out all else that is going on.
Before you enter, it's already a shock.
Did someone forget to clear up from the last show?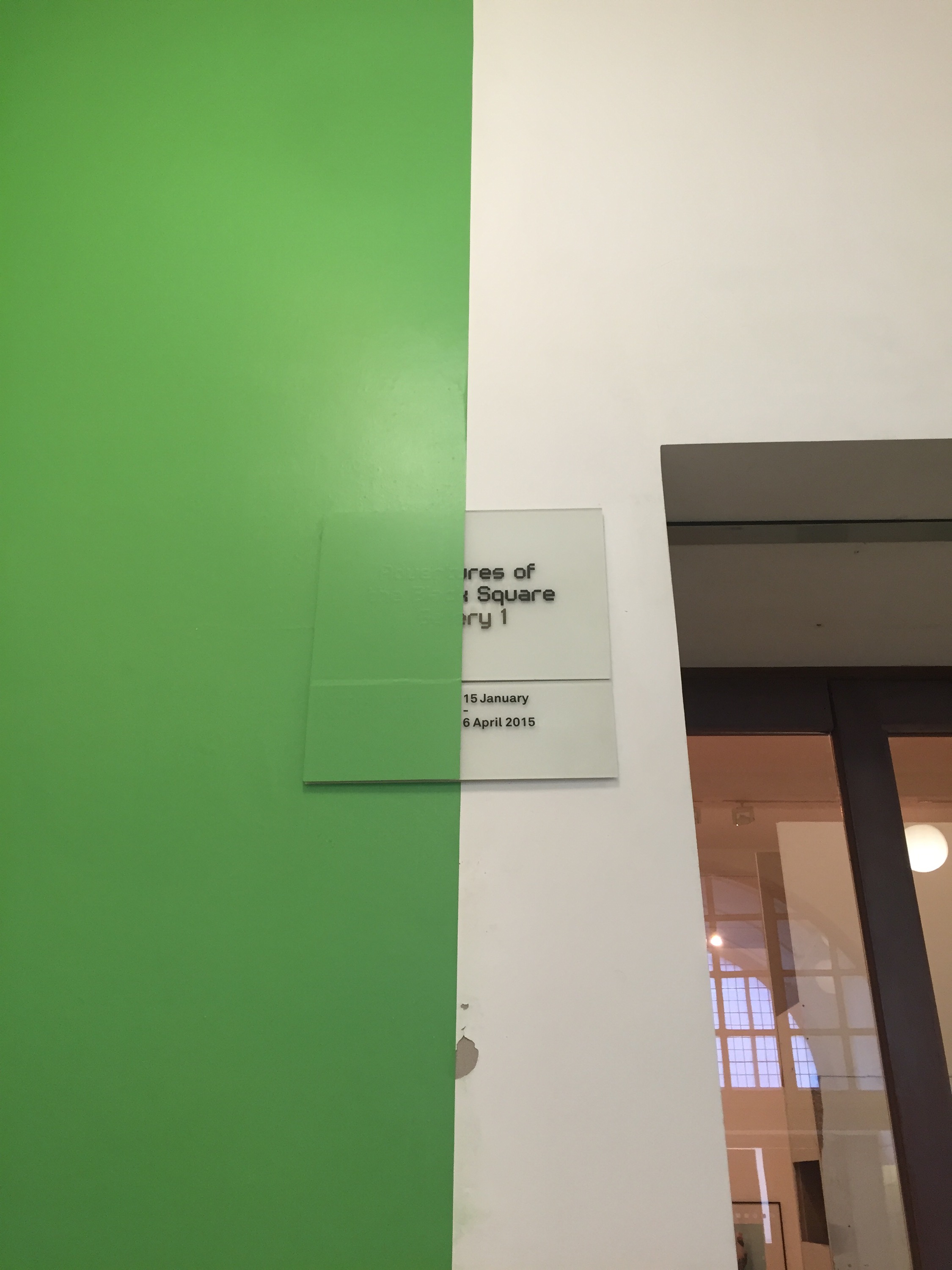 Here's how it looks inside.
Parts of walls as the display.
Like a gallery disrupted.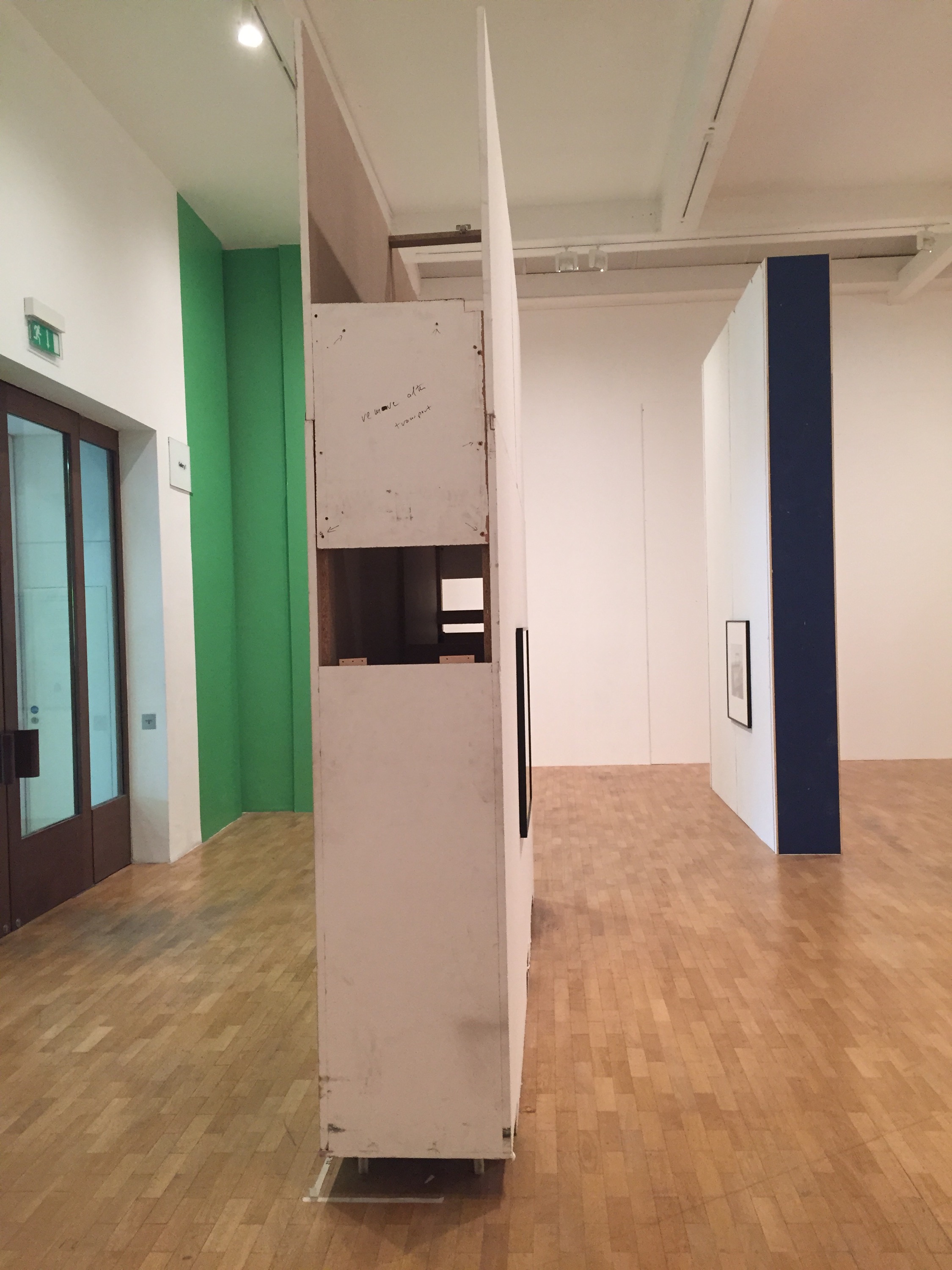 Something so immediately imperfect in a gallery space is already energising.
I can take a photo of a work close-up…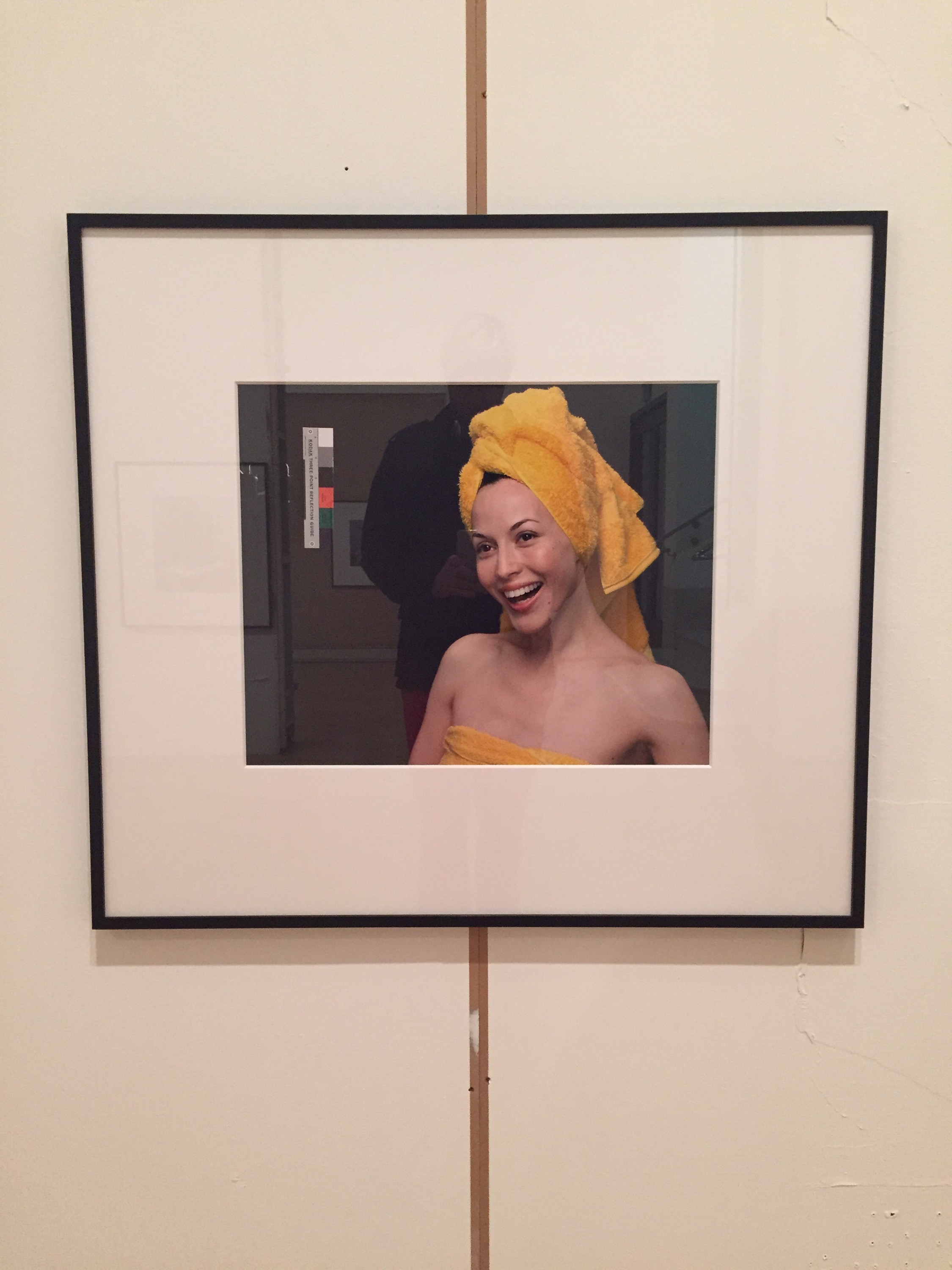 But it makes more sense in a wider context.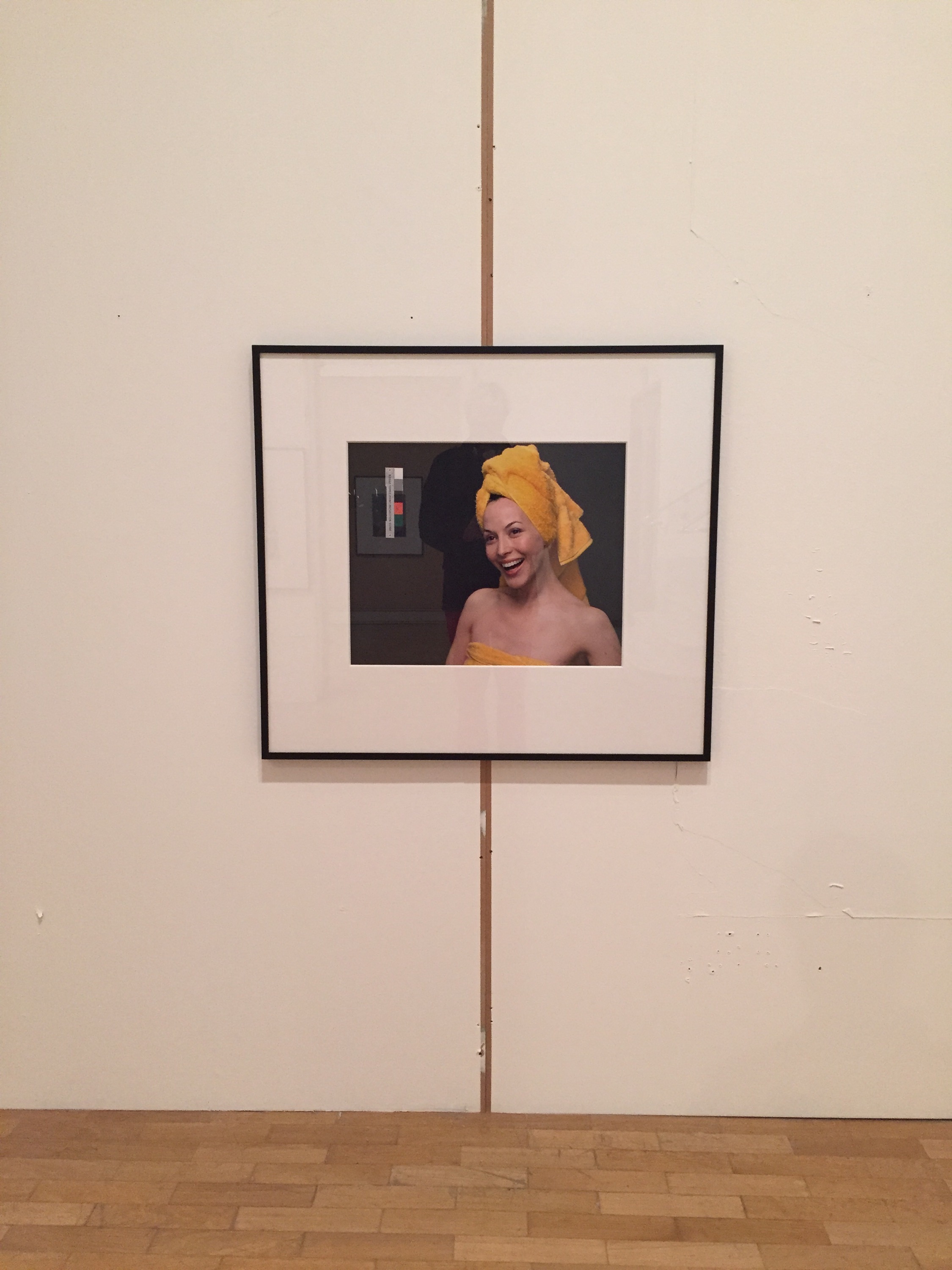 At these press previews, there's usually a curators tour, which most of the time I avoid.
Not this morning.
Williams himself was present, his involvement in the show that active.
This is no hagiography.
And so I switched on my recorder.
I'm going to print excerpts, because as Williams said later in the tour, "I'm very good at talking for thirty seconds or for like eight hours".
We start in the foyer of the Whitechapel, usually a space separate from whatever show is inside the main galleries.
But as curator Mark Godfrey pointed out, for the seminal Whitechapel show This Is Tomorrow from 1956, the space was used to house Richard Hamilton's Fun House.
[an image of the Fun House from last year's Tate Modern show]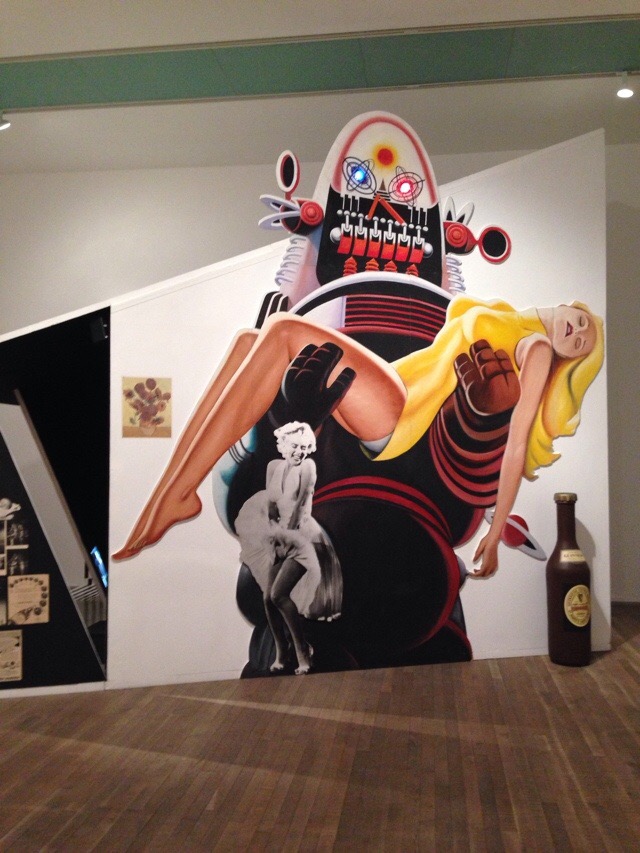 Williams will later talk about his view of art as a dialogue, both within itself and with an audience.
Hamilton is important to him, especially within the gallery that this show is housed.
And too is the show that was on before him.
CHRISTOPHER WILLIAMS: I think also the exhibition starts further back in time in a way, if you think of art as a dialogue with other art. This exhibition starts with the Adventures Of The Black Square and that suggests it starts maybe with the beginning of modernism and then on to the Hamilton work on exhibition design [as seen in the Tate show last year, Hamilton's early work was much involved in the workings of an exhibition itself].
Exhibition design is very important to me, as a way of framing my photographic activity. I think of this as an essay in photographs, walls, printed matter and different kinds of dialogue. Out here we confront the signage of exhibition design…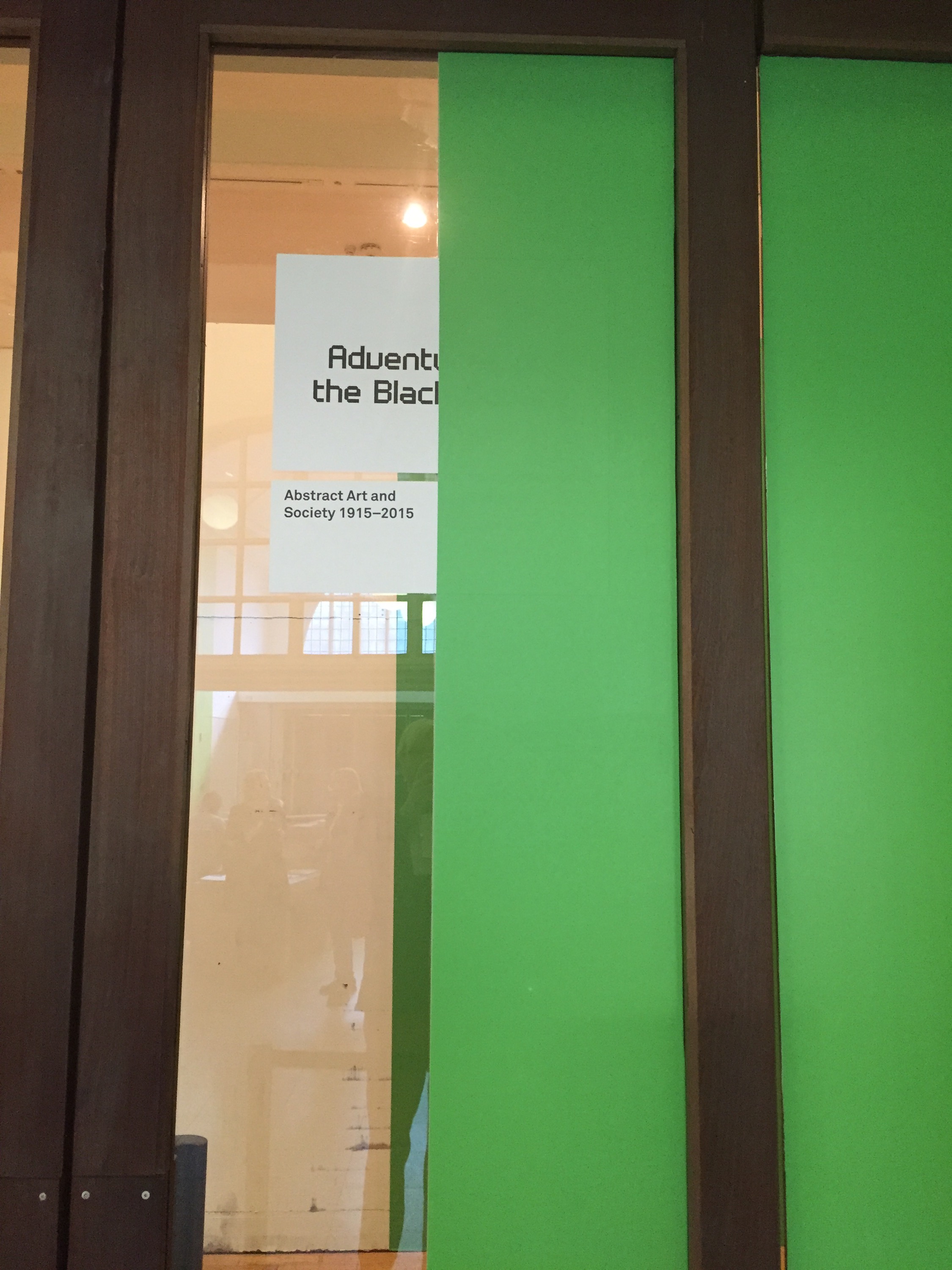 CW: …but it also leads directly into the catalogue of the show. It generated two books [those two books on my kitchen table]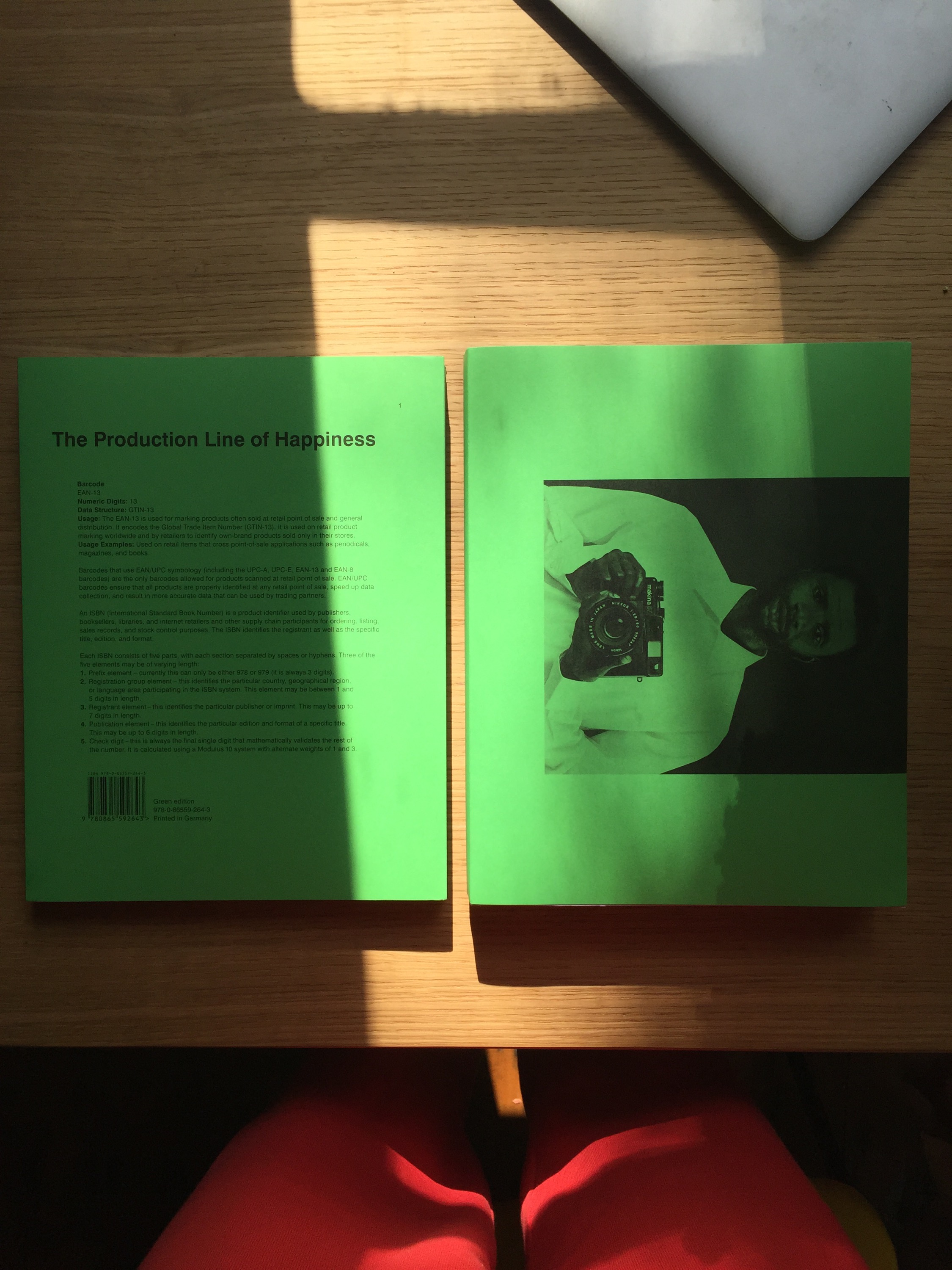 CW: At MoMA they were red. In Chicago they were yellow, so each exhibition has its own identity. But also coming to this space I looked at it and I thought maybe we could guide the viewers through the show with colour rather than language. So you'll see as you move through the show the green panels reemerge.
One other thing. I think this space is the handshake for the show [the corner of the bookstore, with one of the books displayed in the vitrine]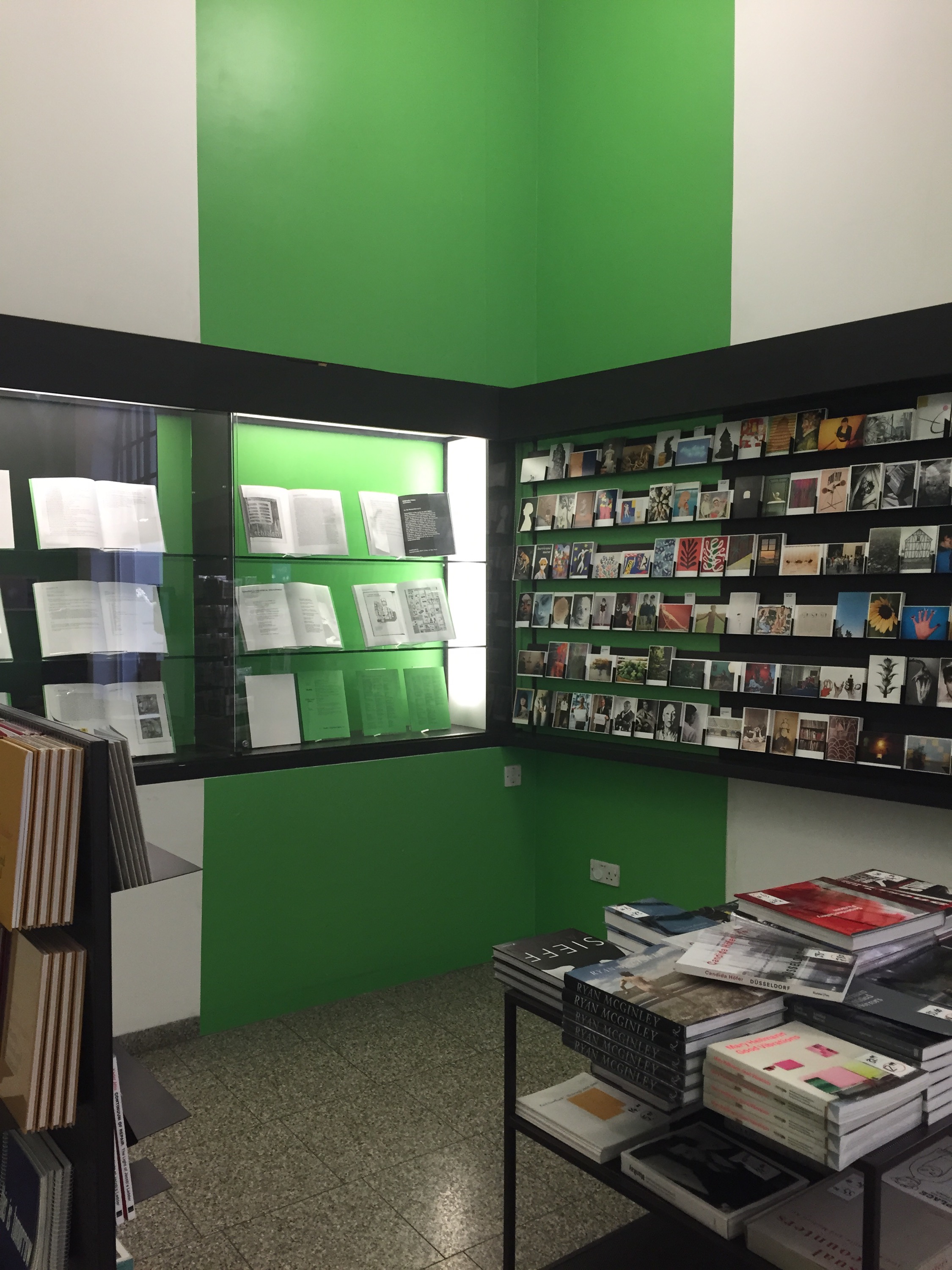 CW: This is where the viewer is greeted. And there's a little bit of a struggle between artist and institutional handshakes, and I think it's really generous of the Whitechapel to allow me to share the greeting out here with the viewer. I think it suggests the artist was present in the house and that's really important. Because in contemporary art in an instituitional context, the artist gets marginalised in relationship to other voices. I think this is an artist-centred institution and they were very generous with.. is that OK?
–
Williams was asking the curator, Mark Godfrey. We moved inside, to stand by a work that references Daniel Buren, images of whose Seven Ballets in Manhattan had been included in Adventures Of The White Square.
The work by Williams.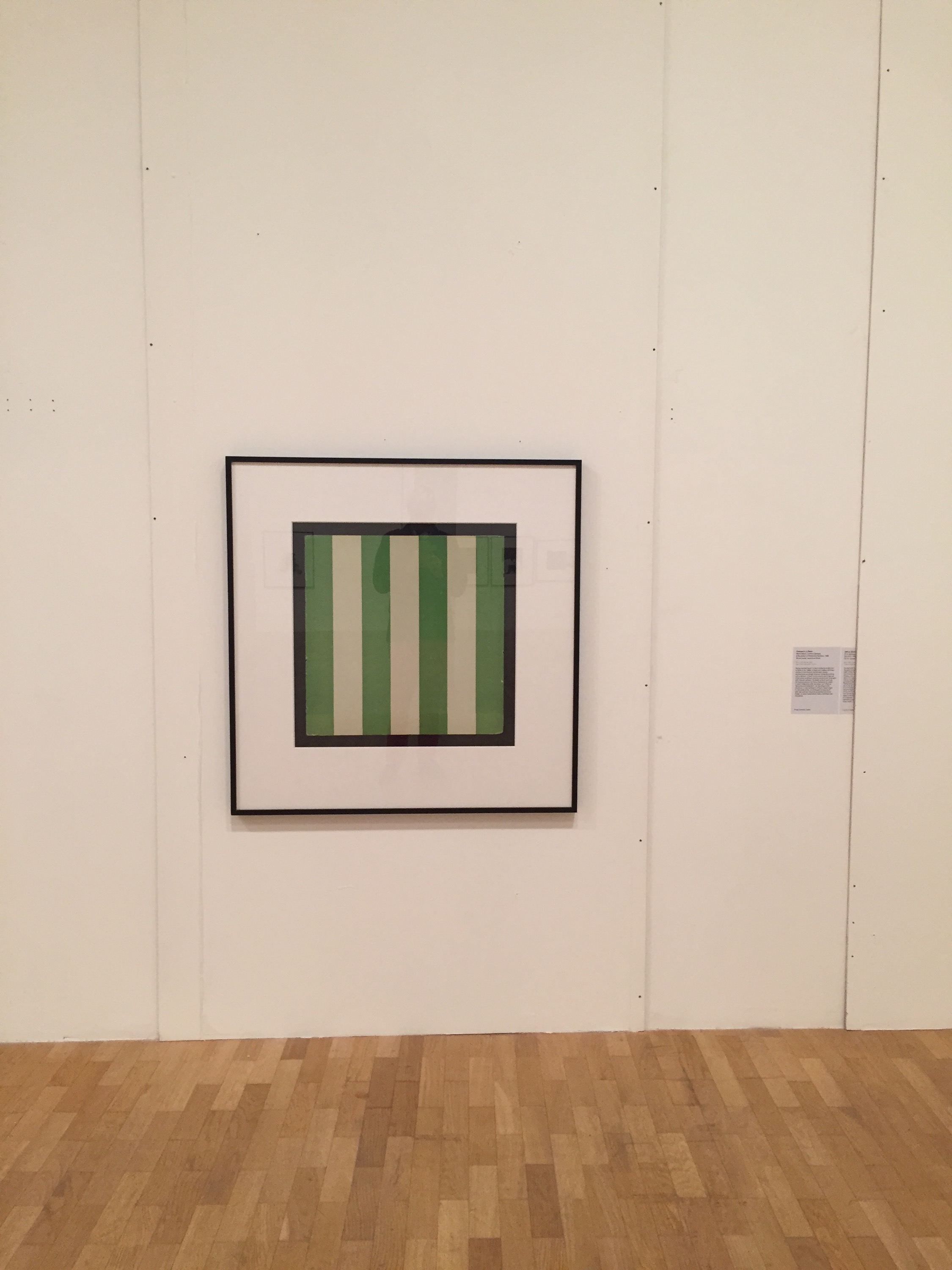 That label is a remnant from the previous show.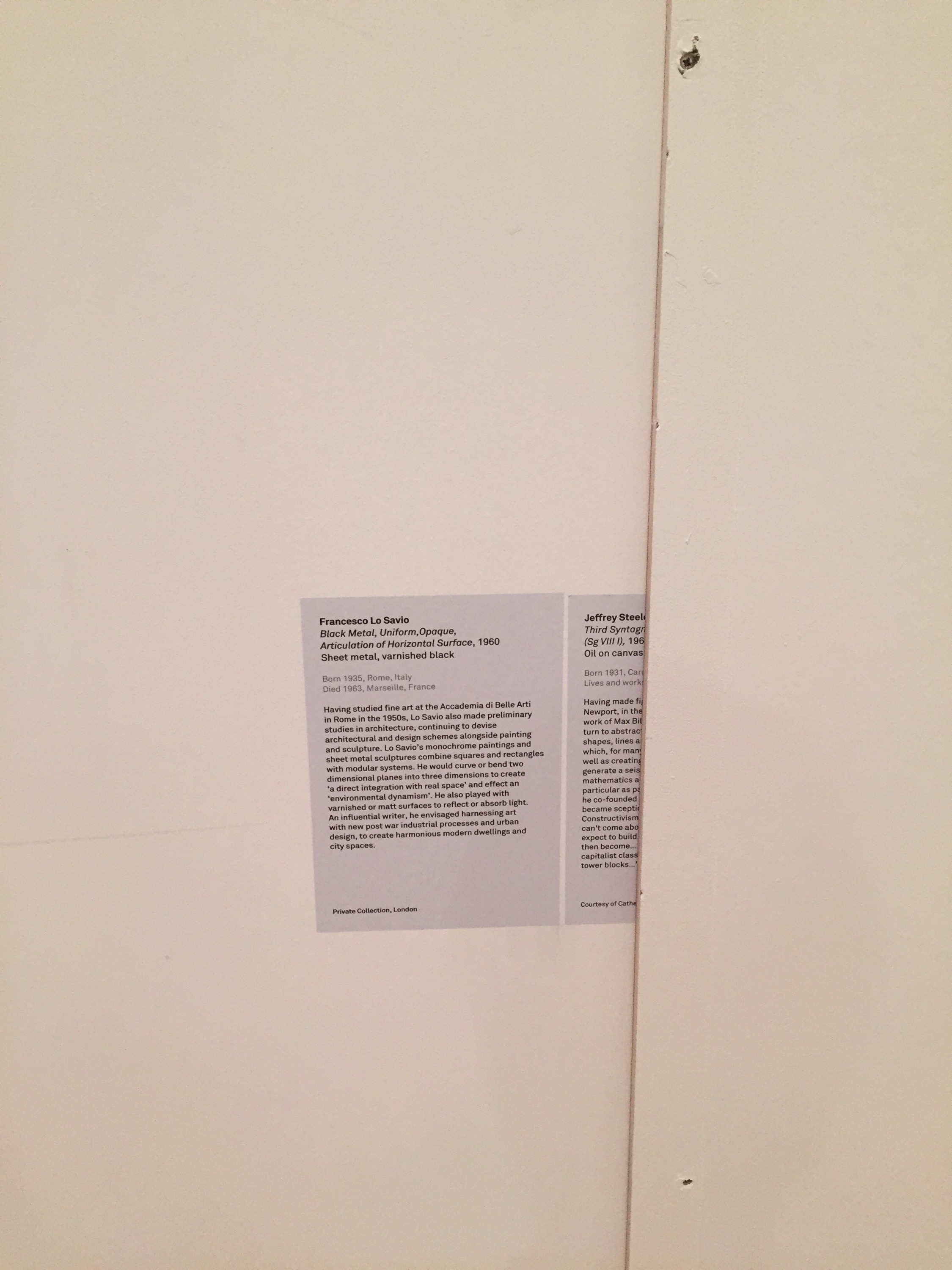 Williams said that often the titles of his works are a page long, so wall labels are pretty much out of the picture.
He talked about how this work referred to a ceiling piece by Buren, and "utilising the institutional framing devices as their subject matter."
CW: "This for me pushes two things together that are really crucial for understanding my work in my opinion, which is the photographic way of seeing, a very clear objective way of seeing, not soft focus, not coloured filters, not expressionistic, but really examining an object as closely as possible and creating the conditions for you to view it as closely as possible, and its also a reference to instituational critic and conceptual art and those things. So in this are those two things.
–
He went on to explain the use of walls.
CW: We're talking about an essay in walls, pictures and books. The walls have all been borrowed from German museums, from a couple of museums in the Rhineland. It's a mobile wall system, it's called the Wolfsburg wall system, and it's a light, fast system for building walls.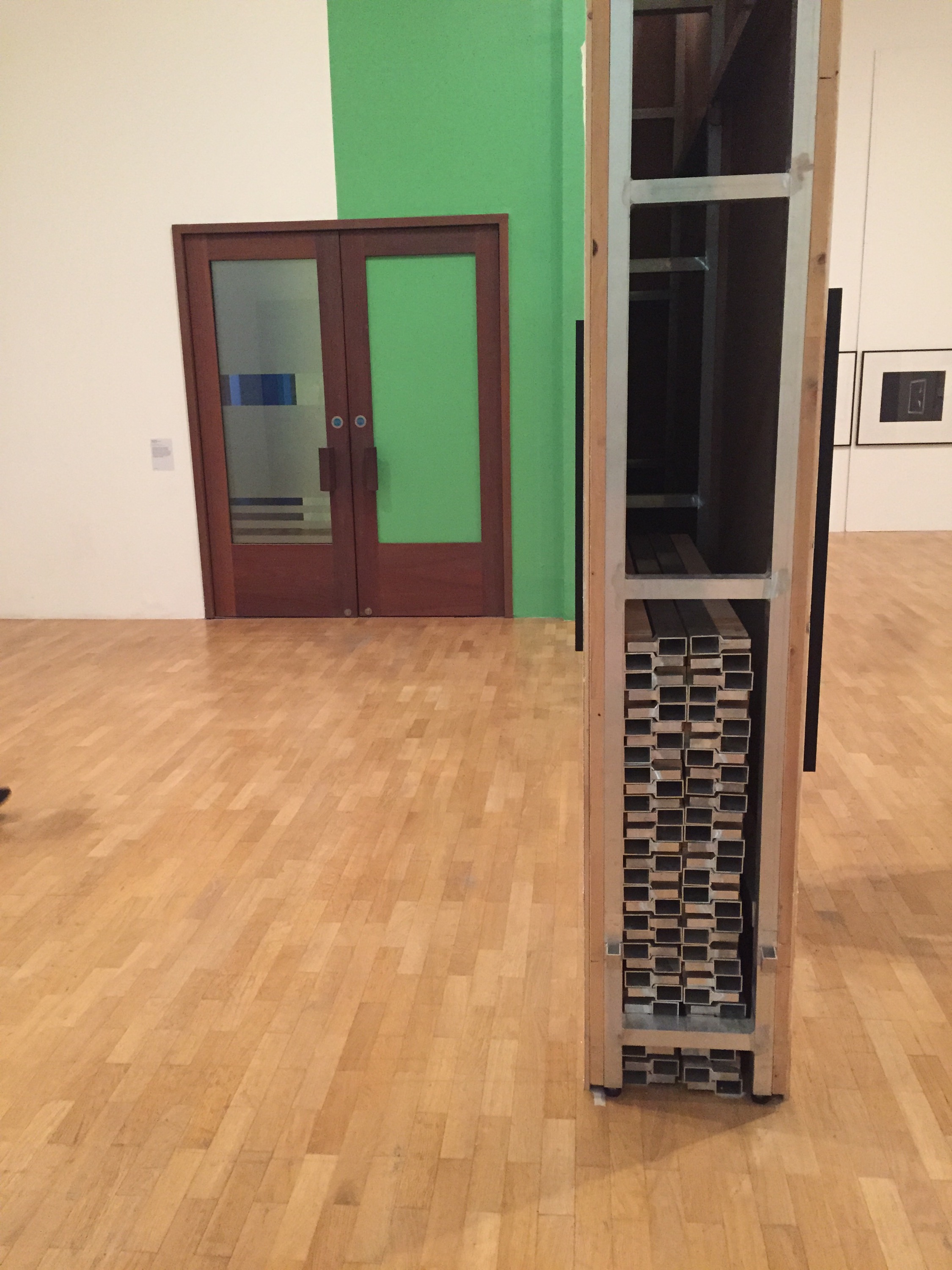 CW: At one point we were going to build all cinder block walls based on Richard Hamilton installation, it was cheap in the 50s but now it's a very expensive way to build walls so we were looking for an affordable alternative, so we brought in these German walls which have a whole other history, so you'll see a map here, the fragments of a map, that's from the last exhibition these walls were used in, it was an exhibition about Paul Klee in Egypt.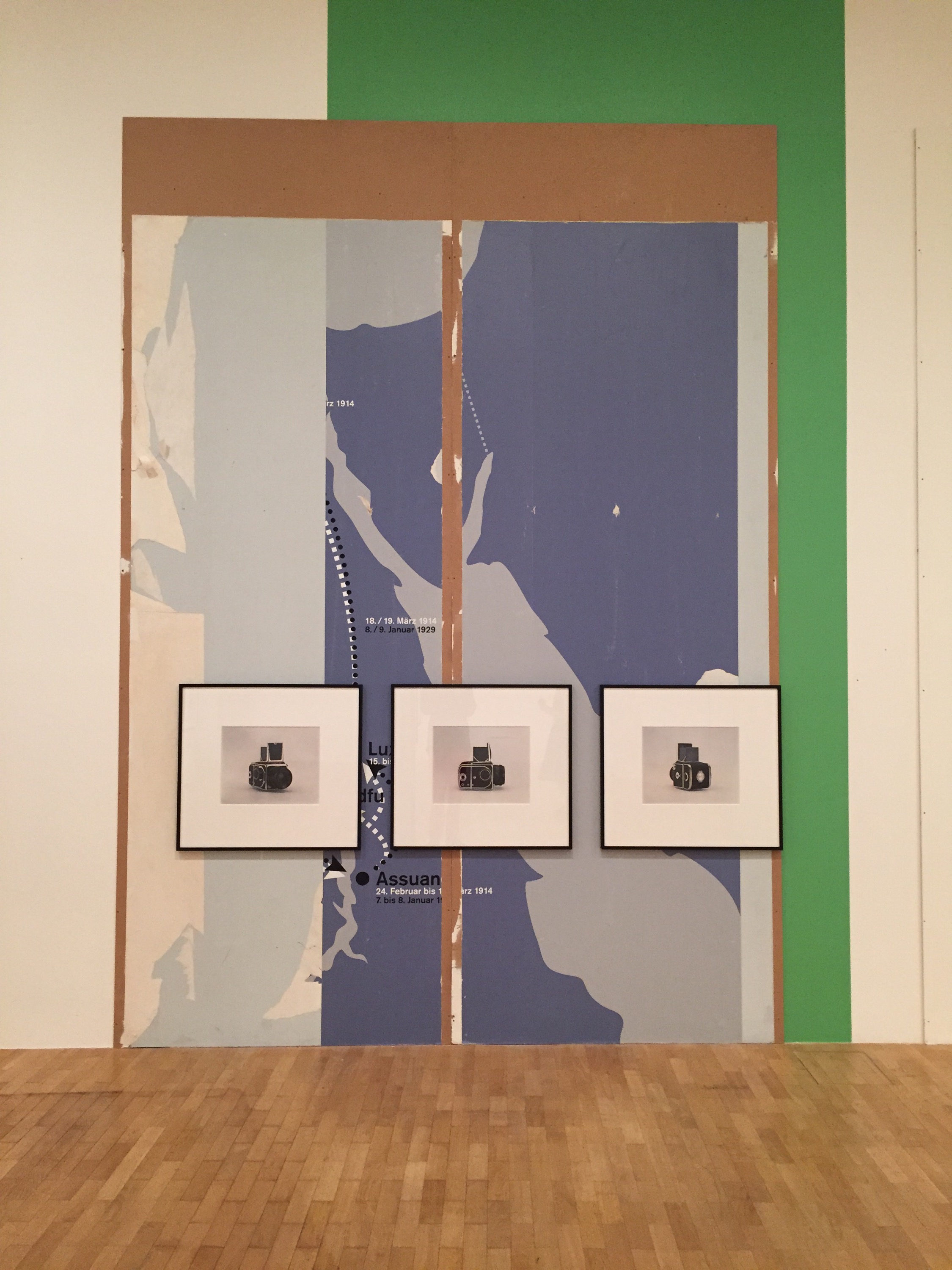 CW: So you can see the scars of the last exhibition, the Adventures Of The Black Square, right here in this room.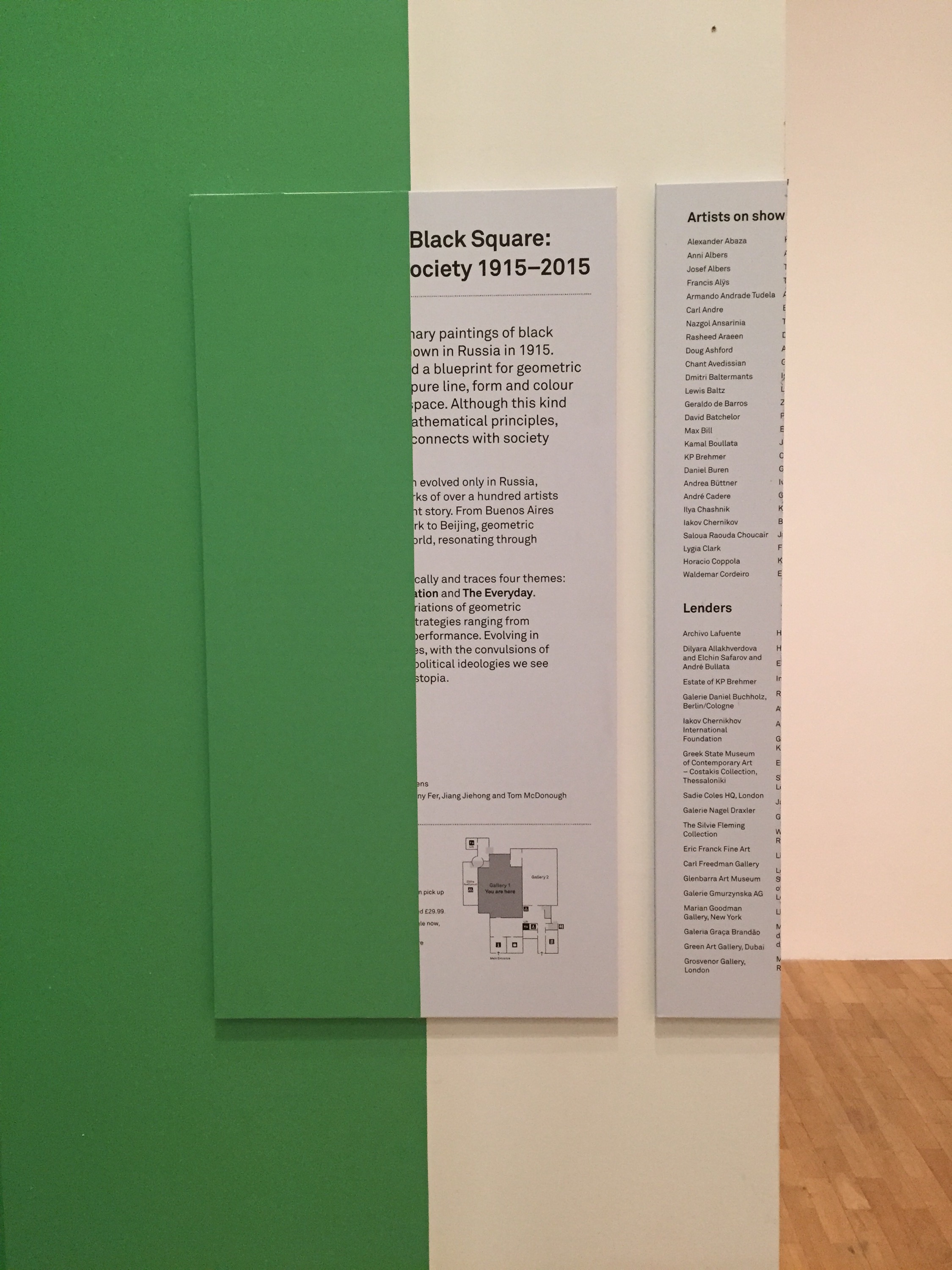 CW: You can think of the whole room as a historical wrapper that my show is dropped into. It's multiple histories, not just the Whitechapel, but also exhibitions from the Rhineland from where I live and work. These walls were also used in an exhibition that I did with a Viennese artist who's been working in Los Angeles for a decade named Mattias Poledna. They're also fragments from an earlier collaborative work between me and another artist. The reason the relationships between Buren and his assistant [Williams had talked about Buren's assistant in the 70s Christopher D'Arcangelo] and I and Mattias Poledna are important is that I don't think art as a solitary activity is interesting. I think of it as a dialogue between the artist and the public. I work pretty closely with a group of artists, we have a very intense sustained dialogue and these walls are evidence of that.
–
We move over to stand near an image of a chicken.
It's in the background here.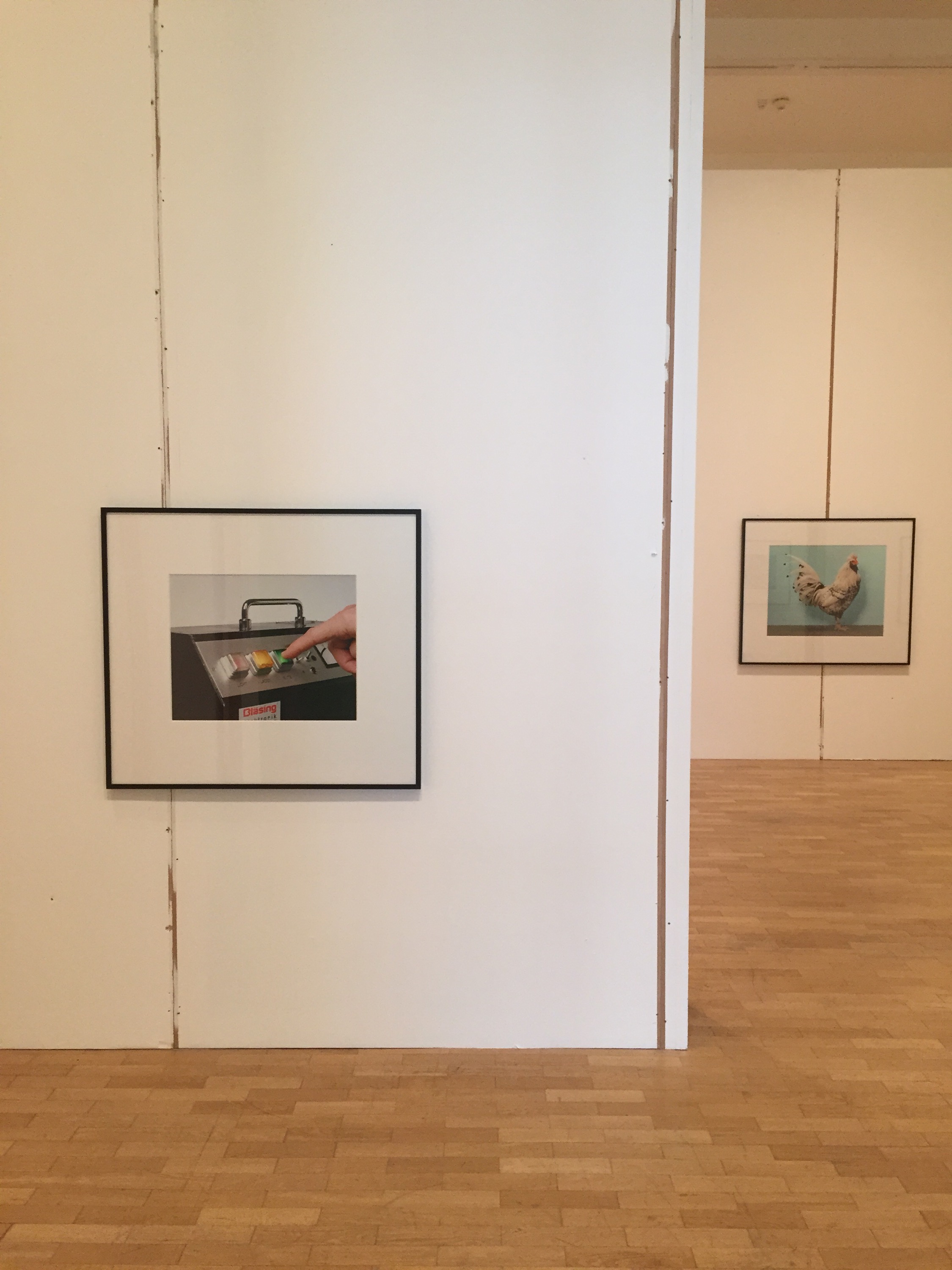 CW: What I try to do with my work, part of the area of photographic interest is to try to rethink ideas coming out of pop art, especially European pop art, especially Richard Hamilton, Richter, Polke, the German artists involved in similar issues. I'm trying to rethink it through a different type of clarity, a photographic discourse that emphasises clarity. So you probably all have Newsstand on your iPad [it's the app where you buy digital versions of papers and magazines]. I'm relatively new to computers and I found Newsstand and I love it, because I can shop for magazines. When I'm in Los Angeles I go to a newsstand every morning. But the newsstand on the iPad allows me to shop, and I was always looking at the way photographs are used.
I found a type of magazine that I'd never read before: poultry magazines. They're really fantastic from a photographic standpoint, and also their specificity. I love really refined, specific forms of vernacular behaviour, It's not unlike contemporary art in a way. The people who are involved with show chickens are involved with a super specific discourse and a kind of language that's particular to them, the way that hot rod people are. If you go to the newsstand you'll find poultry magazines you'll find Playboy magazines, you'll find car magazines. You can find the index of my work very clearly in everyday culture. I found a cover of a poultry magazine that I liked quite a bit, and what I decided to do was create the conditions for production to make something as close to that image as possible, but have a difference. A motto in the studio when we're working is "remake, remodel", a song by Roxy Music which makes reference to Richard Hamilton.
CW: What we did was we took the chicken as a model and remade it, but with almost no difference. It's a different chicken, it has a different surface pattern, but the background and the treatment are nearly identical, it just has more production value, it's a large format negative, it's just a different type of photography. The chicken is also striking what is the most important pose at the show, so it's pose is quite important, and the reason that I want to stay close to the model is that I'm interested in what makes a difference. I'm interested in the space of redundancy. Making something so close to the original could be seen as redundant, and I see that space of redundancy as being a field for freedom, or an architecture of enjoyment.
[here's the chicken itself in the catalogue]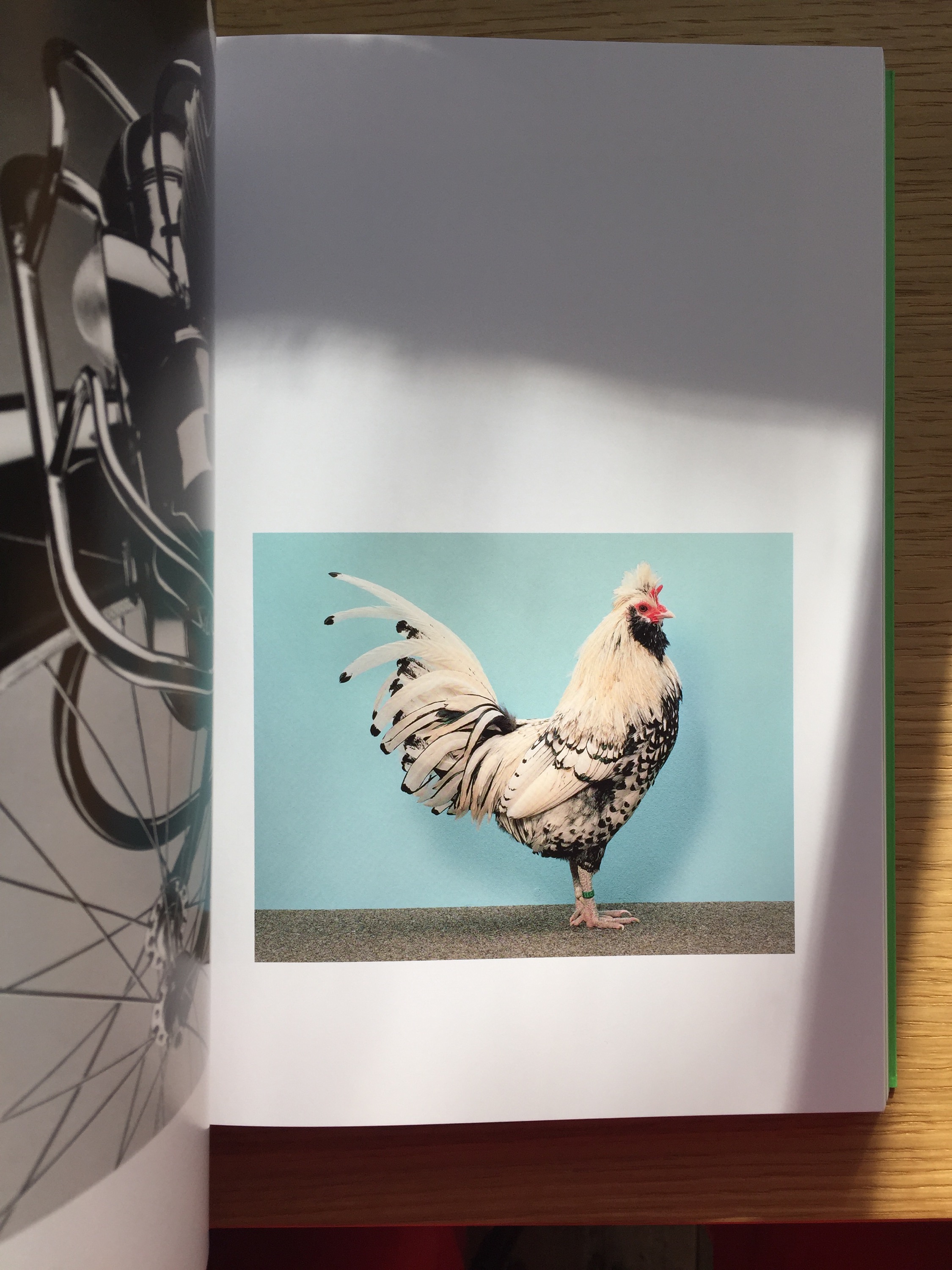 —
Is this getting too involved?
We went upstairs to an image of floral tribute to two artists, one the aforementioned Christopher D'Arcangelo, and how Williams realised he could use his own art as a way of archiving and noting art history.
We then went to an image of a dishwasher.
Again, my own image of the image is terrible.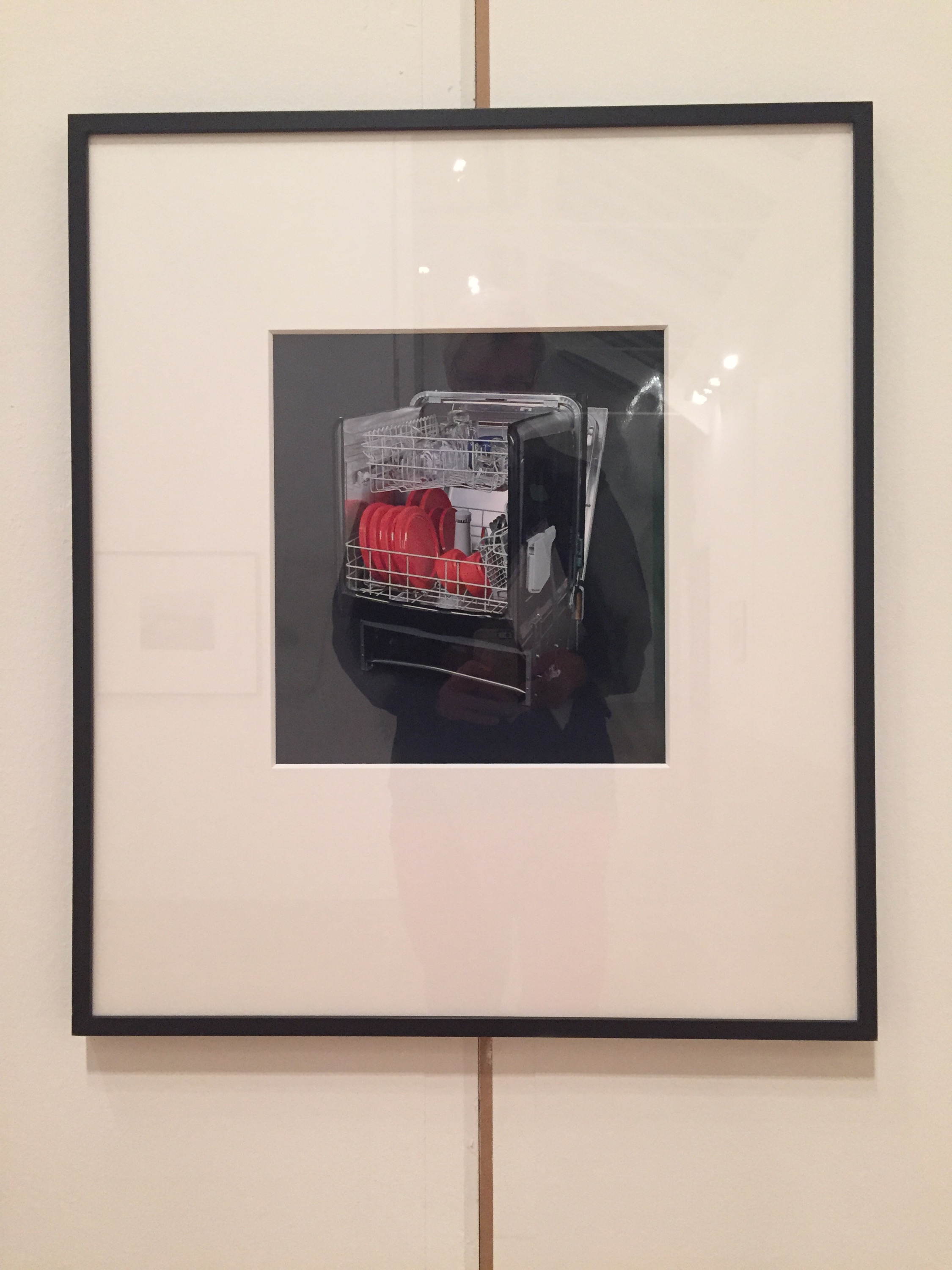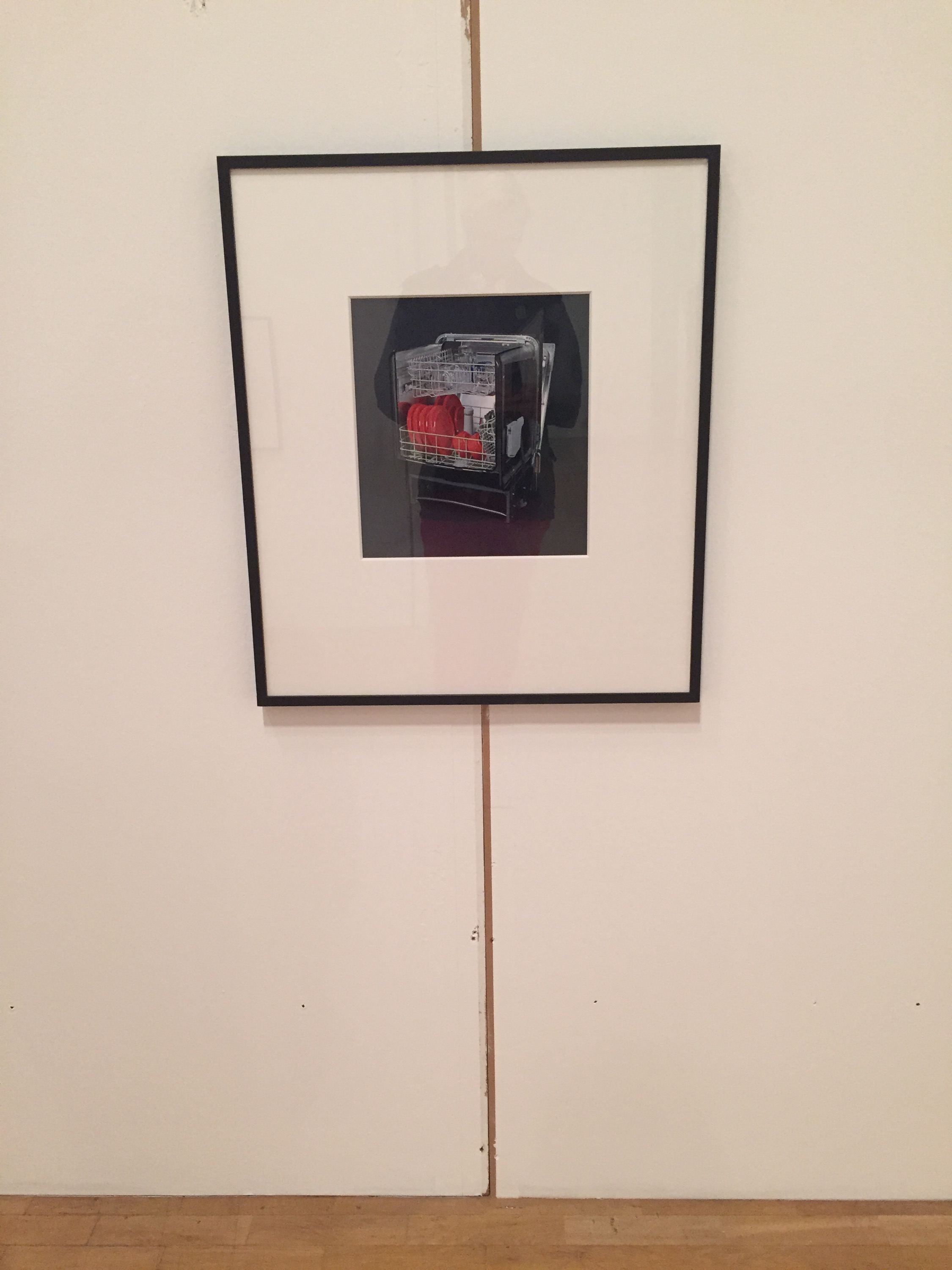 It's about the three main makers of film, and the colours that represent them.
CW: This number four of four photographs I've made dealing with the dishwasher as a site to make a photograph. The first three were named Fuji Colour, Agfa Colour, Kodak Colour [each apparently photographed using each particular film]. I used set designers, art directors that movies use to find dishes that could be colour-cued to the corporate logos of the major companies of film. One thing that I didn't foresee, as the wave of digital got closer, the analogue products got cheaper and less precise. What I didn't foresee was the Agfa colours, which are orange and dark blue, could not be photographed correctly by Agfa film.
In the photogtaphs that came before it, having these neutral colours stainless steel and glass without reflecting the orange into them, without one of the tones dominating, was extremely difficult. The orange would go red, the overall colour would bleed. What we did was set up a copy camera, a room sized camera, and the transparencies are this big [he means the size of the image itself], and we worked with several matrix, and shot with filters, so that we could mix the colours properly, and have the corporate colours represented prolerly without having the warmth bleed into the neutral or cool tones. So it's the most technical you're ever going to hear me get up here, but it was really like a correction in a book. It's called Erratum, and it's really like a correction to the three photographs that came before it.
[Using my iPhone, you can see the work best from the book]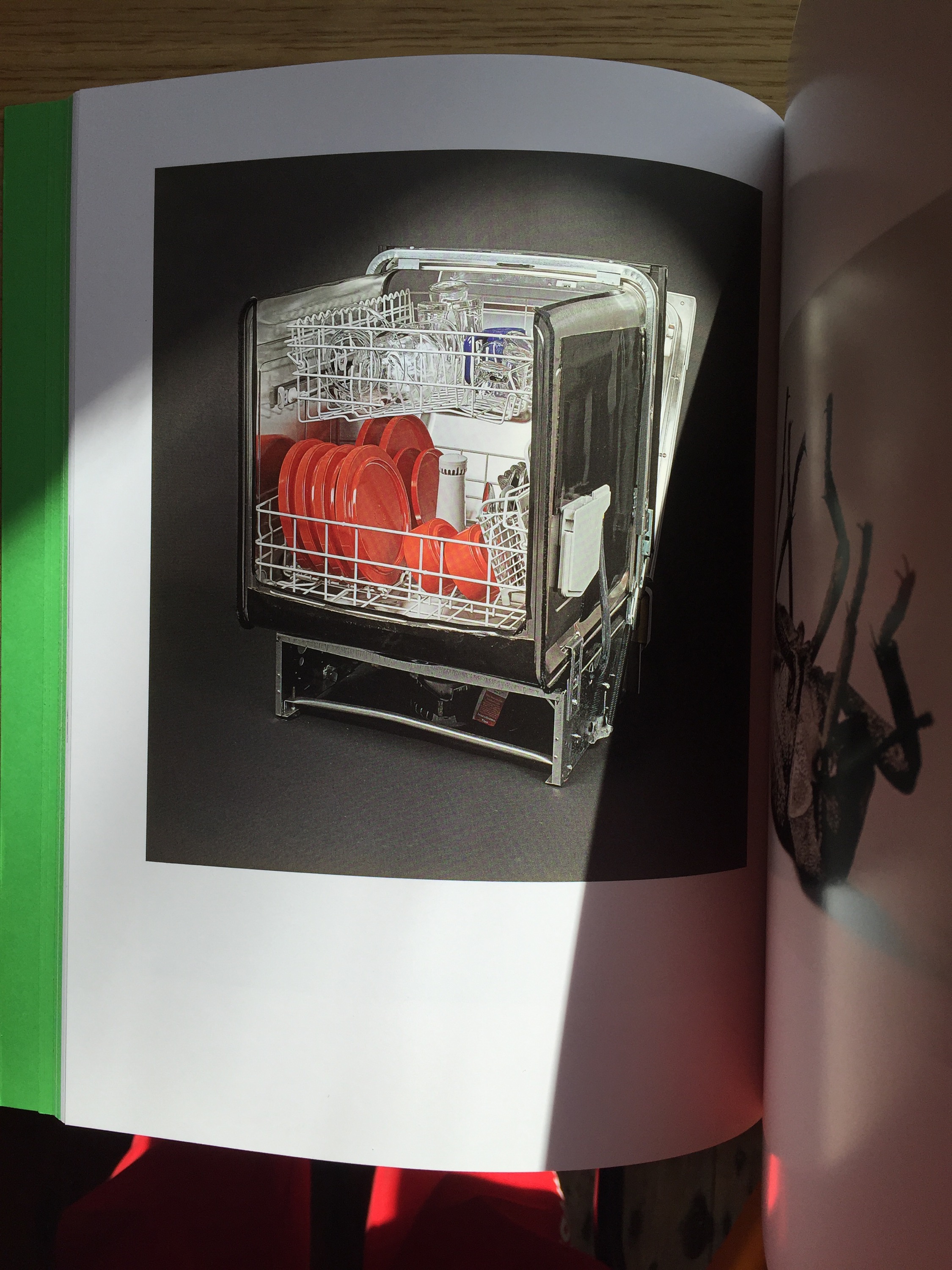 CW: You should think of the exhibition as a collage. I'm actually posing within the language of a straight photographer. These traditional mats and frames are actually something I took on earlier. It causes confusion because I'm not really a photographer, and I view this as an installation that utilises the language of conservative straight photography. Having said that…
—
Here Williams moved onto another work, but maybe let's not get too deep into explanation [although if anyone wants a transcript, I can send it over]
I found the show beautiful and disruptive in itself.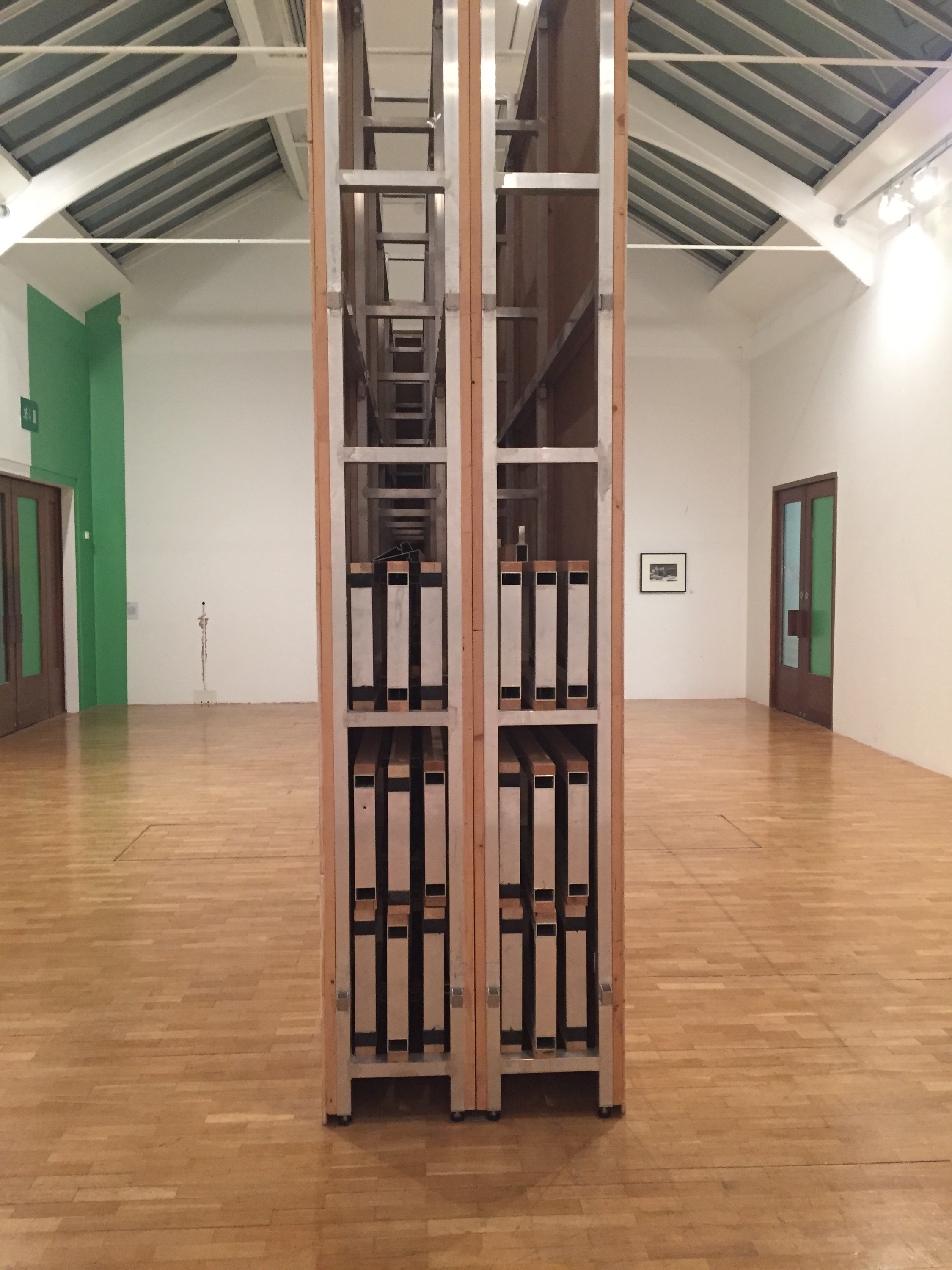 The wall here is from Museum Abteiberg.
The images taken on a Japanese makeover shoot.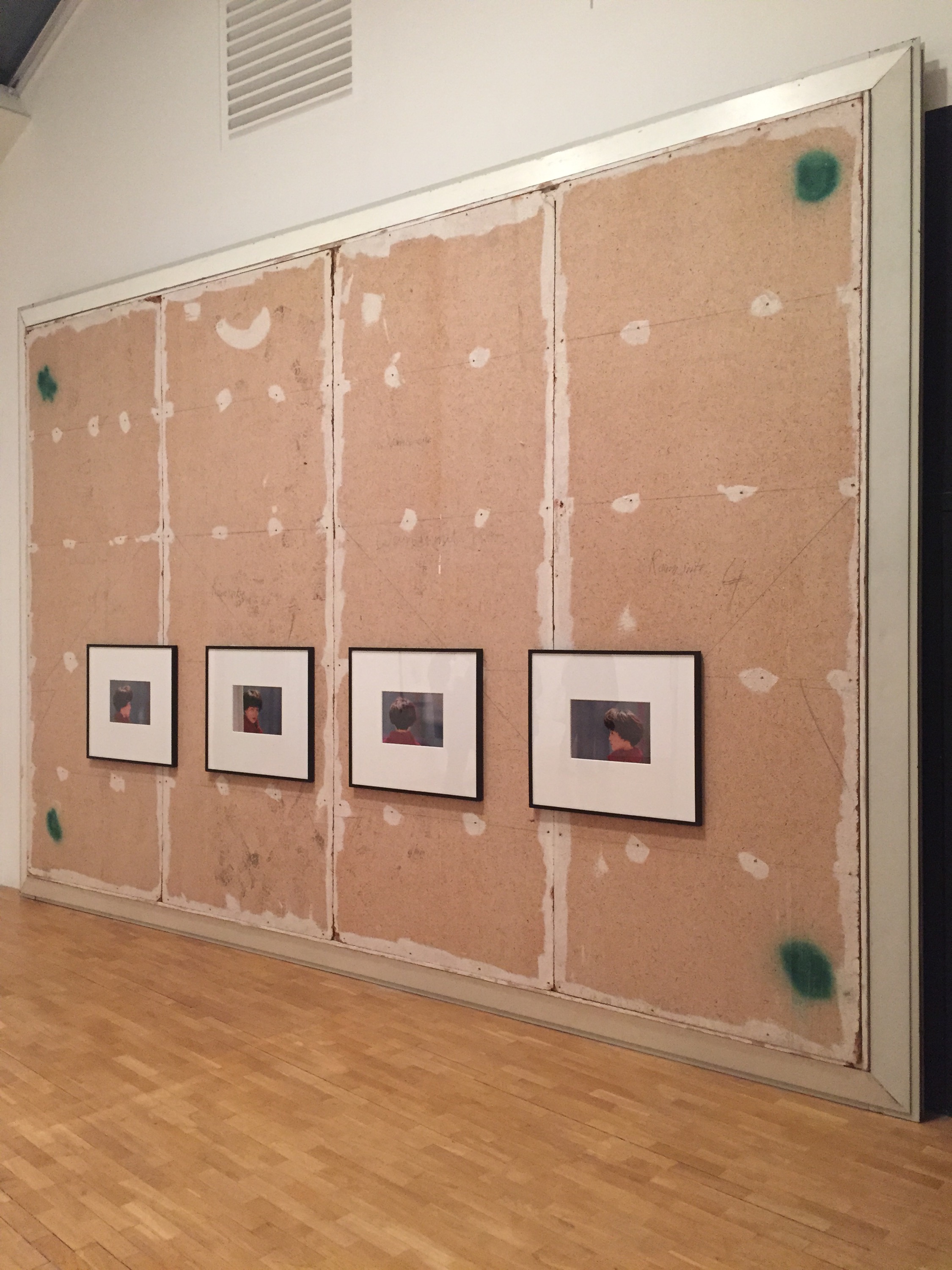 Williams said he contacted the magazine and asked if he could shoot during their work.
He didn't want to know what they were shooting, only the exact camera, film etc they were going to use.
He then set up his camera to the left of the photographers, and shot inbetween times.
Creating a separate purpose from the same source.
His as work.
Theirs as an image to flick past in a magazine.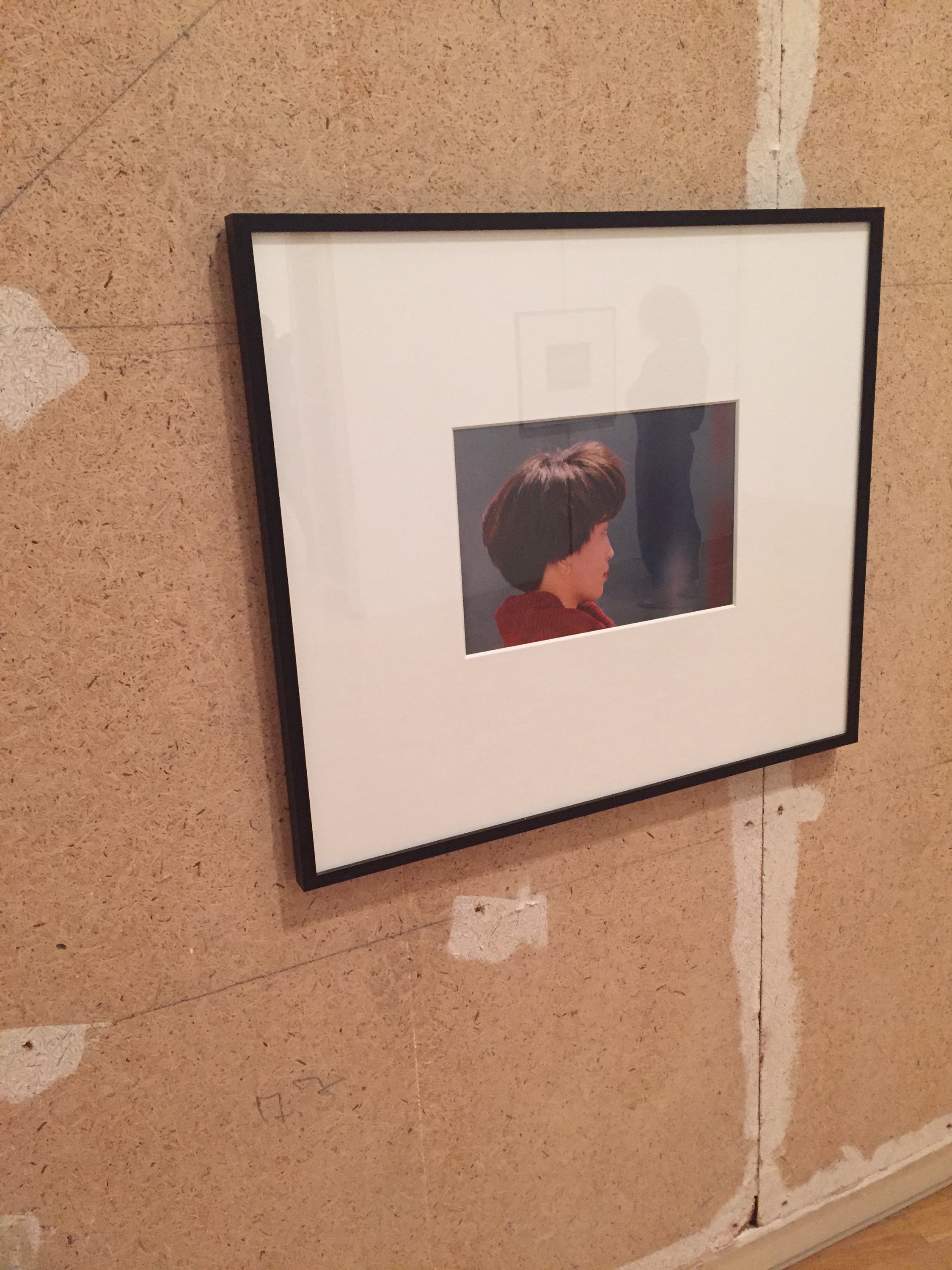 I love the work on remnants or other walls.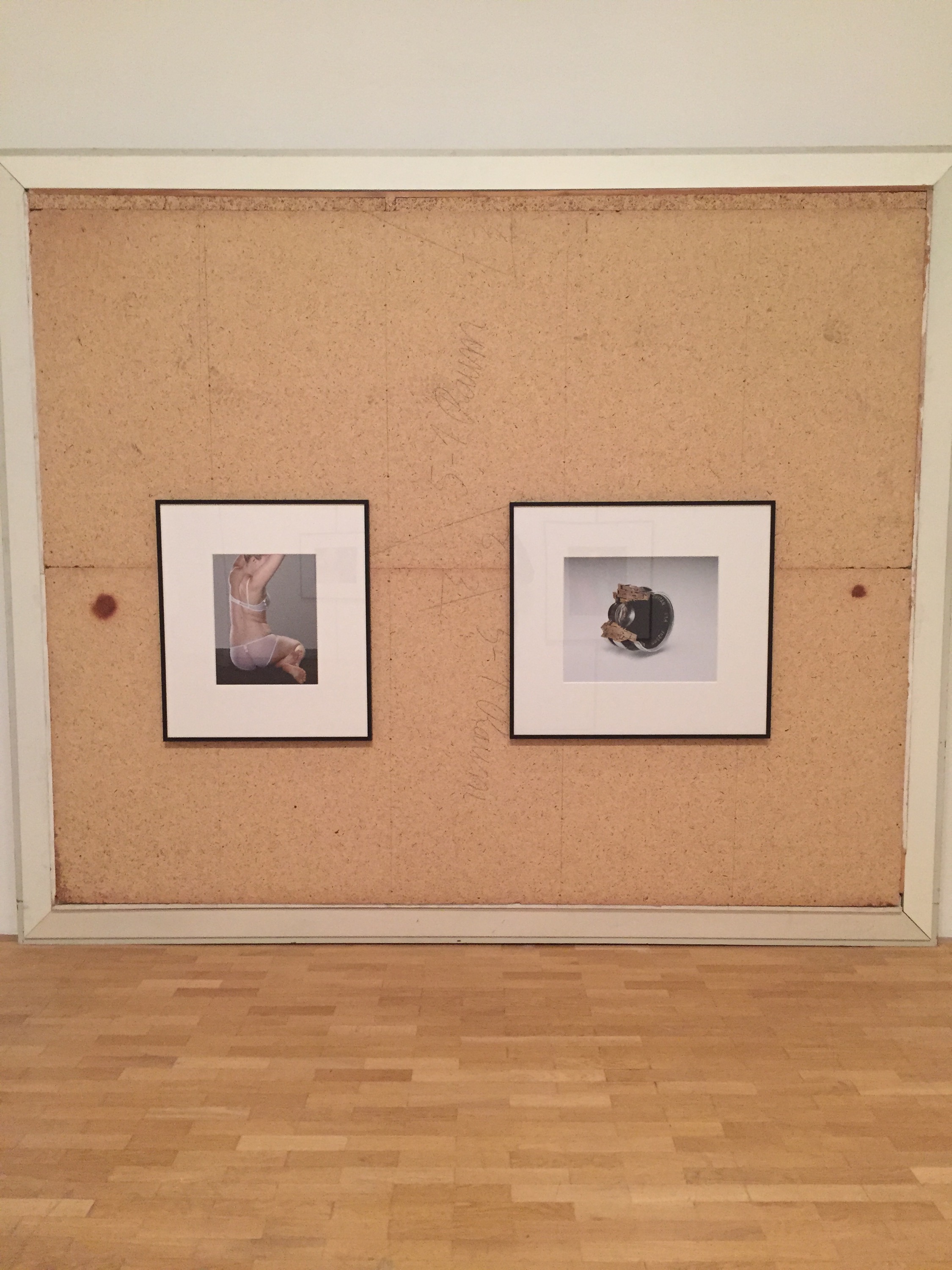 The image on the left emulates air-brushed perfection, but the moles on her back remain, the dirt on her feet.
Another of what he calls collages.
Paint peeling on a wall.
The green stripe.

Wall left over from a blacked out video room.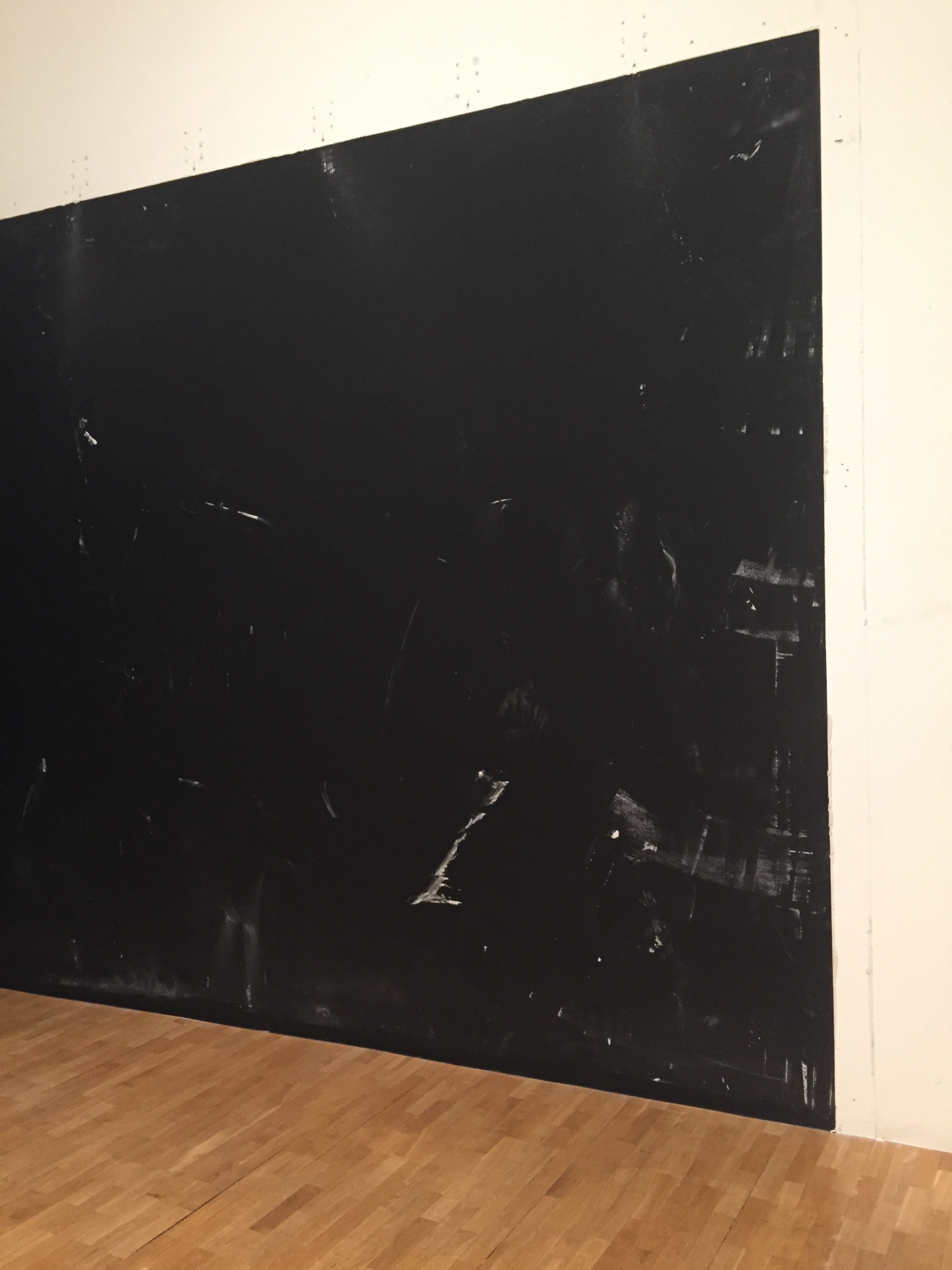 Doors.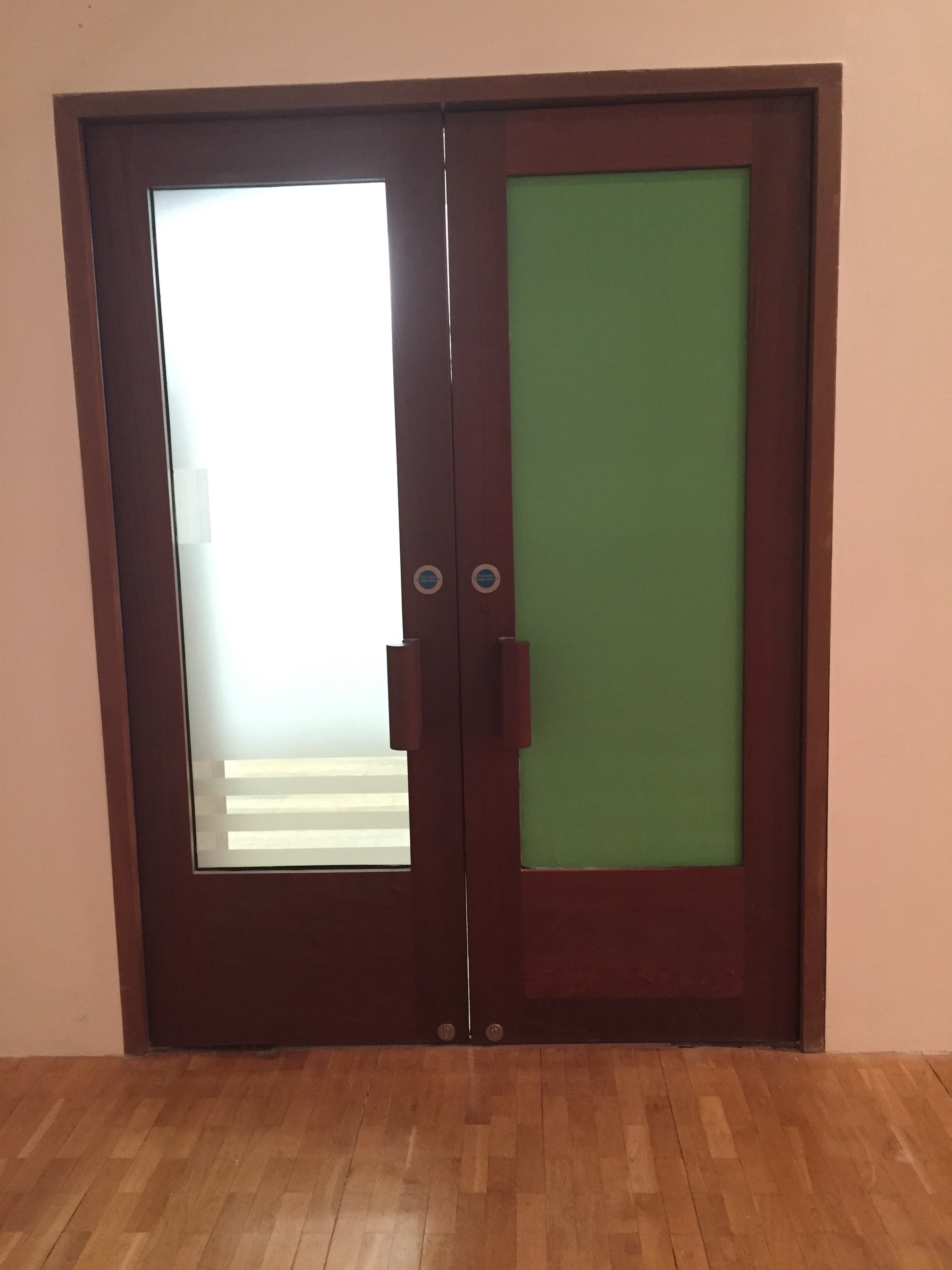 Bye.
The whole thing is so invigorating.
It opens tomorrow, is on until mid-June.
So many ideas about work, the interrelation of work, the way different disciplines can be treated and affect others, and also the importance of personal involvement.
Obsessed.
OK actually bye.