I'm obsessed with the work of Donald Urquhart. He has such a particular way with line, with comment, with yearning and affection and spite.
Donald has a new show opening this week at Maureen Paley in London. I popped down the end of last week as he was finishing the installation.
Here's his words, and new work…
DH: It's called 1978 but it's not all about 1978. That's just an element of it. It's about the past, as most of my work is. It's about time. But I can't call a show 'The Past' or 'Time'. I called it 1978. All I listen to is disco from 1978. Other things get on my nerves.
[Due to my extraordinary journalistic powers, I forgot to take a photo of the black crepe paper chains hanging in the gallery, but you can see them in the reflection behind me].
DH: Black crepe paper chains are great for a funeral, a birthday, a wedding, I think everyone should have a box of black crepe paper chains. If you feel depressed. If you kill your dog because it's been naughty, you put your black crepe paper chains up.
I like the idea that the black crepe paper chains get worse as time goes on. They get dusty and droopy and stained. They're not durable. When I was making them, I was staying at my friend Jane's house in Islington, because I couldn't make them in Scotland and bring them down, it would be ridiculous. I had them in a great big bag, and it was a day and a half's work, and she's got this little poodle, and the poodle decided what a lovely comfy pillow that looked like. So it laid on the bag and crushed them all flat. I had to remake all those chains. The foil ones are alright. You can uncrush them. My friend used a pound coin and a cigarette packet. And went over them all to get the metal ones back.
CP: So you only listen to music from '78?
DH: 78 with some from '76 and '77. And I do allow maybe 10 or 20 tracks from '79. When you think about people who brought out records in 79 they probably recorded them in 78. And it really is pre-1980, because that's when they started using computerised drumming. I think '79 is the cut-off for getting live drums in a studio and recording the beat. I think you can hear the difference. Even things, when you listen to Blondie's Heart of Glass, none of that's from a computer, that's somebody drumming. And now everybody is all about boom boom boom, on a loop and repeat, and I can't stand things to repeat. And also they invented some kind of a woofer for a speaker that made all the bass much bigger. When you listen to '78 music, it really sounds a lot fuller and rounder.
One of my favourite record is Over and Over by Sylvester
I love that, yeah.
That speeds up, slows down
Yeah, that does go everywhere. My favourite is the Beautiful Bend. A record from 1978. The album.
Which is That's the Trouble.
That's the feeling. That's the Meaning!
Oh That's The Trouble is Grace!
That's a Grace Jones one.
[It's on my mind because one of Donald's works in the show is of Grace]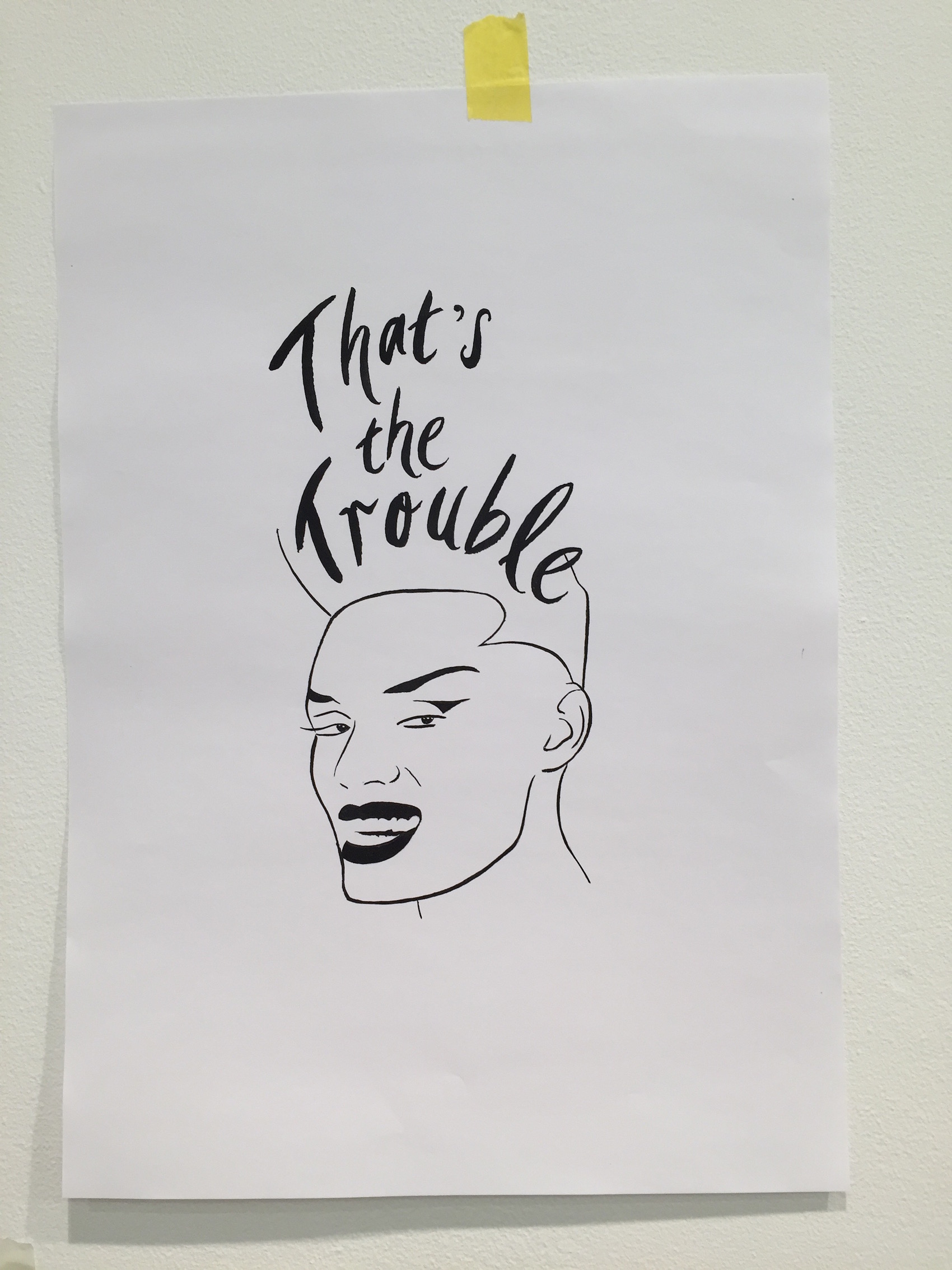 Because you had the night Beautiful Bend [it was a party Donald ran with Sheila Tequila and DJ Harvey].
Yeah.
Which I wish I'd gone to.
I don't know. You might have regrets [Click here to see Donald's extraordinary series of posters for the Beautiful Bend].
How long did it last for?
Well it was so sporadic. I think first time it was about a year and a half, then we were doing it in all different places, Freedom café as well as Central Station in King's Cross. We did it weekly for a while and then we fell out. So that was the end of that.
What year was that?
I think it started in 93-95. And then it was end of 99 to about 2001. Somehow.
So how did you come up with the show?
I don't know. All this stuff, I wanted to do quite a lot of collage. And I started off with a Beano comic from about 1982 or 3.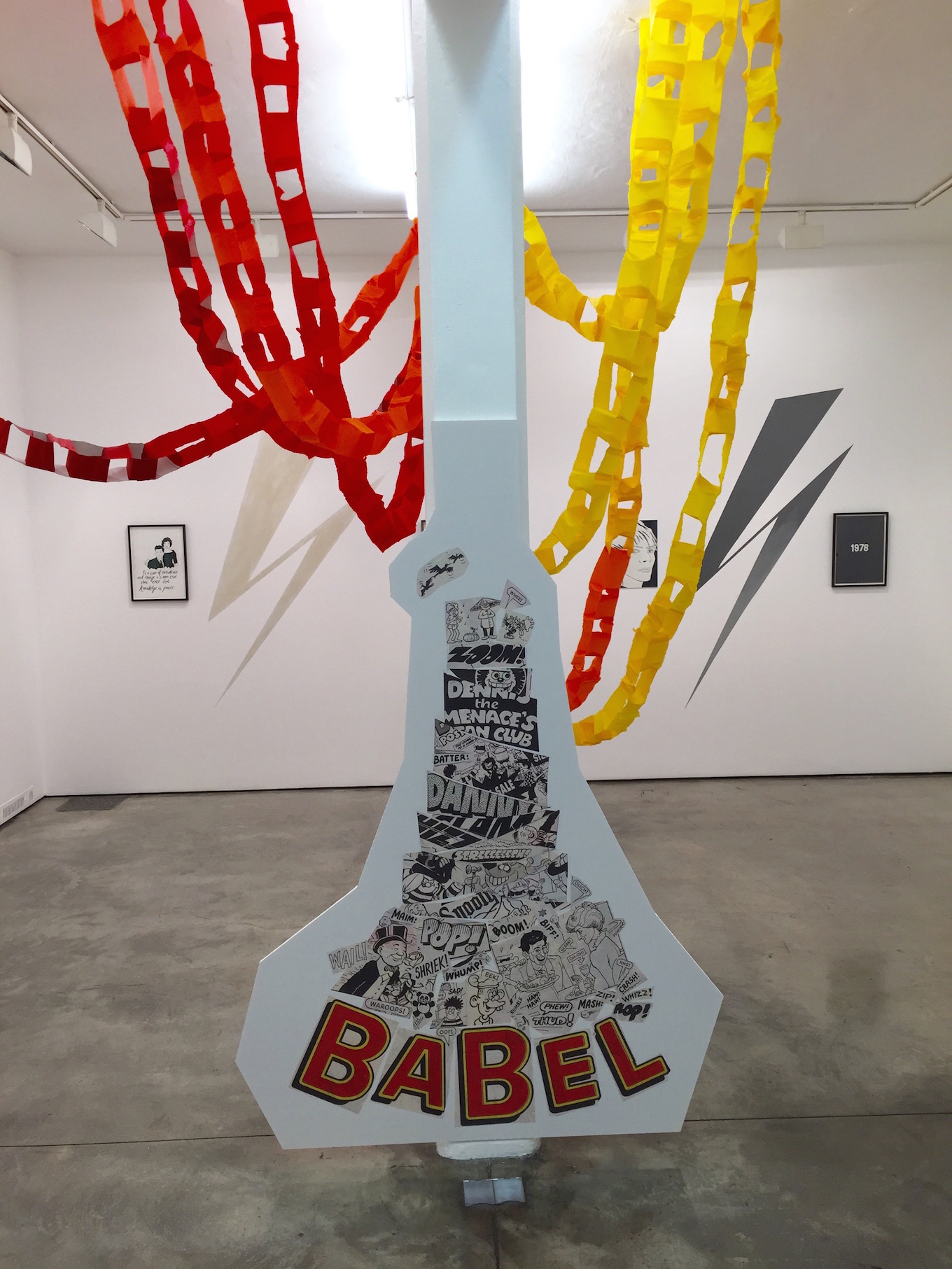 I cut it up and made this Tower of Babel and it's got Diana in it, so that's really got its own period and got its own story.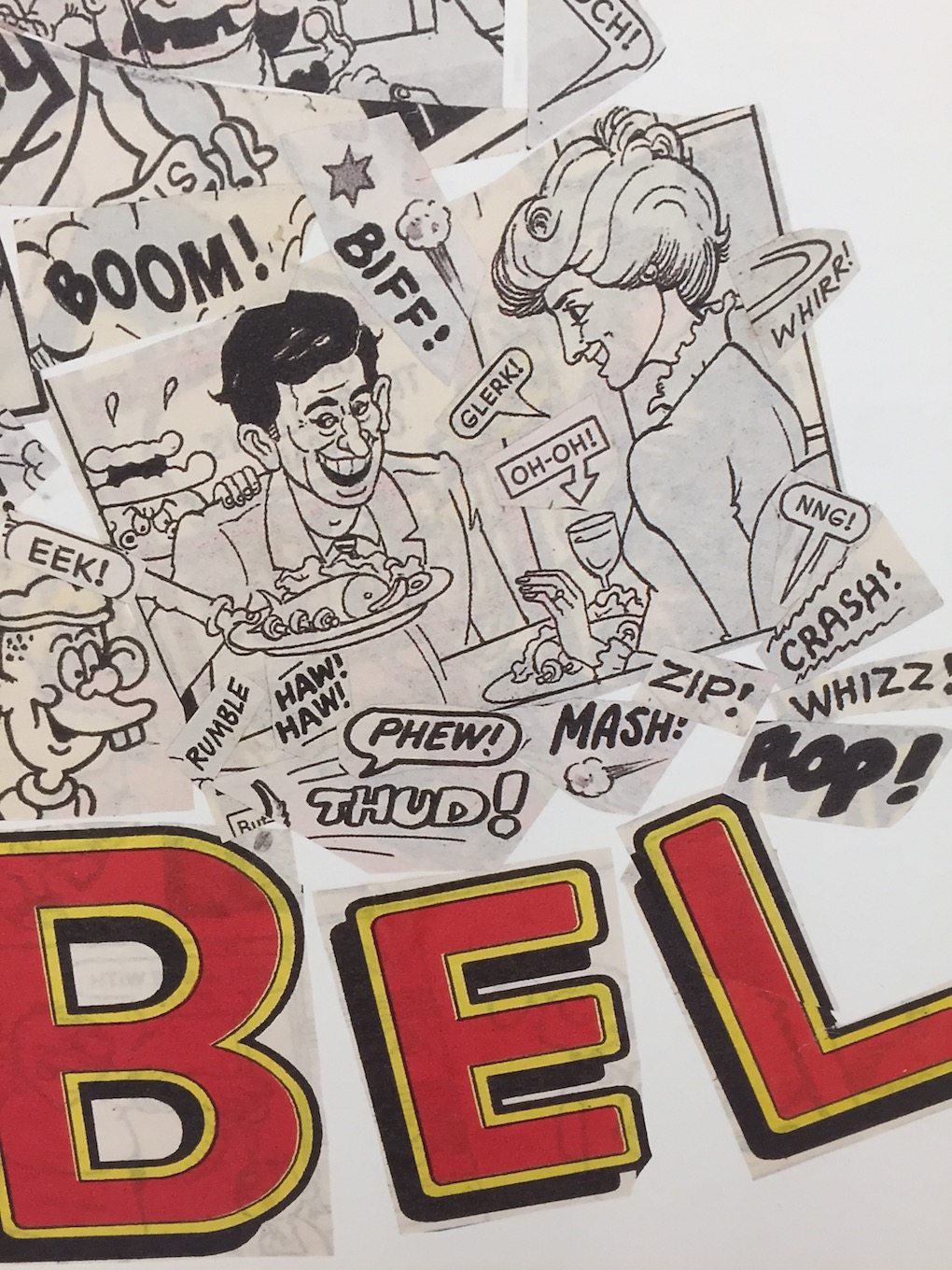 And then I thought right I'm going to make another one but it's all going to be from history. When I did this, I thought this is like that scene in Close Encounters where Richard Dreyfuss is making a mountain out of mashed potato really obsessively.
And I thought what if I did do actual pictures of the Devil's Tower from Close Encounters, but did it with the whole history of language and printing. This is from when I used to be a journalist for QX magazine. It's things I wrote in about 2000, maybe 1999. I thought well I'll just pick some choice phrases.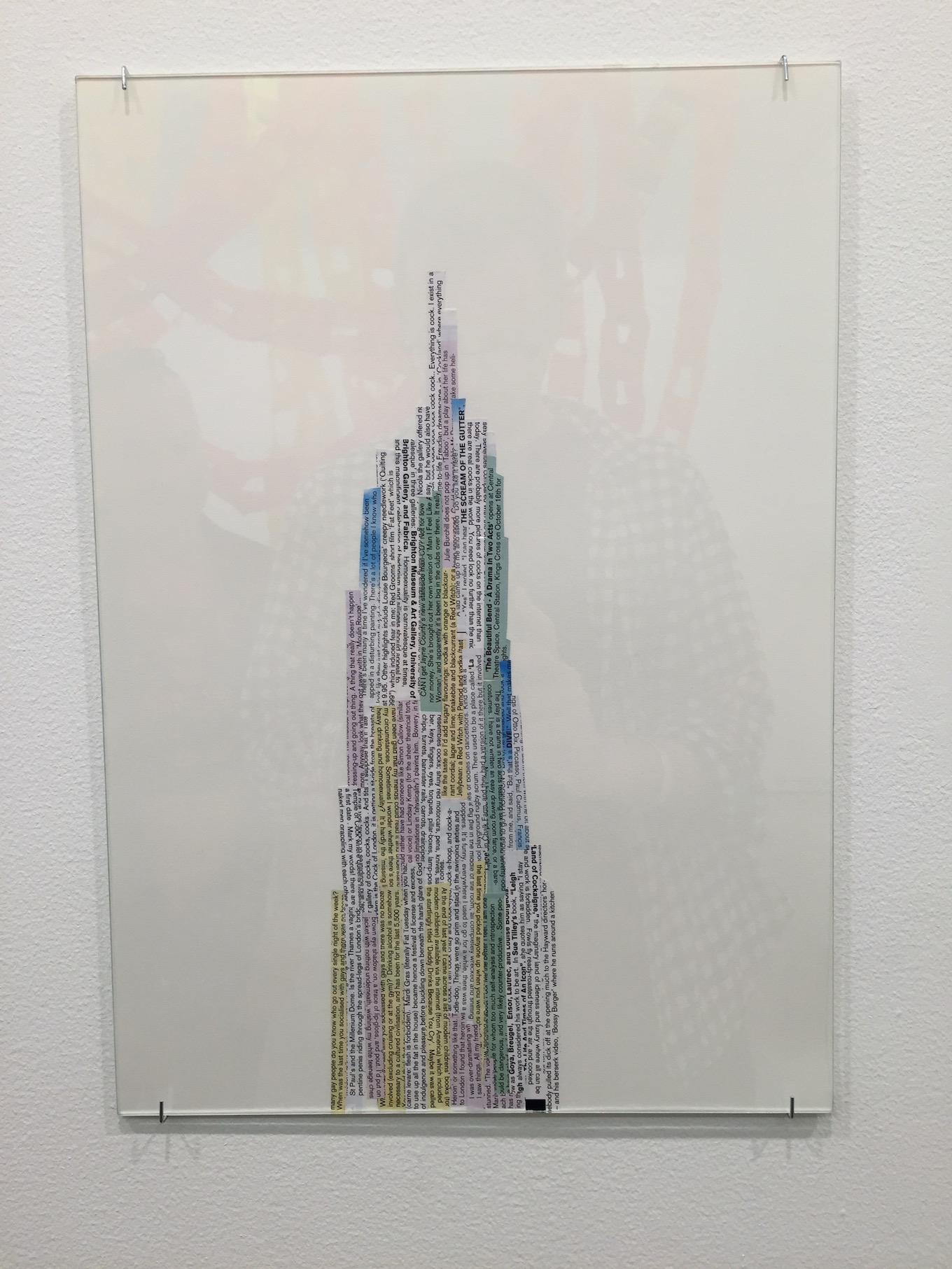 What was the 'Land of Cockaigne' [look close, you can see it bottom left of the tower]?
There is a picture called the Land of Cockaigne. There was a thing on in Brighton called Carnivalesque, and it had all these old woodcuts and etchings, like the Land of Cockaigne, where everybody lies around doing nothing.
How do you work? Do you work circularly, or one thing then one thing?
I can really only do one thing at a time. I'm not good at jugglng things. Things get left. Things get started. And then they don't get finished for months. I'm full of half-finished drawings, and things that I'd like to get round to doing but can't really see the point of. It's a bit of a miracle when I do get artwork done.
I love this one. Paranoia was so much more a thing then.
I think paranoia was a way of life in 78.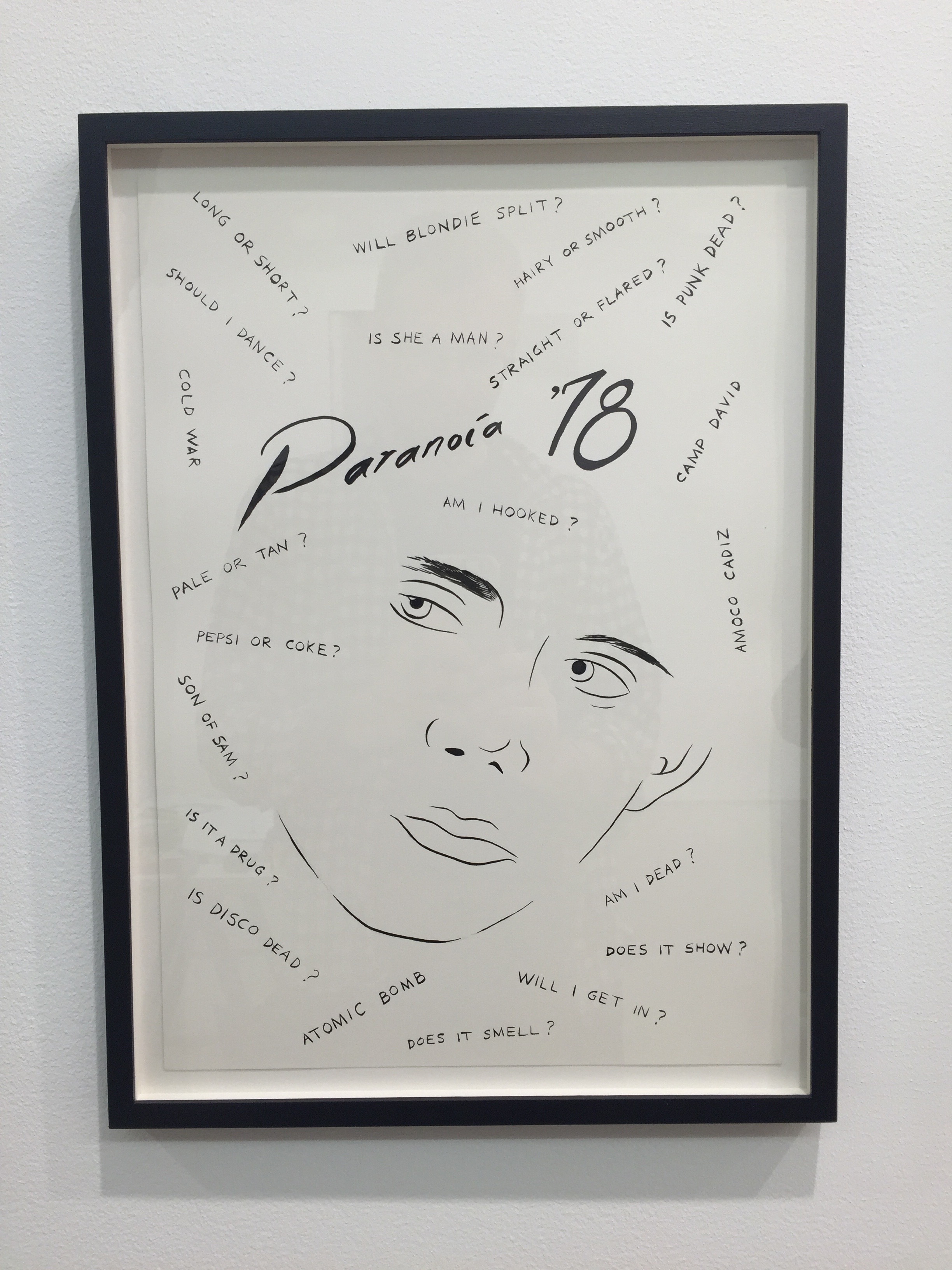 In 79 there was the anti-disco movement. Do you know about that? Disco sucks. Then punk is dead in 79. Disco's dead. What else can be dead?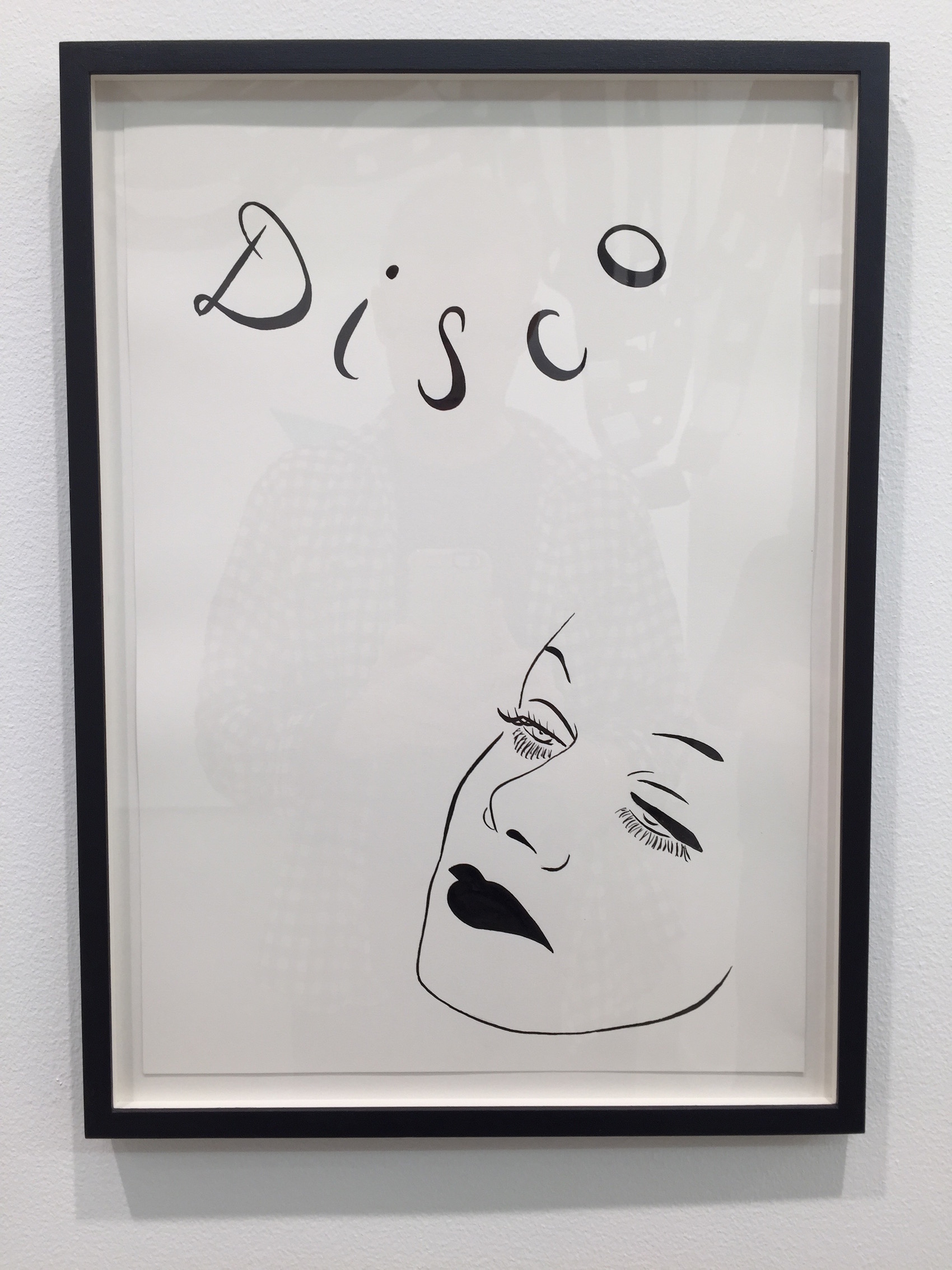 When you work like this do you write it before or is it instinctive on the work?
Yeah it's loads of scribbling on envelopes when I'm drunk. There's lots of notes, then I'll go through all these bits of paper and put things together from that.
Who are these two boys?
I think they're just actors from a film. They're nobody in particular.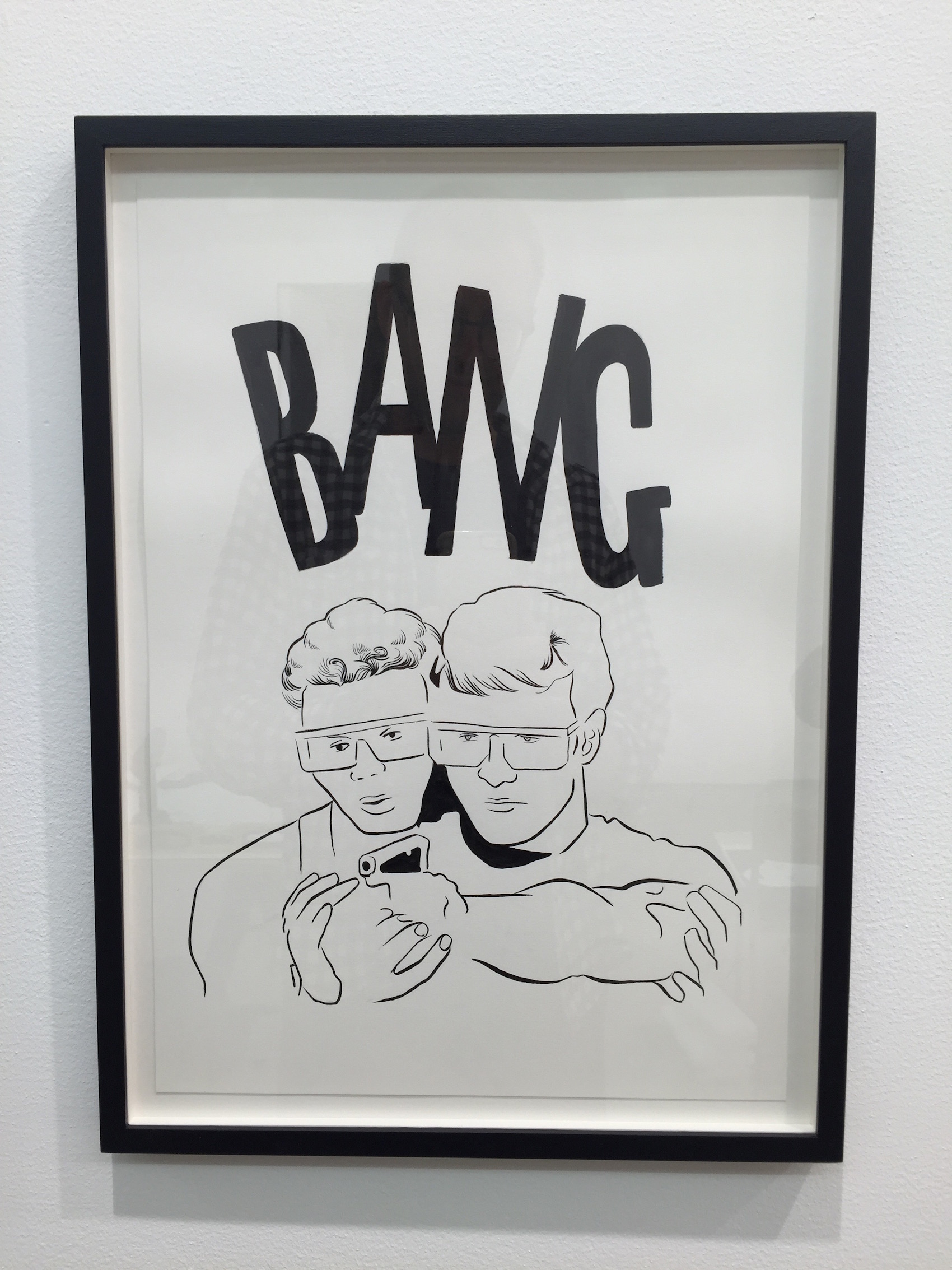 Where are the eyes from?
When I moved back to Scotland, where I live it's really freaky because there's thousands of starlings in the sky making these big shapes all the time. I thought this is like another planet. Even in the winter, the ones that don't fly to Africa or wherever they go, some stay behind and make all these shapes. It's just this constant display that never ever stops. I thought I'd draw them as that. There's a lot more eye drawings than this. I started to get a bit obsessive.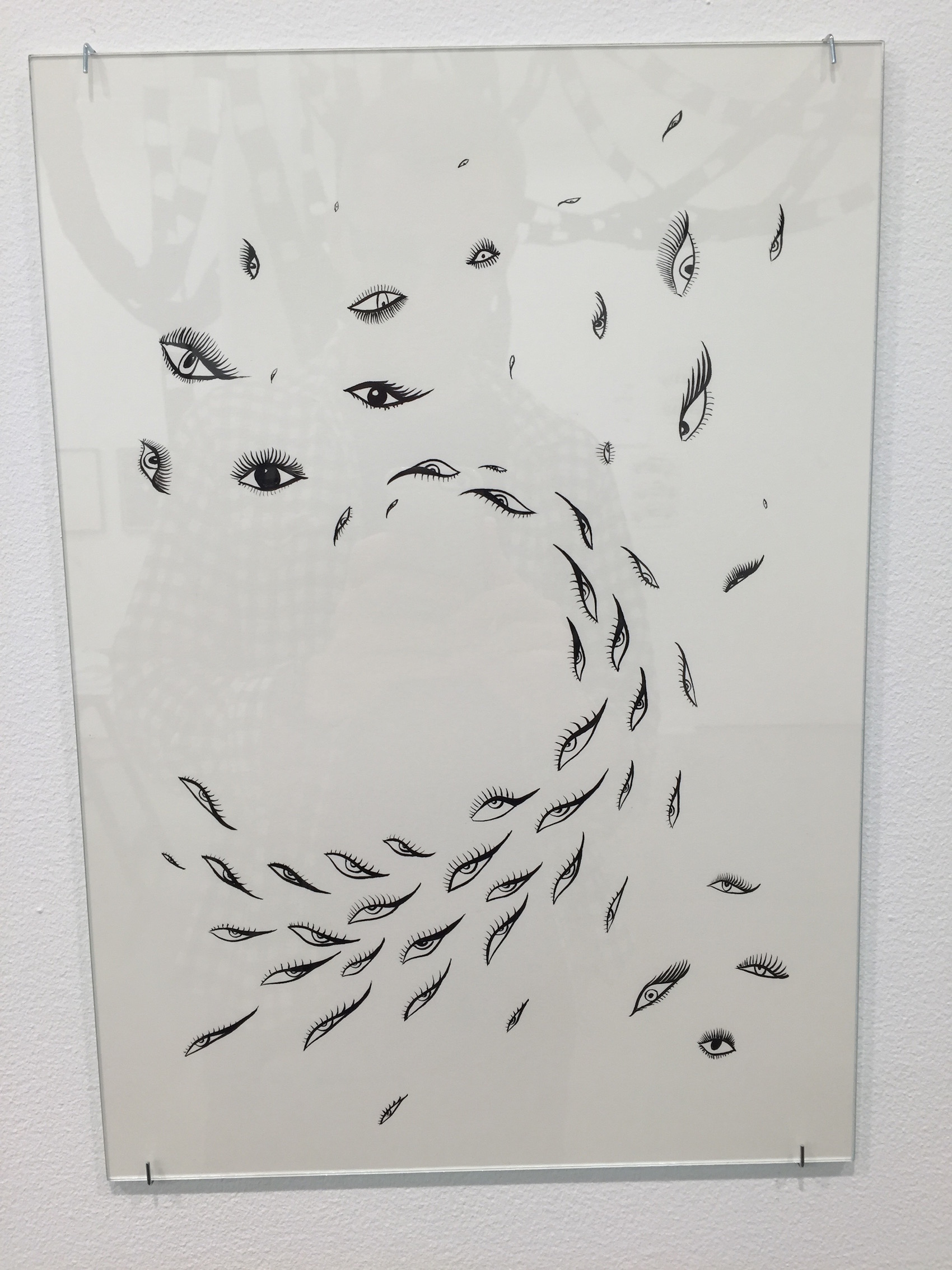 Do you actually draw the pattern of the starlings?
Well I'm trying to get the pattern that they make, like this is, you can see this to be one of the clusters because then they break up into little bits, then they all come back together, and then they all go.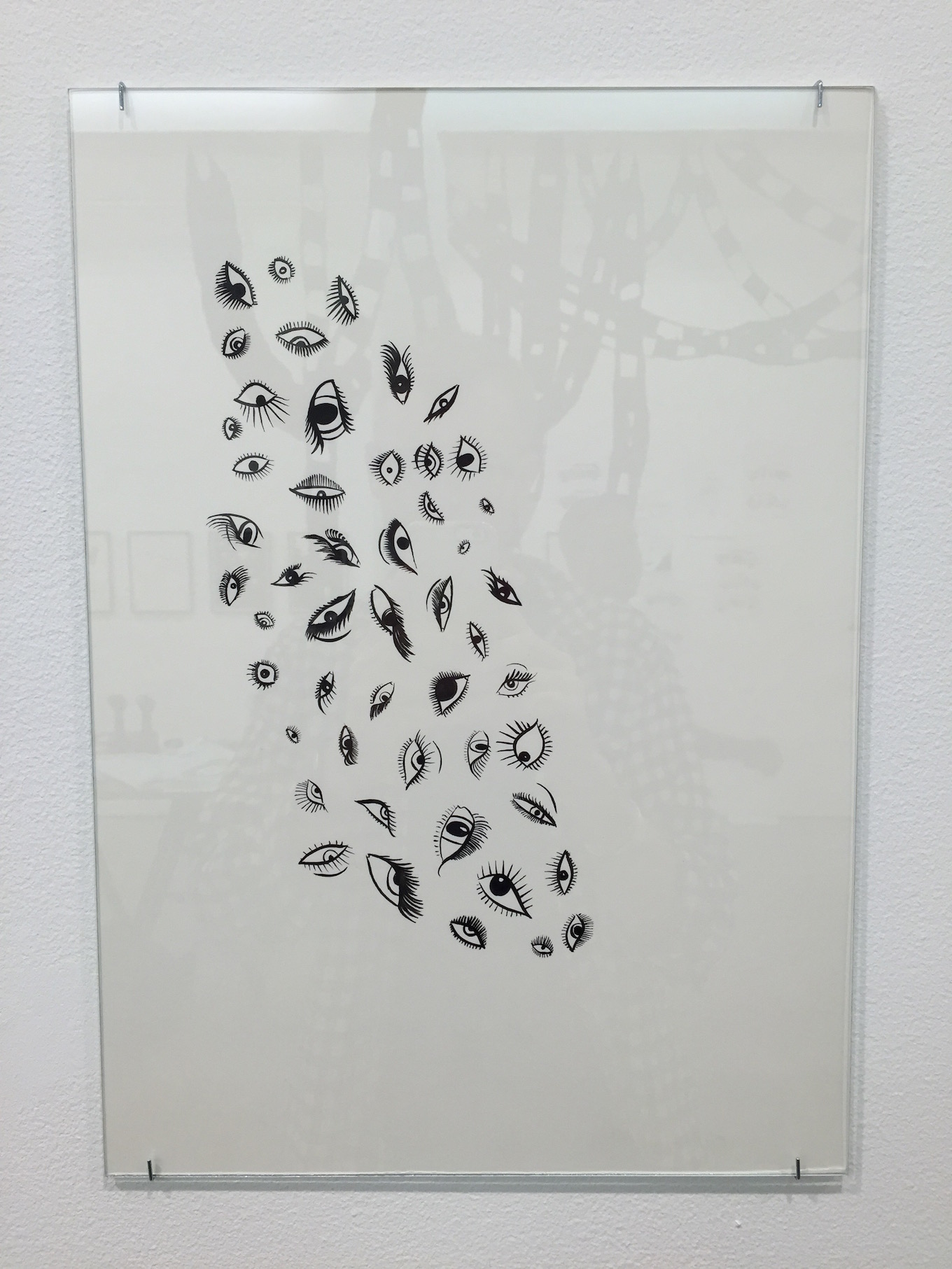 I'm obsessed with eyes.
Well I'm not [he laughs]. Yeah I think I am a bit too.
Do you find your work is different in different places?
Well I think my work looks different all the time. I'm still doing the same thing in Dumfries as I was in Paris. I'm getting involved in theatrical work in Dumfries. I did the scenery for a production of Snow White, which was really fun, and it's all really young kids. They had to do a play about sectarianism. They're really dark these kids. I said to them what's the play about, they said we need a graveyard, and we've got to be children sat around in our pyjamas because we've been burned in a fire. And on the stage we need to have a prison with a prisoner in his cell writing his confession before he commits suicide. And I was like OK. And they were like it's got to tour around four different venues so it's all got to fit in the back of a minibus. And I was like, fine. So I made them a graveyard, real flowers, and I got twenty pounds of dry ice delivered to each venue so it was all dry ice, then the black crepe paper chains on once side for the prison and it all folded up, and that was such a fun thing to do. I don't know if I'd ever get the chance to do anything like that in London.
And it was kids acting in a graveyard?
It was kids they were like 7 to 12 year old kids with pyjamas and burnt faces. I'm going to do more with that theatre company. I love working with dry ice. You don't get much more fun than that.
And the lightning?
It was kind of a thing in the 70s to have lightning bolts as décor.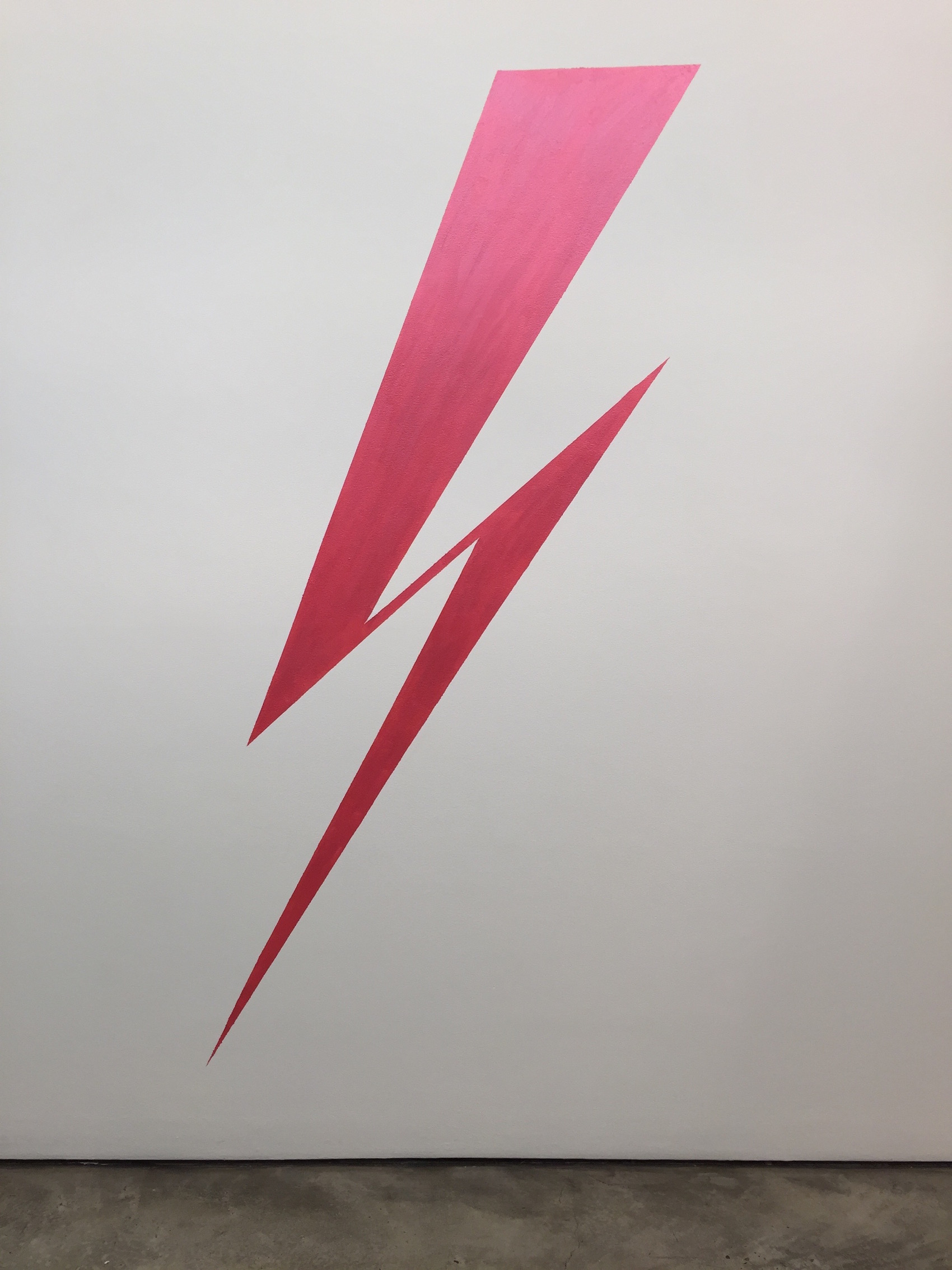 There was a gay disco called Bolts and I think it was at a place called Lasers on Green Lanes. Then there was Bang, and there was the David Bowie stripe on the Aladdin Sane cover, but it's not as elongated as the disco lightning bolt that really is a lot narrower and more spikey.
What was Bolts on Green Lanes?
It was only on Saturday nights. It was a regular disco all the other nights. It was just mental. I'd be about 21 when I went there. Leigh Bowery used to go with Trojan, and really not wearing normal gay disco wear. It was all these queens who wore everything perfectly ironed, that kind of queen, and clones. You don't really see clones like you used to see them. Real clones that had to have Levi's rather than Wranglers, and all this stuff going on in their heads. I used to get spectacularly drunk and then go there and get even more spectacularly drunk. I remember always being sick on the dancefloor there. Puke and fag ends.
Actually sick on the dancefloor or tried to go to the edge?
On the dancefloor. Keep going. Keep dancing. Bleuugh. I often wonder if these places are still there or venues or
Luxury flats
Yeah luxury flats. It's all gone.
Who's this?
Quite often I just want to make up a feeling. She's not actually anybody, its just the pose and the expression to express "How big is hell", because sometimes it looks very big.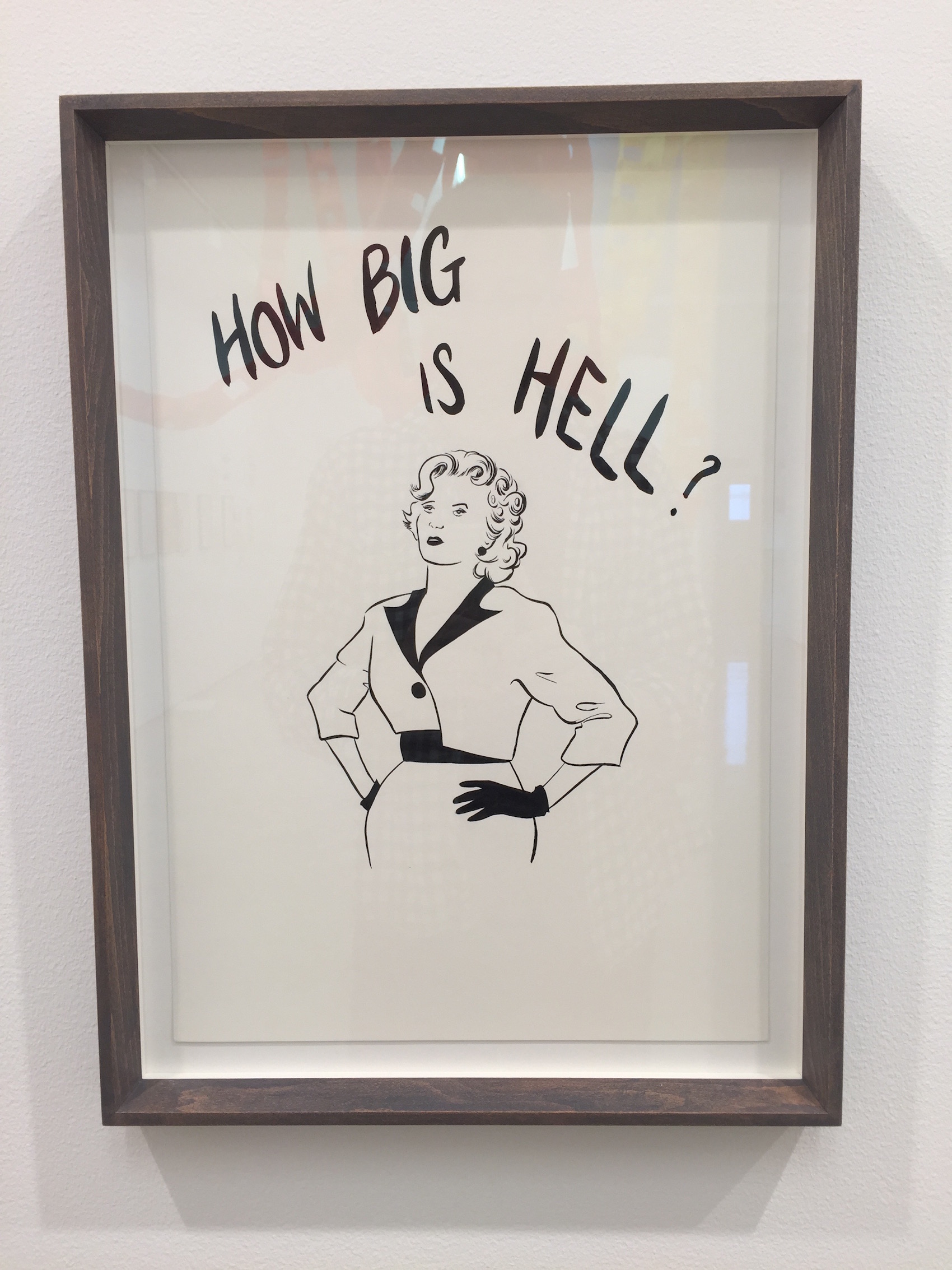 That was part of some illustrations I did for Stephen Jones. I did four drawings. It was called Turbulence, Torpor and Turbans. This was from Turbulence.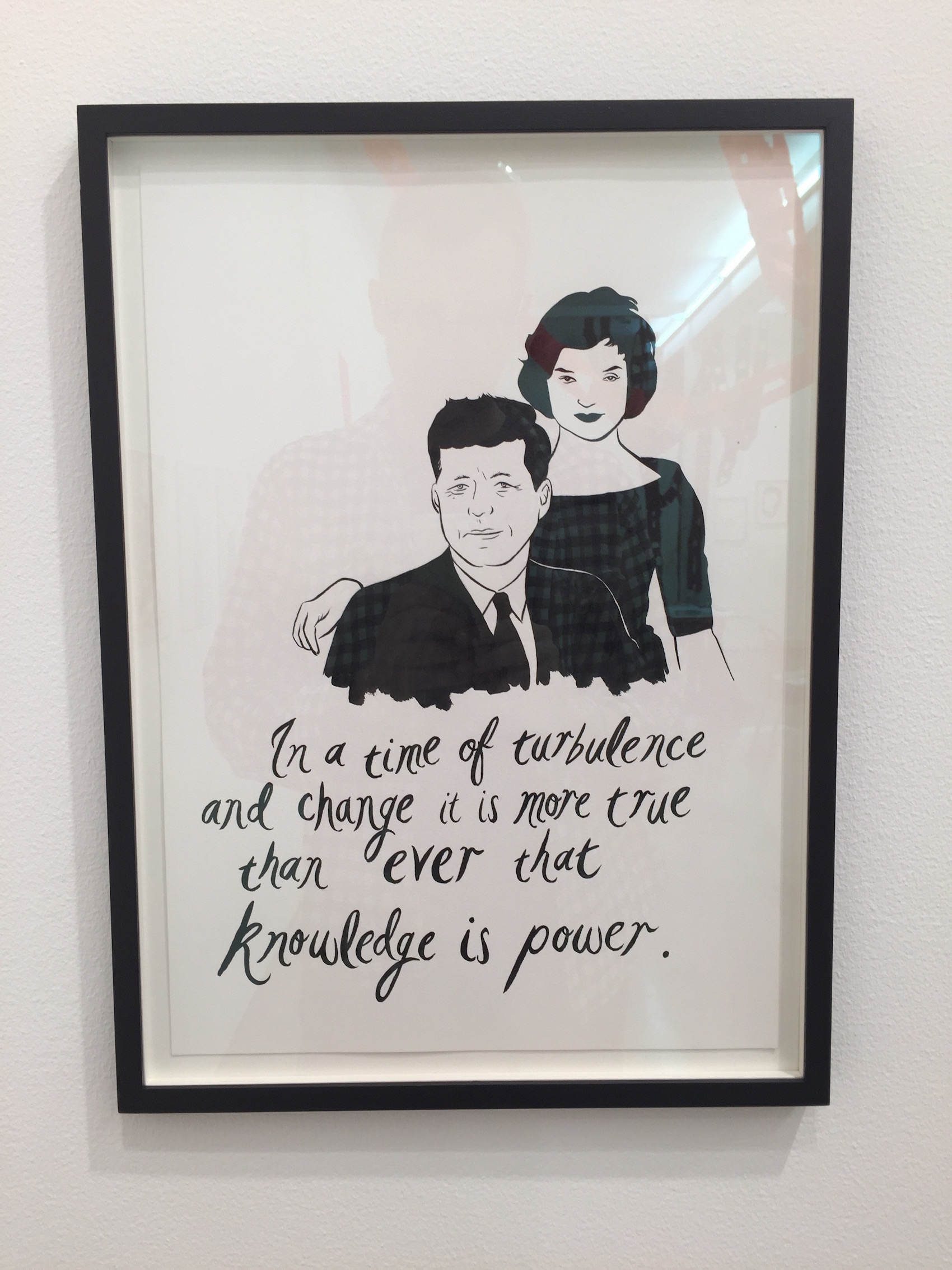 What were the turbans?
Edith Sitwell and Edith Beale.
It's all so good.
I'm pleased with it. I think my shows are all the same but they're not. Some of them are really miserable. Some of them are really sarcastic. I like the balance of this show.
—
Hey so go go go. The private view is this eve if you fancy a beer, then the show is on until 12 July, click here etcetc.