The London gallery Herald St. has played a crucial role in the city's art scene since it opened in 2005.
It is a gallery of warmth and constancy.
Founders Nicky Verber and Ash L'ange are lovely men, who I sat down with on Monday evening in the viewing room at the back of the gallery.
Around us were crates containing works that will appear in their anniversary show X, curated by the amazing Sarah McCrory and opening Friday evening in London.
We talked for an hour or so about how they started, how they run, their artists, and the role of a gallery itself.
The entire conversation is transcribed and printed below.
I learned much indeed.
By the way, we were sat on rare mirrored sofas and chairs by Robert and Trix Haussmann, who they have shown in their space.
I start from a point of total ignorance…
ME: Tell me everything because I know nothing.
ASH L'ANGE: Everything? From when till when?
Forever.
AL: About what?
Everything.
NV: Well we met at school. That kind of far back?
Yeah.
NV: Well we met at school when we were 13.
AL: We've vaguely been friends ever since. On and off. Gallery-wise, we set up Miller's Terrace in a space that me, Simon Owens and Nima Nourizadeh had got to produce music videos and we had decided to do an art gallery in there and had approached Nicky to run it.
NV: But that was also quite a long drawn out… Because I was an artist. I was really reluctant to get into galleries at first. Kind of. That was kind of the way. And then it went very much the other way.
AL: And you were also working for Gregorio Magnani, at Magnani Gallery, which was in Whitechapel.
NV: Well it was on Warren Street and it moved to Whitechapel, Commercial Street. He had a great gallery, but he closed it in 2003. Then I went to work for Sadie [Coles], but by that time we were already doing our projects. I only ended up being there [at Sadie Coles] for a year before we decided to do this.
So Miller's what in where what?
AL: Miller's Terrace. It was on Miller's Terrace.
NV: You know Mangal [a super famous Turkish restaurant in Dalston]?
Yeah.
NV: That side street, that's Miller's Terrace.
AL: And we started the space at the very beginning of 2004.
So you weren't doing it for that long before you started Herald Street?
AL: About nine months. But it was good. During that time we had a massive party during Frieze.
NV: We did a lot of parties.
Frieze had started then?
NV: Frieze started in 2003. It was the second year of Frieze. And we did Oliver Payne and Nick Relph. It was their first ever solo show in London. And Gang Gang Dance played in the basement of the pub next door. It was pretty funny.
[An installation shot from that show at Miller's Terrace – How To Recover From Hyper Mode]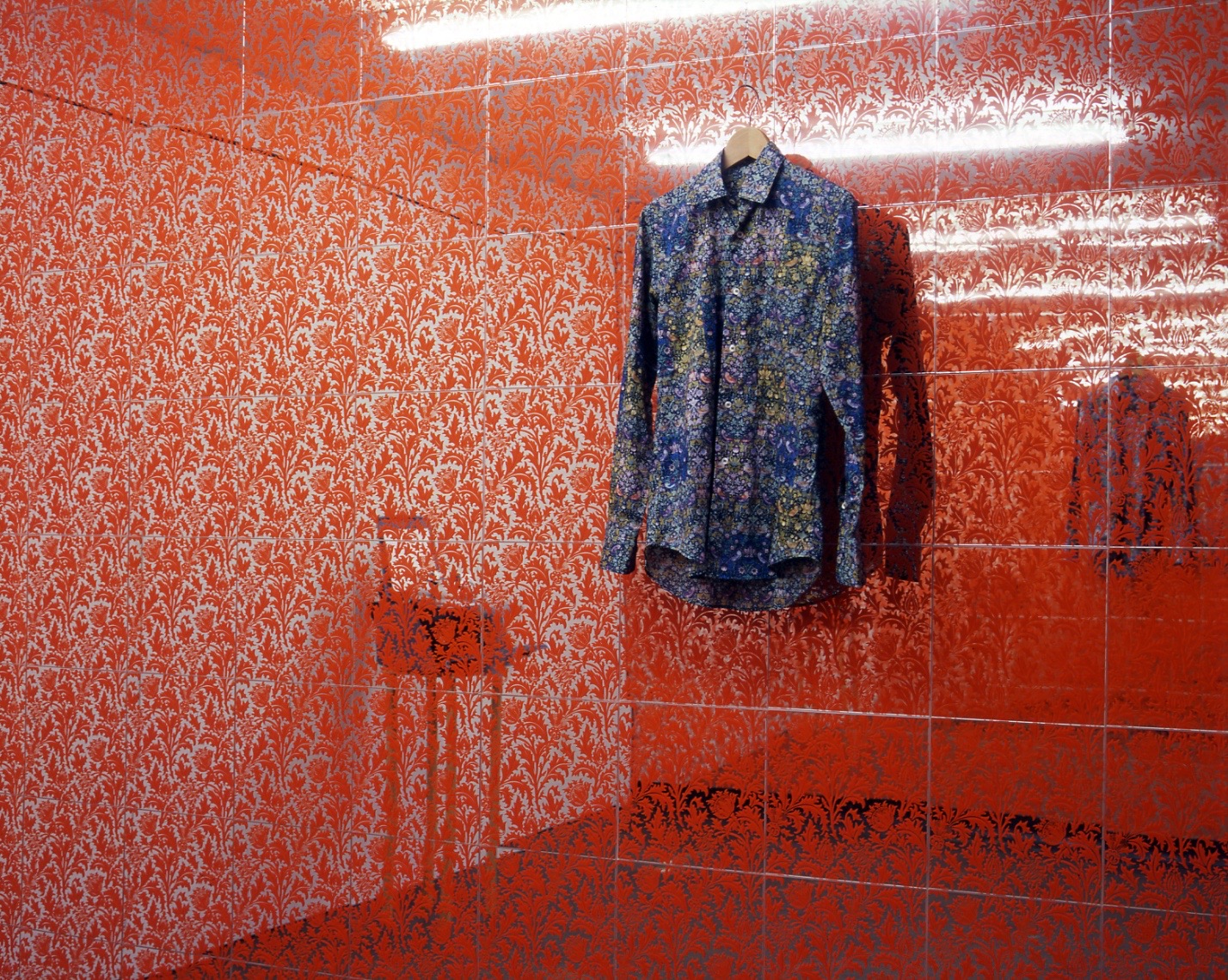 AL: It was amazing seeing people turning up in chauffeur driven cars.
NV: To Dalston.
AL: It wasn't like it was so long ago, but Dalston back then was… Our first ever opening at Millers Terrace, as I was walking up to get something for the opening, and I remember there was a huge fight out in the street between two drug gangs, one Turkish and one other street gang. The Turkish gang had knifes and it was all going off.
NV: And chains.
AL: And metal sticks. Those bendy metal sticks you use for bending pipes. It was about two hours before the opening happened. Ohmygod they've got to clear up, because all the police cars and helicopters, I was a little nervous people would be put off but
NV: It was fine. We were selling art works for five pounds so it all went very well. Alalia Chetwynd was the first show. And she'd made these masks. And we were selling things for five pounds. Or twenty five pounds I think she did the limited edition ones.
AL: Alalia Chetwynd AKA Spartacus Chetwynd AKA Marvin Gaye Chetwynd.
NV: And she'd made these little bat paintings, and we were selling them for £300. I think she sold them all. We thought it was pretty amazing. We were never planning to sell them, but they just kind of sold. Then we could pay for the beers. That's what I remember thinking. We can pay for the beers for the next opening.
AL: Show to show was definitely done in a way where we were financing the next show off the back of the first one. Literally we didn't have any source of finance in place. We never got that. We literally started and it was a good time to start a gallery actually.
And were the artists your friends?
NV: Now it's really obvious that a lot of the artists we started with were at art school with me, because I went to the Slade. So like Djordje [Ozbolt], Pablo [Bronstein], Matt Darbyshire, but they weren't really showing at that stage. It was also an association with Magnani, because they closed in 2003, very suddenly, so we started showing three artists who they were working with, so Scott King, Donald Urquhart and Christina Mackie. And then Nicole Wermers was someone I'd met her through Emily Pethick [the director of The Showroom].
AL: We talked to her and invited to do the show.
[Here's an installation view of her show Katzensilber, 2004 – works from which will be included in X – the anniversary show opening this week at Herald St]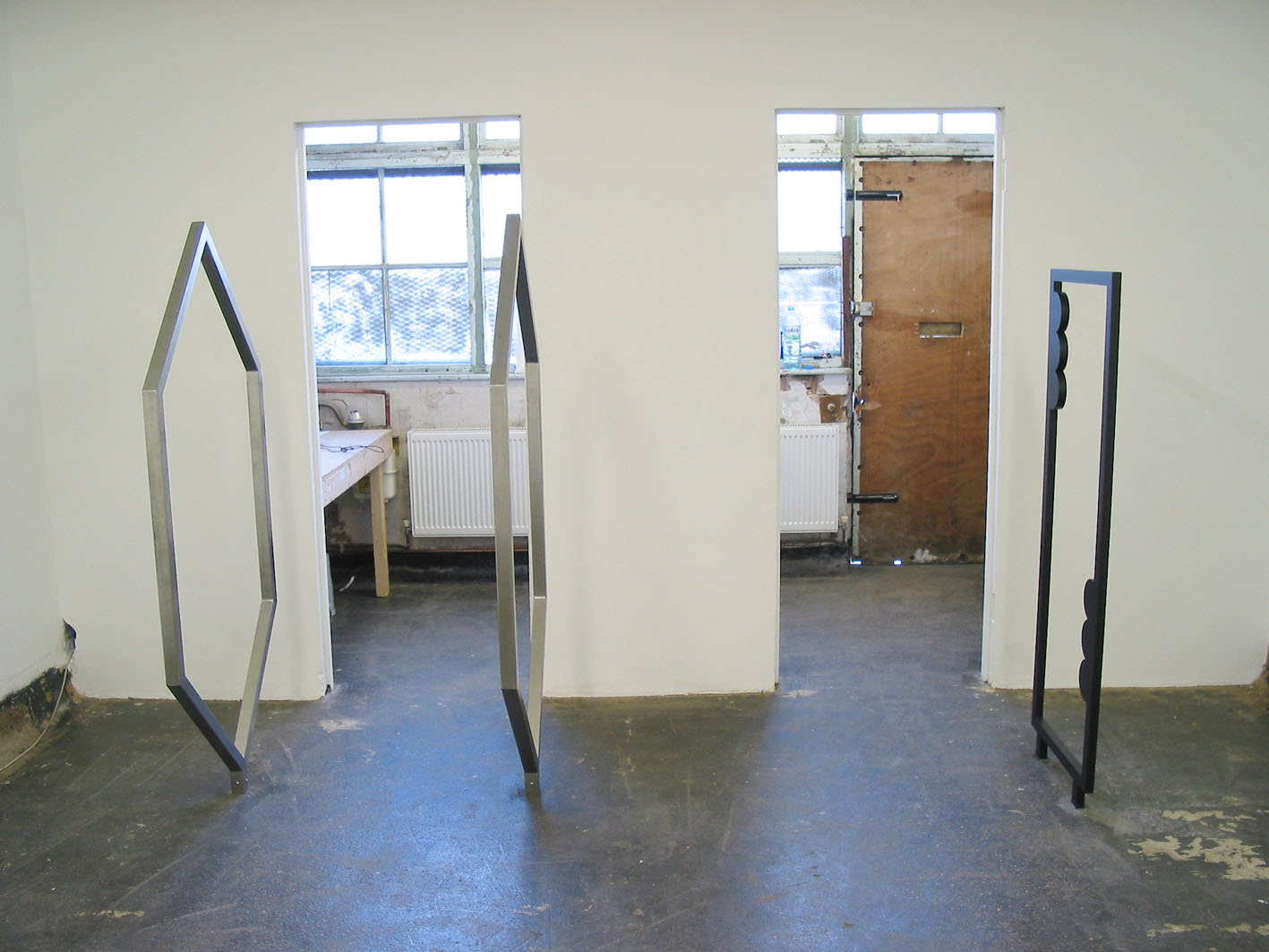 NV: Nicole's just done the show at Herald St. with the chairs [it had chairs covered in fur coats, which was apparently the gallery's busiest ever on social media].
But wasn't it quite a big step for those artists to go from a commercial gallery to come show with a start-up in Dalston?
NV: It was different times then. It seems strange to say but there didn't seem like there were any young galleries in the commercial area. There were way less galleries full stop. There was Hotel, they had already opened. I can't remember too many more at the time. And we weren't necessarily a gallery representing artists. We were just doing fun projects and parties.
AL: So initially when we started working with those artists we weren't working in the…
Working in the 'working' sense.
AL: It was more like inviting them to do projects at the space.
NV: And anyway someone like Donald Urquhart had only just started showing a few years before, so his career was very young.
[An installation view of Donald Urquhart's Listen to the Wine, 2004]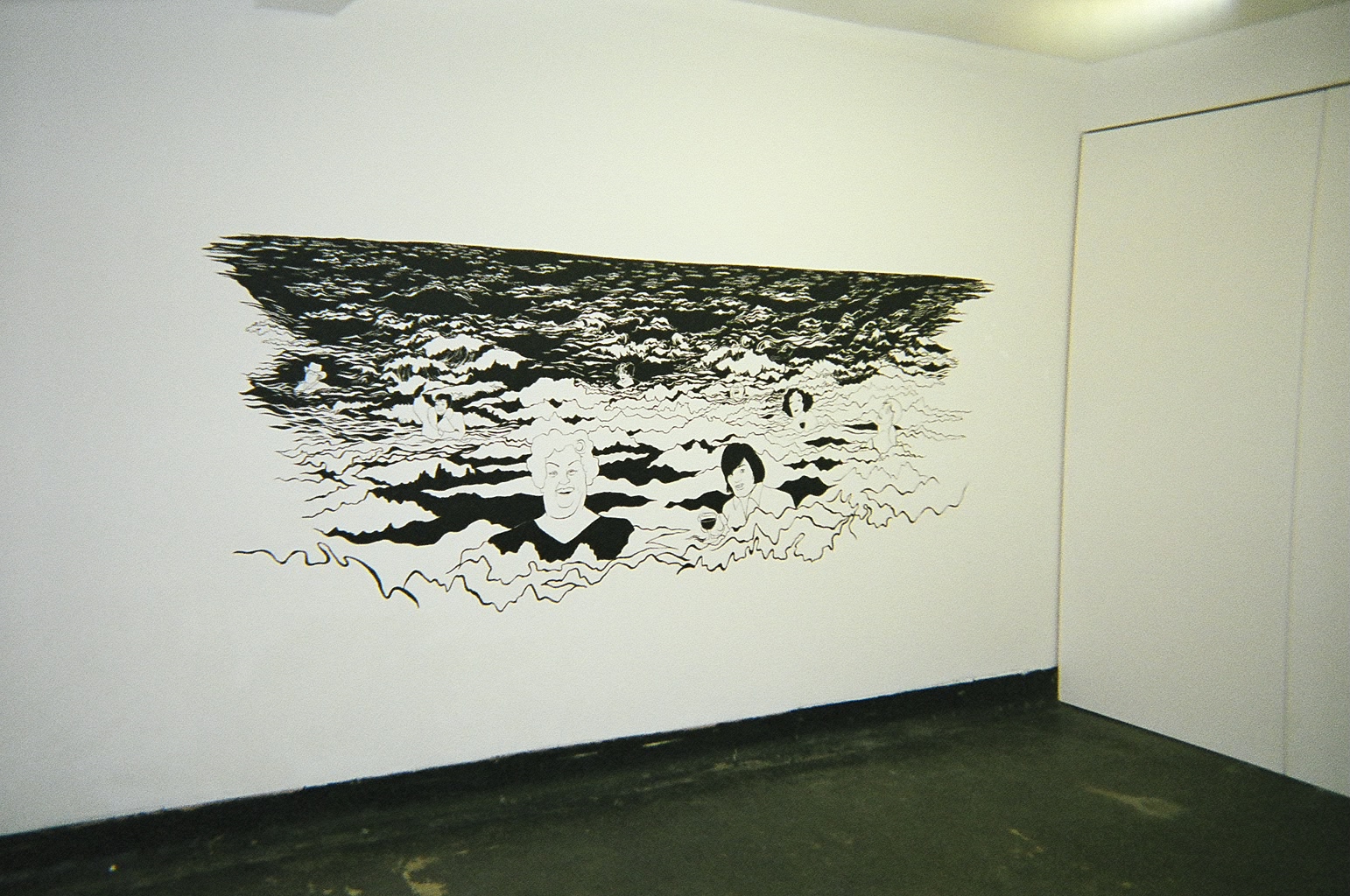 And I suppose Scott King to a certain extent. Christina we didn't really do anything with until, she was the first show in this space. In Herald Street. That's quite a funny story too. Wolfgang [Tillmans] used to come to a lot of our openings. And he turned up at the last one at Miller's Terrace. The last show was called Curb Your Enthusiasm. It was a bit of a joke about how it had got a bit out of control. It was a huge amount of fun but it was also growing too quickly.
AL: And also too many works for this small space as well.
NV: It was a play on that and also the TV show as well. Wolfgang turned up and said oh, I heard you were looking for a space. And we weren't. I mean we knew that we were…
AL: We had discussed it but no-one else had it been mentioned too, so it was really random that he said.
NV: He said, our landlord's looking to rent out the ground floor space, you should come and see it. [At the time, Wolfgang had a studio in a vast warehouse space upstairs]. It was a sweatshop that he'd just got filled with cardboard boxes.
AL: It was filthy. It was really filthy.
NV: We just said no, because it was too big.
AL: We didn't say no, but we walked in and said this is amazing, but it was way too big for us.
NV: I think our initial thoughts were, no this is too big, but then thought no, the maths are viable. Just about.
AL: Financially it was viable, but then we had to figure how we could, we actually ended up starting with a smaller space within a bigger space, and then as we could financially afford it we expanded into the space as it were. There's been so many iterations of the gallery in terms of actually maximise as much space as we can from it.
So there was a bit between Miller's Terrace and Herald Street when there was no gallery?
AL: Like three months.
NV: And we did a show in New York, at White Columns.
AL: Our first ever show as Herald Street was Matthew Higgs' first ever show at White Columns. There's a tiny project room right at the back and he gave it, and it was the first ever show by Herald St but we actually hadn't even started the gallery yet. We were working on it but we hadn't opened the space.
What was that show?
AL: It was a group show of artists that we were working with. It was six artists.
And by that point you were 'working' with them?
AL: Yeah, we'd sort of established that we had a relationship with these artists and we were working with them. When we started Herald St, we had realised that the initial model had changed from project space to a gallery, and we were running a gallery. We were already applying for fairs and stuff. In our first year as Herald St we got into Frieze.
NV: And Liste [the fair that runs in Basel at the same time as Art Basel]. We were the last gallery to be accepted in Liste that year. The fair was in June, and we'd only opened in April.
AL: Yeah we opened in April and got into Liste and Frieze that same year. Partly on the back of us having Miller's Terrace before.
So the first show here was…
NV: Christina Mackie [currently showing in the Duveen Galleries at Tate Britain]. It was one large installation. It was amazing.
[I Can't Help You by Christina Mackie – the first solo show at Herald St.]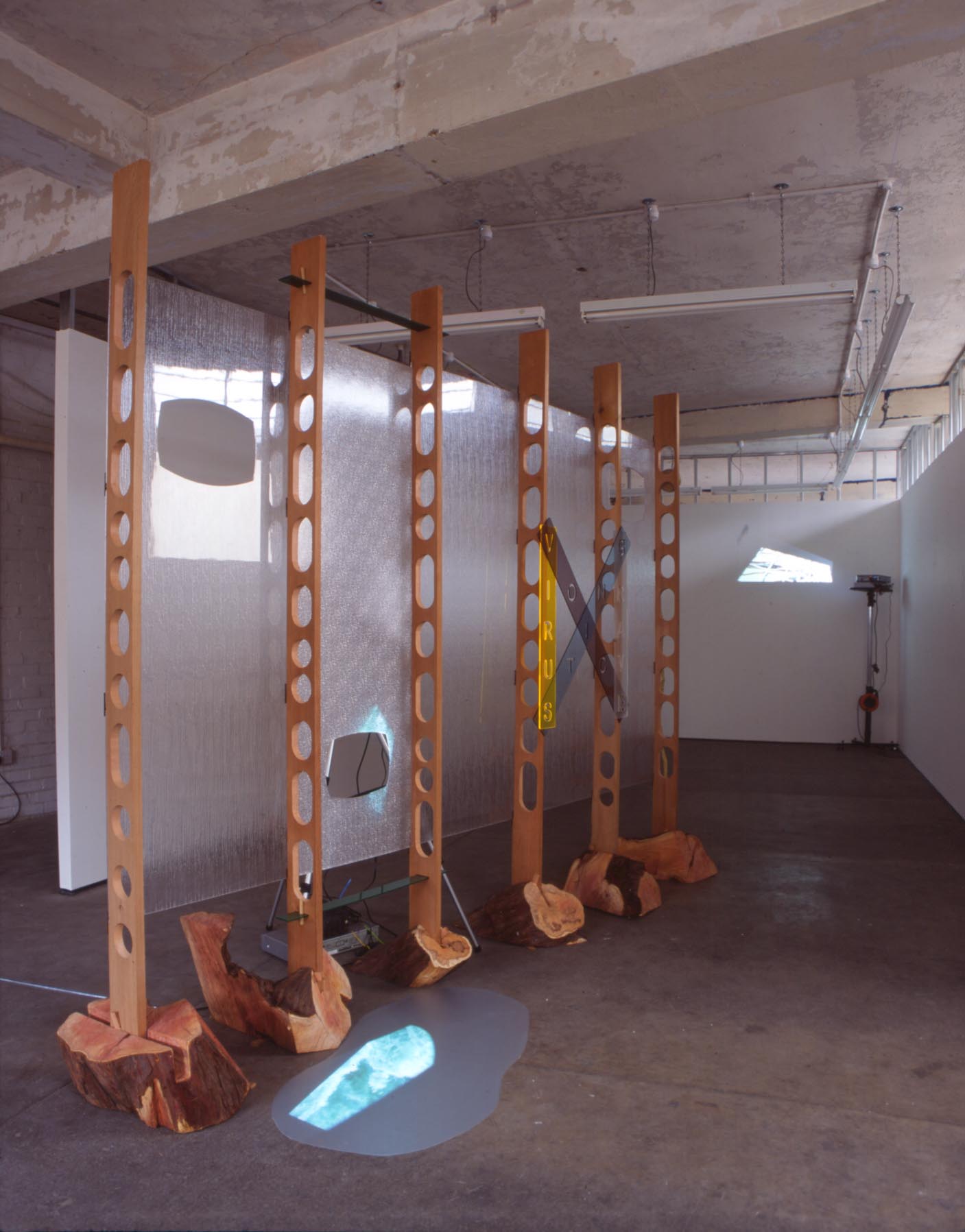 We're actually showing it again, but not here, but in Golden Square in two weeks time, as a marking of the anniversary but also because it's an important work that hasn't been seen for a long time. Tate acquired one of the other works in that show, and a few other pieces were donated to Tate as well. So it was quite an important show for us.
What was it?
NV: It was a screen made out of wood and plastic. That's quite a crude way of saying it. A lot of the plastics were machined perspex, or machined plastics from a hardware store, like industrial screens to build a shower. Some had snow, some had rain, different weather patterns, and they made up the different parts of the screen. And then there are two different video projections, one that goes through it because it has these holes cut, one of a waterfall, and one of a bridge walking over the waterfall. It's a really beautiful work. And the base of it is stumps of trees. It's all held in place by these cut logs.
And by this point, was it obvious how to be a gallery?
AL: You know what, it happened naturally, but it actually happened quite early on. Back in Miller's Terrace after that first show, where the mechanics of it started to fall into place, and you realised working with artists like that, a group of artists who all didn't have galleries yet, who you were working with very closely and you realised that actually the relationships were really strong. You naturally were progressing into the normal gallery situation where you were representing them. And also because Nicky, a tiny bit from working at Magnani, but really from working at Sadie Coles, we realised really quickly, and also my background was more the business side of things initially, we figured out if you're going to keep going, you have to put the systems in place that mean that it's not just, "hey! It's this fun thing!," and it suddenly collapses because you haven't been archiving stuff, which you don't do to the extent that you do when you realise you're a business, but we did have it down pretty efficiently considering initially it wasn't intended to be a business.
NV: We were aware of the systems. Probably a lot we didn't do at the beginning.
AL: No but we did do the most important things like we had all our accounts together, we actually had all of that in place. And actually ending Miller's Terrace and setting up the new business, which was Herald St, meant that we could also really focus on knowing what we'd done in the last year, what was working and what wasn't, we'd set up everything in a way that it could move from then on really efficiently. Sadie was invaluable in helping us.
NV: And Gregorio and Marina Bassano.
AL: And Pauline [Daly, director of Sadie Coles HQ] for being able to, if we needed to call anyone and say, "ohmygod, someone's trying to buy a piece of work", you could actually call somebody to give a piece of advice on what we were doing. And actually even Gavin Brown as well, because we'd known him for ages through Oliver Payne and Nick Relph, so again was really helpful in being able to go to if we needed to ask any questions.
And I suppose the nuts and bolts of doing a gallery are quite clear and straightforward if it works properly.
NV: You mean like systems and things.
I mean in terms of representing the artist, you show their work…
NV: You talk to them about what they're going to make.
You're a conduit for a thing happening.
NV: Yeah, kind of. A lot of what goes on in galleries you don't see. A lot of it's very boring administrative work, or archive, storage. Most of the stuff is super unglamorous. We were probably quicker to adapt to those systems than some galleries were.
AL: Well you look at some galleries, the problem with a lot of young galleries, a lot of them think it's what you're saying [as in, it's quite a clear and straightforward role]: yeah you engage with an artist, you try and do a project with them… But if you actually look at it as a business, if you work from the beginning with a very laissez-faire, 'yeah this is fun' approach, if you end up actually doing quite well, but you haven't put the systems in place, you're still going to get four years down the live and you're going to be really in trouble because your archive isn't going to be, you'll have all these things that then will make it really difficult, to have proper accounts you can go back on, all your shipping, which is very important because actually a lot of energy is actually about just movement of artworks around the world.
NV: A lot of money. Humongous amounts of money.
AL: And if you get it wrong, it's the end of the gallery.
Why's archiving so important for a gallery?
AL: Because you need to be able to go back and see every single work that's gone through. If we go through our archive we can see every single work that's in storage. We can see where in storage it is.
NV: Do you mean why is an archive important?
Yeah.
NV: Well because that's part of the role of the gallery, to keep an archive of its artists and what they make, and keep records of everything. That record is definitely visual, but it's also provenance, materials, where it's been around the world, and values and how values might change, primary and secondary market. It's actually a really huge chunk of what a commercial gallery does, in terms of representation of an artist, and one of the services that we offer an artist. If you work with us, you definitely get all those things. You don't have to worry when you give us a work, where it is at all times, if its insured at all times. That side of things is super important, for making catalogues or for press. There's never any issues there with that side of it. I think that's one of the great things about how a gallery should work: it's got an amazing archive, we've got everything that everyone's made for ten years at the touch of a button, if you want it. For artists who say we want to do a book.
AL: Or even a show. If you get someone doing a solo show of an artist, sometimes it'll be like OK, we want works from this period and this period and you have to be able to go back and find out what's in storage, what's with what collector, where the collectors live, it can be coordinating works from twelve different countries, But you need to know where all those things are.
So what were your first year shows?
[Both of them laugh] NV: I'll have to look that one up.
AL: So the first solo show we did was Christina Mackie. And then who was after that? I know Tony Swain was in the first year Cary Kwok show was in the first year. Who was the show first after Christina?
NV: OK so it was… Cary Kwok! [Nicky is looking on his phone – the Herald St website has a full list of all their exhibitions, in order]. Cary's quite a good story. Back in the day, way before we had the gallery, I've got a good friend called Jamie Johnston, you might know him [I do indeed – Jamie is a fabulous director of great fabulosity]. He was at Saint Martins doing graphic design. We used to hang out quite a lot. I had big curly hair, much bigger than this, and I used to hate going to the hairdressers. And Jamie also has big hair, and he was like, oh you should come with me and get your hair cut by Cary. He's at Saint Martins doing fashion but he cuts peoples hair. I was like, fine. And so every so often we'd go down to this little flat in Battersea and he'd cut my hair. And on the second time, Jamie was like, Cary's too nervous to ask you but he said you work in a gallery, would you look at his art. I was like, yeah sure alright. So I went round and he'd got all these insane drawings of like Kate Moss wearing a crazy Dries Van Noten dress, all super detailed. We were like, this is interesting, but not art as we would show art. It was more along the lines of illustration. But then we thought we should commission him to do some drawings of London Zoo because we did this thing called the Zoo Art Fair when it first started. Oh that was the first fair we did [Zoo took advantage of Frieze's positioning in Regents Park, staging an independent fair in the buildings of London Zoo]. That was as Miller's Terrace. He was like, what should I do? We were like, just go to the zoo, get some inspiration, do what you want. And he did this one amazing drawing of this peacock with every feather detailed, it's beautiful. Then he did this drawing of a Hong Kong businessman staring into a tree and in the tree were these monkeys fucking. It was amazing, and we were like this could be really interesting, where this is going. Then we invited him to be in that show Curb Your Enthusiasm, which turned out to be the last show at Millers Terrace. He asked what should he do, and we said, literally do anything you want. He went, OK OK. We were sitting in a pub, me, Ash and you know Conor Donlon?
Yeah [Conor owns my local bookstore Donlon Books]
So he also opened a bookstore here when we opened this. So Conor was at art school with Cary, and we were all sitting in the pub and Cary's got this folder, and we were saying, go on, show us stuff. He was getting really antsy, saying no, no, because the pub was really busy. We were like, what's the problem? He was like, OK fine, gets the drawing out, it's an amazing drawing of a huge erect cock, with all these naked men dancing on the cum.
[Here's one of Cary Kwok's works from the subsequent show Plumage – this piece is called Pole Dance]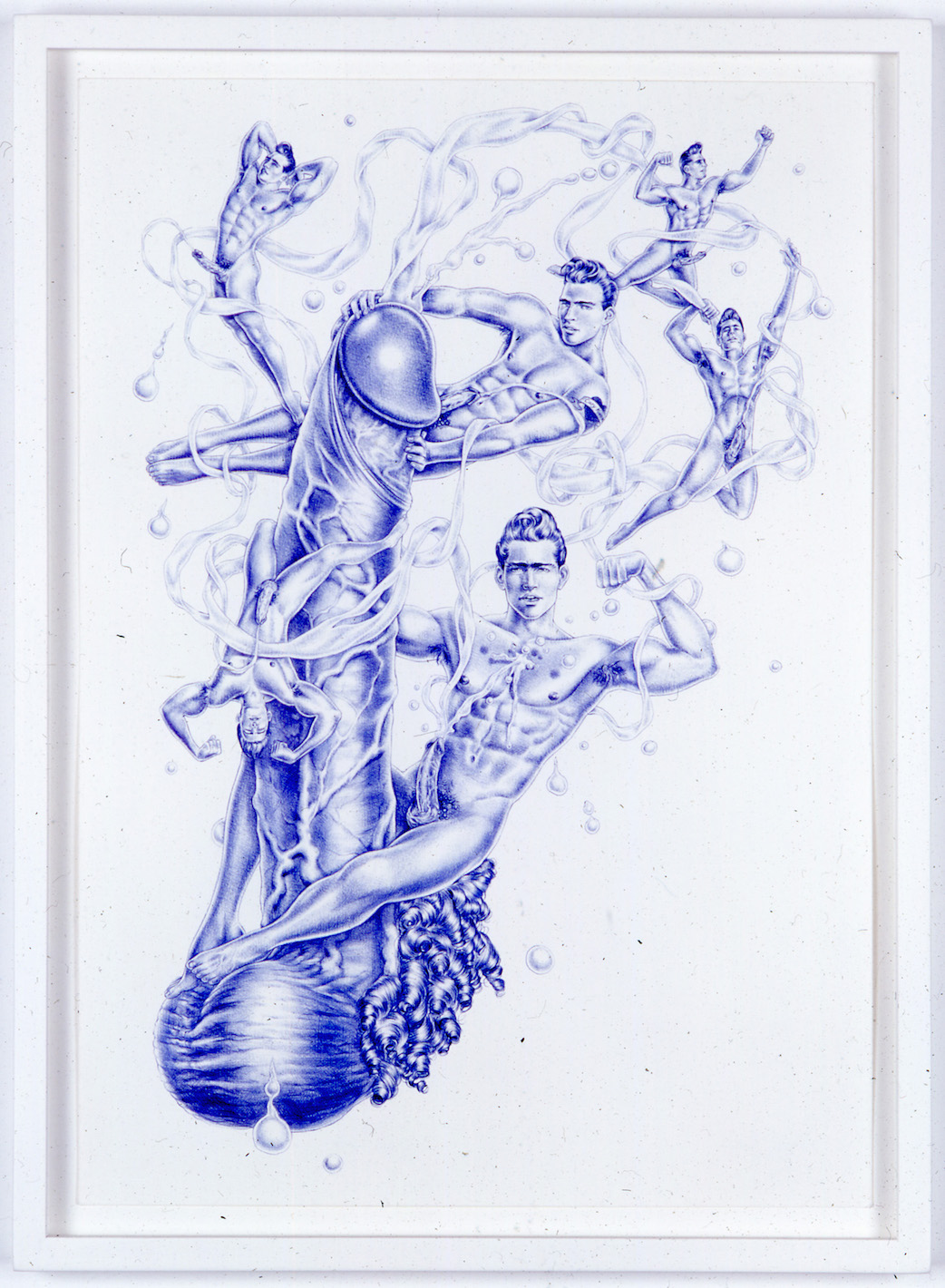 It was the most insane, I remember seeing it for the first time and we were all like, where did that just come from? He'd never done a drawing like that before. He's actually done a new version of it for the show. This is the 3D version [Nicky pulls a work out of its wrapping – it's extraordinary].
AL: You know what, the original one was just done with biro. He literally has to wipe it between every single mark so it doesn't blob up.
NV: So that came out of nowhere, that he was suddenly an artist you could show. And people were going crazy about the drawings.
So Conor had his bookshop in here from the beginning?
NV: Conor had been working with Wolfgang [Conor was Wolfgang's assistant, and appears in many of his images]. And so Wolfgang was like, if you guys have got too much space you should talk to Conor, because he wants to start a bookshop. I think he just had the space for free, but he looked after the gallery on weekends – that was the deal for a while. Certain people would come to the gallery just to see Conor. And he was what is now that storage space over there.
[This is what Conor's first ever book store looked like, inside the Herald St space]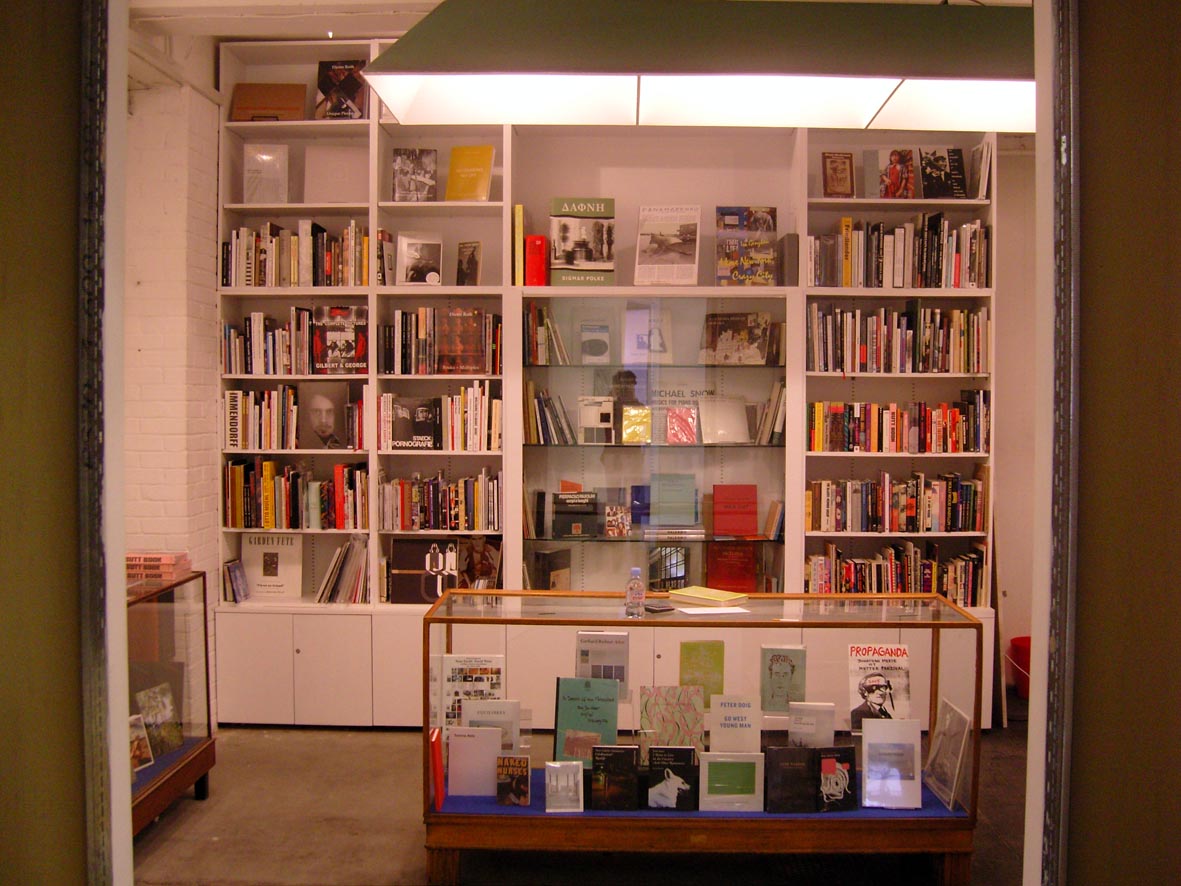 AL: It was always hit or miss whether he'd be in or not.
NV: You can quote that.
AL: He's amazing, Conor. It was good having him in here too. A good synergy.
NV: It was good to have another energy and another reason for people to come to the space. And also the way he was curating his books it wasn't just art, in fact at that stage it was way less art and much more culture and fashion and history.
And had Wolfgang opened Between Bridges by then [his eventual small gallery upstairs, now closed – though Wolfgang now has an exhibition space of the same name in Berlin].
AL: So Wolfgang had his studio, it was an enormous space and he would lay out the whole museum so he could plot physically how he would, he would hang whole walls.
NV: And he used to do crazy parties but you've probably been to those.
I never went to any of them!
NV: What any of them?
I never went to them!
NV: The first one I went to was at Maureen's [Maureen Paley, whose gallery is down the other end of Herald Street. She is one of the most important figures in London art, and has been Wolfgang's gallerist since the beginning of his career]. So that was his first studio in this neighbourhood –the top floor of Maureen's. I think she had the gallery downstairs and he had the top floor. This is obviously well before we were here. I think there was a really famous photo from that party, it must have been 2001, and then he opened Between Bridges, that must have been quite a lot later than when we opened here.
AL: Yeah.
NV: 2007, 8? So that was good. Then you had three spaces on the street for a while. In the more recent history things have changed quite a bit. Hotel opened up there for a bit, and Campoli Presti opened there now, and then Laura Bartlett [whose space is upstairs from Herald St]. So four galleries and Herald St somehow still here.
AL: Not knocked down and built into studio apartments.
So what did you show in your second year?
NV: Pablo Bronstein's first ever solo show was a seminal show. It was just three walls so it was quite a weird space, and it was super theatrical. And actually they weren't even on right angles but you didn't know that because you only ever saw it from perspective. His show, there were kind of two sides to the show but what everyone remembers is that he just cut this arch into the space and that was it.
[Installation view of Pablo Bronstein – 2006]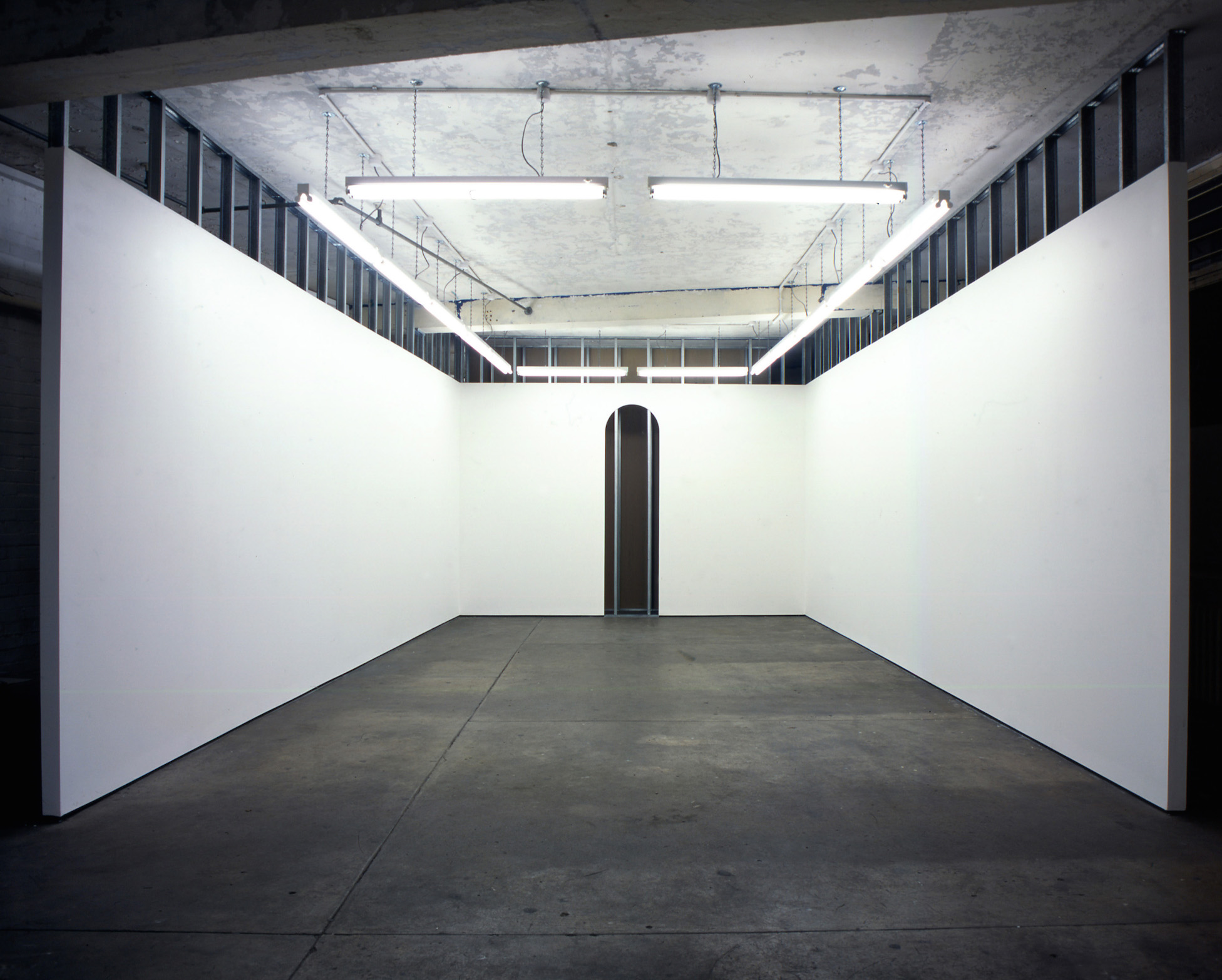 AL: So even behind the arch you could still see the structure of the wall, the beam coming down in the wall. But he just cut the arch…
NV: It was a really beautiful piece. Then it was Donald Urquhart. Then it was Nicole [Wermers].
AL: Did we do Klaus in that year?
NV: Scott King. Then Silke Otto-Knapp curated a summer show. We did a lot of summer shows curated by other people. Silke was quite important in that she had brought people like Alex Bircken to us and connected us with a different European set. That was a great show, it had Yvonne Rainer in it, Isa Genzken. Then we had Djordje Ozbolt's first ever solo show, and then it was Klaus Weber. It was a seminal show here. It was the fountains.
[The Big Giving (Small Group) by Klaus Weber – 2006]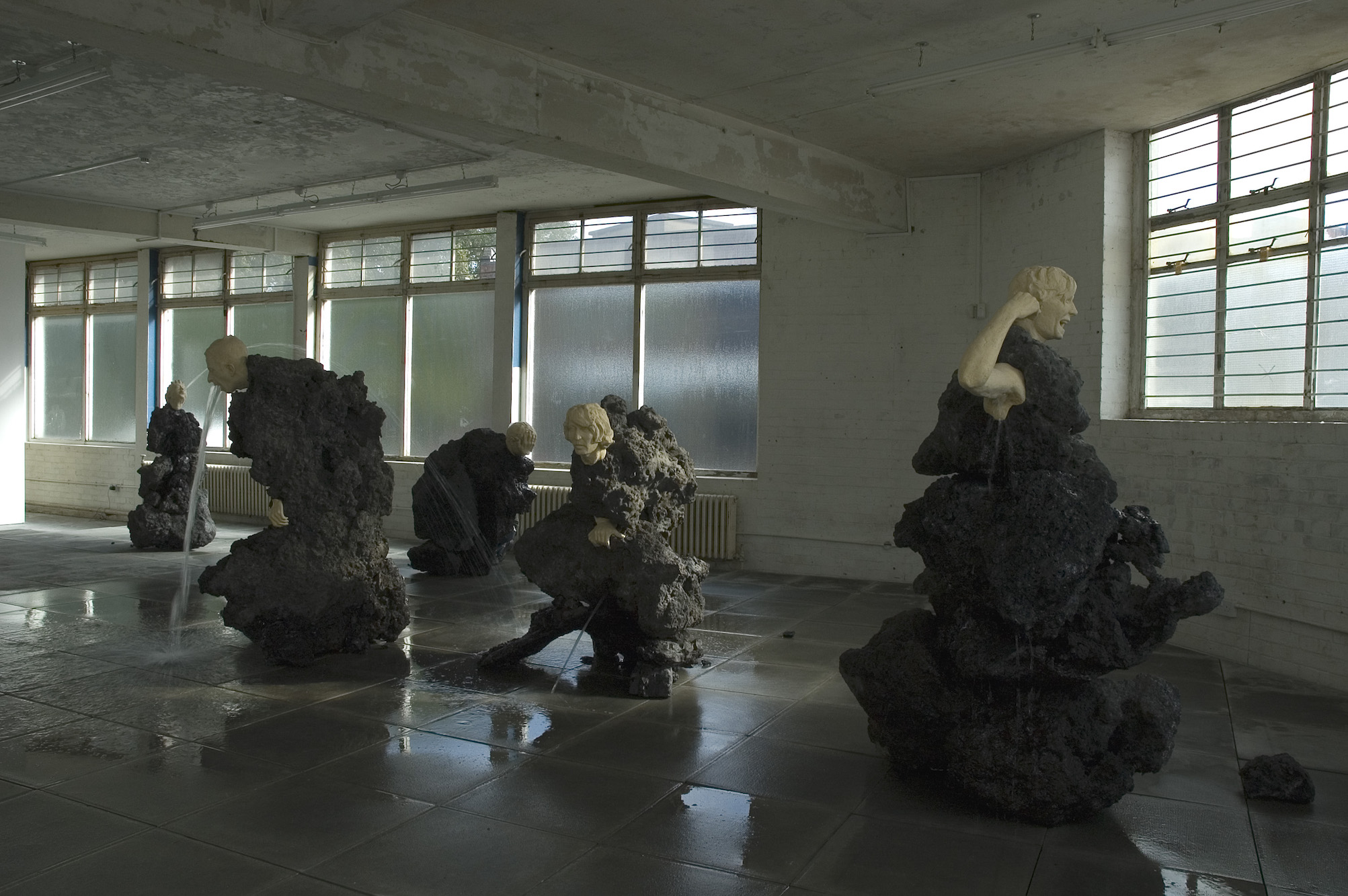 AL: We basically took up all the walls in that front space, and it was seven or was it six water fountains, they're actually running. And what we had to do was build a sub floor for the entire space, so that the water could run onto the floor and into a pond, so that the entire gallery had a pond underneath that the water could then be pumped all the way back, underneath. It had to go off into another room and then through these pumps and then back. But the sculptures were made out of this material that is some sort of a metal by-product, it's 90% metal, so the lightest one of those sculptures I think 700 kg.
NV: Some weighed over a ton.
AL: The biggest one I think was 1.8 tonnes.
NV: It was vomiting, pissing, sweating, crying. They were all doing bodily functions. It was a really difficult show to do. We spent a lot of money on it basically.
AL: For a gallery, everything that we'd saved up and worked towards, all of it went into that show. We also had alongside it, which was probably not a smart move, we ended up having to buy loads of dehumidifiers, was Matthew Higgs curated a show called Other People's Projects and it was Christopher Knowles and B. Wurtz, a really beautiful show, we'd built a second space at that point, and we had the bookshop too.
NV: Conor called us up and was like, dude, all of my books are warping. And we were obviously like then were like, the works in Other People's Projects were all consigned from Gavin Brown – shit, we're going out of business again.
AL: They were really beautiful, simple text based works from the 1970s and we had to go out and buy loads of dehumidifiers.
NV: They worked. Somehow they worked. We were like ohmygod all of Conor's books could be ruined.
AL: It was amazing because you'd empty them everyday and there would be a bucket of water this deep.
NV: Basically don't put a massive indoor fountain in a commercial art gallery.
AL: But it was amazing.
NV: It was worth it.
Where were your desks when it was on?
NV: Back here.
Could you hear the fountain all day?
AL: Yeah.
Did it drive you crazy?
AL: Yeah it was definitely loud, but we'd kind of boxed it off in a room to the side. When you walked in you didn't notice it immediately. But I remember it in here being pretty loud.
NV: The amazing thing, and that's what Klaus had basically worked out, he'd worked out a way of doing a fountain in the space that when you walked in, you were already in the fountain. It wasn't like there was a floor and then there was another bit, a pool. The water was collected through the cracks, because it was street slabs, paving slabs that we'd cut up for the space. That was the amazing experience, and why it was so good to be indoors, this idea that if you're doing a public sculpture in an indoor space, you could walk into one of the bits of water if you wanted to. You couldn't walk through the show without getting your feet wet.
Was it all one piece or were the individual fountains…
NV: It was sold as one work. The Hayward showed it outdoors in an expanded version, and then it was sold to a private collection and it's currently on view in Conneticut. Thank god it got sold.
Is the show that you do after that necessarily completely quiet and nothing like that?
NV: The next show was Peter Coffin, he did a whole show of dark…
AL: We carried on. We were ambitious back then.
[Around, About Expanded Field by Peter Coffin – 2007]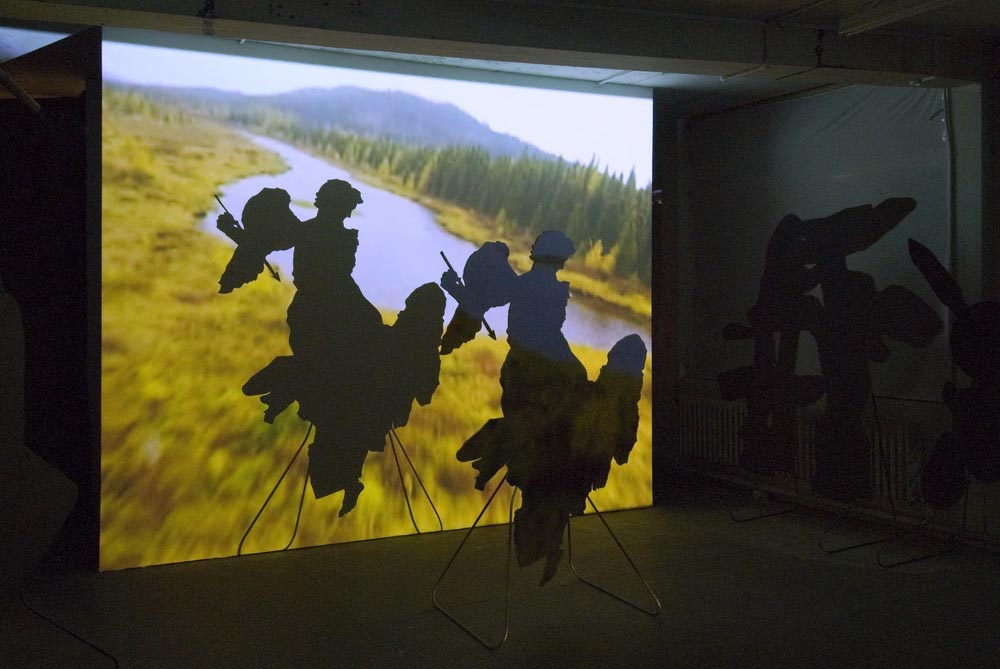 NV: Yeah it was Peter Coffin. It says Cary Kwok again after that. Oliver Payne and Nick Relph. Then Gregorio curated a show. That had loads of people in it. Then it was Christina Mackie and Tony Swain. We repeated quite a lot in the first couple of years. Pablo. Then it was the Possible Document. That was a photography show. Josh Brand, Annette Kelm, Anthony Pearson and Wolfgang Tillmans. And we ended up working with Josh and Annette after that. Markus Amm, Nicole Wermers, Thomas Houseago did his first ever solo show in the UK here.
What was that?
NV: It was called Bastards. It was a sculpture show.
[Bastards by Thomas Houseago – 2008]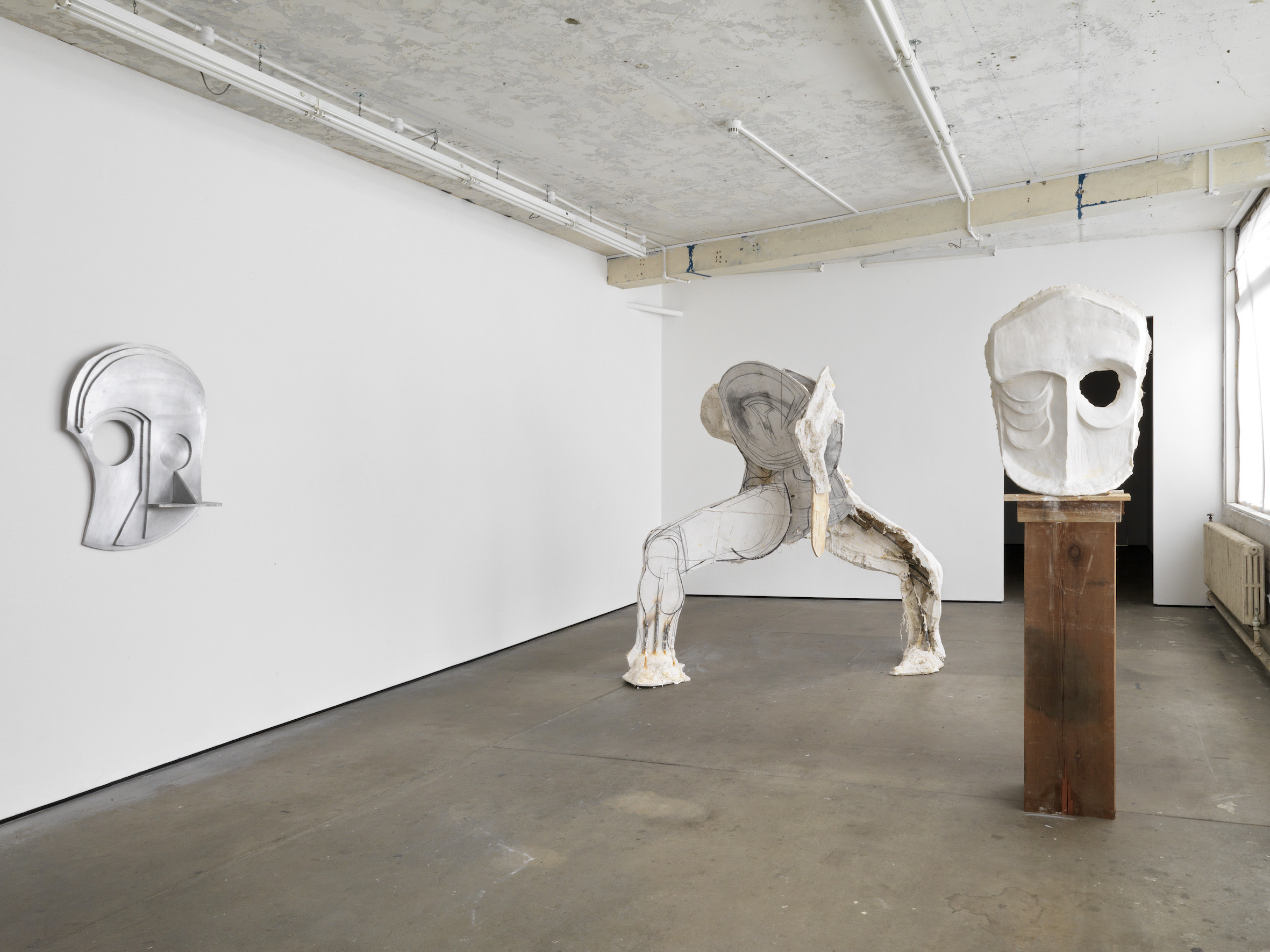 The group show by Gregorio was good – Rebecca Warren, Pae White, Pauline Daly was in that show.
Really?
NV: You can't really see in that image but that was a net piece that she made. Because she was an artist. We were all artists at one point.
Was that a new work by Pauline?
NV: No that was a really old piece. 90s probably.
[The net piece by Pauline Daly in No Room For The Groom – 2007]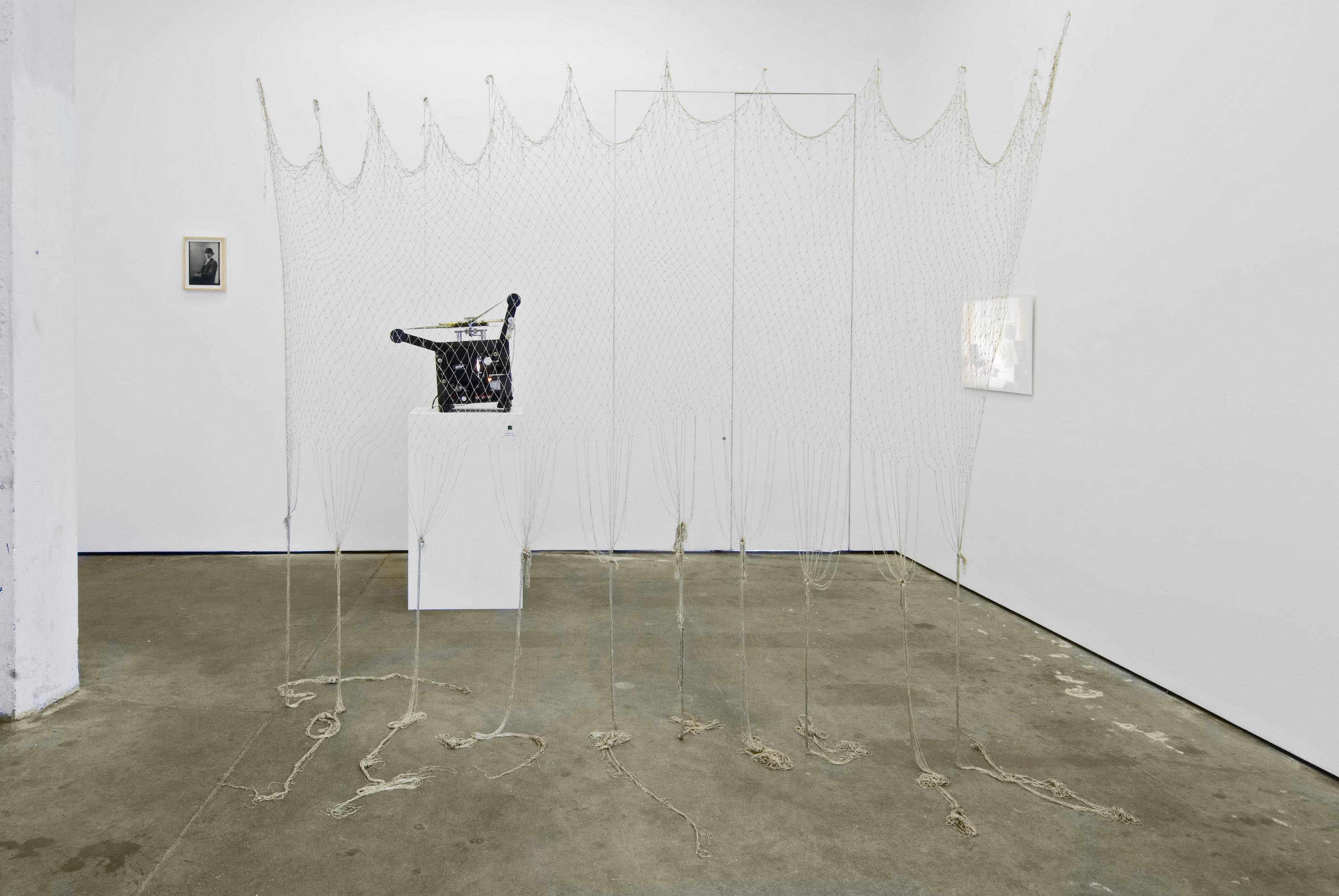 AL: And then we continue and we show lots of other people's art up until now.
It's always been the case that you've worked with people who've been from the beginning and you've had relationships with and it's, like, nice and stuff.
NV: As in, have we fallen out with any of our artists?
Yeah.
NV: Well there's a couple of situations but…
AL: I don't think we've ever fallen out with any artists. There've been a few where we've ended up going separate ways. It's usually to do with far more complex reasons.
NV: Nothing ever because of the gallery to be honest with you. Not in terms of what the gallery was able to do. More personal reasons, such as relationships.
AL: When we've started working with an artist, we haven't just thrown ourselves in. We've usually started by putting them in a group show or something and getting to see if we work well with the artist. And we're very close with all the artists. As a whole you build up that relationship and understand how well you're going to work together. We make sure all the artists get paid and look after them, that they can always phone, within reason we can help them out with most things. We actually have very close relationships with all the artists and that helps.
NV: You do learn about personalities. There are certain artists that you might want to show but they might not work, and that's another side. But you don't know that until you've been through it. So we did have that the odd time, when we had difficult relationships with artists and we just felt that, was it worth it for the work? But having said that, we've never stopped working with an artist. I don't know if that's a good thing or a bad thing but it's still true.
AL: We do have good relationships with all the people we've ever worked with so.
NV: And even people we don't work with we still have good relationships with.
When you say "see whether it works", what is it that makes somebody work and be Herald St.?
AL: It's not just about whether it's Herald St or not. Sometimes it can be just about personality, but sometimes it's also about whether we have the market to help somebody. Sometimes it will just be, we don't really have, for whatever reason, we don't feel like we're helping them as an artist.
NV: I didn't mean that, I meant more if you're going to be able to work with them, as a person, other than if it's possible to sell
AL: But sometimes it's not been personality that has stopped us working with someone. There are sometimes people we've really got on with, and you just realise that for whatever reason you realise the gallery isn't going to be able to work so well with them.
But there's no unifying thread in the work, other than you like them as people?
AL: Sometimes it's how it relates to the other work in the gallery. You're definitely thinking about that, and how it relates to other artists you're already working with. The last thing you want to do is tread on the toes of the artists you work with.
NV: And also there are other relationships to consider, like with other galleries, or other people who are involved with those artists, and whether you get on with them or don't get on with them. There are lots and lots of things to consider about working with an artist. I suppose what you're saying is there's lots of artists we've shown in group shows that we really get on with and we've loved their work, we've sold their work, and we haven't gone on to work with. And there are lots of those. Some perhaps we should have…
But then it's also that thing as well of you don't necessarily know what someone's going to turn into when you start working with them.
NV: As a person.
As a person, or as an artist.
NV: The most amazing thing is to see an artist grow, in ability, in confidence, in stature, broadening their practice from the very seeds at the very beginning. That's still very satisfying. It's more satisfying now at mid-career level where you start to see a lot more museum attention. It's really exciting at the beginning for all artists careers, people are starting to see things for the first time and you're starting to see a lot of energy and a lot of excitement, and the funny thing is about getting to our tenth anniversary is we don't really do that so much anymore. I think really it's not necessarily our role so much, I mean we do take on young artists but not very often, I mean we took on Matt Paweski and he hadn't shown anywhere before, but we hadn't done that for a really long time.
[Matt Paweski's debut show at the gallery last September]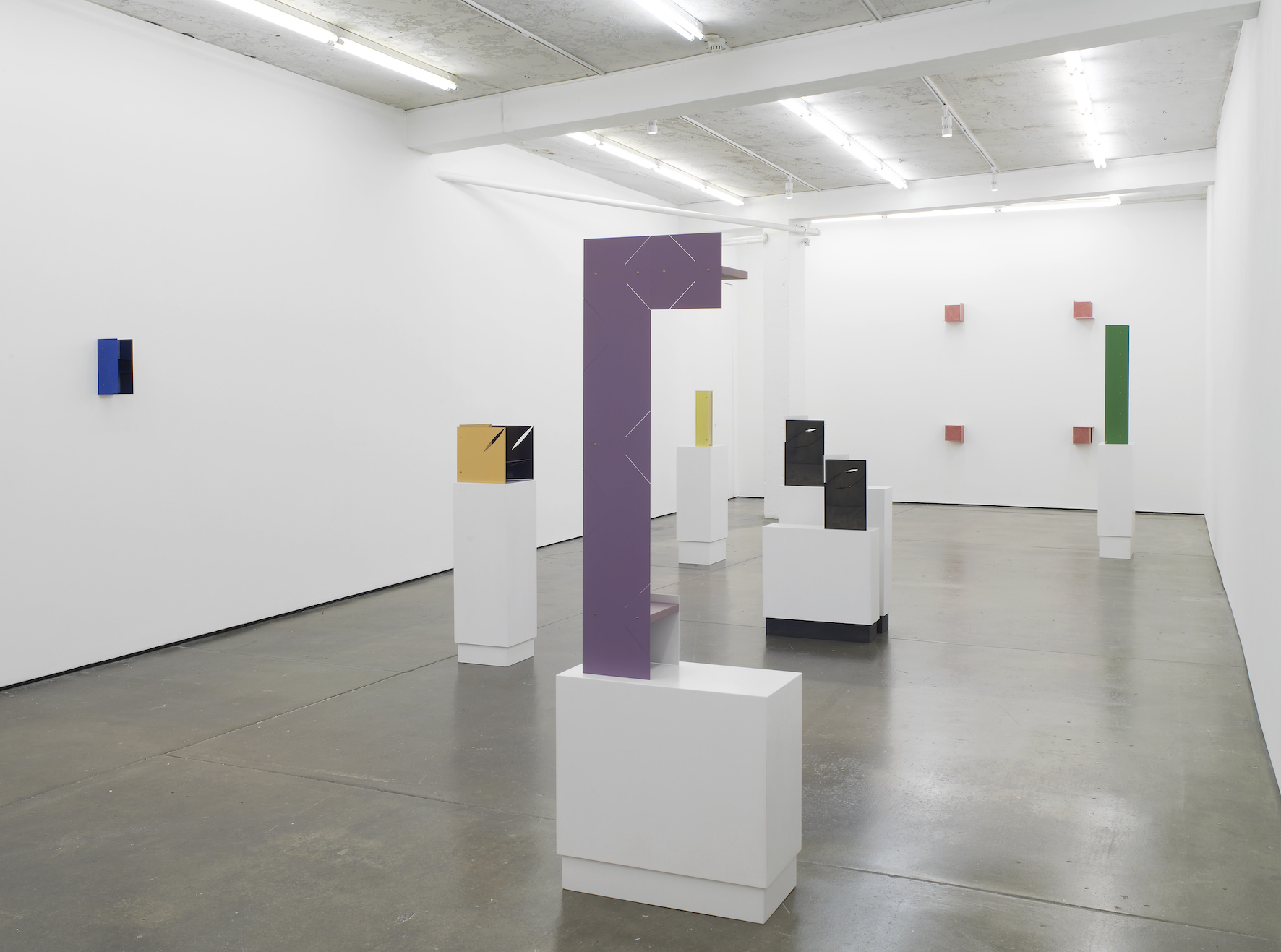 The last artists we'd taken on were almost coming to their mid-career or early mid-career, or late emerging like Amalia Pica or Matt Connors. And then there are so many more young galleries in London who'd be a better place for that now. And young artists would probably want to show with them more anyway. There's no problems there. So the role of the gallery changes a little bit. But that's a bigger conversation about the nature of the art market in general. That we don't need to have.
How did you find Amalia?
NV: Amalia's a funny one because she is good friends with my girlfriend, Jenny. I had seen her and met her around, but actually less in the art world and more in a social environment, and we had just become friendly. And then one day I think we were at a pub, I think it was Mikey's birthday, Mikey Spurlinger [Mike Spurlinger's an amazing writer and curator and stuff], I remember we just started chatting for ages, and we were talking about art for ages, and thinking ah she's interesting, and we did a studio visit, and it was very natural. And then we put her in a group show…
AL: It is interesting that we have a few artists that somehow the relationship is from initially meeting socially, or at least very close to… Matt Connors comes through a group of friends that we know from New York. It came through art but it was instigated by very good friends. We're very close with him socially as well as in the art world.
[The amazing amazing debut show at Herald St by Matt Connors, who showed with Marc Hundley. Matt is a total favourite of mine – I wish I'd asked Nicky and Ash more about him, but maybe I'll grab Matt himself sometime soon for a chat]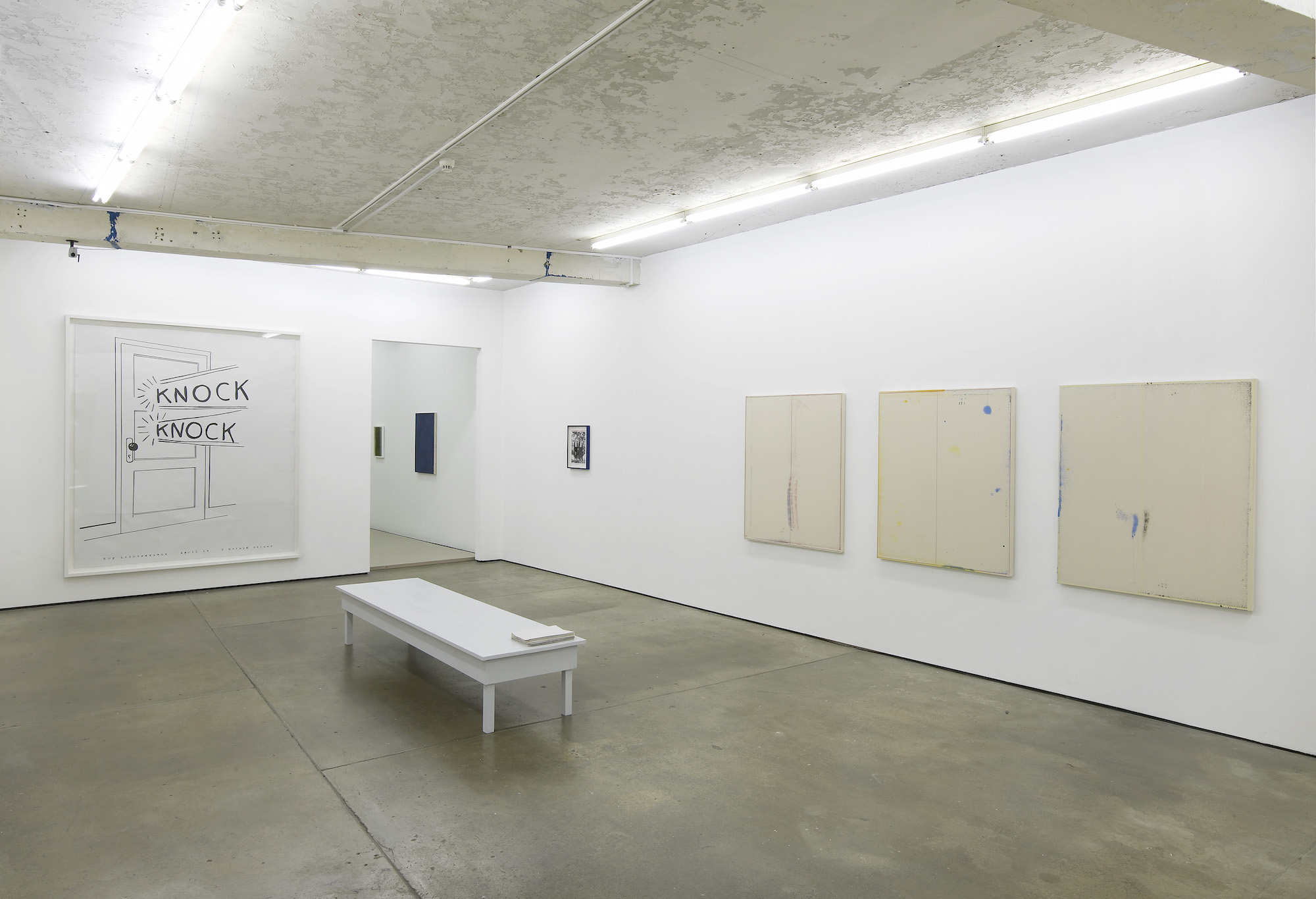 NV: And also Amalia's a London based artist. She studied at the Rijksakademie in Amsterdam and she comes from Argentina, but she didn't have a gallery in London. She had a gallery in LA and a gallery in Amsterdam, but it was really important for her to have a gallery she could bond with here. I think also the generation thing – we're sort of the same age and there's a lot of similar energy coming through at that time so it made a lot of sense. We didn't show her for a long time because she had so many museum shows, it was kind of a crazy year, and then we did our show in October 2013, it was really great, the performances – that was a great experience. That's now in a museum.
[Amalia Pica's amazing debut solo show, which to my great shame has a title involving mathematical symbols I don't know how to find on the keyboard… whatever, it happened in 2013]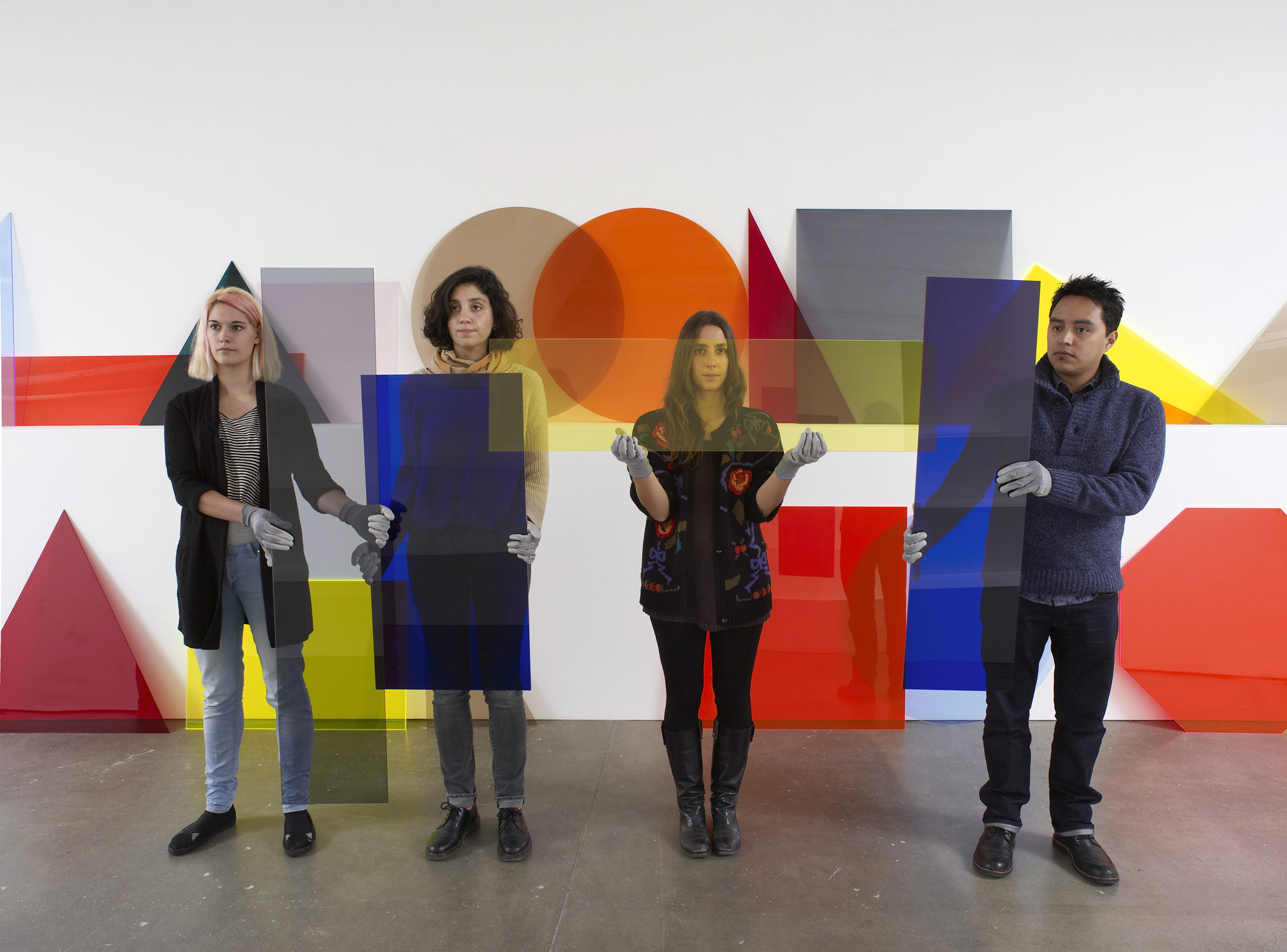 I think it's interesting that thing about personalities. It's the right way to do things. It'd be horrible to work with people you didn't like.
NV: That's the thing. The odd negative experience that we have had, we learned a lot from that. If an artist is just using you, which we had in a certain specific case, using us like a stepping stone, which at that time we were a little naive in, it was great because we got out of it what we got out of it.
AL: Yeah exactly. I think we figured it out pretty quickly. We got out of it what we needed. But then it becomes more about money and that doesn't feel particularly wonderful, when you compare it to the relationships we've had with the majority of artists we've worked with.
NV: It was kind of working against that idea of a bad relationship to have a good one. And the good thing about having two people is that you can really use that to your benefit. It took us a while work that out. You can always have good cop and bad cop. And you can always switch it round. And if someone wants to talk about money, I'm always like, oh yeah maybe you'll have to talk to Ash about that. We still use that tactic a lot. There are certain situations where I'm like, oh I'll discuss it with Ash. Or he'll say I'll discuss it with Nicky. And it can buy you an amazing amount of time to really work out what the correct way forward is.
AL: It's interesting. Even galleries you know have a director that set up the gallery, in most circumstances they've taken on, if not they're actually partners, they've taken on somebody who works as a partner within. I think you need that. You need somebody to be able to run everything through.
Like Pauline.
AL: Yeah like Sadie's got Pauline. At the Modern Institute it's Toby and Andrew. Most galleries they end up with somebody, you have to be able to talk over everything that's going on all the time.
NV: There's a lot of situations where there isn't a right answer either. There are multiple ways forward and you just choose one.
It's interesting the gallery does seem to be defined by longevity rather than quick short term.
NV: Yeah it's funny. It's just come up in conversation a lot in the past few years that a lot of artists would struggle to have a career that lasts longer than ten years. Just because of the nature of the art market. Something's hot, it rises, and if it doesn't sustain, it's very hard to carry on and sell art. That's what I was touching on before, the idea of the mid-career. If it's cool. If it's hot. The art world really works on a lot of those levels, to get money moving through it. This idea of what happens next, it's like a mid-career thing. We don't do that much celebratory stuff in the gallery and this was a chance to do something, to do this one thing.
Tell me how you know Sarah McCrory [the unfeasibly amazing director of the Glasgow International who's curating the tenth anniversary show at Herald St]
NV: We've known Sarah for a really long time. Well over ten years.
AL: Way more than that.
NV: She was at art school in Kingston with Olly and Nick. She actually did work for us for two days. Not that she'd admit it. We followed her path to success through various levels of curatorship, through the Royal College [where Sarah studied curating, and where I first met her], through Frieze and so on and now GI. It's important for us to have someone cast an eye over it, so we don't get too…
AL: We also have a celebrity who used to work for us. Holly Walsh. The comedian? She used to work for us for years.
I thought you said she was a medium.
AL: No. That'd be amazing to have a medium working for us.
NV: That's what we need. What do you think the artist is really saying? Which works do you think that collector will like?
AL: That's what you need. So what work would you like. No she was working for us and then decided when she was working for us…
NV: She was literally like I'm going to become a comedian and we were like, good for you. We couldn't quite believe it. She's now on CBBs and stuff.
AL: Never Mind The Buzzcocks and stuff like that.
I think the mid-career thing for artists is really important. It needs its hotness cycle to be steered in another direction.
AL: It is interesting though. We did go through where you're a young gallery, you're hip, your artists seem to be hip or whatever. And then there's definitely a point where you realise you're no longer in that category but you're not established, you're still trying to get away from this thing of being, oh young gallery. But you're no longer a hip young gallery – you're just a young gallery. There's definitely that transition period. Then there's suddenly a moment when you realise the gallery's more respected. You realise, we're actually quite well respected now, both by artists and collectors. It means you can work with different artists, and you have different collectors, you haven't been introduced yet but they suddenly introduce themselves to you. They realise there's something more.
NV: I think the point there is also that in terms of trying to keep a commercial gallery running, that thing of once the young cool thing has worn off, you're still marketing those artists, you're still selling those artists, you're still trying to increase their profile and presence in the market, that's a different job, and it doesn't get talked about nearly as much as, ohmygod who's the next new kid on the block, which everyone's obsessed with. I'm still completely obsessed, who the new artists are and what they're doing.
But also you've got amazing examples like Maureen over the road or Sadie who aren't monolith megawatt…
AL: Well Sadie's pretty big now.
Yeah but she's still…
AL: I get what you mean. She's not the Hauser model [Hauser & Wirth, whose].
NV: I think that's the most important thing right now, that those galleries are foregrounded in London. As London galleries. I do the applications for Frieze, and all the big ones in London – Hauser, Gagosian, they all apply as London galleries. It's done geographically, so you get these applications and it's like, you're not a London gallery, they only moved here in two thousand and whatever. They see themselves that their main outlet is here, but it's people like Maureen and Sadie and these sorts of figures that have been round a lot longer, and are really important to London artists and the London art world. Maureen's important, because obviously she's down the street from us and she's supported us from the beginning.
AL: Maureen was one of the first galleries to open east and she's stuck with it.
NV: And the Modern Institute in Glasgow, they're a good role model. These are the sort of galleries that we align ourselves with but they're a generation above us.
Are there shows you've not mentioned we should talk about?
NV: If I say no, the artists reading it will be like… I think in a way all the original shows we did with all our artists were super important. Because a lot of them were first solo shows in London, or first solo shows in a larger space or a commercial space. For me one of the most important shows was Fade Into You, which was 2010, that was a show about abstract painting in the mirror. It had Matti Braun, Marieta Chirulescu, Michael Dean, Ida Ekblad, Aloïs Godinat, Wade Guyton, Rudolf Stingel and Padraig Timoney. And that was a really great show, and we ended up working with two artists who are now really important to the programme, so Michael Dean and Ida. That was totally a moment. And also we got an amazing Rudolf Stingel to sell. We managed to sell it. It was a miracle.
AL: Still the highest price piece that we've ever sold.
[Untitled by Rudolf Stingel, from Fade To You in 2010]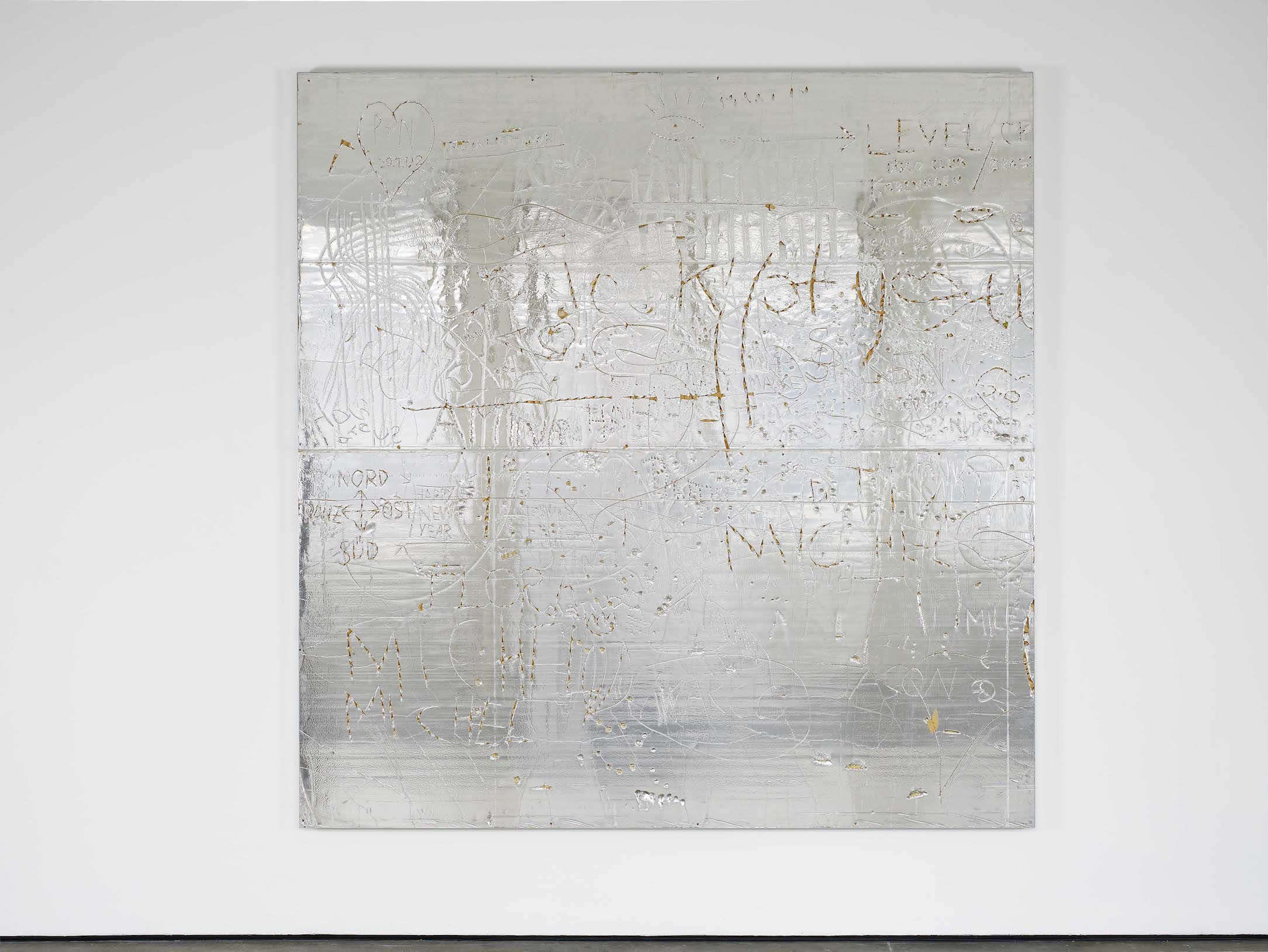 NV: Starting to work with Matthew Darbyshire was really important.
AL: Matthew Darbyshire's first show was really, really important. It was only outside the gallery, so he basically boarded up the outside of the gallery with hoarding, but it was hoarding like you'd put round a building that was being demolished. He'd done the marketing for the building that was going up in its place.
[Elis by Matthew Darbyshire – 2010]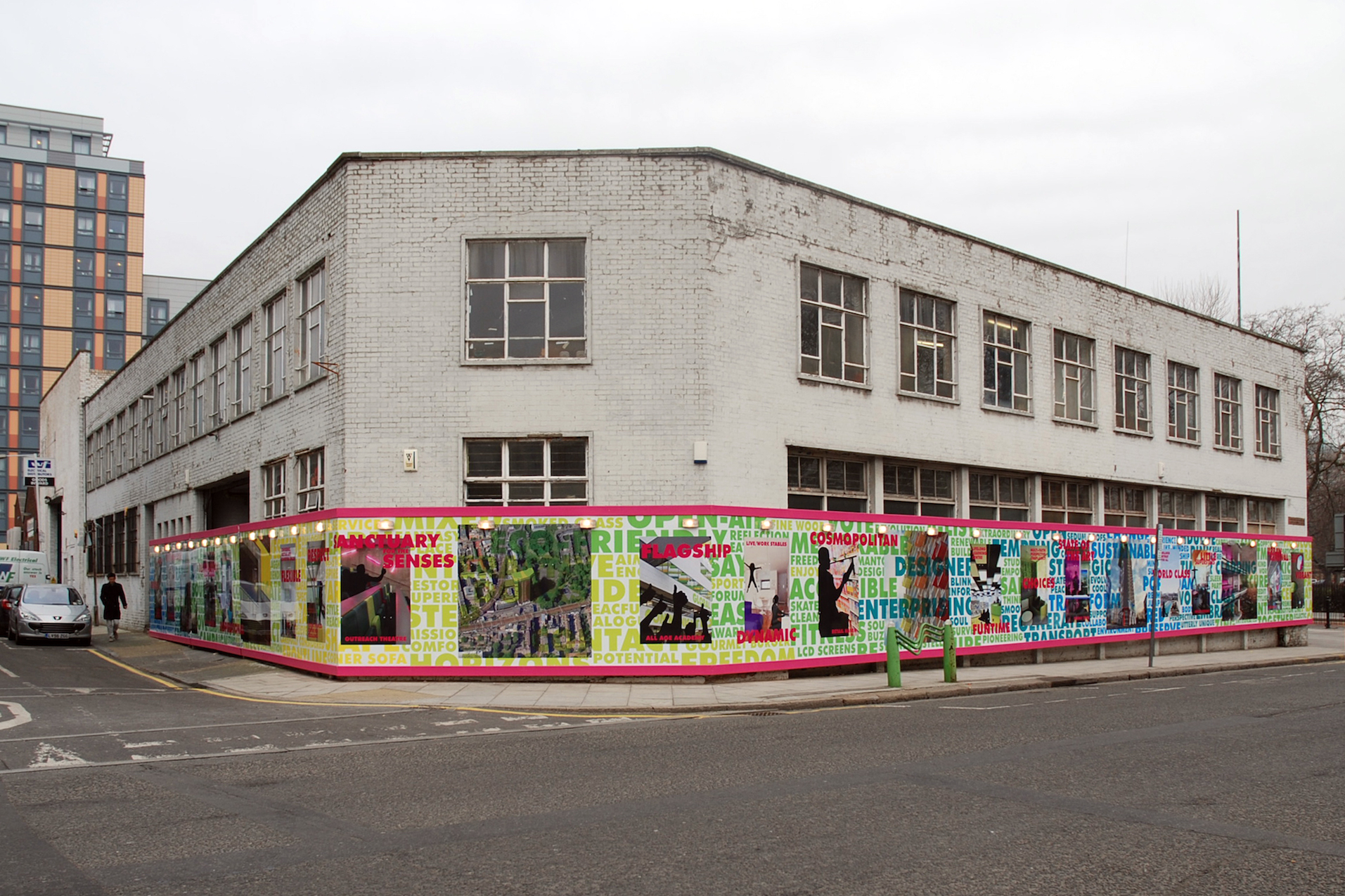 NV: He worked with architects and designers and he'd literally come up with this actual building. We were closed. You couldn't gain access to the gallery. We'd had all these new-builds going up – there are two student housing blocks at either end of the street, they weren't there but the plans were already submitted, they were already building them. He was quite aware of that so he wanted to make a comment about that.
AL: People would ring the bell and it was like, no there's no show inside.
NV: They'd be like no but I want to get information on the building. How much are the flats? It was kind of amazing.
AL: That was another show where there wasn't really anything for sale.
NV: I mean you could buy the hoarding if you wanted to.
AL: That was an important show, along with Klaus's show. We also did the Klaus Weber sand fountain that was pretty monumental.
[Klaus Weber – 2012]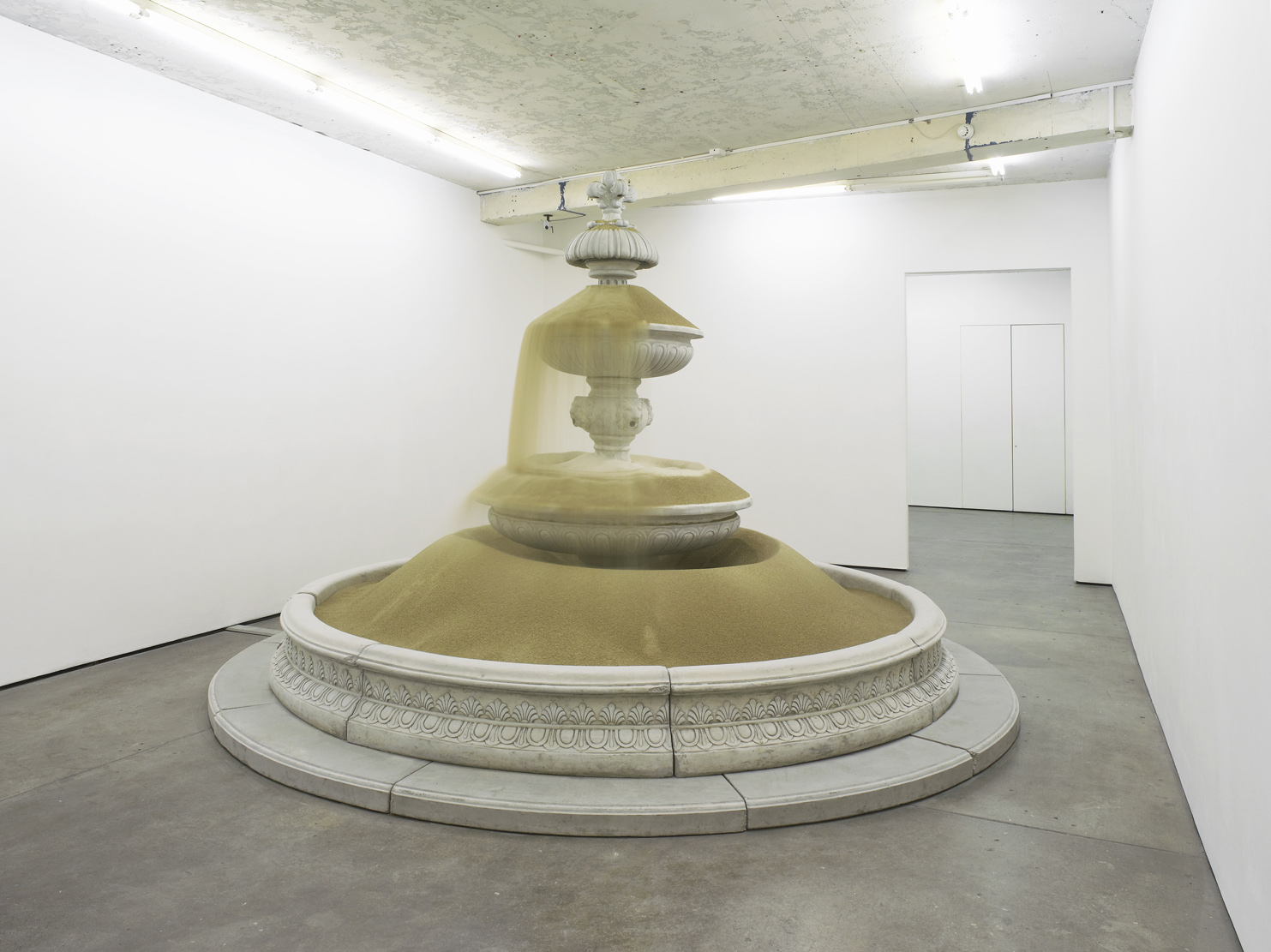 It's interesting though because when you think back on shows it's always the more spectacular ones that stand about because there's so many you're installing with the artist and you just think, I really love this show.
NV: Matt Connor's first solo show was amazing.
[Matt's first solo show – 2013]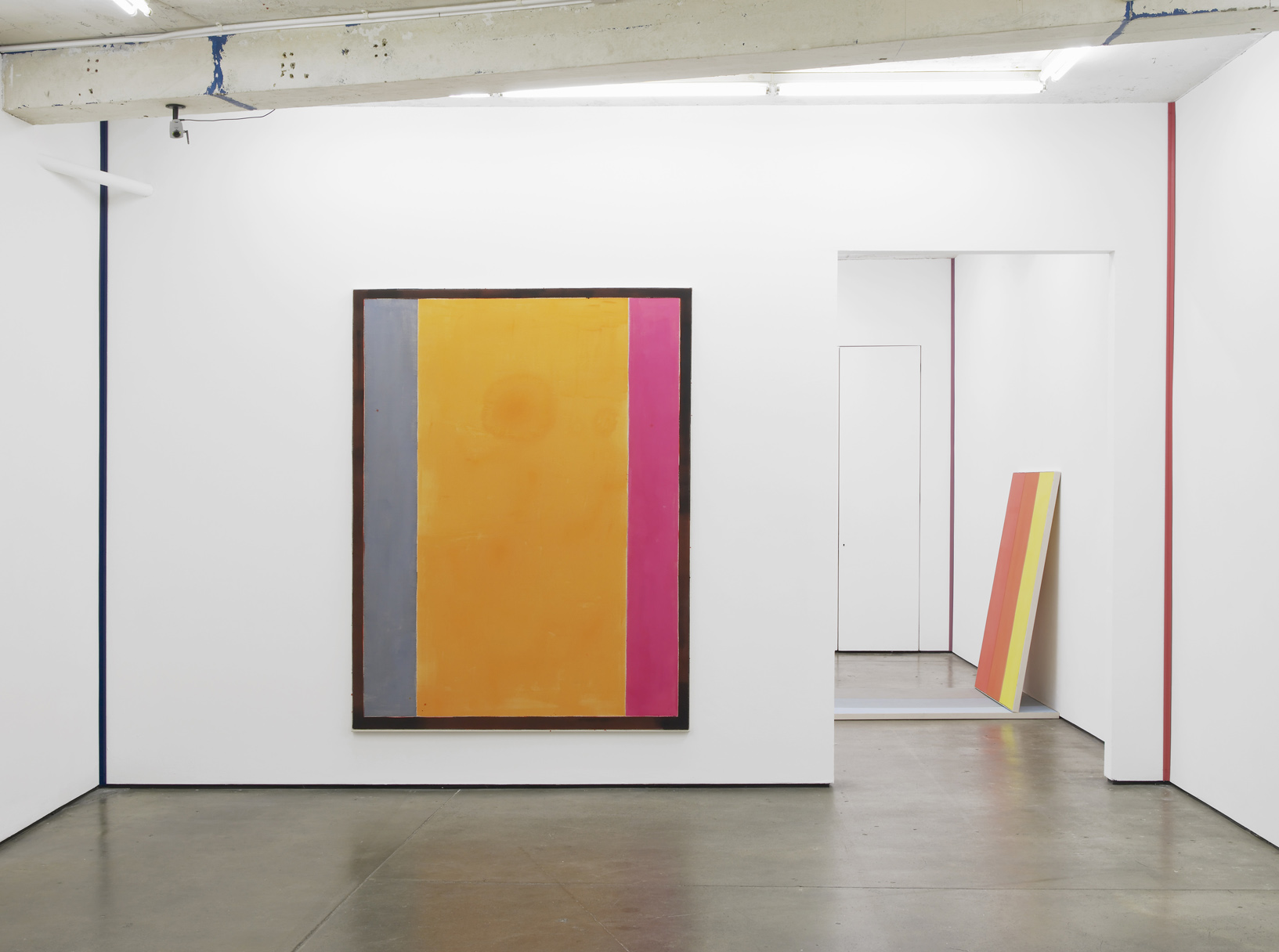 AL: Again, some of them are more normal shows, as in it's more straightforward – it's a painting show, but actually when you're there installing it, like Ida's first show at the gallery, a really really beautiful painting show but you still get that moment when you're like, I really love my job.
[Ida Ekblad's first solo show, A clothespin left on the line – 2010]
NV: I thought that was a pretty epic show [Nicky hands me his iphone] – Michael Dean's second show – the whole thing was built out in all these MDF consoles – it was crazy, a crazy installation. Each console had a different set up – tables or chairs, and he would arrange objects or books in them, and you could kind of see them all at the same time but you couldn't see what was going on in them.
[Hah ahahahahaha ha Hahaha by Michael Dean in 2013]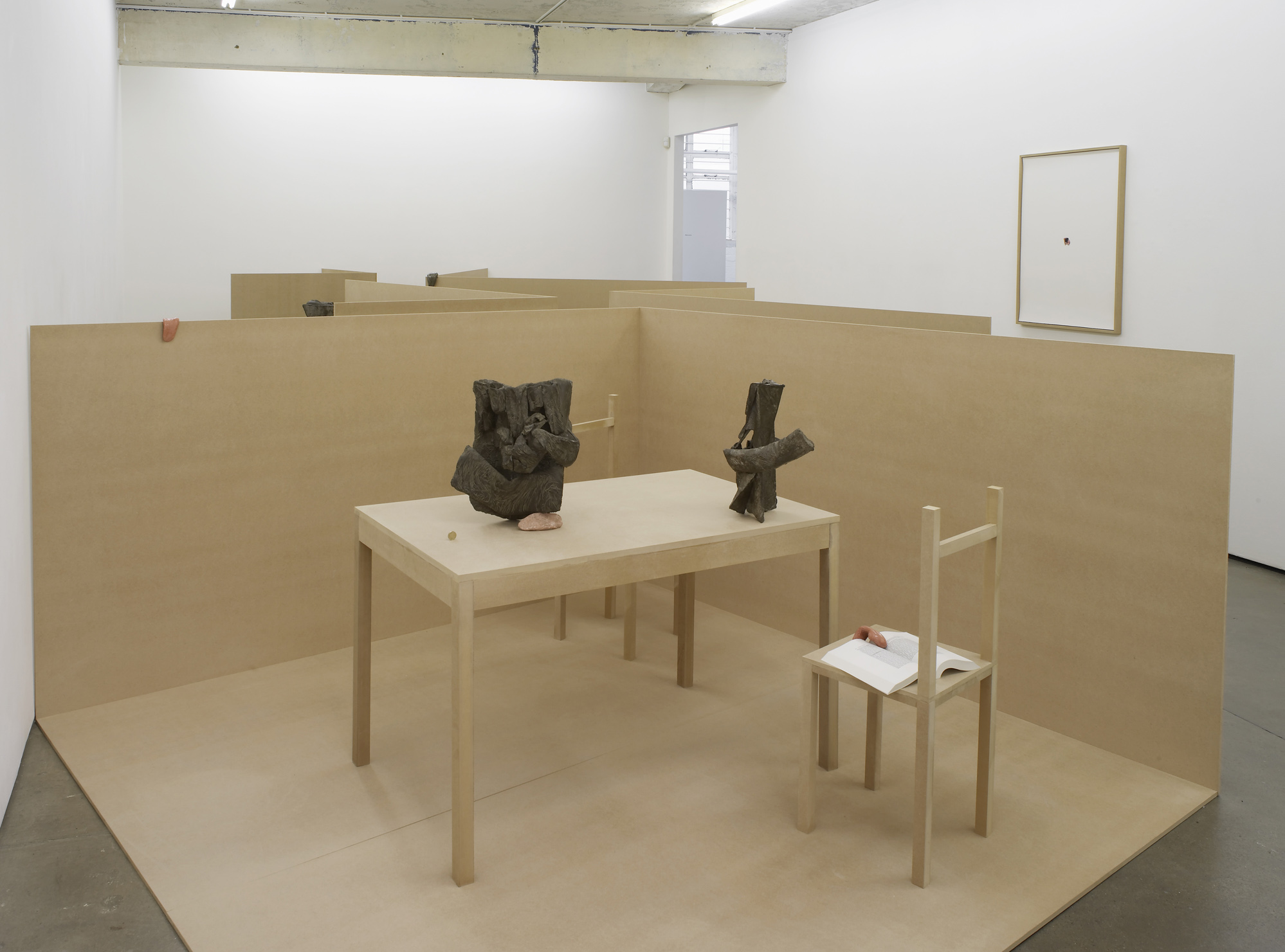 AL: The most recent Pablo Bronstein show with the 360 round rooms and the middle room was all velvet lined, that was pretty spectacular and different from anything you'll see in a contemporary art gallery.
And is the show Sarah's doing is it new work or old work or?
NV: It's predominantly new work. Not exclusively, in certain cases there are things that Sarah wants to work with from the archive.
AL : Also some of the new work, it's new but its referencing pieces they've done for us before it relates to a period of work that relates to the gallery.
NV: It's going to be interesting to see what it looks like.
AL: It's a fun show. It's a gallery group show.
NV: Which we haven't really done, apart from the very beginning.
AL: There's a couple of works that are celebratory. Like Donald Urquhart's done paper chains, but they're black paper chains, and Amalia's done a piece that's bunting, but it's framed bunting pieces. It's celebratory.
NV: We'll have to see. When it all arrives. Tomorrow.
—
And with that, I turned the recorder off.
As far as I know, all the works have turned up fine.
Such a total pleasure to spend time with them.
OMG their show opens officially on the 18th April! Go go go!