Aaron Angell is an artist who works in ceramics as well as other stuff. He's young, born in 87, from Kent. His new show opening this evening at Studio Voltaire is titled Grotwork. He's not a ceramicist, in that he has no interest in creating vessels – cups, bowls, vases etc. His production methods and knowledge and manipulation of glazes is intense. But he believes in using ceramics and glazes as a medium to make work beyond the constraints and assumptions of craft and design.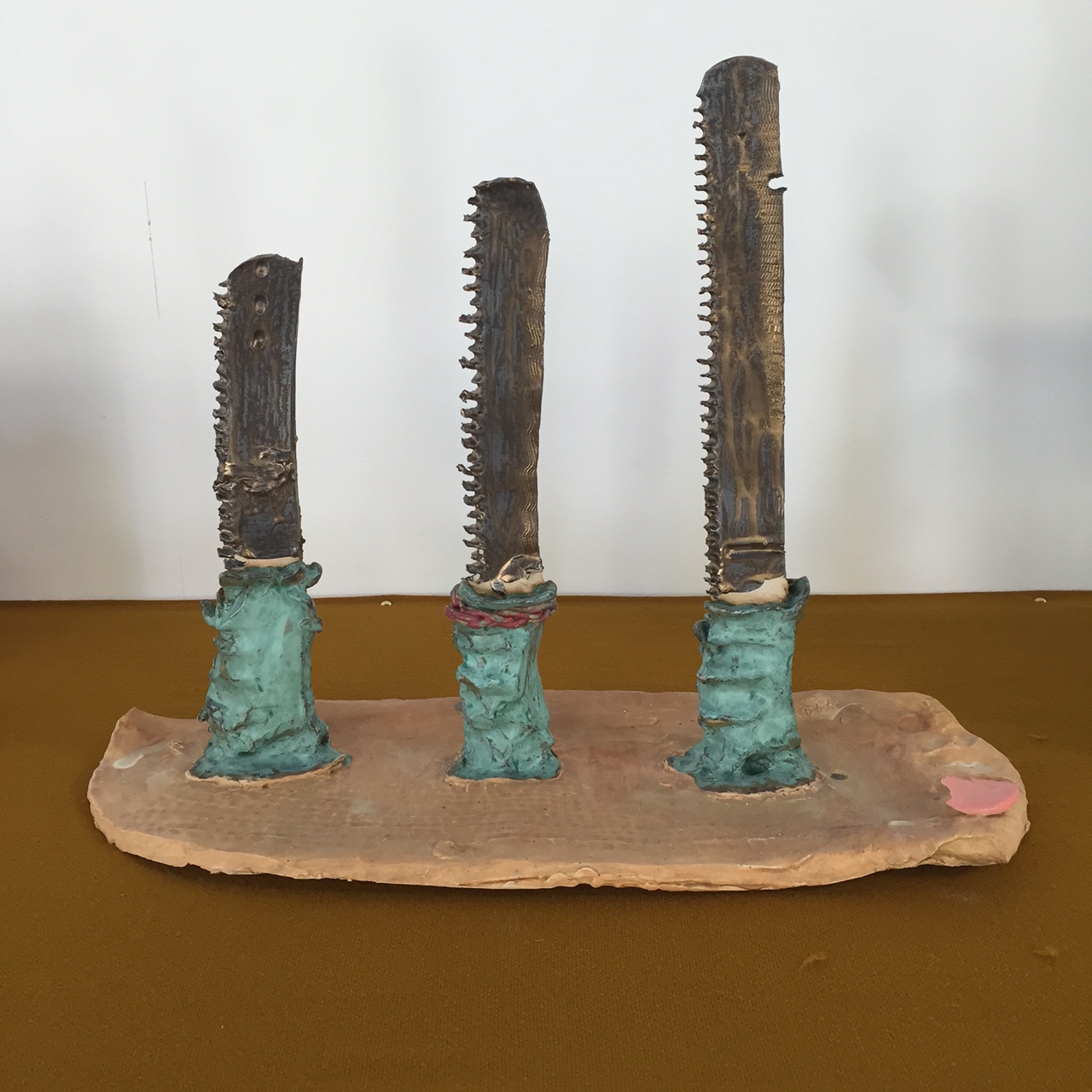 Aaron runs the amazing not-for-profit Troy Town Pottery at Open School East, where artists get two week residencies to experiment with ceramics in their practice – the only rule being that the work has to be non-vessel based. Kiln space in London is dwindling. Troy Town allows Aaron and the artists in residence to experiment and push ceramics on.
And then for his own practice he also makes work from other things.
I went down to Studio Voltaire on Monday afternoon while Aaron was still installing his show. I was four hours off the Eurostar after the Paris men's shows, and very happy to talk about something, anything that wasn't fashion.
Rotting bread!
On a specially made plant stands, Aaron has arranged some hygrothermographs, those things you see in old museums to measure the air conditions.
Aaron has put within them damp slices of bread to see what happens to them.
The bread in this one has only been there for two weeks, kept in dark conditions.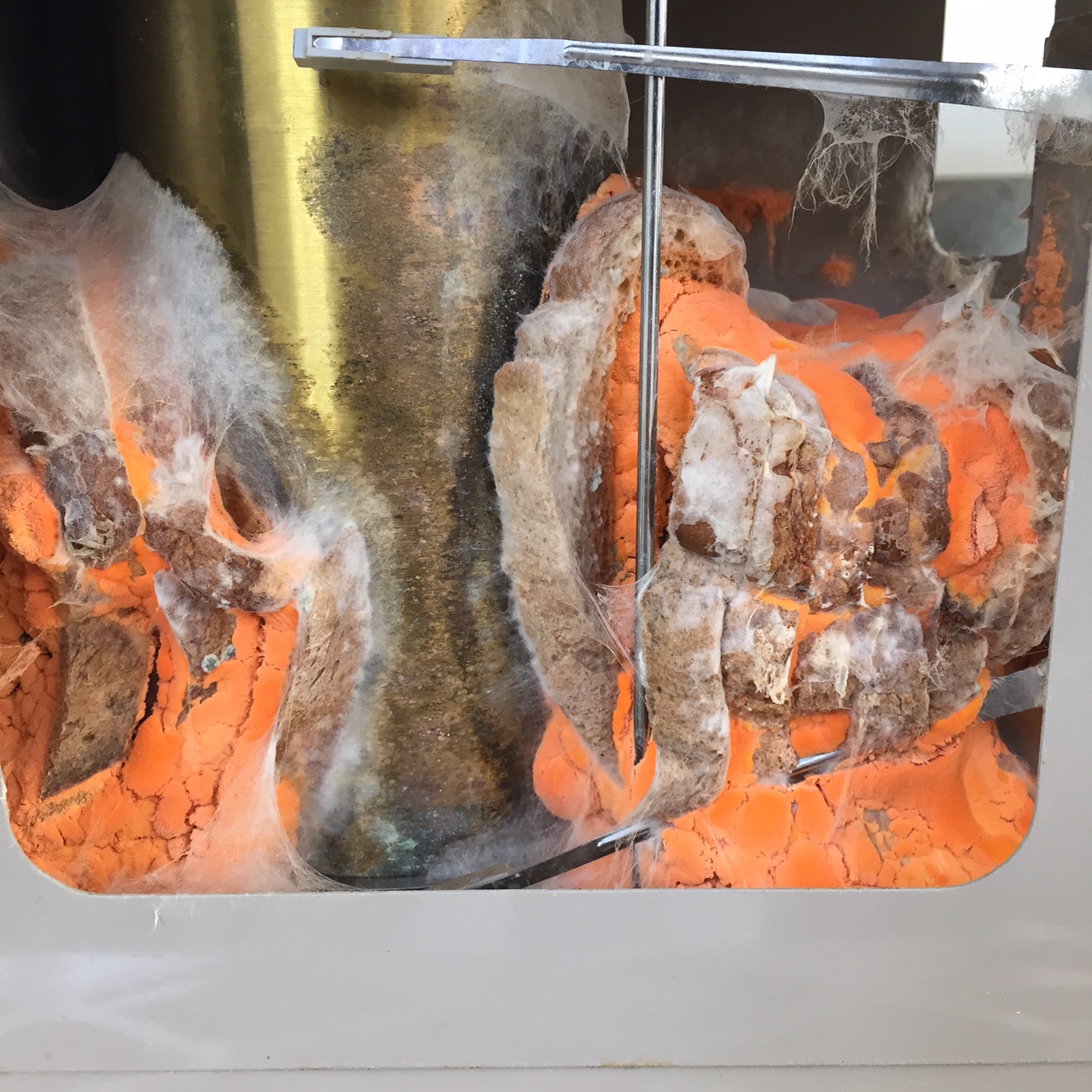 AMAZING.
Love mould.
Aaargh my amazing technical abilities are so amazing that um my machine didn't record when Aaron was talking about the bread.
Apologies.
Obsessed with his rotting bread.
You'll just have to think about it for yourself.
Anyway.
We join Aaron as he's talking about the install… We were both knackered so sometimes the conversation might not make sense, but these are the words that were said, why try and tidy?
AARON ANGELL: I'm just tired.
ME: How long have you been here?
AA: Installing? Since last Monday? A week, without the weekend. It always takes longer than you think. Everything's always a decision.
ME: Tell me stuff.
AA: Ask me stuff.
ME: When you were asked to do the show, did you know what you wanted to do?
AA: it was quite a while ago. I had an early plan involving a central greenhouse structure, which has now become these plant stand things instead. I guess that's something that's been there from the start. The awnings were a later thing [the ceramics are arranged on wooden shelves that are covered with awnings], and I feel like as soon as I made that decision I had to plow on with it to get all the embroideries done and work out the images [here's one of the embroideries].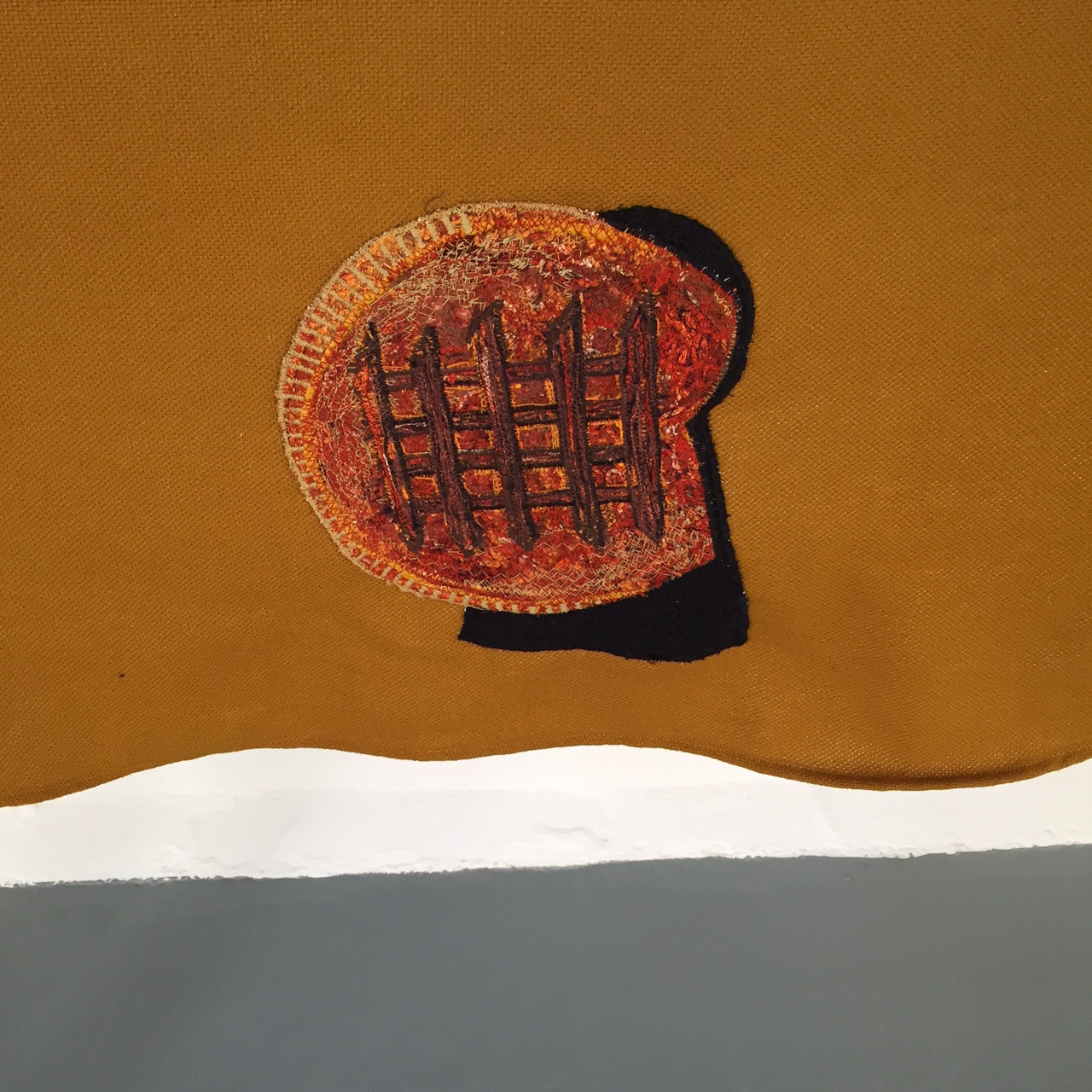 So it feels like that idea's always been there, but it hasn't, that was kind of a late thing. I think it was thinking of ways to use the height, because there's a lot more height in this space than decent wall. You've got these columns and down beams all over the place. It's difficult to do something that's not just banging portrait mode paintings in between those spaces if you want to use those walls like that. Saying that there are four paintings in the show [here's one, up high – excuse the amazing quality of the image – that's the windows of Studio Voltaire reflected in it]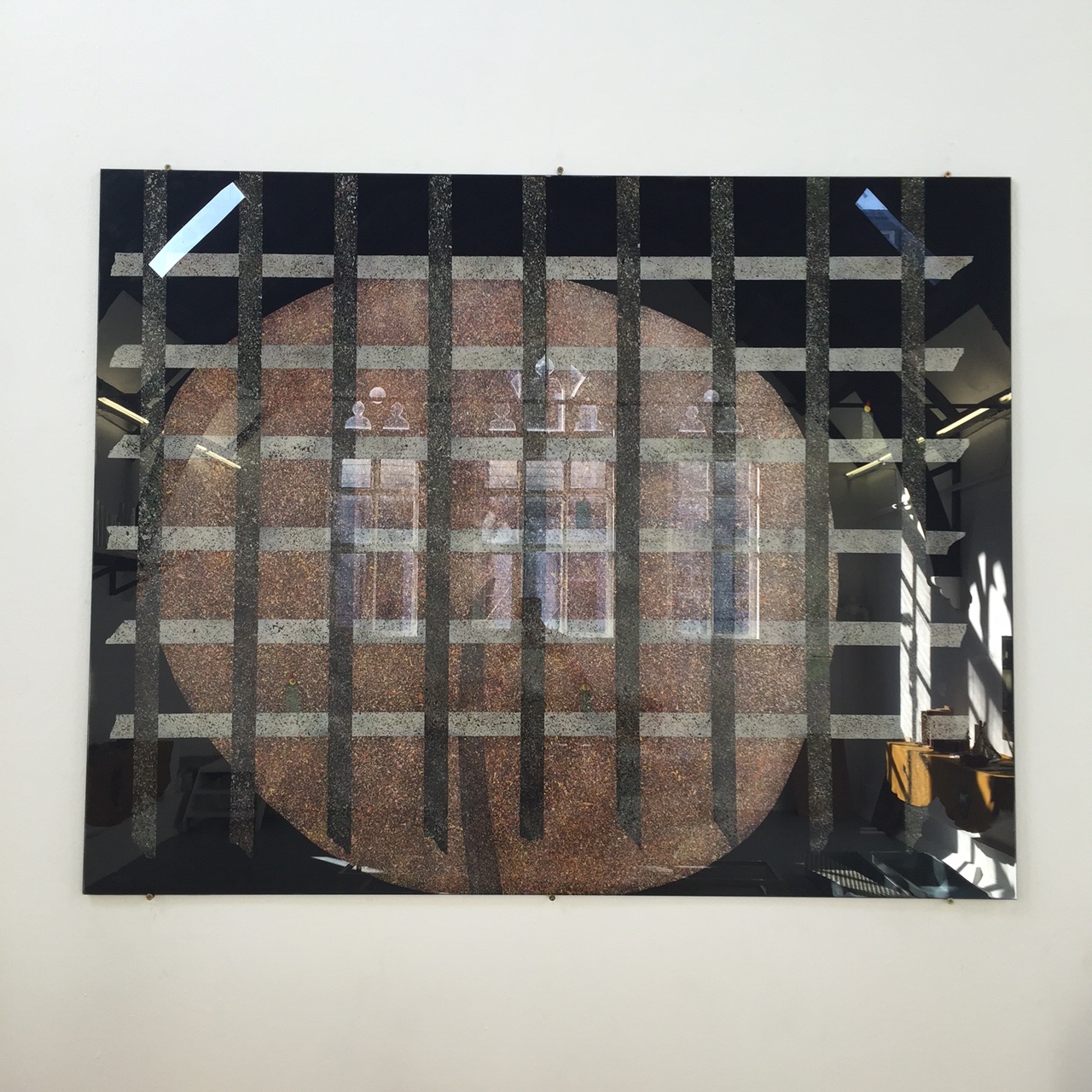 It's quite funny, it's a bit Imagist. Like the Chicago Imagists, they're quite flat, quite spray painty, quite graphic design kind of surfaces, but then the images are somehow slightly vaguer. There are a lot of ceramics. I think there's twenty but there'll be less when we open the show. I know a couple I'm taking out already.
ME: How do you make that decision?
AA: It's which ones I like more. Sometimes there'll be a ceramic that's not great but it works better in conjunction with another one, there's one or two ceramics that are too close to existing paintings, and I didn't want that doubling. Rejecting ceramics doesn't happen very often, because most that are rejected are those that are cracked or unexpected, even though I pretend to know what I'm doing.
ME: They reject themselves.
AA: It's the ones that are really falling apart, or that the glaze didn't just go wrong, I used the wrong glaze, or something like that. Or just ones that don't work with the show. If it's made specifically for an exhibition and it doesn't go in, it's just held back.
ME: Did you make the ceramics specifically for here?
AA: Yeah. All the works are new. The ceramics I made over the last three months, I don't think any were made before that. There's a couple that were finished three months ago, I probably started working on them a little bit before that. I picked some up on Friday out the kilm, which are the last ones. I ran over with my firing schedule. I was still making some cork sculpture last night, which are new, I hadn't done those before.
ME: It's interesting that your mind is on what the work is made of than what the work is.
AA: But I think that ceramics are such a specific material that when you're working with it primarily, and then you move away from it, you actually feel the other works are defined in relation to it… [AAARGH THIS IS WHERE THE MACHINE CUT OUT… SORRY… I realised it had turned off when we stopped for a gossip a couple of minutes later. Once we'd done, I turned it back on.]
ME: What are the shoes?
AA: They're based on those dog chews shaped like shoes.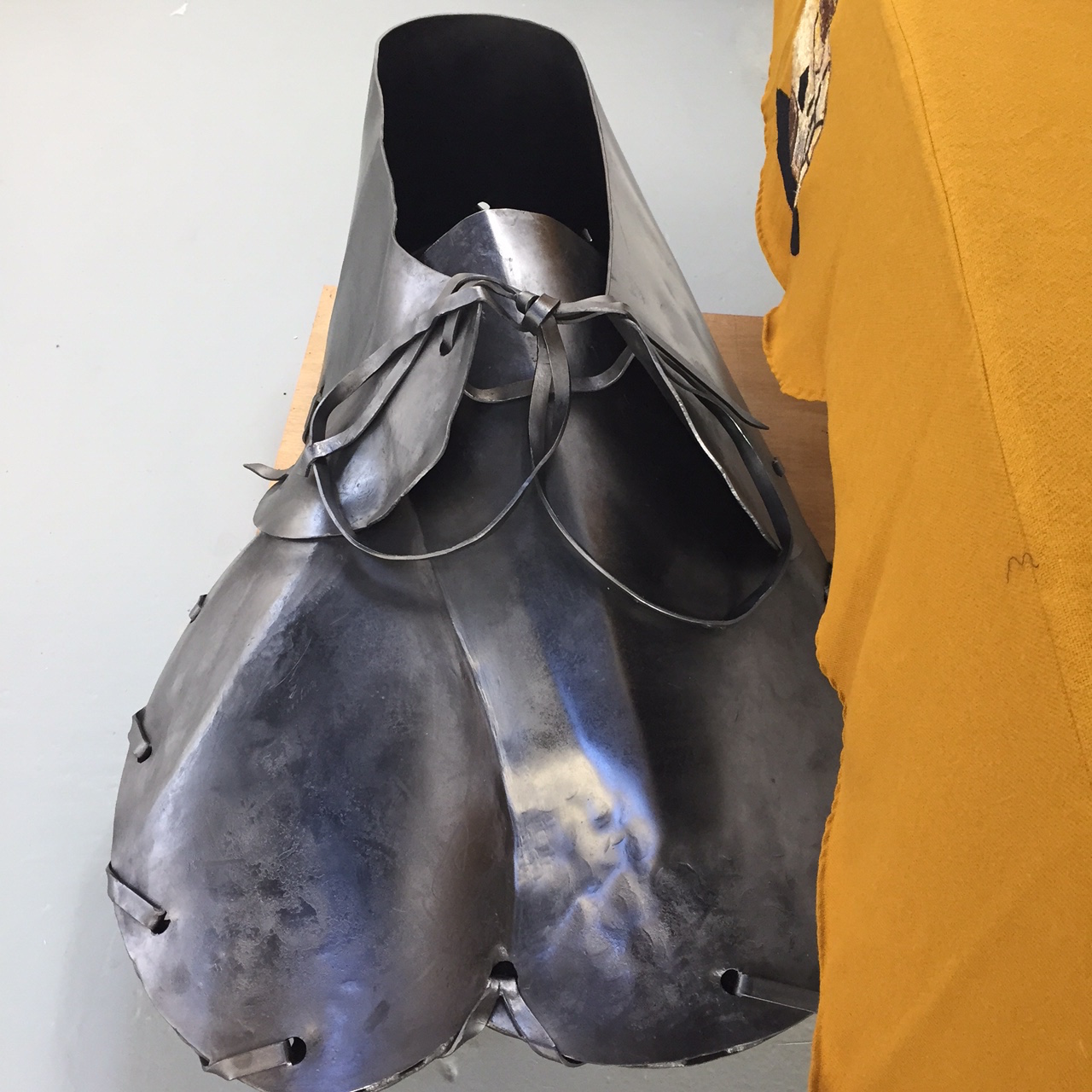 They're rawhide. I've got quite a collection of them theres a few slight variations, some have differnet colour laces. They're weirdly ambidexteous, almost like baby booties, shoes that are designed for people who can't actually walk or don't need to walk. And they're edible. I think there's lots going on with them. There's this whole thing of the nonhuman mind of a dog in that it doesn't recognise it as a shoe, maybe people think this will distract him from eating my slippers, but that's not what's really going on, and it doesn't need to be a shoe but it is, it's a joke. It's like the dog chews that are squeezy newspapers, it's a joke for humans, disguised as a joke for dogs. Also the way that they're kind of the chukka shape, near enough, the whole story with the chukka shoe and the desert boot, it's the origin of the "he drew it on a napkin and brought it home" kind of a myth, but it's actually true with that one. They were being made, I don't know if you know the history of that shoe, you being in fashion…
ME: I know fuck all.
AA: So they were made in like Cairo by bazaar cobblers imitating English brogues, but from a distance and from rawhide. They didn't have the tech to make it shiny or the polishes and stuff. It was this weird half-glimpsed object that became the generic shoe shape which it is, but there's something nice in that focus, a Cairo bazaar cobbler seeing a brogue shoe or the bottom of a boot and translating it, and getting it just right. It has no excess information whatsoever, it's three parts. It's the same as the shoe chews. Its three parts.
ME: what are they made of?
AA: Steel. Then they're coated, they've got iron paste on them to give them a nice finish. It's what you use to do old fire places. I have this blacksmith in Arbroath and I send him really bad drawings and and he sends me back really beautiful drawings of how he's going to do it. You can see the hammer marks and everything. They're really ridiculously macho sculpture by my ridiculously macho, actually he's not ridiculously macho. The works are very very heavy. [We start to look at the sculptures on the shelf above]
ME: Are these made brick by brick?
AA: Yeah they're made brick by brick.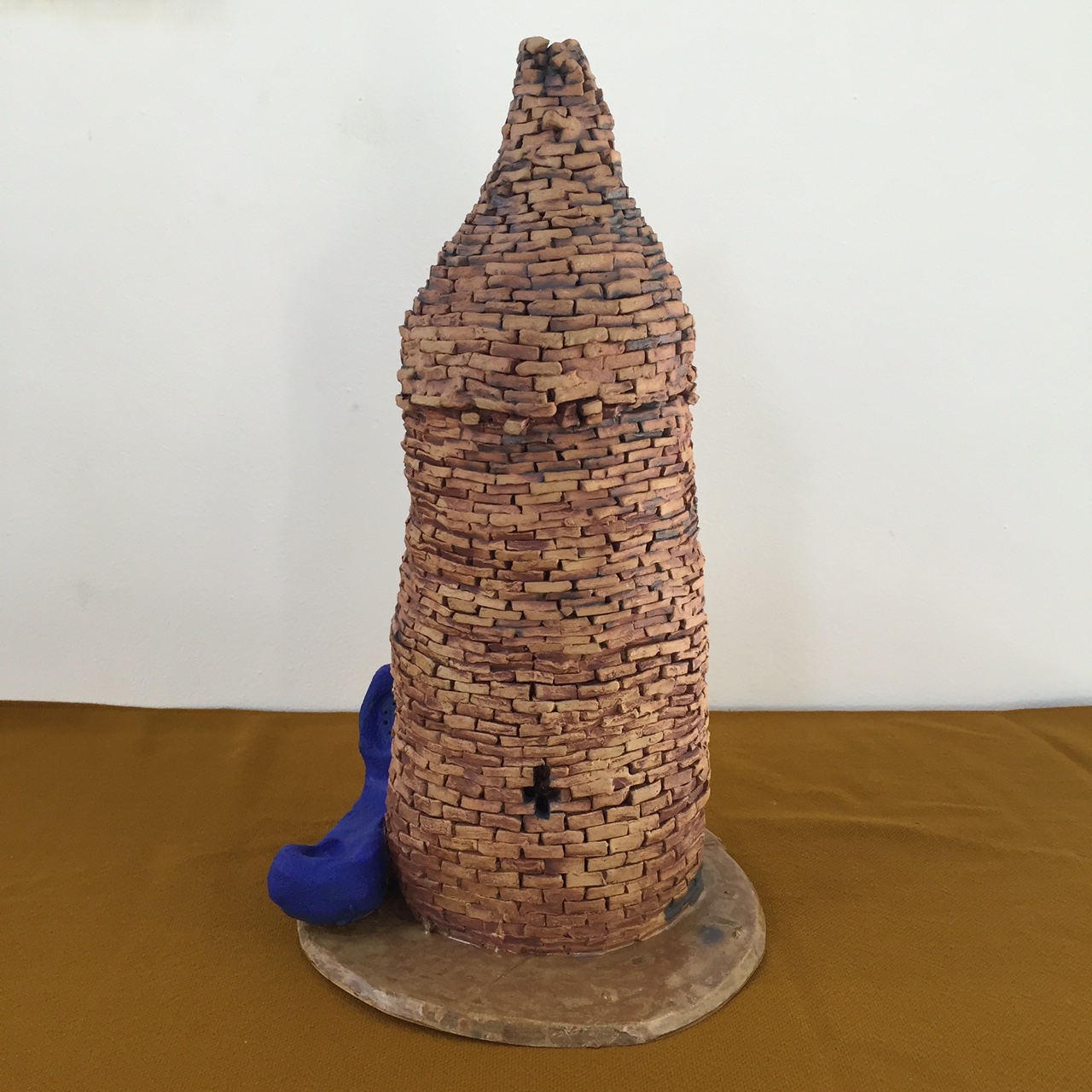 ME: Is that a nightmare?
AA: My assistant makes the bricks. I made all the bricks for this one. And actually I had to make most fo the bricks for that one because it collapsed down to that point. I ws there and had to rebuild it up. It's brick by brick. You can't really fake that texture otherwise. You can sort of do it but then it would be too uniform. They have a lot of internal structure too. That's the secret. This one didn't do and that's why it collapsed. I just picked it up like that and it [he claps his hands] it wasn't even dry, it couldn't hold it.
[We move over to some other works].
This is super lo-fi, these only came out at the end of last week, but I'm really fond of it.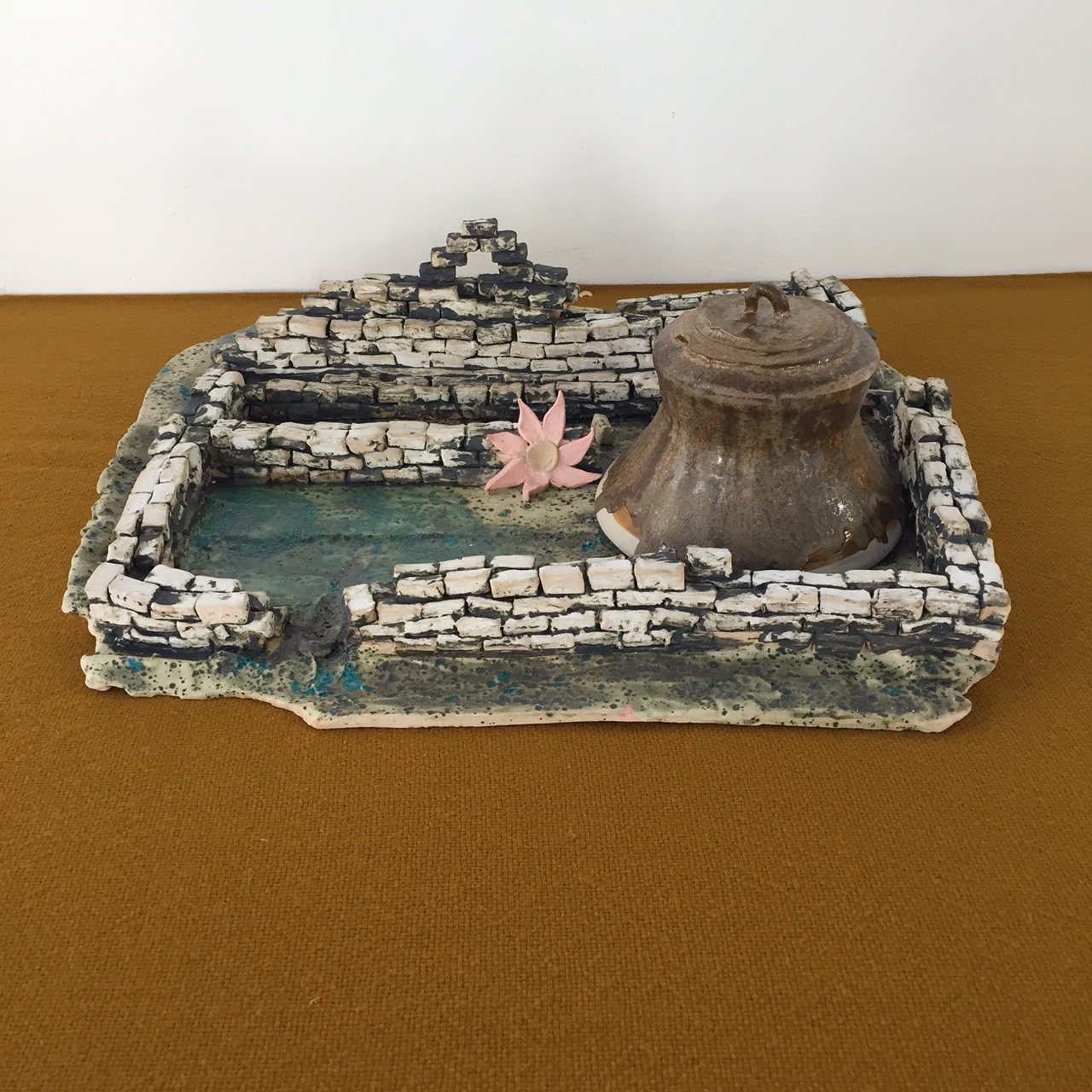 It's like barely cooked glazes where you just have some of the colour coming through, but the glass formers haven't started to work yet. This has only been to about 1000c, which is really low for ceramics. You get to work a lot more matte with it. This is a two part, this [he picks up the bell part – notice it's shinier] has been to 1300c, it has to be two parts becaue there's no way they could exist in the same firing.
There's lots of ways of making things matte, but the most reliable way is not really firing it very well. I don't know if you see how glazes look when you paint them on, they might be powdery and there might be a hint of some colour in there, but usually it has no relation to the finish.
This is part of the same deal except this was taken quite high.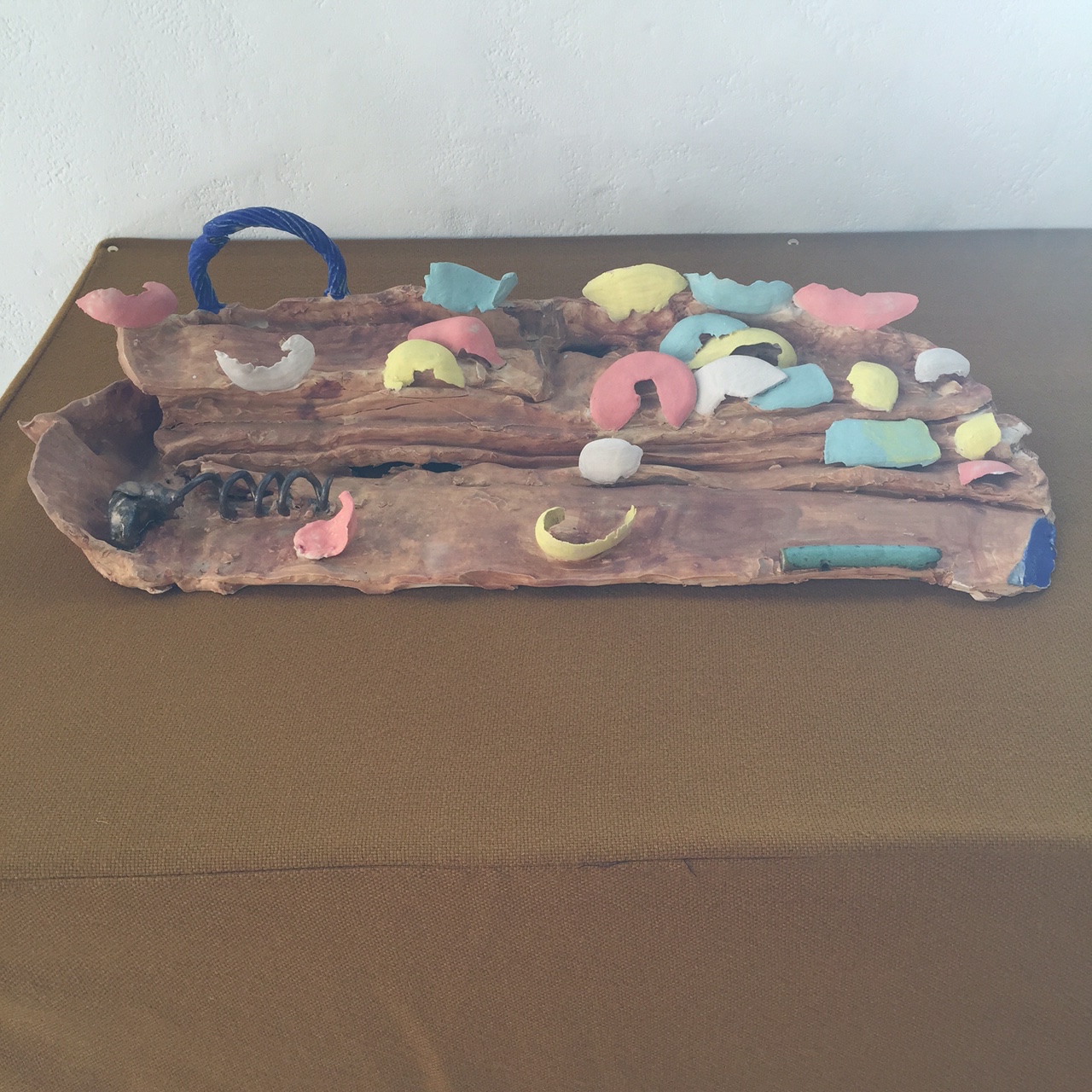 I got this gold working so it's gone to 1280c, 1250c but still keeping some matte here. Again these are made to look like glazes when you paint them on, but fixed like that.
ME: how do you do the paintings, what are they?
AA: They're reverse painted glass. All the paint's on the back. I work slightly blind with them. It's hard to turn them over and check halfway through, especially the big ones where its quite heavy. It takes two people to flip them. It's basically masking tape and a toothbrush. Cutting board and some knives and the cheapest acrylic paints because they're the only ones that splatter right.
ME: Oh so toothbrush as in flicking the brush.
AA: Yeah yeah yeah. Just flicked like that. They're kind of like printed, digital looking, but they're actually quite messy and provisional and cheap, they take me a day each, almost like a set. Like for a reason almost. I make sure they take a day each. I don't like coming back to them. I don't like editing them.  Generally you can't work back into them at all. Not only working with the reverse of the composition, working with the reverse of the colour throw meanings they almost end up being in false colour. The last colour I see when I'm working on the back will always end up being the least important colour from the front if you see what I mean, that's the colour that'll be coming through the least. It's trying to reconcile something that's flat and that goes on the walls with the way that ceramics works which is amenable to chance. You can put intention into it and you can vaguely get what you want, but you can't be disappointed, because you've set up a situation where yo ucan't be disappointed, it's always going to.
ME: Again, you're talking about process rather than the work.
AA: I was reading the Lair Of the White Worm, which is a really bad book by Bram Stoker.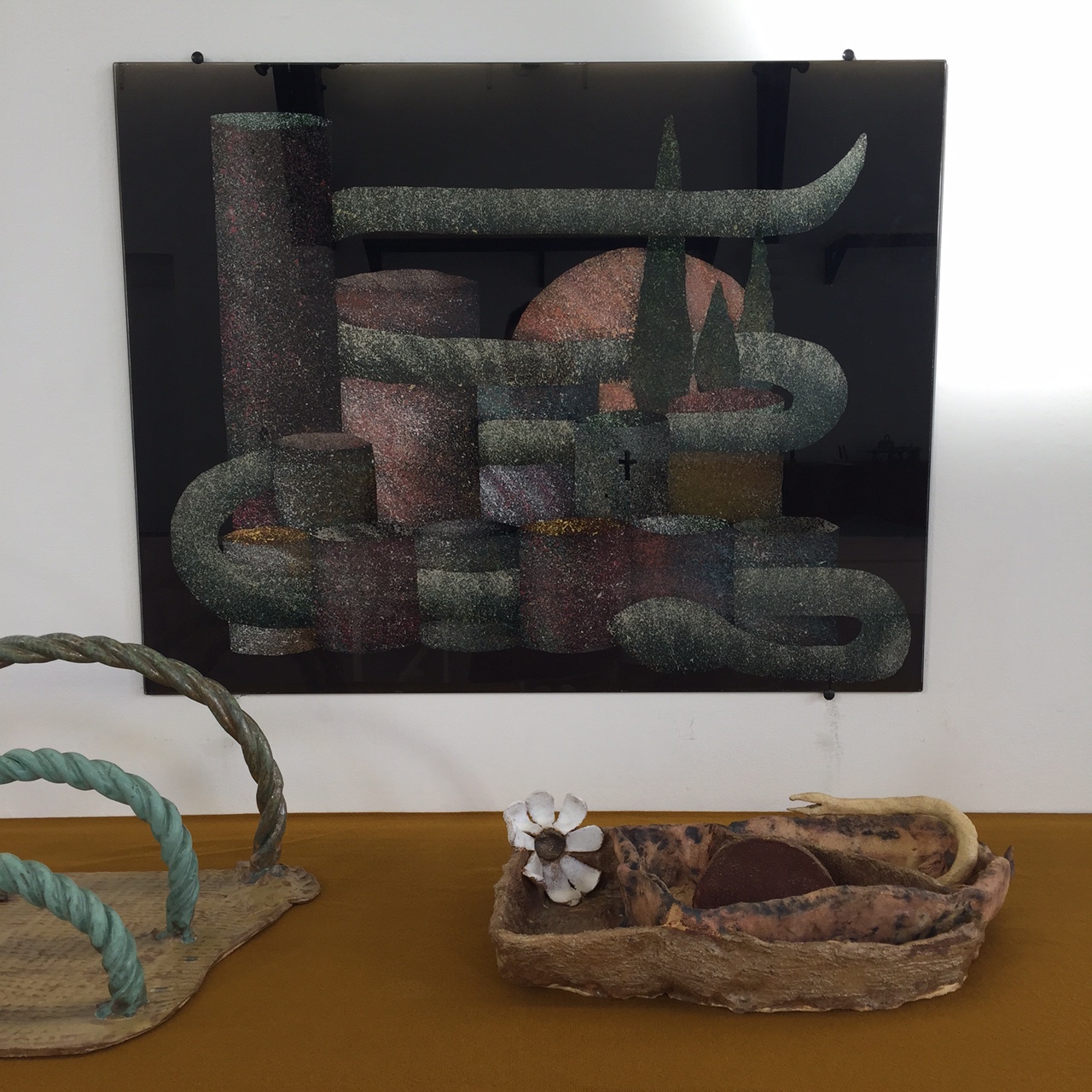 But I always liked the Ken Russell film from the 80s, it's got Hugh Grant in it, playing a policeman. It's really camp, it's really good [here's the trailer]
[Oh, you want to see the whole film with Greek subtitles, right?]
AA: Bram Stoker's a really boring writer, but the book's really bad, he started writing it, and then returned to it after 10 years. It was his last book. When he came back to it, which is about halfway through the narrative, it's like he'd forgotten who all the characters were. But it was just at this point where they discovered there was this giant worm living in the well. Even though it's really bad and almost unreadable, it does this really interesting structural thing where the figure of the worm seems to genuinely negatively affect the prose and the outcome of the book at a structural level.
[Aaron has to get on, and I start to take pictures, but I'm still recording, and Aaron continues to talk]
I've only just got a studio that's not my ceramics studio, so I'm quite enjoying having a work space where I'm not bound by certain materials. Weirdly the materials are more expensive than ceramics. Ceramic is one of those materials where it has virtually no value except that that the person puts on it. Like it's free, almost. With this I had to buy sheet brass and cork, which is either a noble or not noble material, it's not noble when its reduced to conglomerate cork board but when its bark it's quite expensive.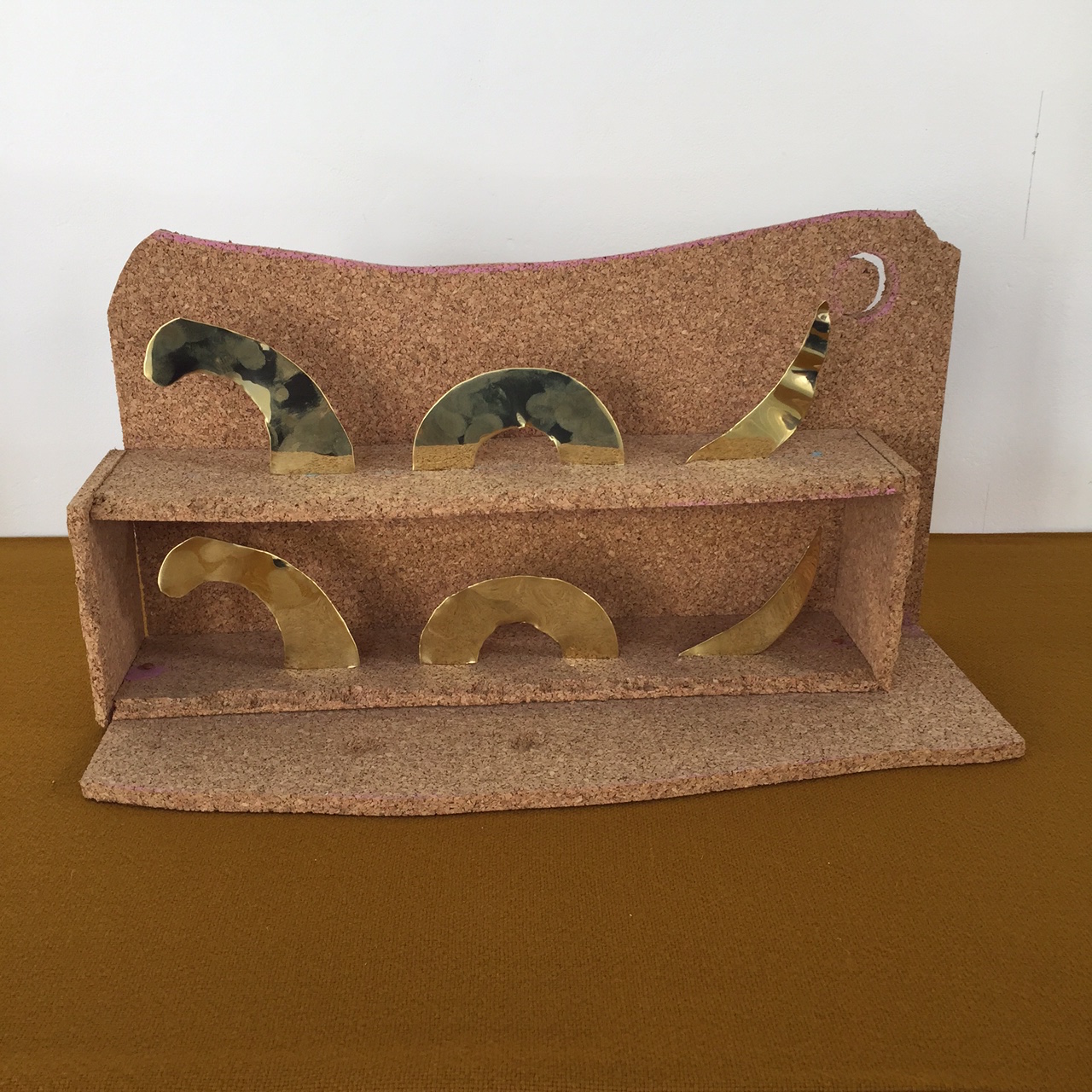 AA: I want to carry on with Troy Town for ages. If we move somewhere bigger I'd like to have both, but maybe just for me. The problem is that everything gets covered in dust in about three minutes. A ceramic studio is only good as a ceramic studio. Its super specific, even down to the type of work space. It's a shared studio as well, it's a group situation, it's not private.
This is the first solo show I've done in quite a while. And the way I've done ceramics has changed a lot in the last year. I've become kind of self-sufficient. It makes it both easier and harder to make ceramics. I used to work in batches because I'd do some for a set amount of time, book studio time, they'd have to be out of the kiln, but now I can just work on them. Apart from this show, which was mental I was working on 100 at once, half of them didn't make it, which sounds sadder than it is.
ME: Because they don't survive the kiln.
AA: The way I work, I had to make about a third more. But now being able to work on one thing at once is a totally strange thing. Because I was making so many at once, pieces could swap between each other while the clay was so wet. Now I don't have places for these other pieces to go. I've started to getting over that, I'll roll up a base, I make a lot of miniatures now, unique glazed testers, almost like wasters that people did in the olden days. I have a miniature, it's to test all the glazes to check I can get them as right as each other next to each other in the same firing, and to see also what happens when one runs into another. But that's been quite enjoyable. And they make really good gifts, like for someone who helped me move my sofa. That's a real example. I gave one to Richard Healy.
—
Aaaah, lovely Richard Healy!
The place where we shall end.
Grotwork is super complex, super layered, super involved, super rewarding.
It opens tonight at Studio Voltaire, then runs til 30 August.
Go go go go go.
OH AND ALSO…
Rob Tufnell has works from Troy Town Pottery artists in his current amazing show Potteries Thinkbelt – on for a couple more weeks – go see go see.