I was late to the Saint Laurent show in Paris last night.
Traffic was terrible, and the show started super efficiently at 8.15pm.
But one of the advantages of being tall is that there's no problem standing at the back.
I was able to see that halfway through, creative director Hedi Slimane sent out a great pair of jeans.
!!!UPSIDE DOWN PICTURE ALERT!!!
***AS WITH ALL CATWALK SHOTS, I TURN THE PHOTO UPSIDE DOWN***
+++SO YOU CAN LOOK THROUGH THE ALREADY RECOGNISABLE IMAGE TO SEE THE CLOTHES THEMSELVES+++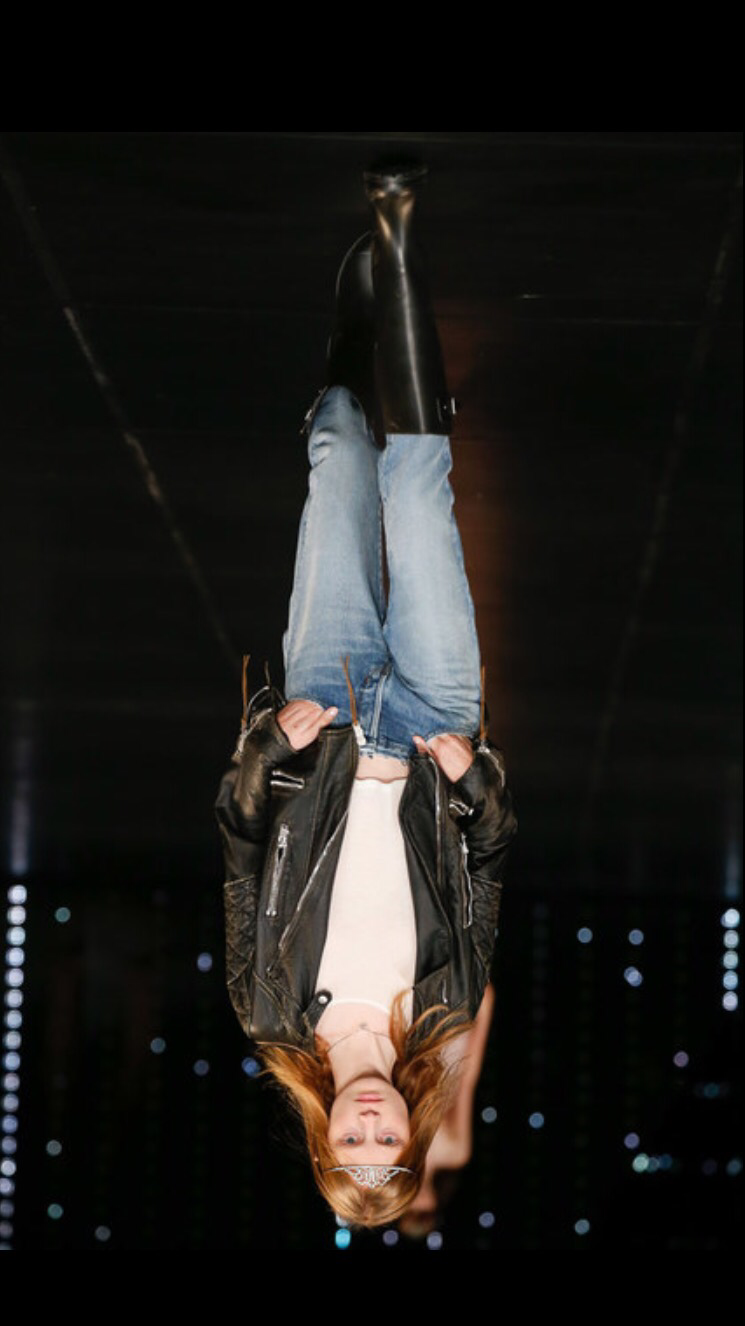 (And apologies for the shonkiness of the image, it's nicked from voguerunway.com obvs)
The jeans were cut a little looser on the leg, but still with a low waist.
Many cuts of denim rely on skin-tightness to hold them up.
This new cut of jean from Saint Laurent is the work of actual design.
It's interesting, because a debate about design is brewing around Saint Laurent.
It is often now said that Saint Laurent is not design.
That Slimane is not a designer, but a stylist, or marketeer.
You hear it so often, and it's the central thrust of the review by Tim Blanks for Business of Fashion.
It raises the question: what actually is design?
I don't go to that many womenswear shows.
When I do, or when I look at them online, I so often think: wouldn't it have been great if, instead of all this decoration and pointless novelty in womenswear, the design team had spent the past six months on the cut and fit of garments?
A sleeve of a sweater that sits just so. The perfect pair of pants.
A great new pair of jeans.
To me, that would be the most radical show.
It's why I'm so excited to see the upcoming Charles and Ray Eames retrospective at the Barbican.
Enlightened design with clarity, and purpose. Beauty that comes from practicality.
So often with fashion, and womenswear in particular, design means something else entirely.
"Design" frequently stands for the creation of drama, whether it be frou-frou, aggressive, confrontational or allegedly pioneering.
Usually it's the work of gay male designers imposing on women an irrelevant or offensive view of how they should dress.
One of the best pieces of writing of the season came from Alexandra Jacobs of the New York Times, in her review of the show by J.W. Anderson.
She wrote: "It felt like a "hostile mob," to borrow the Minecraft term — a boy playing pixelated video games with women's bodies."
Such actions are seen as "design".
Also viewed as valid "design" is the blatant copying of others work.
Many actually see it as a positive when a designer clearly lifts ideas from Margiela, Kawakubo, Yamamoto or whoever it is they're so clearly referencing.
And then, so much "design" in fashion is making clothes that really have no reason to exist.
Polite tinkering with garments, creating an impression of newness for those at the catwalk show, but really doing nothing of any value.
Stores don't want to stock work from the catwalk, customers don't want to buy it. They'd rather have something from the commercial collection.
Of course, Hedi Slimane is perfectly capable of creating "design".
You just have to look back at his menswear from Yves Saint Laurent Rive Gauche in the late 90s (everyone forgets his strong links to the house), or at Dior Homme in the early 21st century, to see work of flamboyancy and drama.
His shows were pleasing to critics. It was rapture all round.
It was also work founded in true design.
He made his name with skinny jeans and slender suits which were feats of tailoring. The jeans in particular rode close to the leg, then somehow at the hips and waist went outwards, accommodating true bodies while still seeming slight.
I write this as someone who veers between a 34″ and 36″ waist: his skinny jeans fit over Northamptonshire-born hips.
I'm almost 42, getting broader, and I can still wear my Dior Homme tux.
True pieces of design.
Following Slimane's break from fashion, and his move to LA, he clearly found reason to turn down the volume on "design".
It's why so many find his catwalk shows confounding. After four weeks spent dominated by brands offering unnecessary "design", it's a shock to find a catwalk from a major label not playing that game.
Not speaking that old fashion language.
I'm not going to review the show here. From the back of the bleachers I could only see so much, and it's not my field.
But I do think this debate about design is important.
Particularly because it seems like such a personal attack on Slimane himself.
He's a designer. Get over it.
Slimane sent out some great jeans. They clearly took work. As did the rest of the collection – you just have to look. Women will want to wear it. And the world still turns.