Three episodes into the BBC2 series London Spy, and clothing continues to play such a key role in character.
Or the assumption of character.
Because it's such a male-dominated narrative, it's a handy debrief on our present day assumptions about what clothing says about men, their personality and their background.
I should say that this will contain more spoilers than Danny's spoiled dirty sheets that are currently being tested by the police for DNA, so if you haven't watched any of it yet, click here for episode one on iPlayer.
First view of Danny is in the tunnel under Vauxhall station, at night, his clothes scuzzy.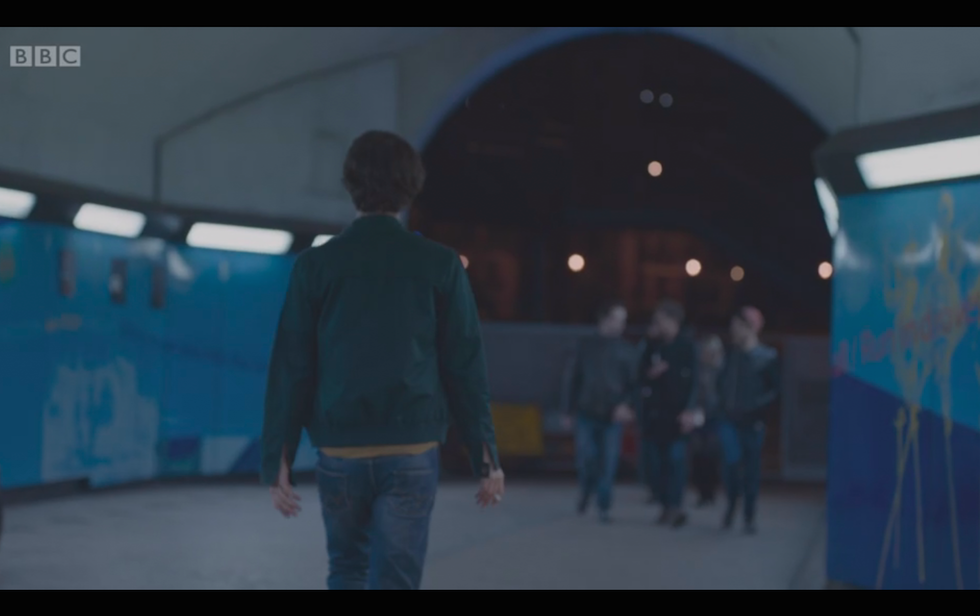 The camera shows us his dirty sneakers.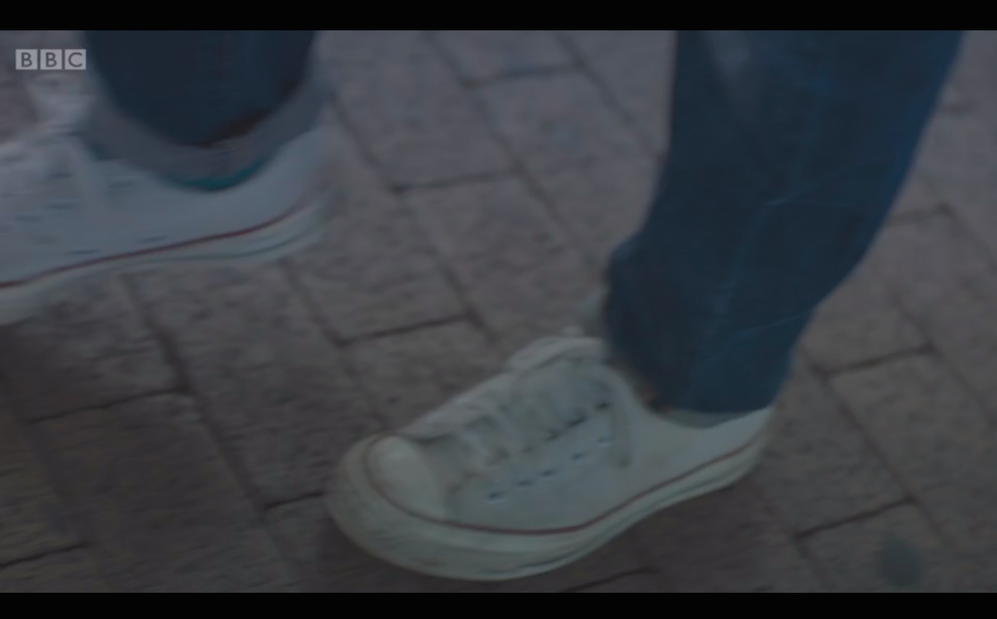 He heads into a club, and thus his character is set before a word is spoken.
When words are spoken, they're said into a flip phone.
Very Adele.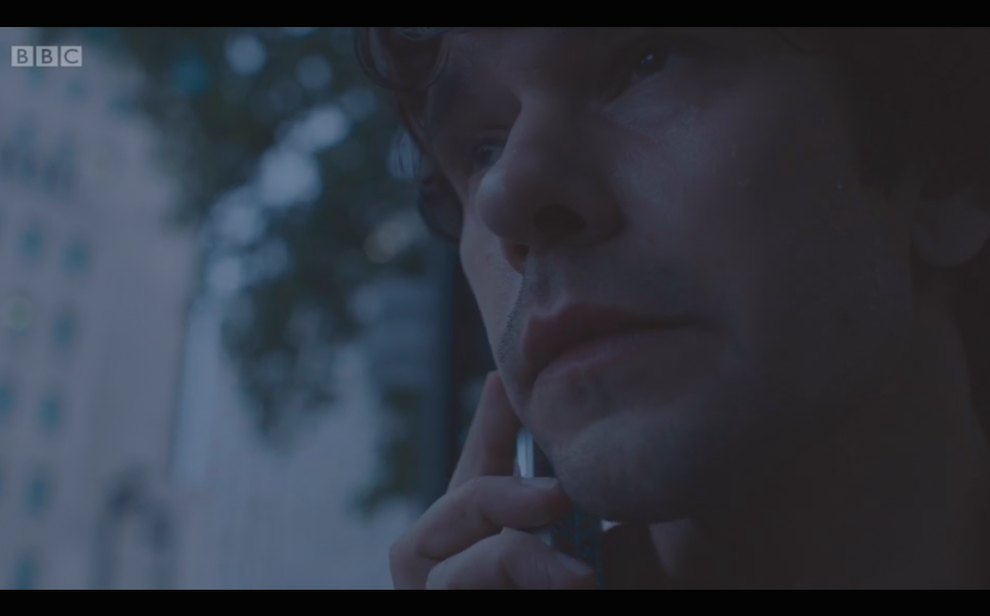 First sight of Alex/Alistair is like an advert for an althleisure brand.
Neat greys, Nike sneakers.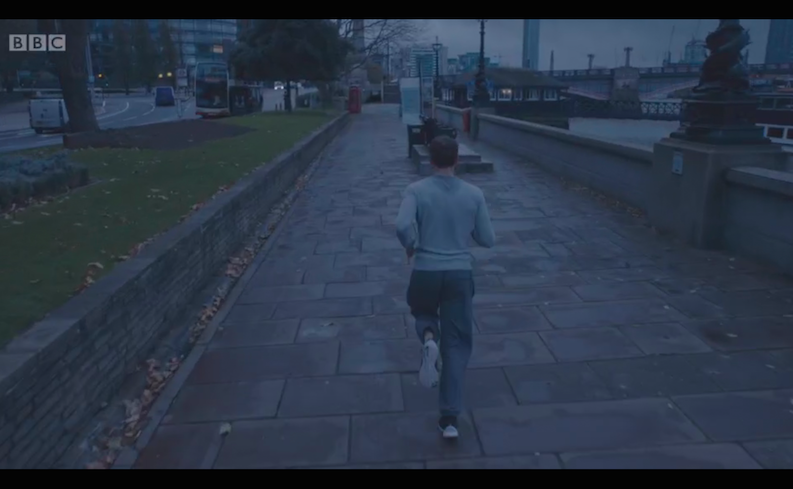 Notice the V-notch in his sweatshirt.
A symbol of wholesome athleticism.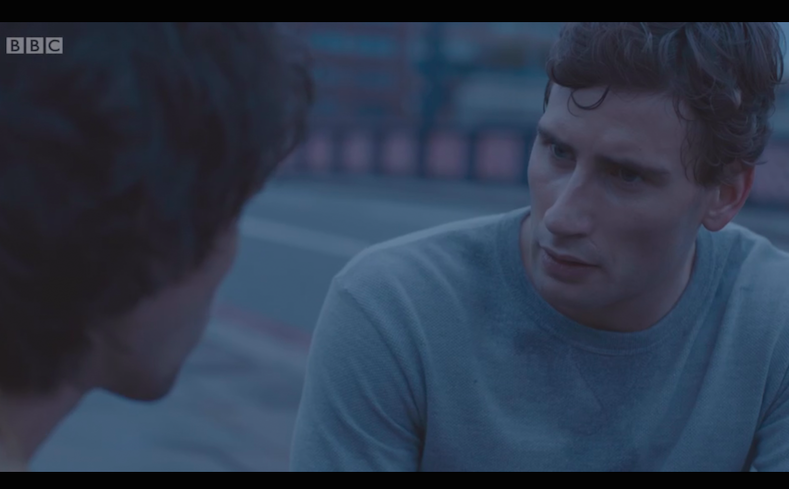 Obviously the best garment worn in the entire series ever is Danny's disgusting work shirt he has to wear at the warehouse.
Desperate for his work shirt.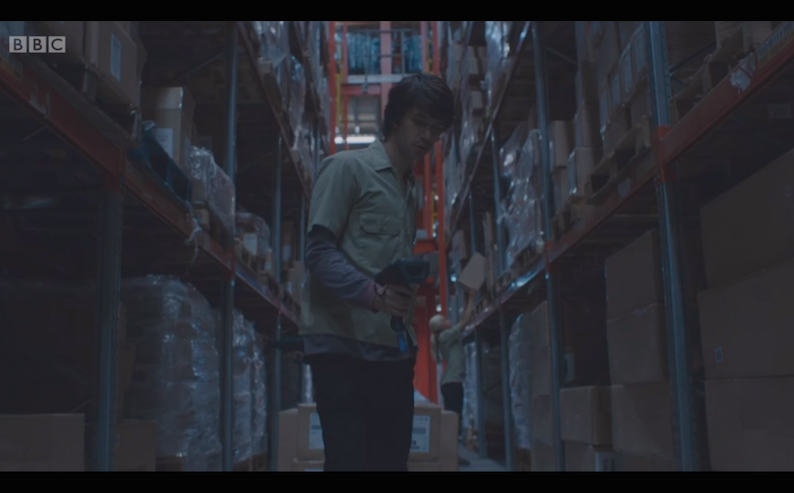 Some more key signifiers of Danny's character:
His grubby rucksack…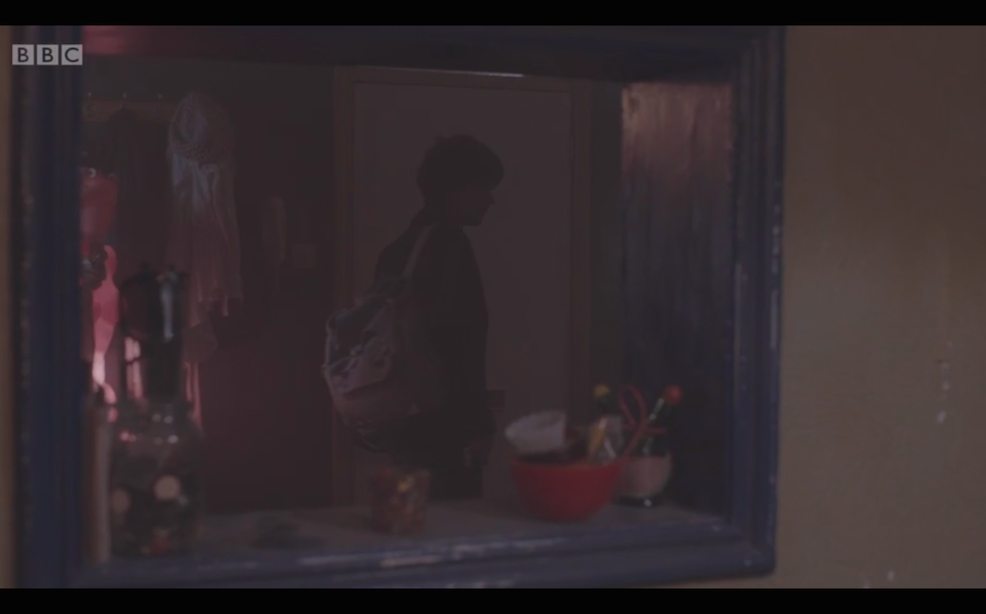 His grubby flatmates.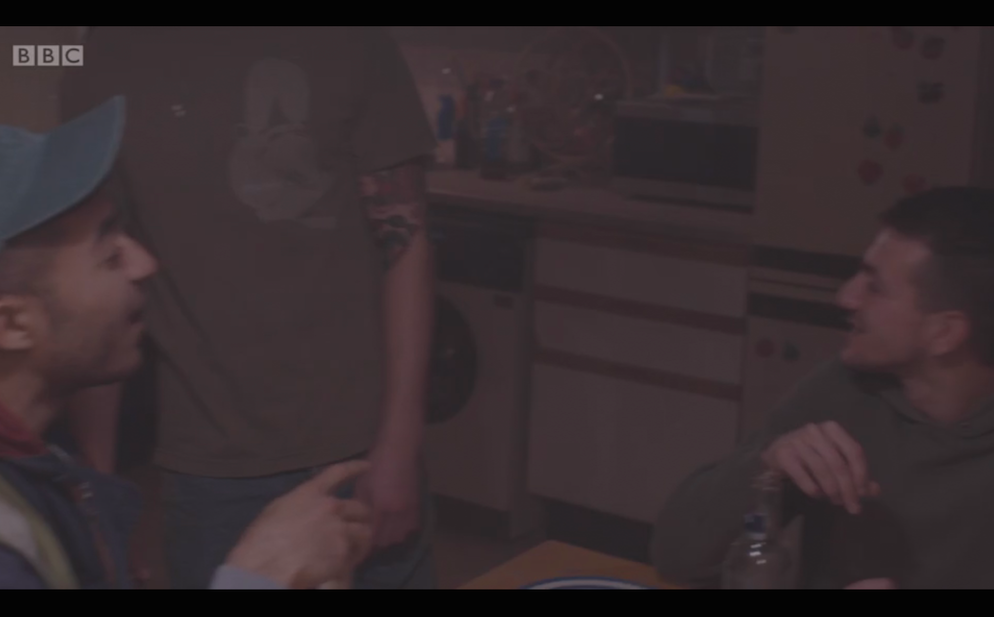 When Danny goes running to try and bump into Alex/Alistair again, his grubby old T-shirt has a presumably telling message.
In his hands is the water pouch Alex/Alistair gave him.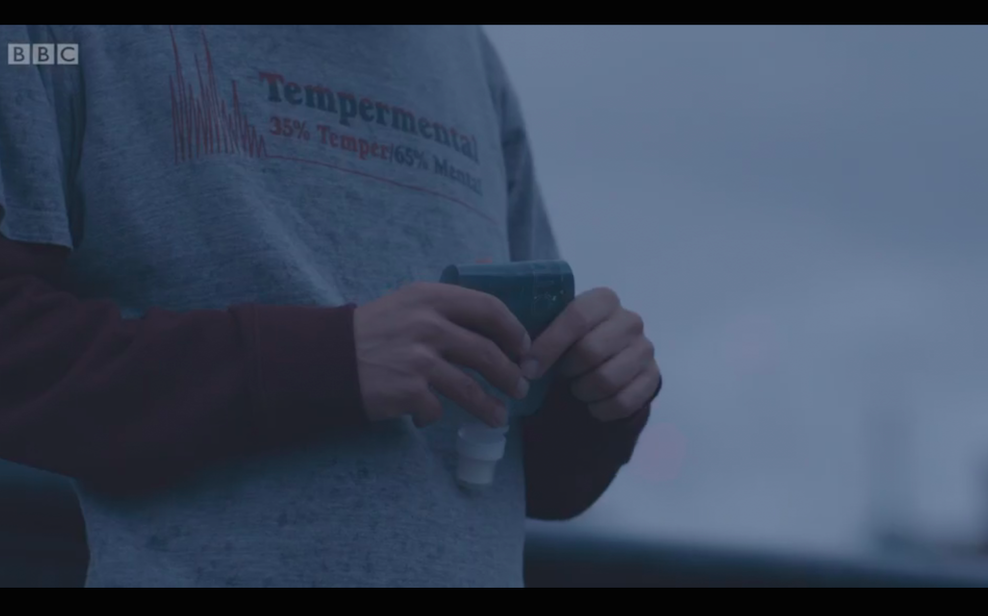 Another old T-shirt, stripes of presumed innocence obviously subverted.
Smoking by the window.
Just so we get the message about when the old woman gets booted out of her flat for the spooky smoking invisible surveillance whoever-it-is.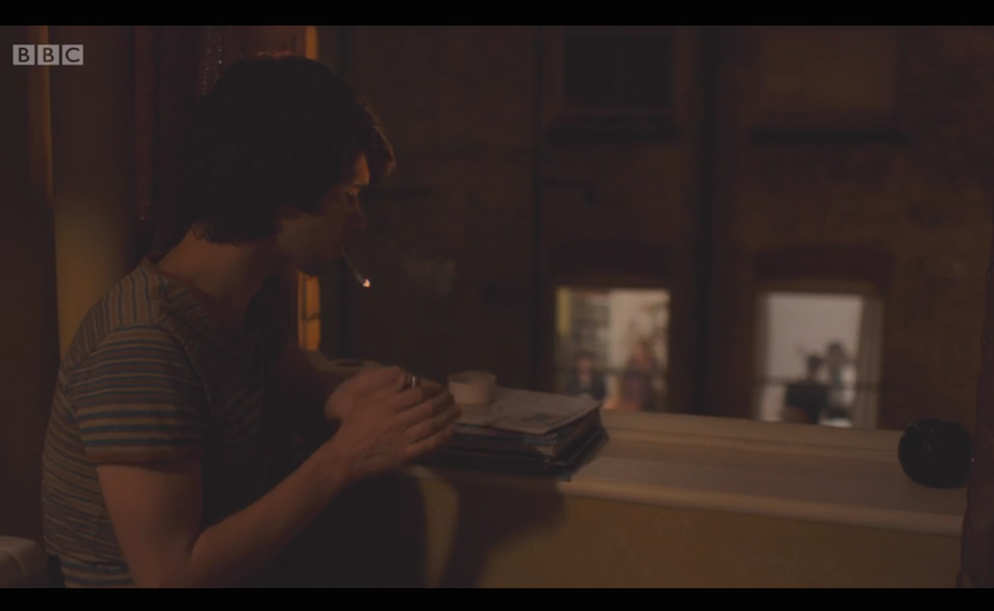 When Danny heads out early in the AM to try and meet Alex/Alistair one more time, it's in an outfit of attempted respectability.
Peacoat, sweater, belted jeans.
Belt jazzy compared to Alex/Alistair's grey.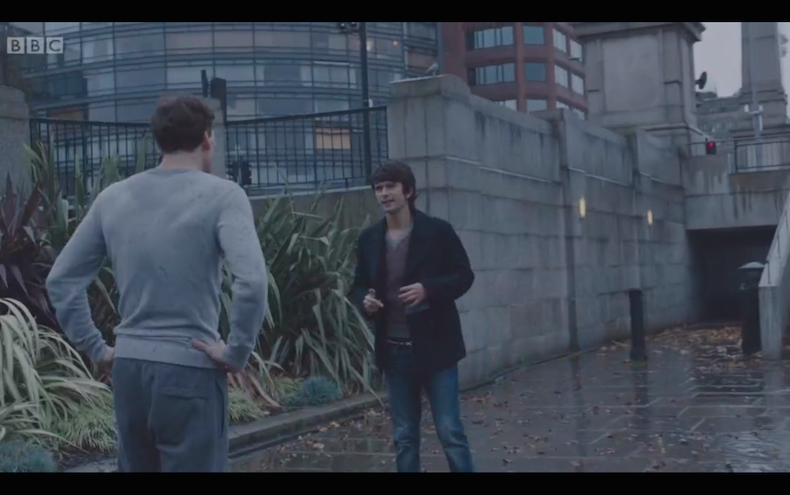 They go back to Edward's flat.
Where clothing is used once again to define with precision.
While Alex/Alistair takes a shower, Danny opens the wardrobe.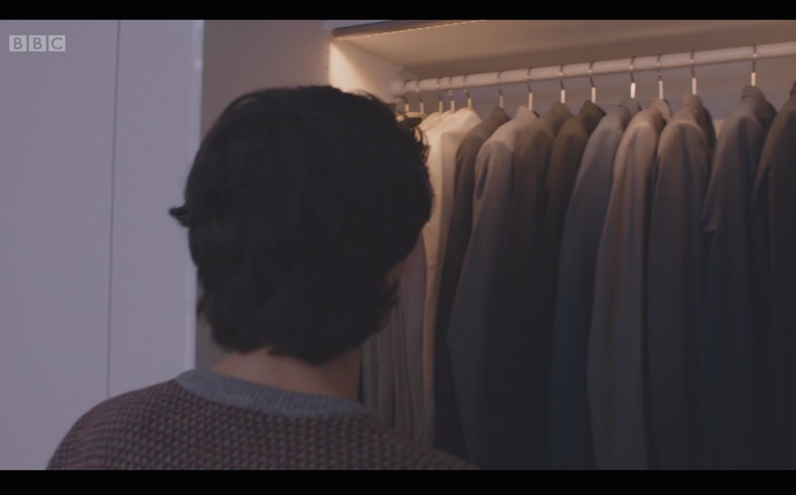 Ordered and dry cleaned grey suits.
He opens a draw.
Laundered and wrapped shirts.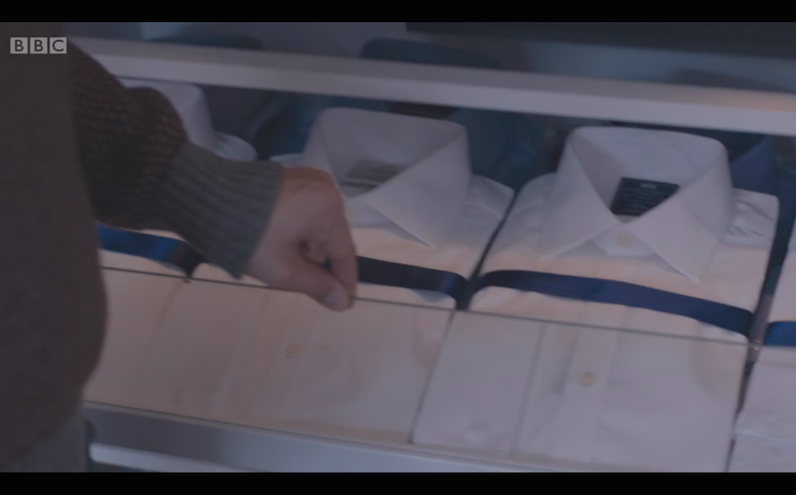 And then quite possibly the most terrifying sight in the whole series so far.
The organised sock and tie drawer.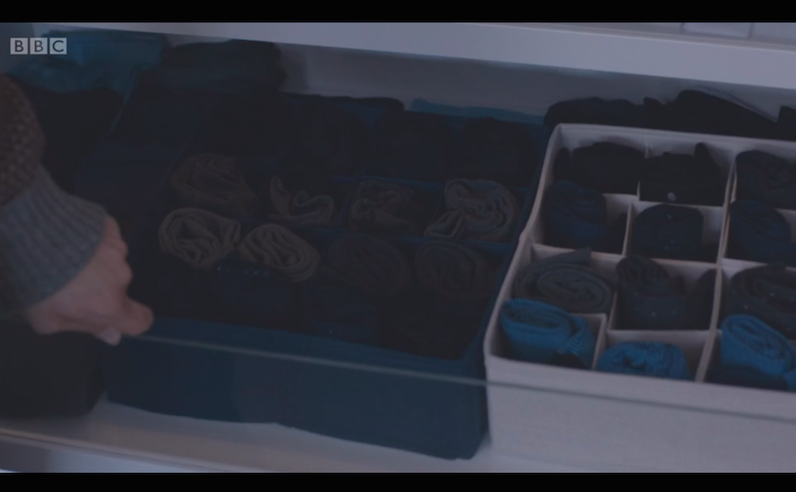 AAAAARRGHHH!
They head out for brunch.
What Alex/Alistair wears.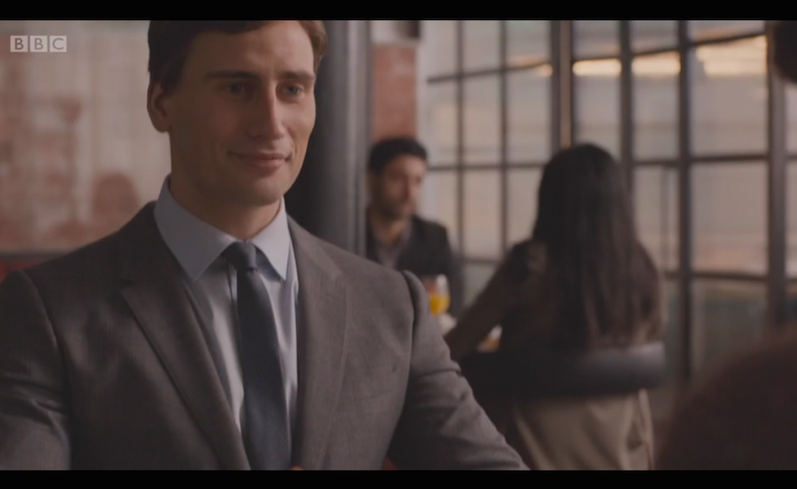 Danny.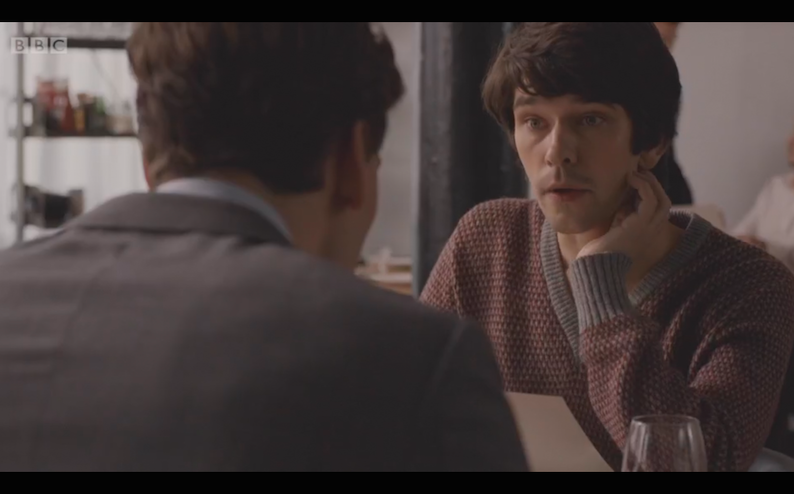 Clothing is the key signifier that they are allegedly poles apart.
(I say allegedly because this is clearly a work involving twist and what has not yet been revealed – I'm accepting nothing at face value).
Our first encounter with Scottie, Danny's old alleged friend.
A gay man with some role in the establishment who harks back to the post-war days of homosexual involvement in espionage.
Establishment overcoat, establishment shirt, establishment tie, establishment briefcase, establishment umbrella.
Again, clothing tells us everything before a word is spoken.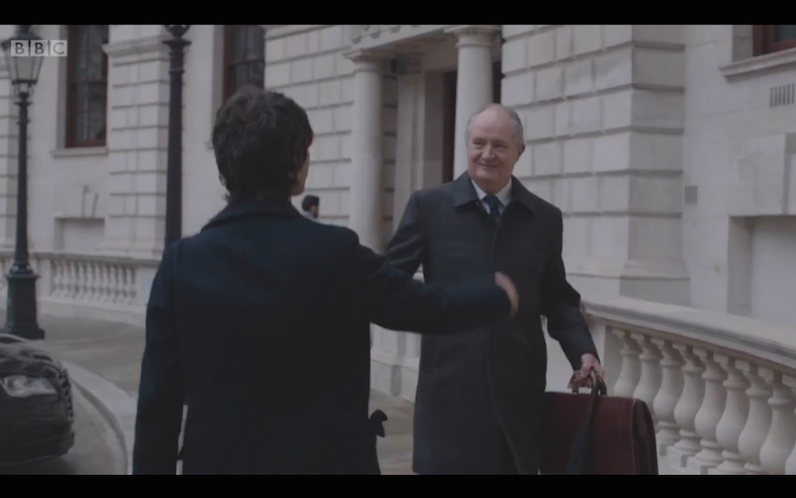 A gorgeous seaside walk, where Alex/Alistair reveals more but not much about his life, and where they fall for each other.
Alex/Alistair in technical clothing, Danny not.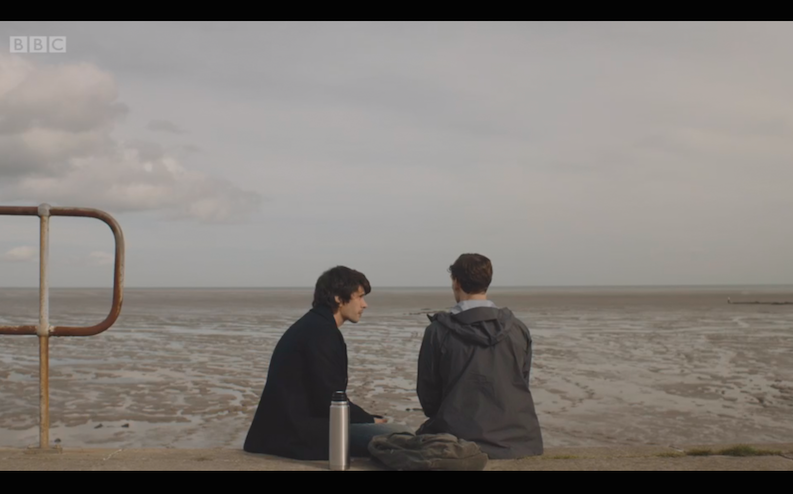 .
Alex/Alistair in dark clean jeans and walking boots, Danny not.
You get the picture.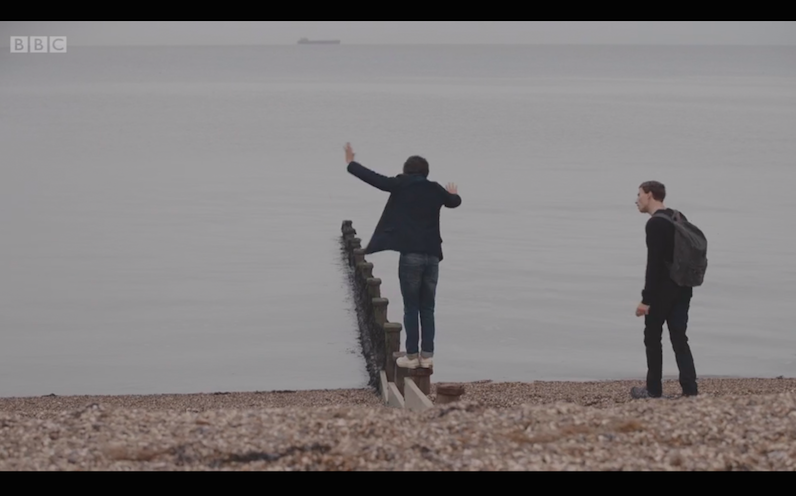 Alex/Alistair and Danny's last moment together.
Alex/Alistair, in crisp white shirt and trousers, turns the radio up to tell Danny that he needs to replace the computer battery.
As in, when I'm locked up dead in a trunk LOOK FOR THE COMPUTER BATTERY.
OK gratuitous arse shot.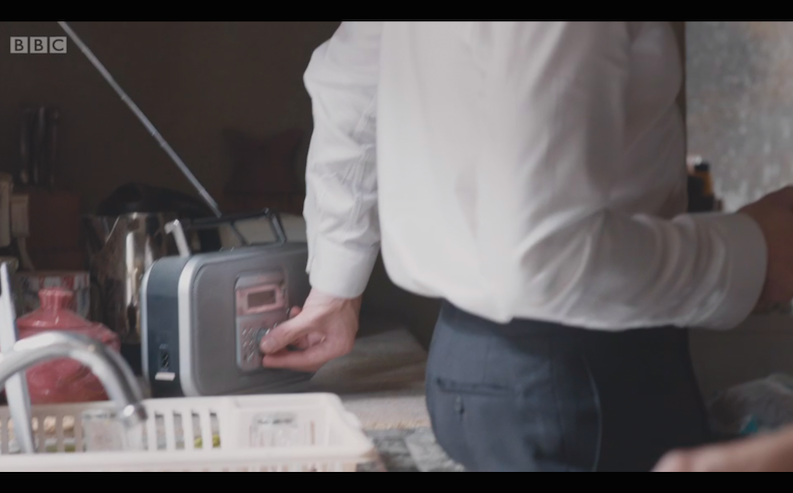 Danny never sees Alex/Alistair alive again.
When Danny seeks refuge with Scottie in his zhooshy house, Scottie is the picture of elder statesman innocence.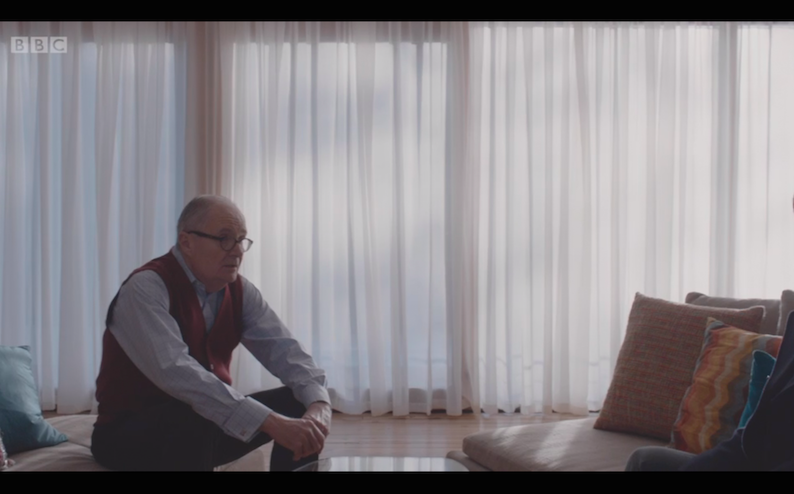 One episode, two wardrobes.
Just like the crisp suits, this one that Danny opens in the loft above Alex/Alistair's apartment sends out its own very clear message.
Just like before, he opens two drawers.
One.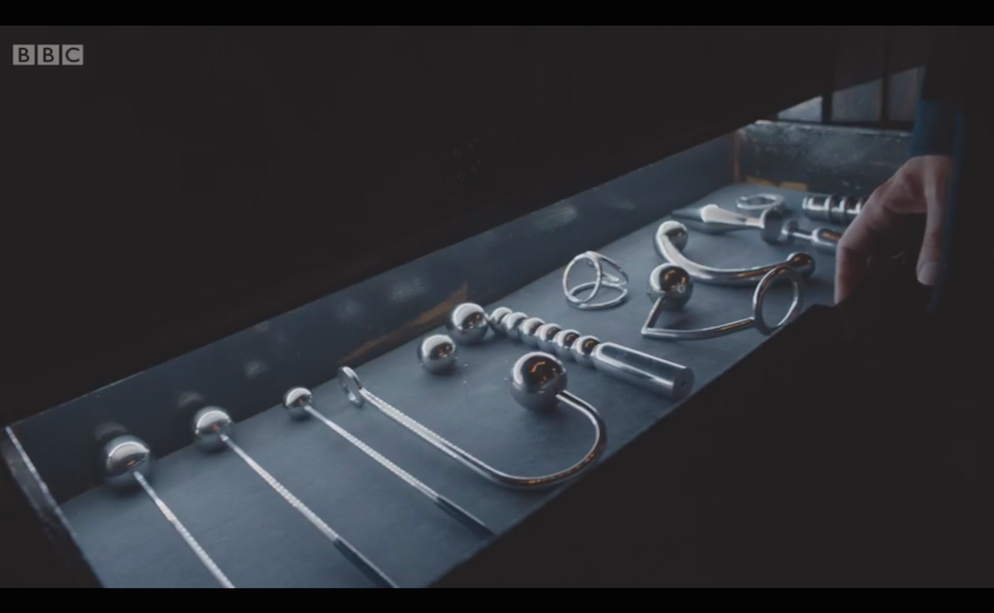 Two.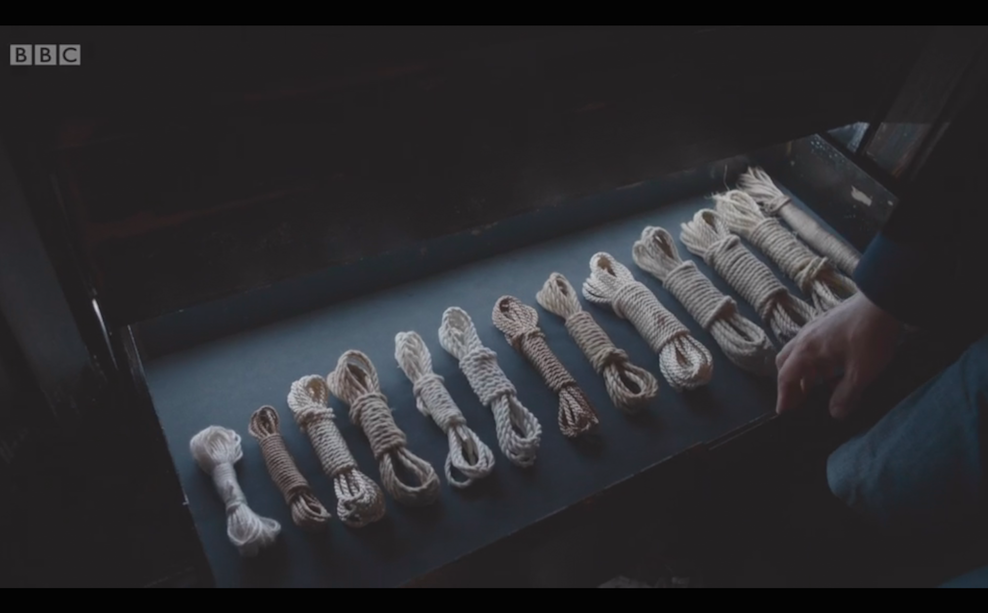 When we see him being interviewed by the police for the first time, he clothing – old plaid shirt, T-shirt – is that of a man out of his depth.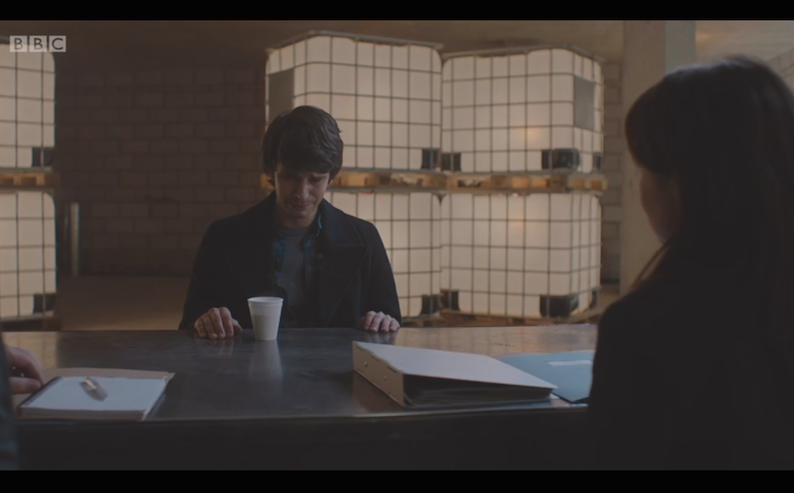 Scottie drops him off, and asks Danny if he took anything from Alex/Alistair's apartment.
Again, dressed as the establishment.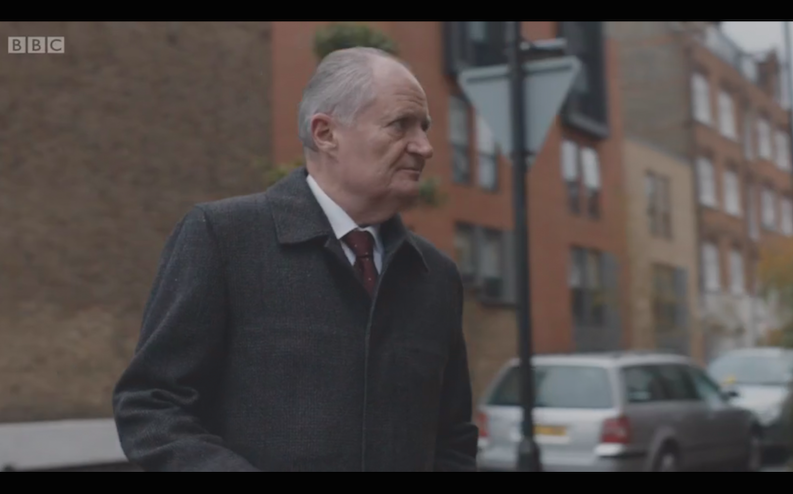 Jesus we've only done episode one.
I'm not at all obsessed with London Spy.
Not at all.
More, imminently.