I'm in Los Angeles for the Saint Laurent show, held last night at the Palladium.
I've written about it for this Saturday's FT, and the piece is already online.
I had a great spot at the show, right where the models turned on a diagonal after their walk towards the cameras.
The catwalk was a large rectangle filling the dance floor of the Palladium, across which they zigged and zagged.
I took about three million pics of this show that was ostensibly men's, but which majored on women's.
Here's how it went.
The mens was sharp, severe and openly referential of Hedi Slimane's original work at Yves Saint Laurent.
Because remember, he was in charge of menswear there in the late 90s, before it was bought by Gucci Group.
This was the look: neat jacket, strong shoulder, high skinny pant.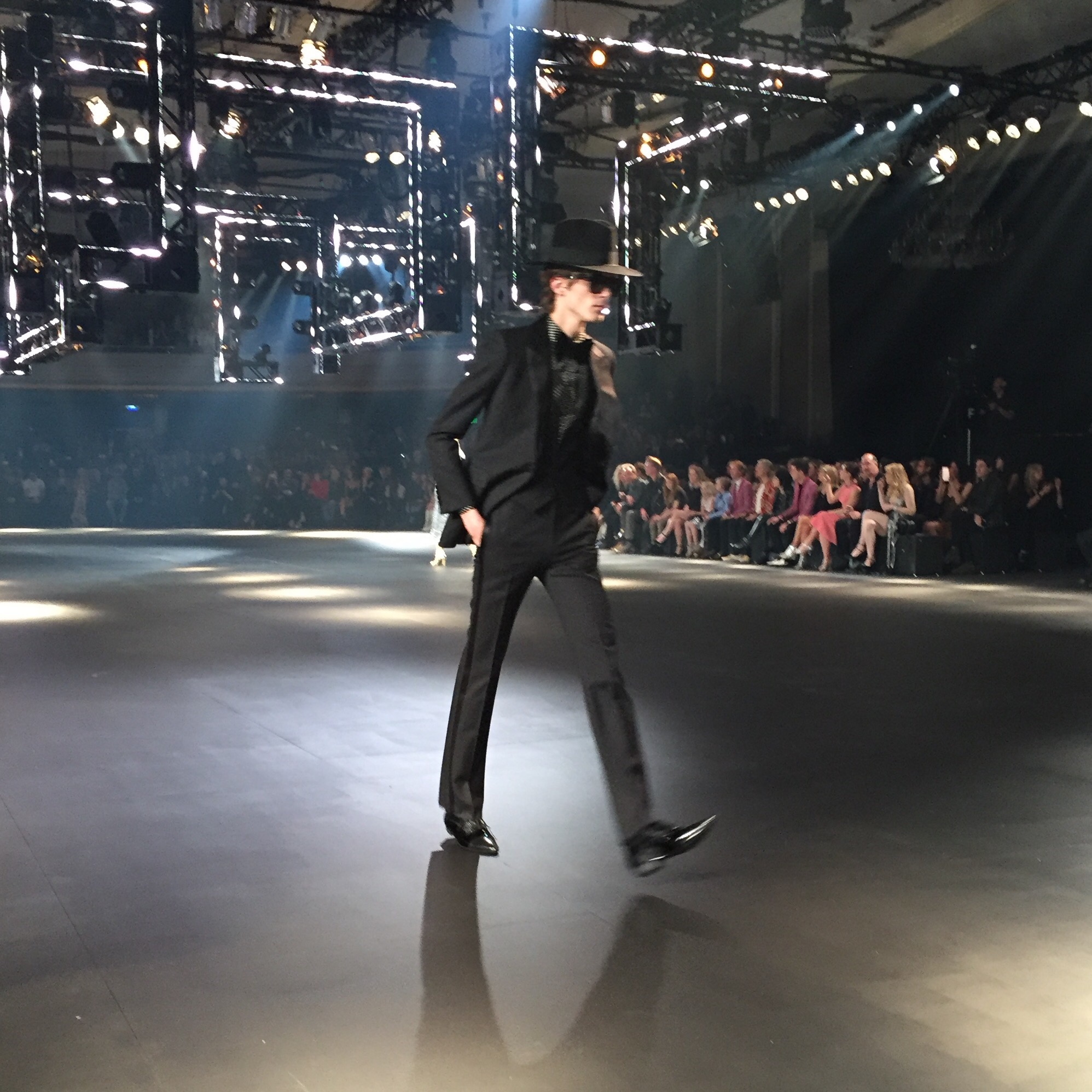 Women's was a major statement.
This year sewed the 50th anniversary of Saint Laurent Rive Gauche, the first ready-to-wear line by a couturier which revolutionised fashion.
Slimane paid homage, and in doing so brought a fresh look to women's at Saint Laurent.
Previously it had been short, hard, aggressive. Much skin was on show.
Here, flesh was covered.
I can't remember any bare skin save for faces, hands, wrists from the entire show.
First women's look: culottes.
Oh and by the way, that's Rosie Huntington-Whiteley at the end of the row, and the mop head two along is Gaga.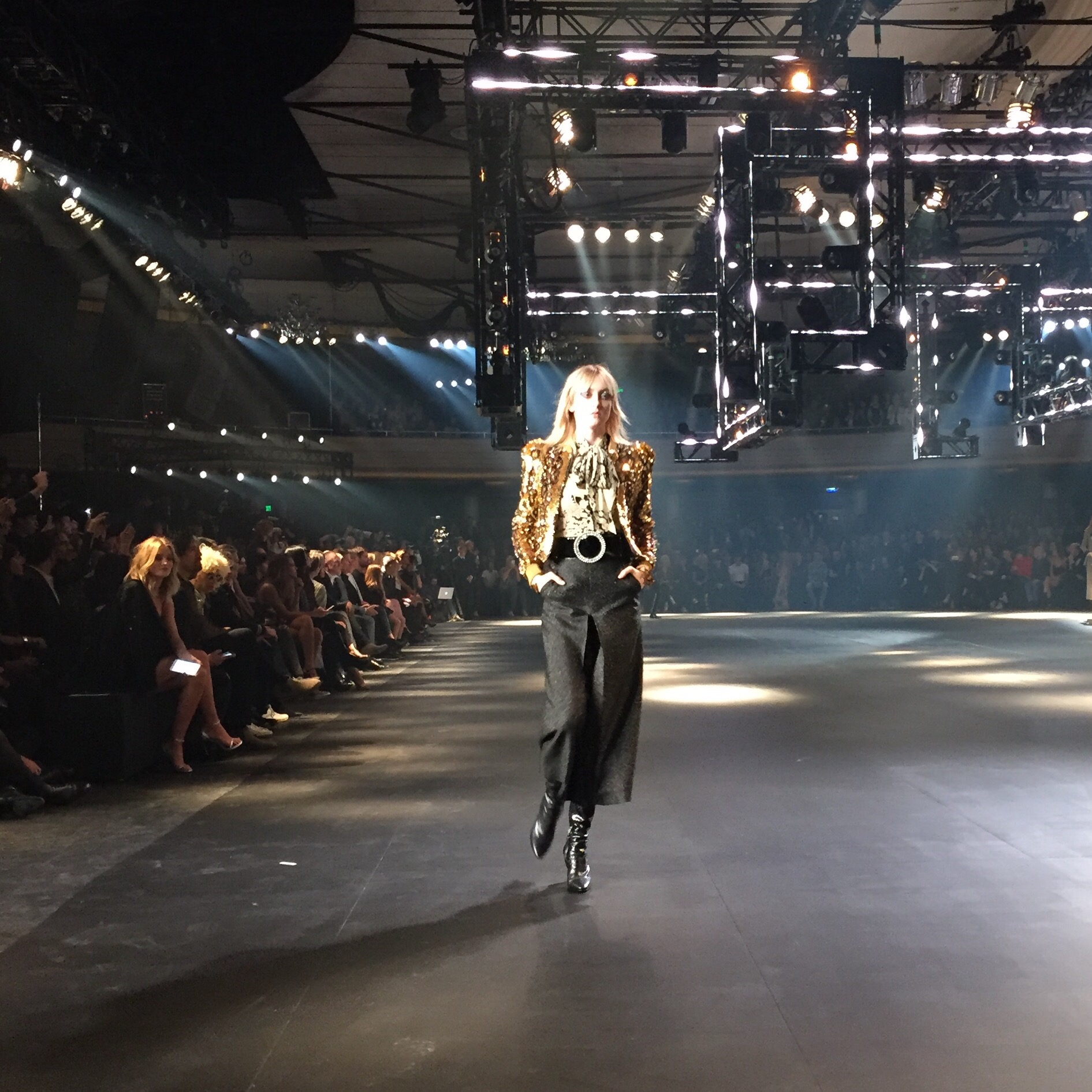 Dresses went below the knee, covering the top of knee high boots.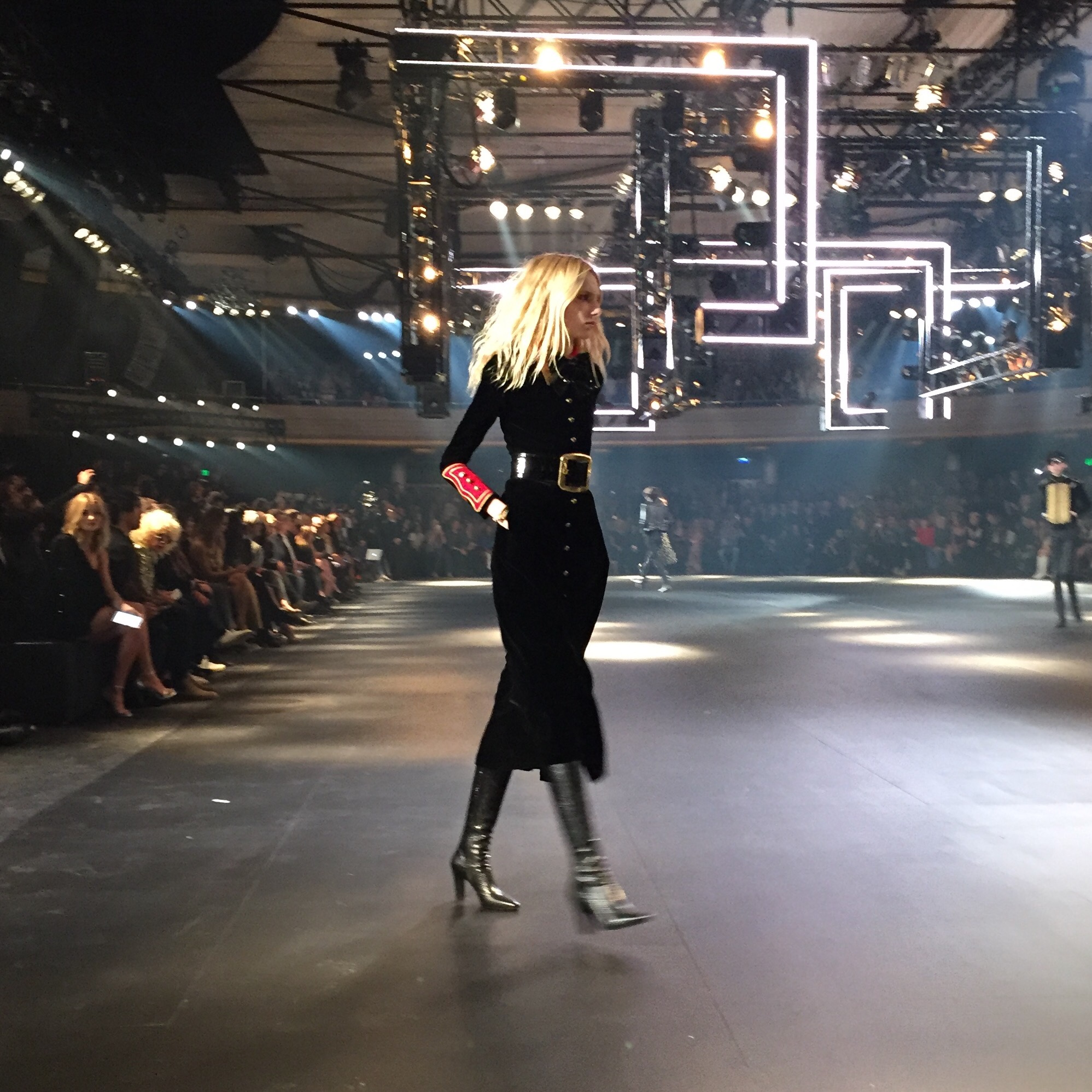 I liked this dude.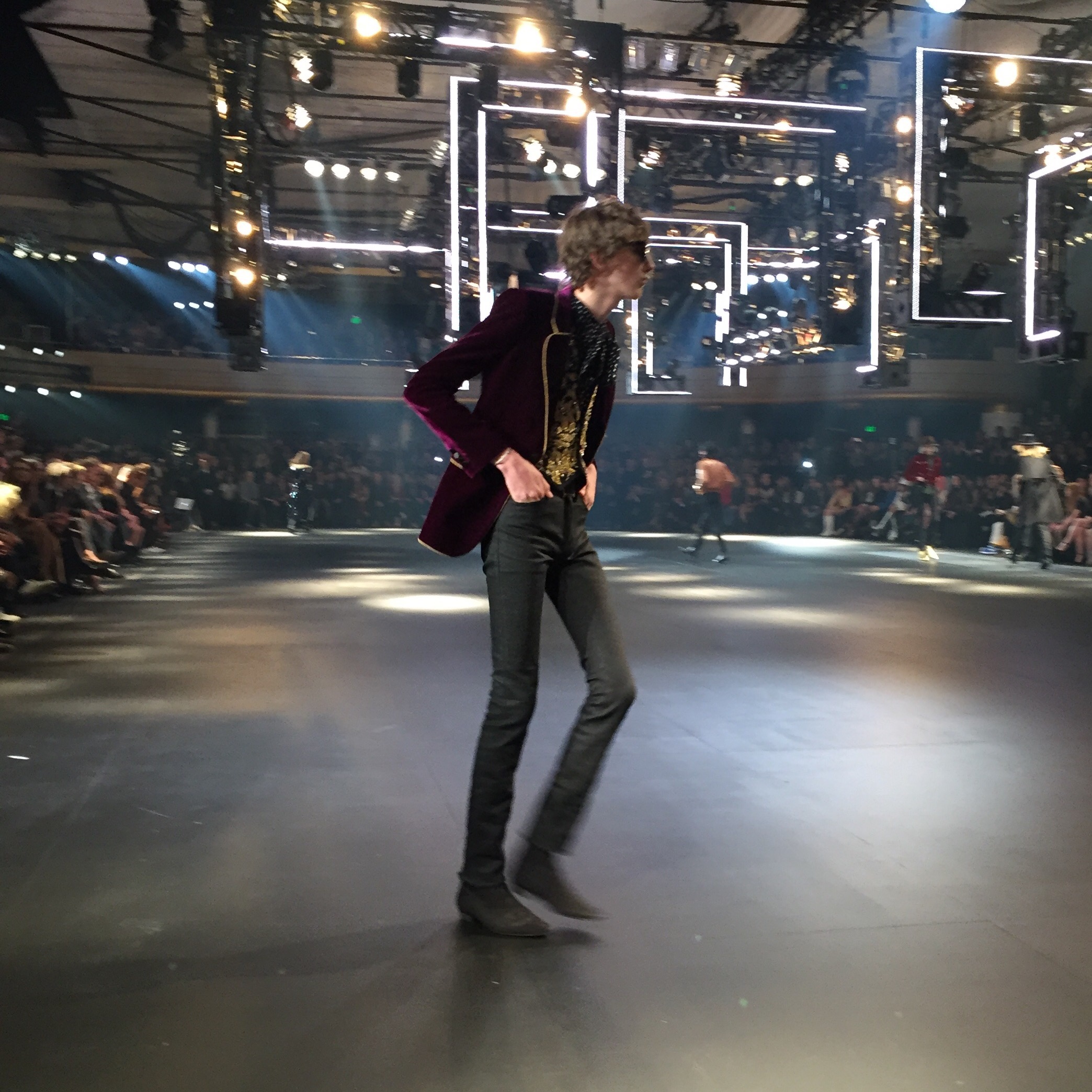 I liked this dude too.
With his mismatching hair and beard.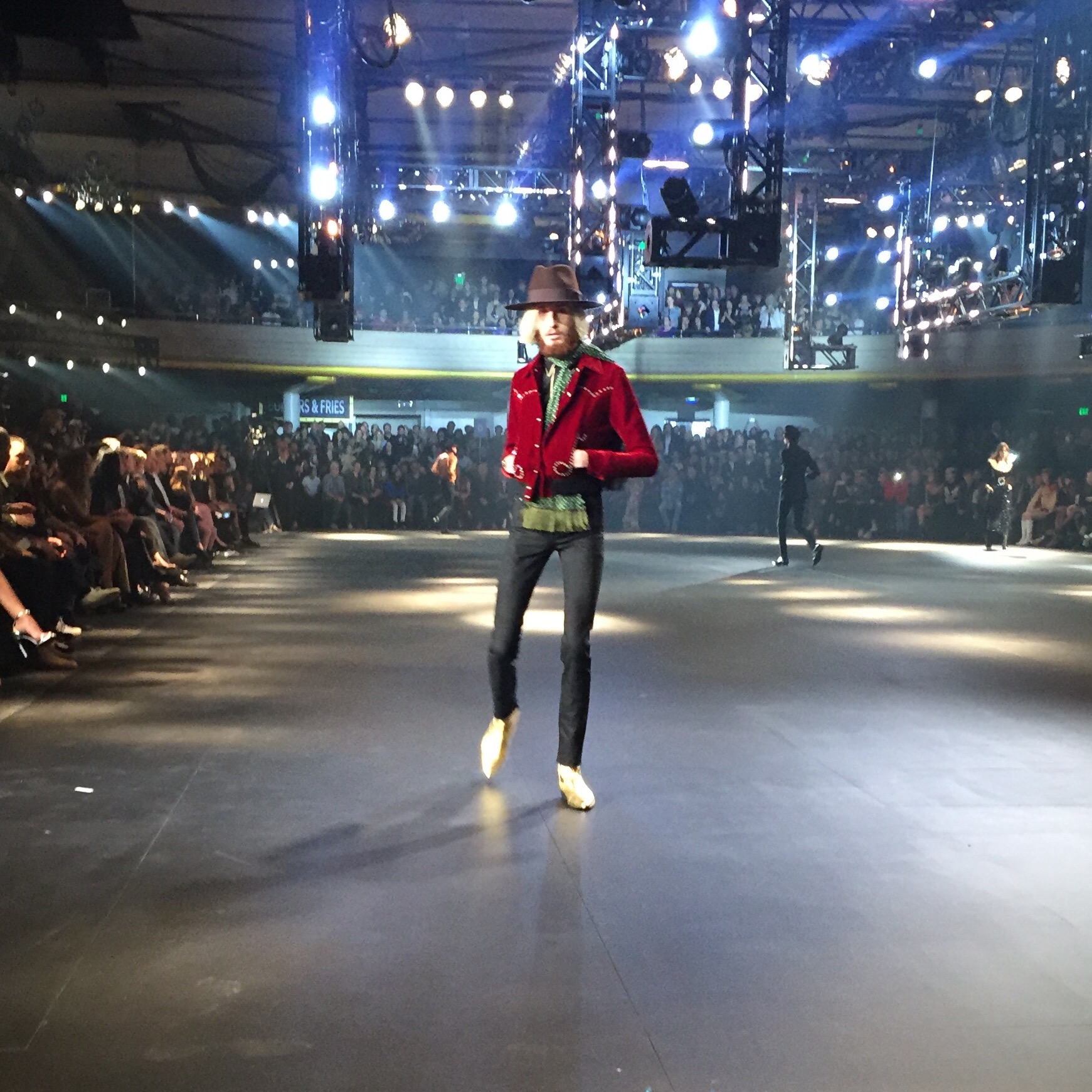 This very lovely model was stuck at JFK with me on the flight out to LA last week.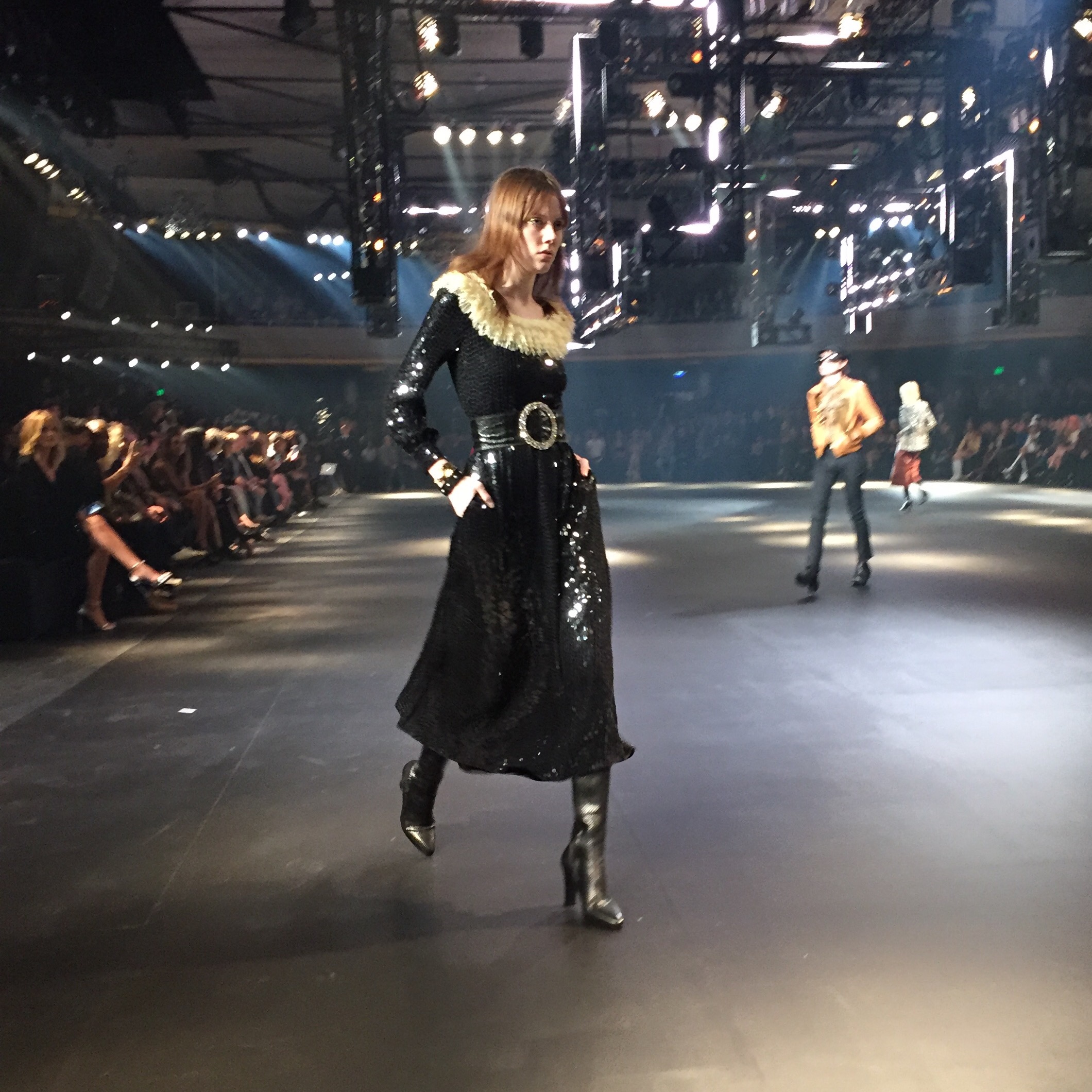 For me the focus of the menswear was the coats.
So many that were so strong.
Like this one.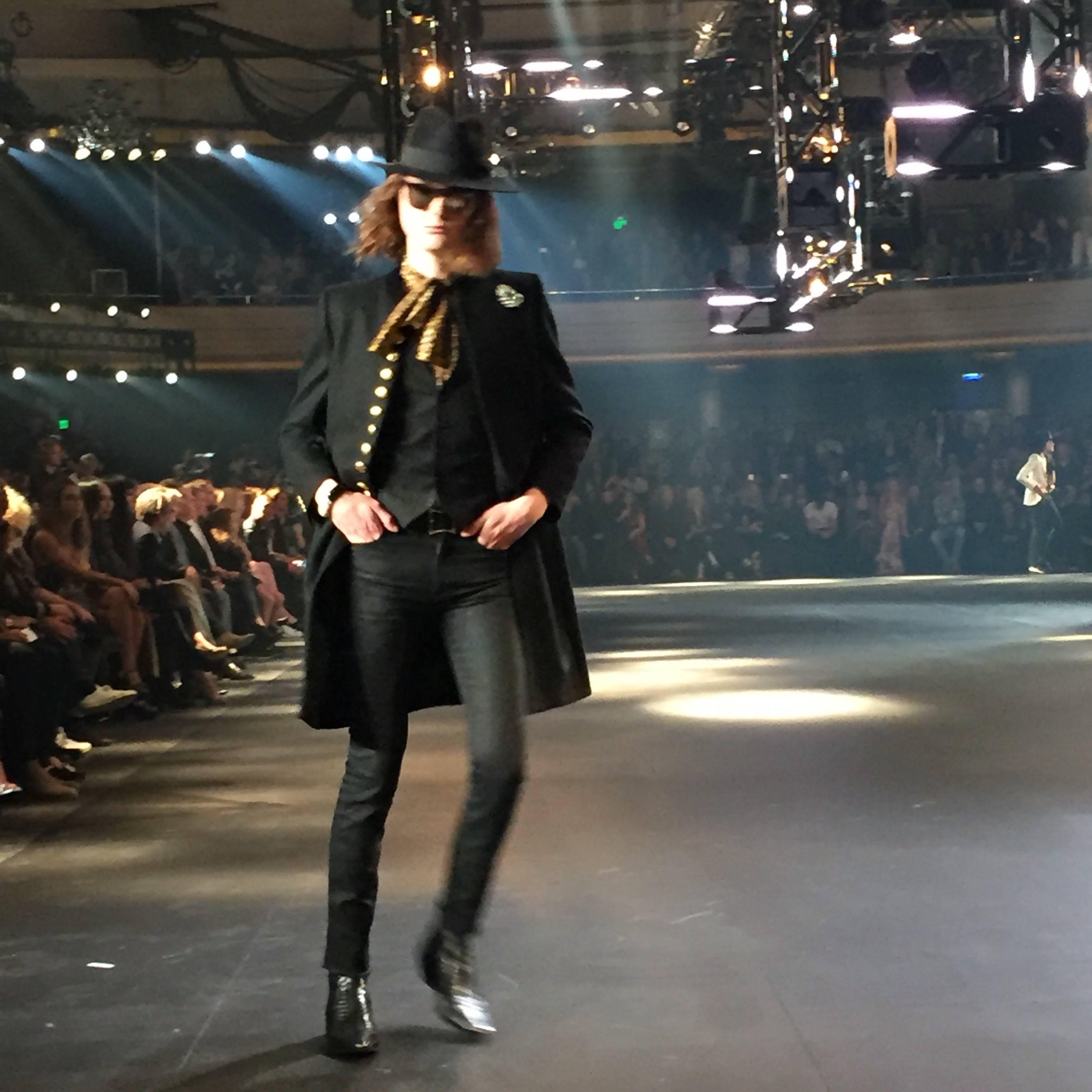 Some shimmer majorness in a collection of shimmer majorness.
Womenswear is so magpie.
It loves shiny shiny.
It's things like this you notice when you don't go to that many women's shows.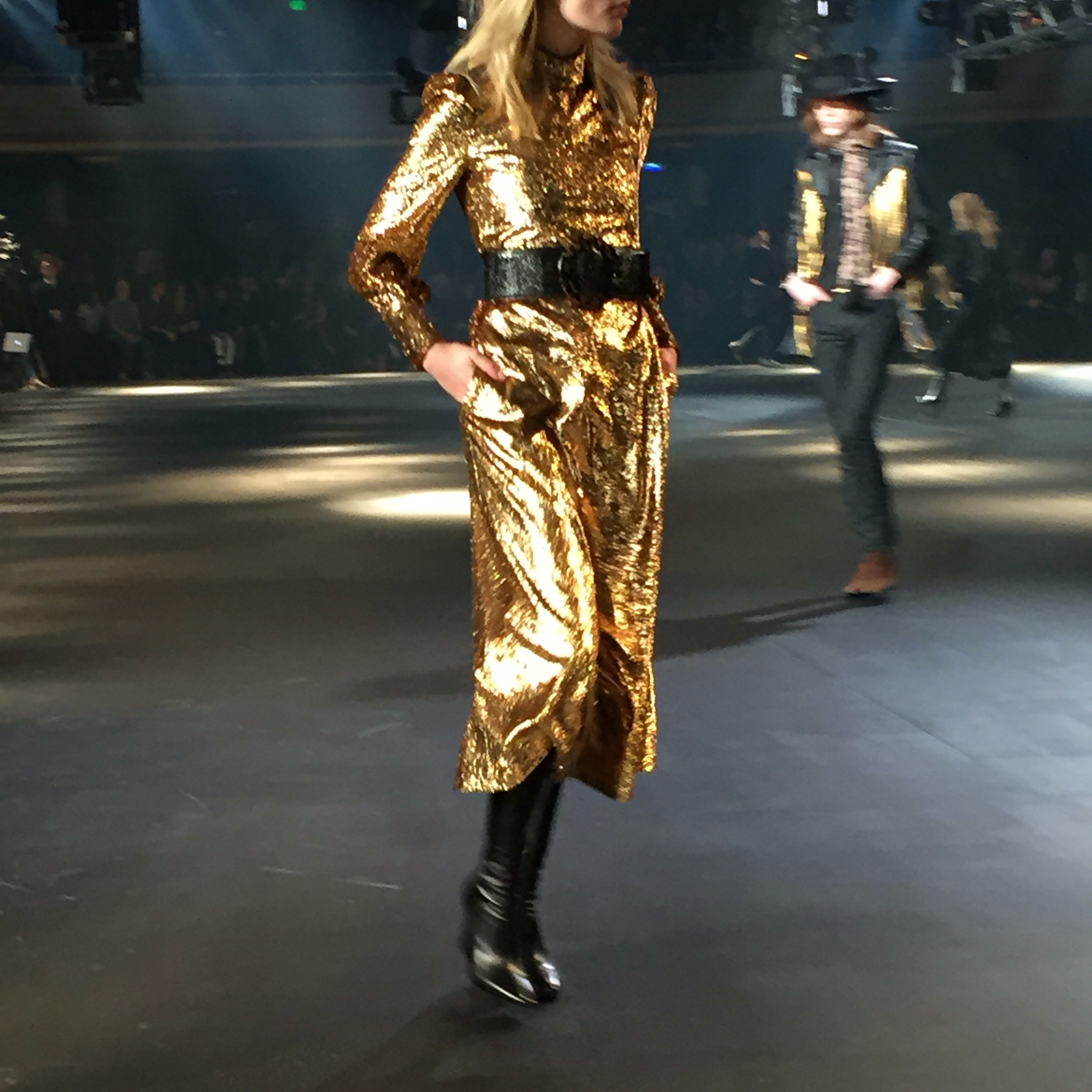 Another great coat.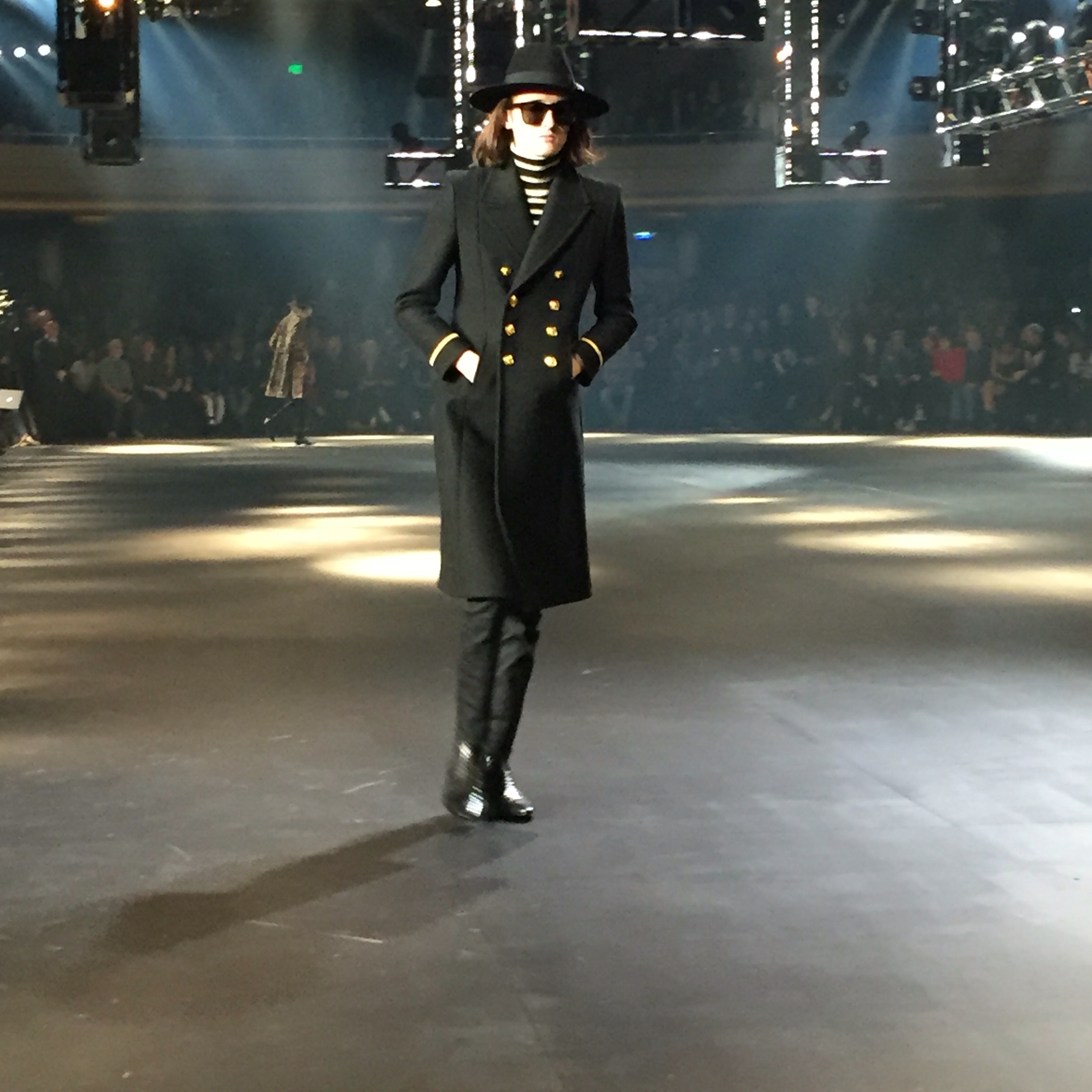 And another.
This one might be my favourite.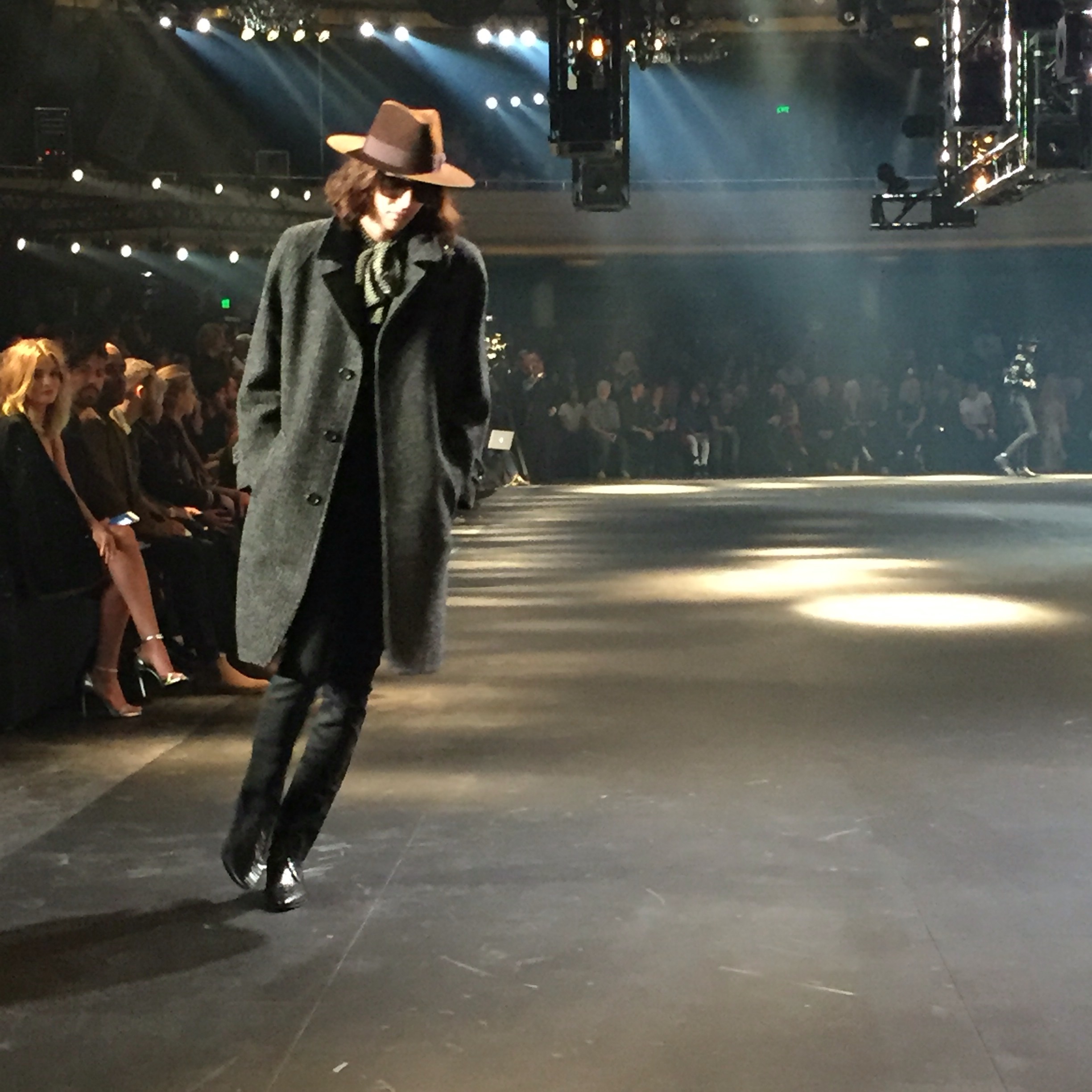 Another view.
It looks so good to wear.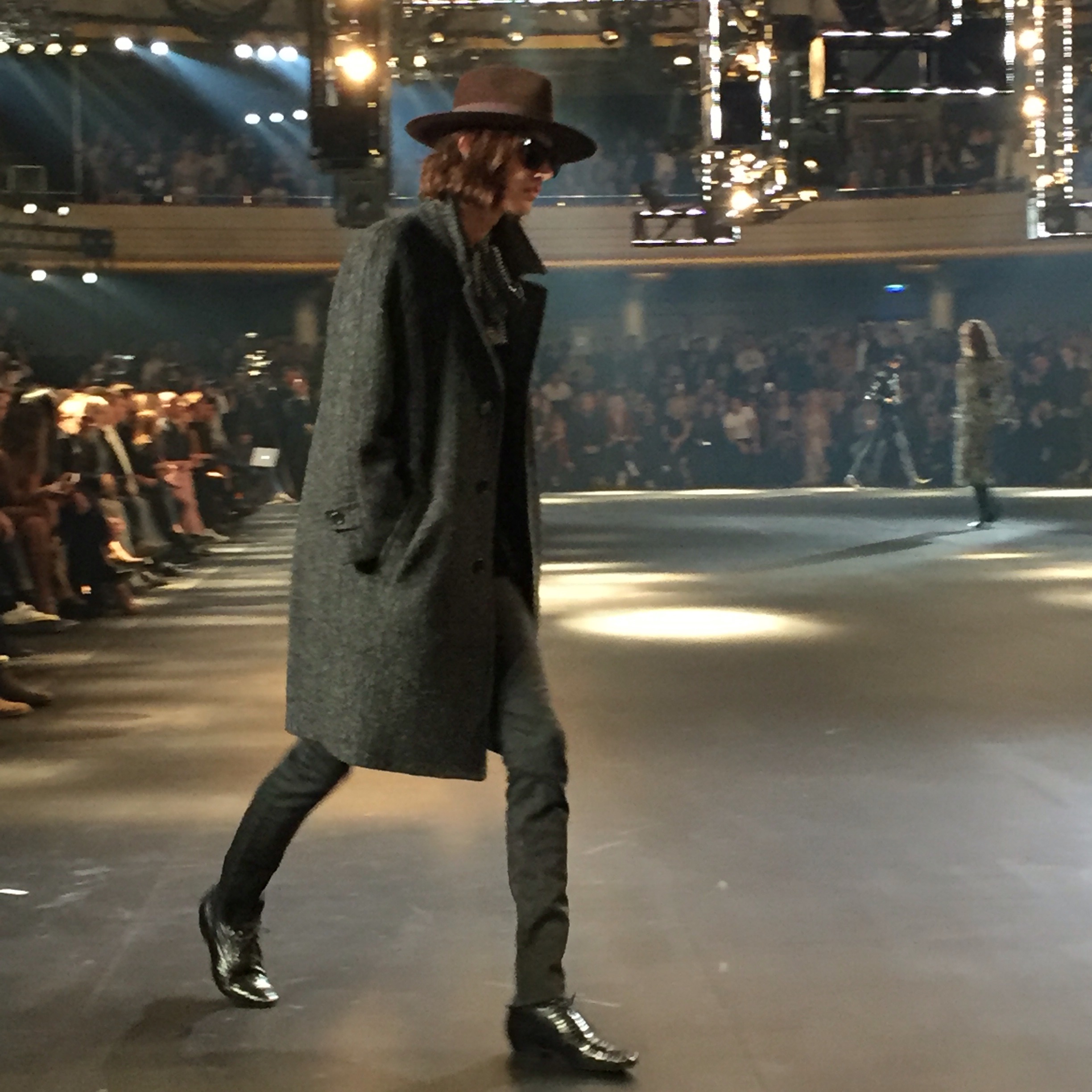 Another view of another shimmer dress that I posted on Instagram last night (@thecharlieporter).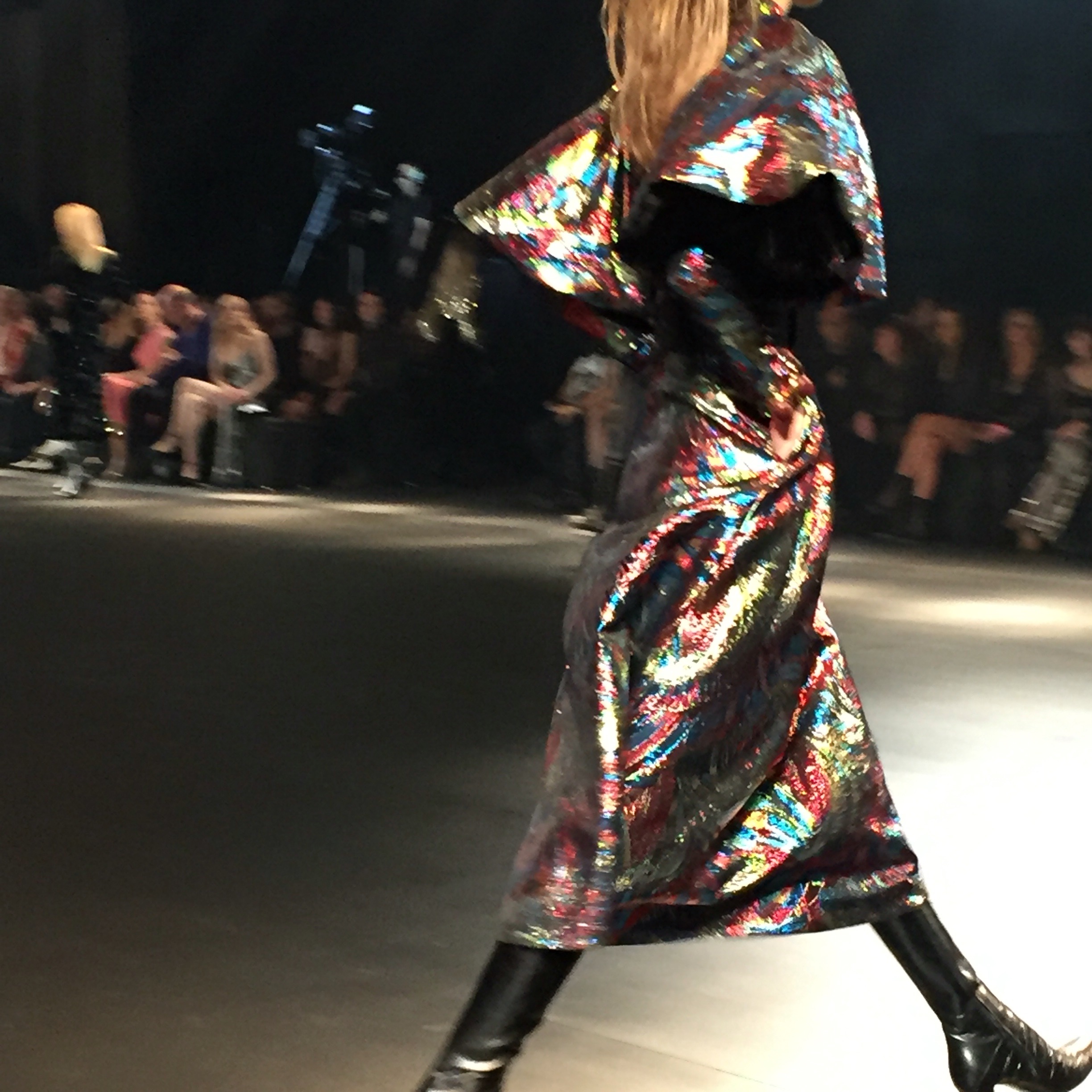 Do you see what I mean about flesh being covered?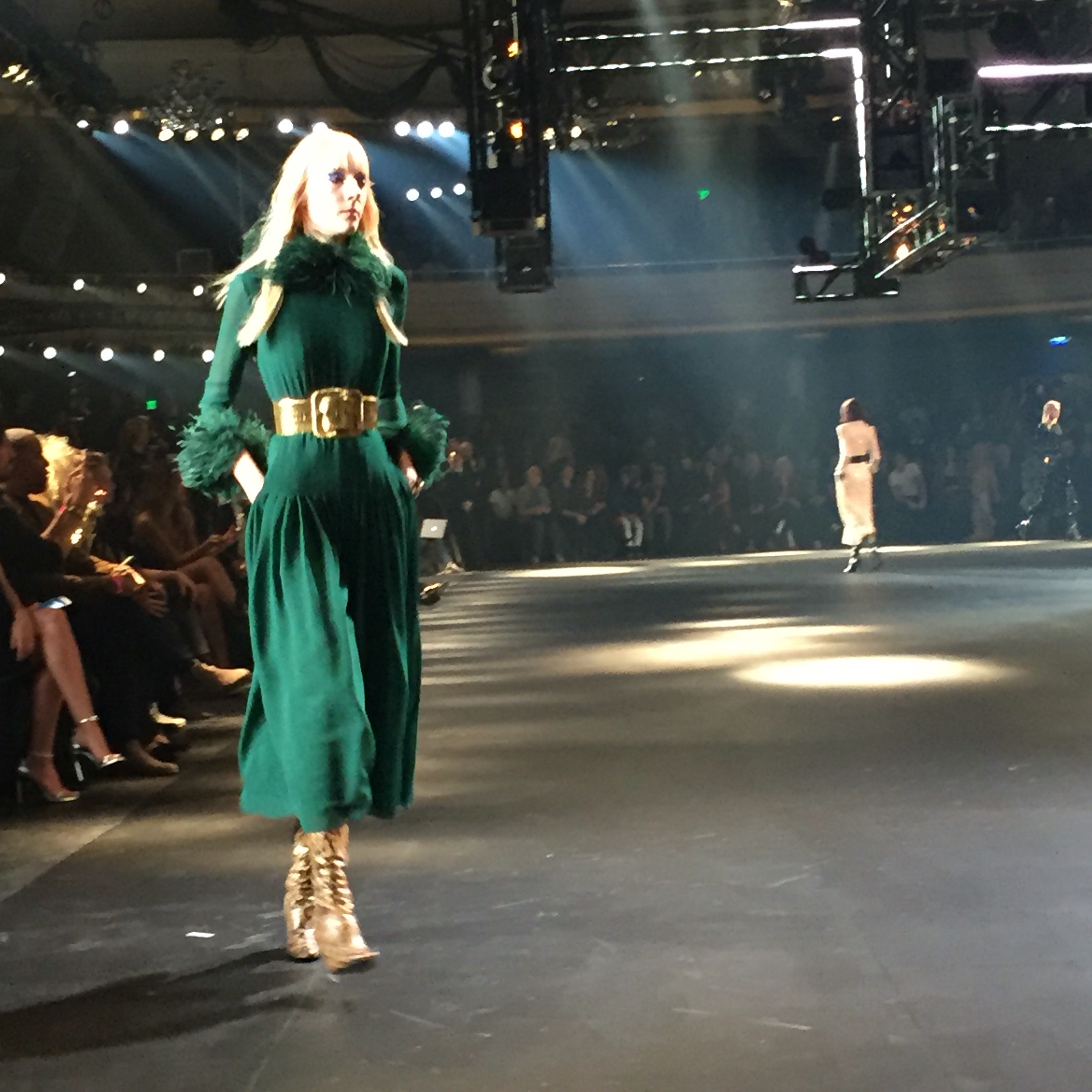 Another amazing coat, this one a tweed trench.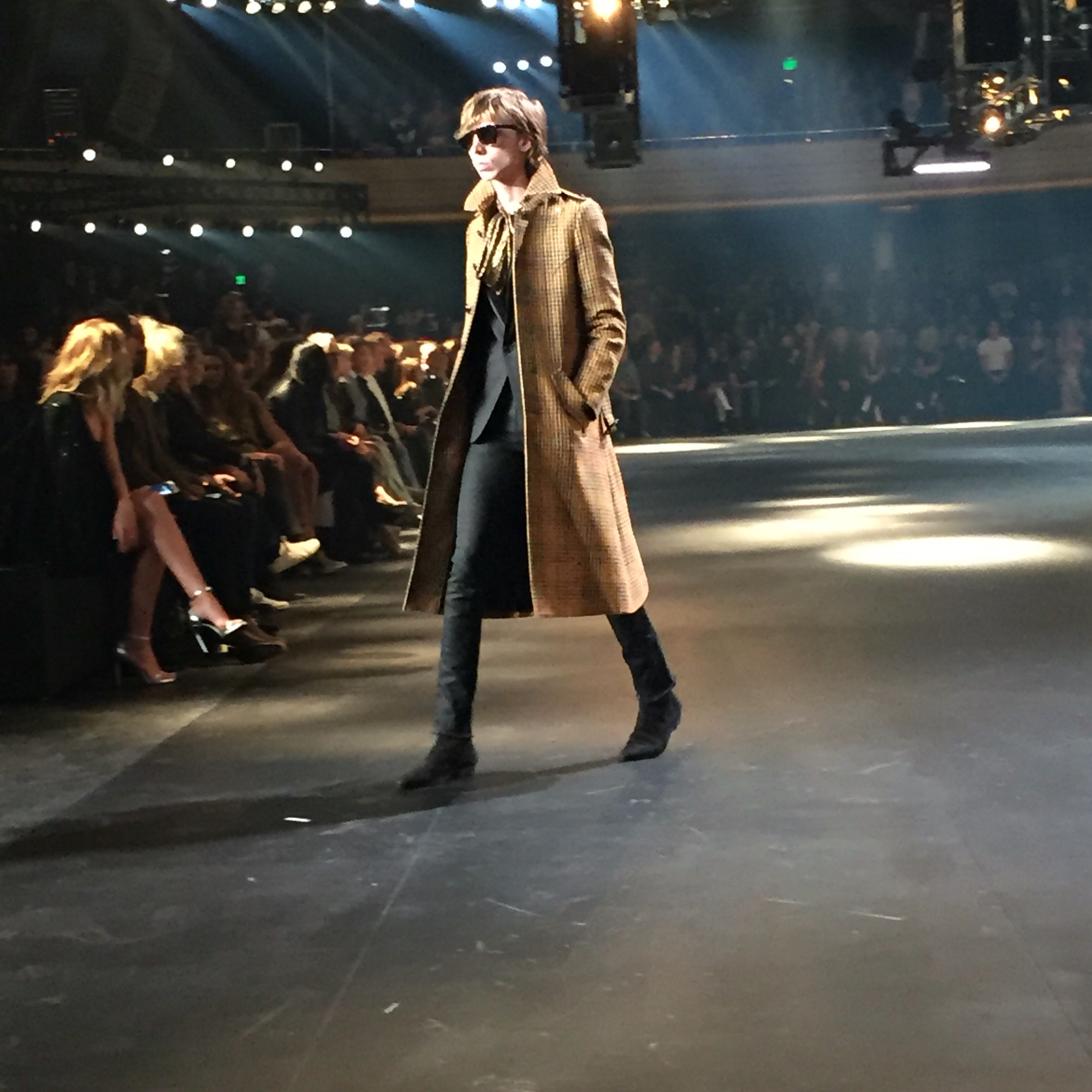 View two.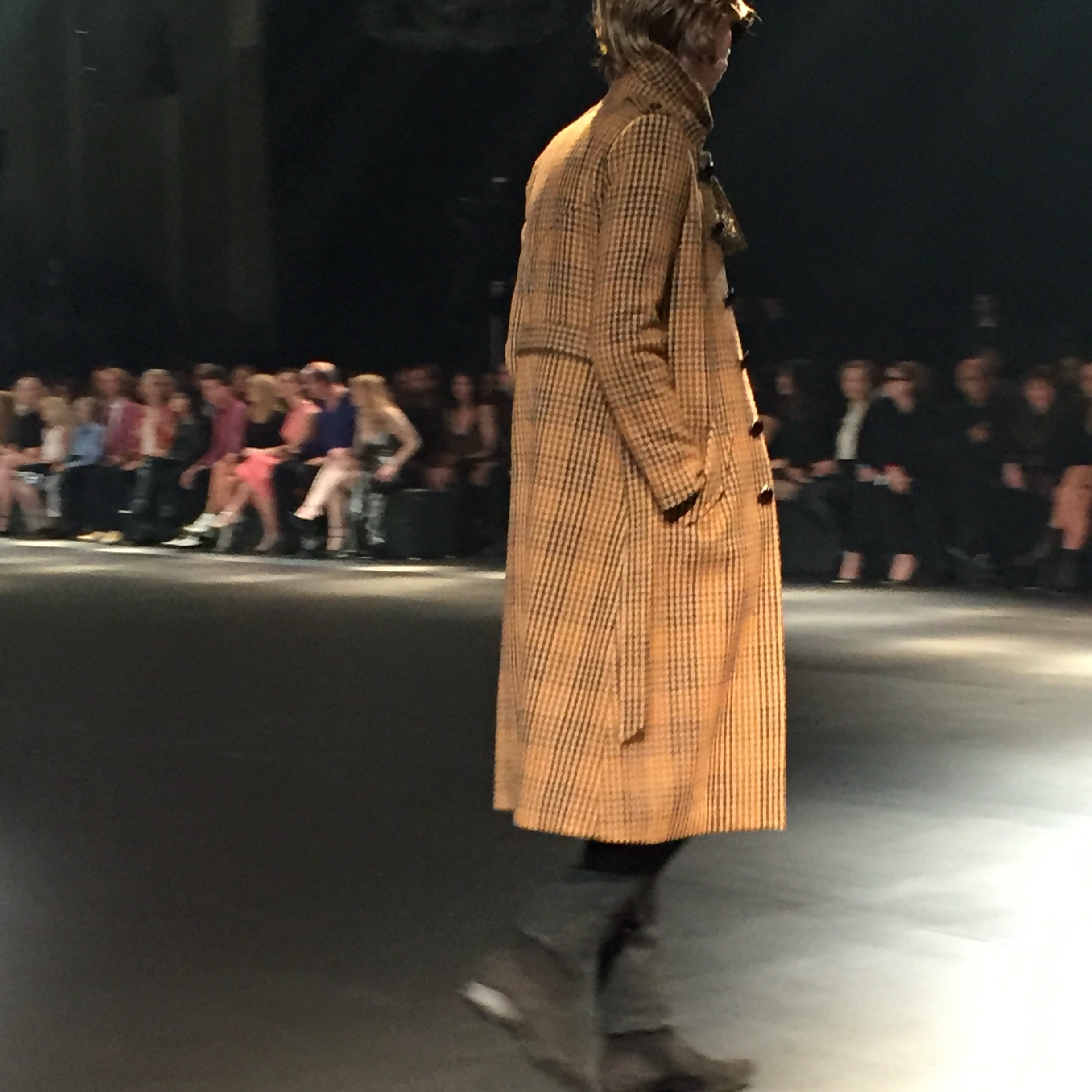 The news on pants.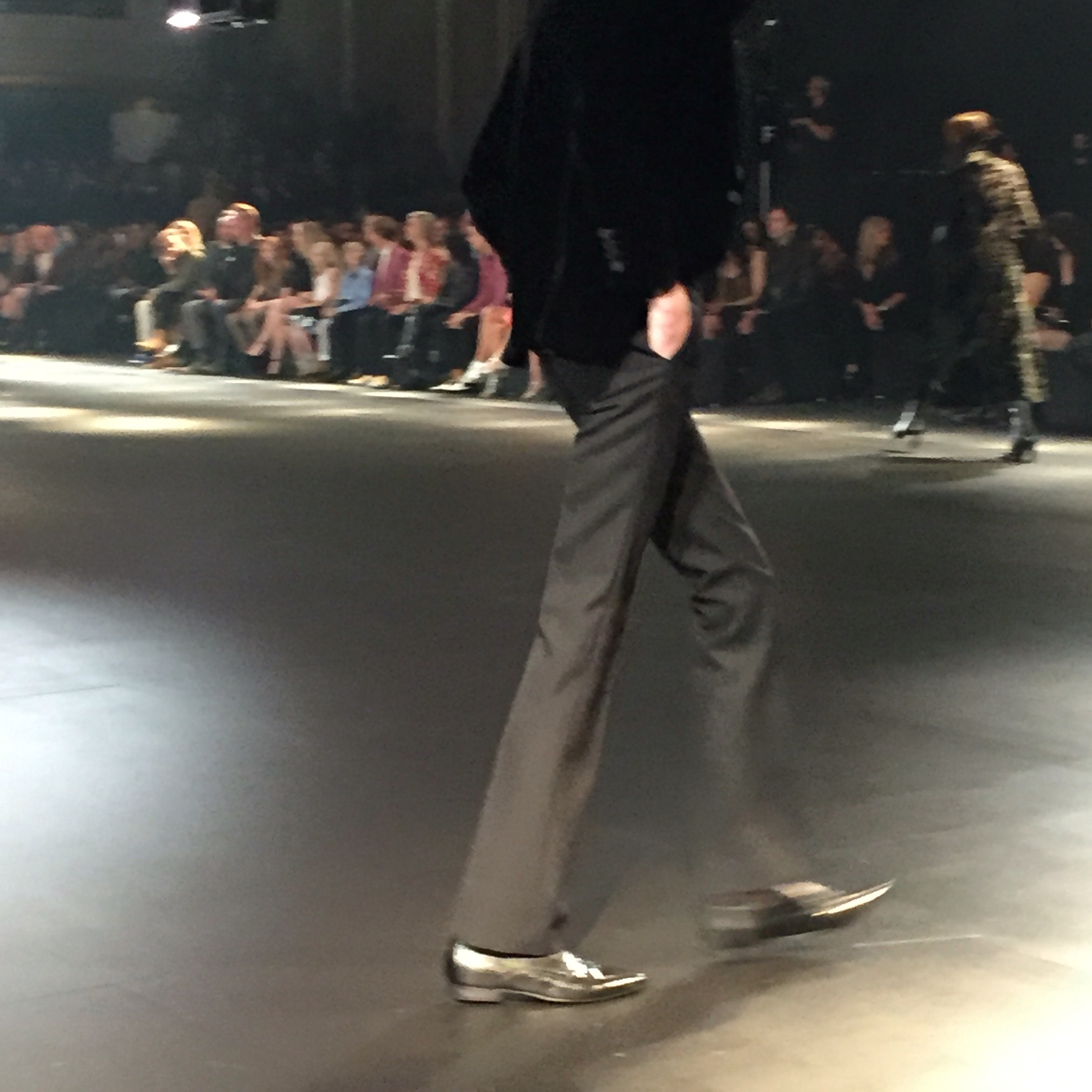 Frock coat.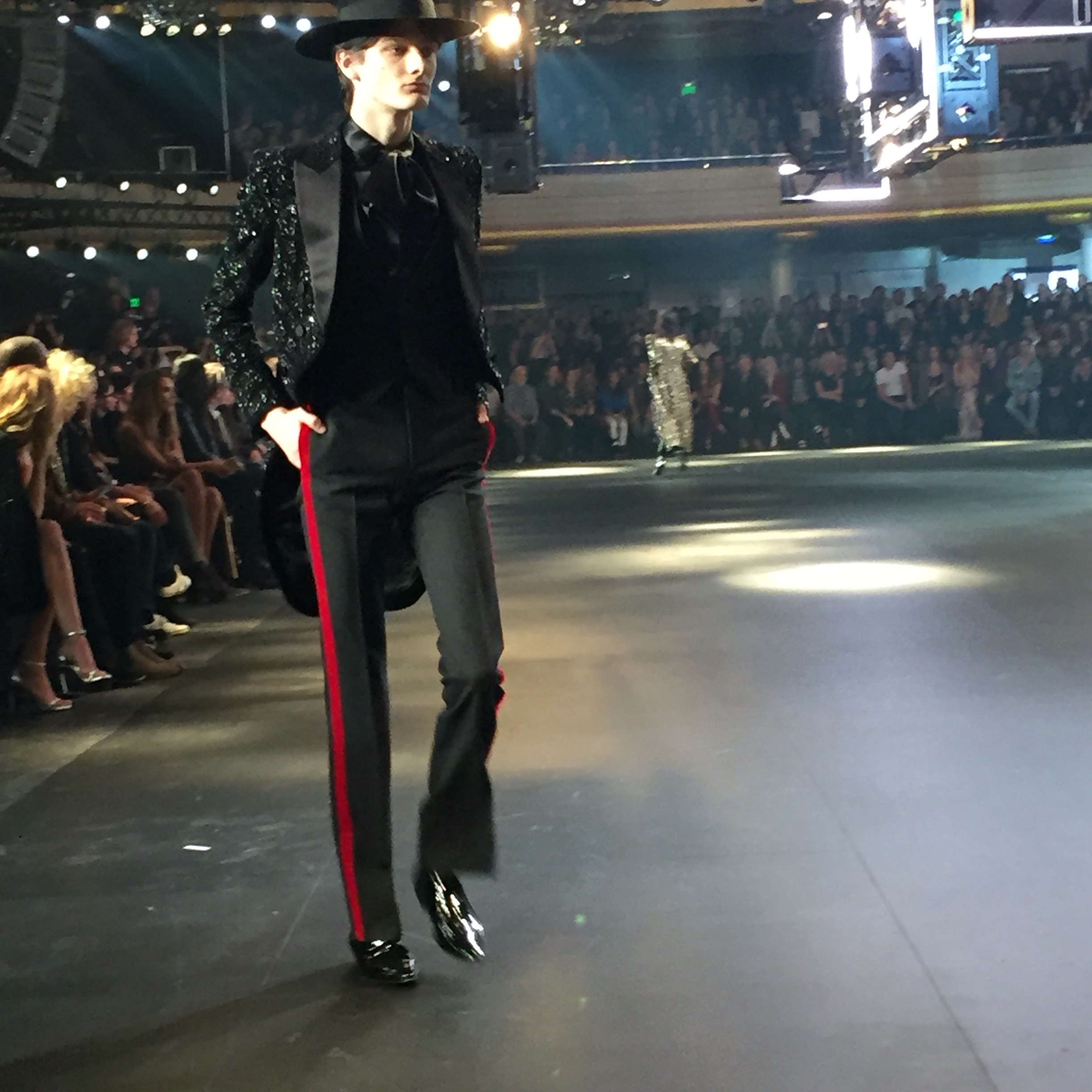 I posted a load of pics on Instagram of the people there.
You don't need to see them again do you?
Oh OK.
Sylvester Stallone talking to Pinault.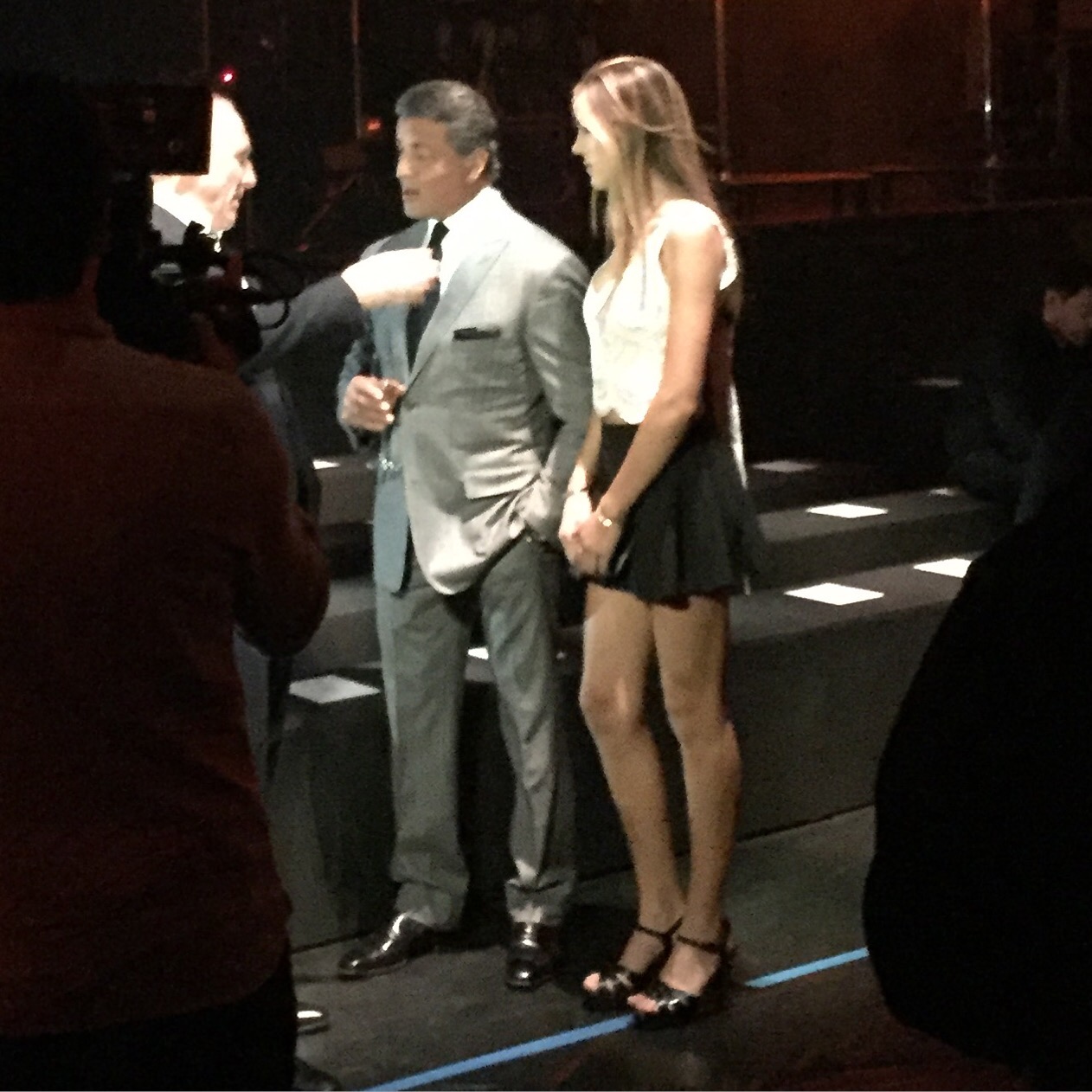 The back of Gaga.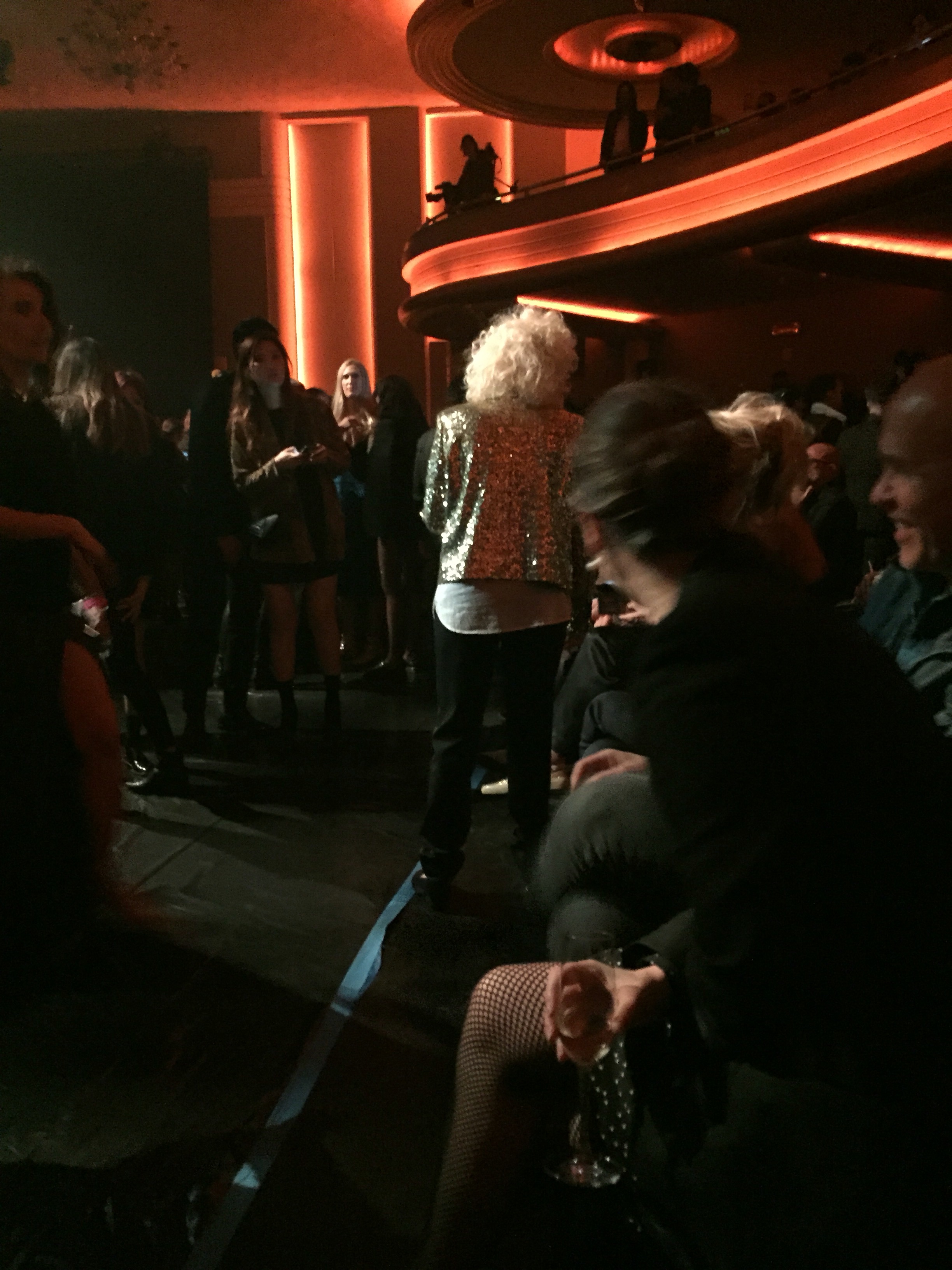 Bieber.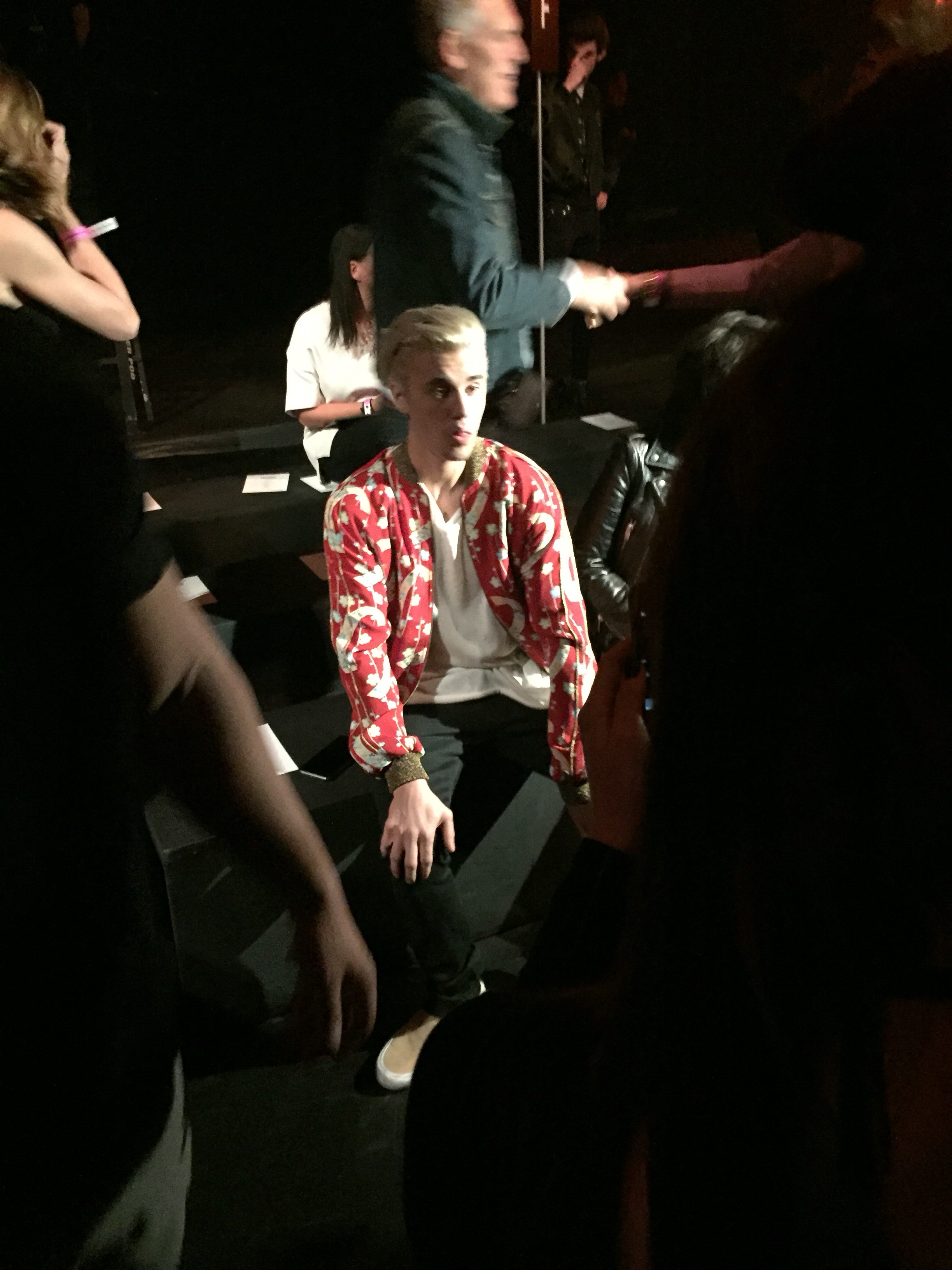 Can you just make this out?
Stallone pushing to the front to get backstage afterwards.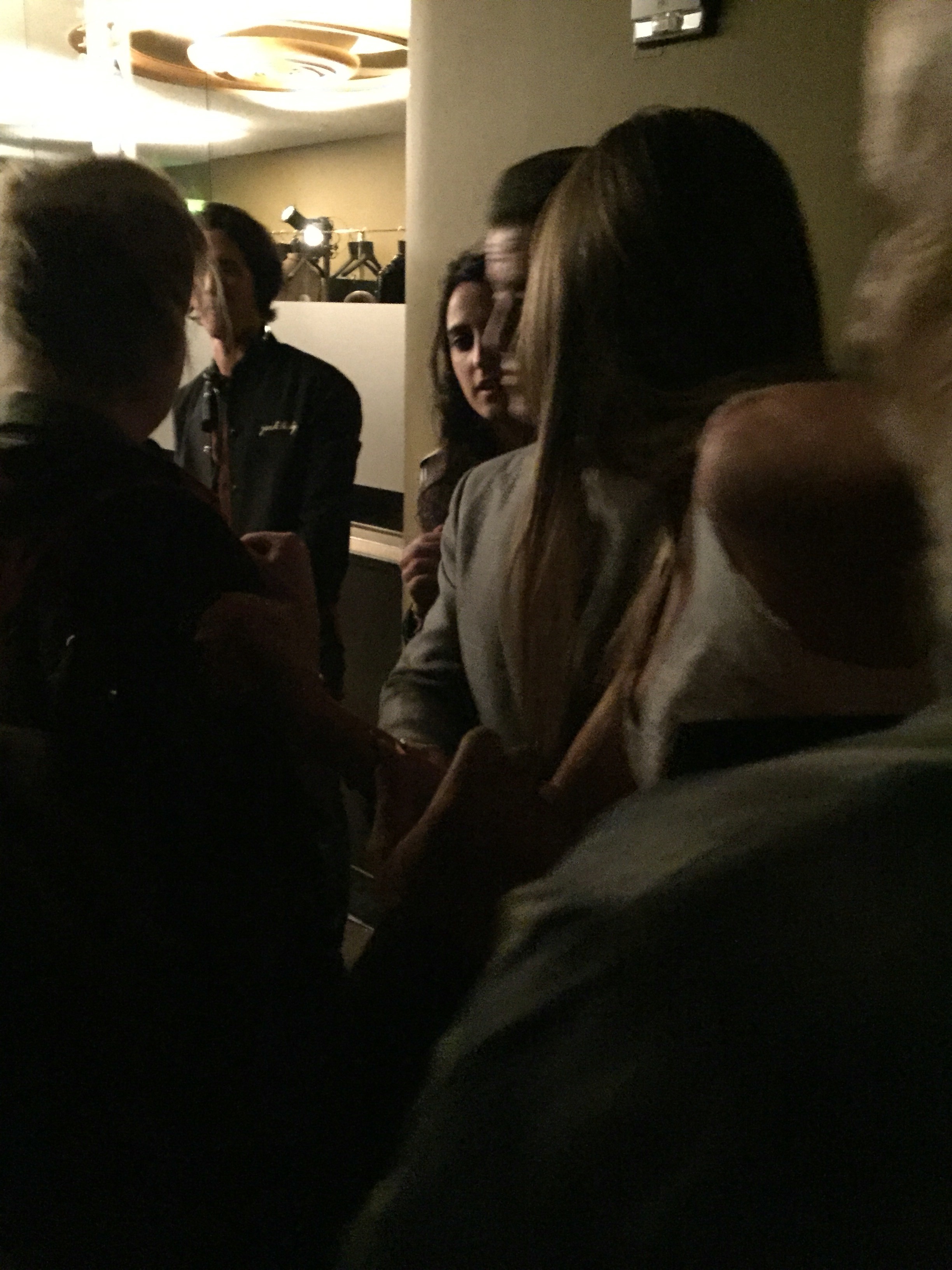 Zac Efron.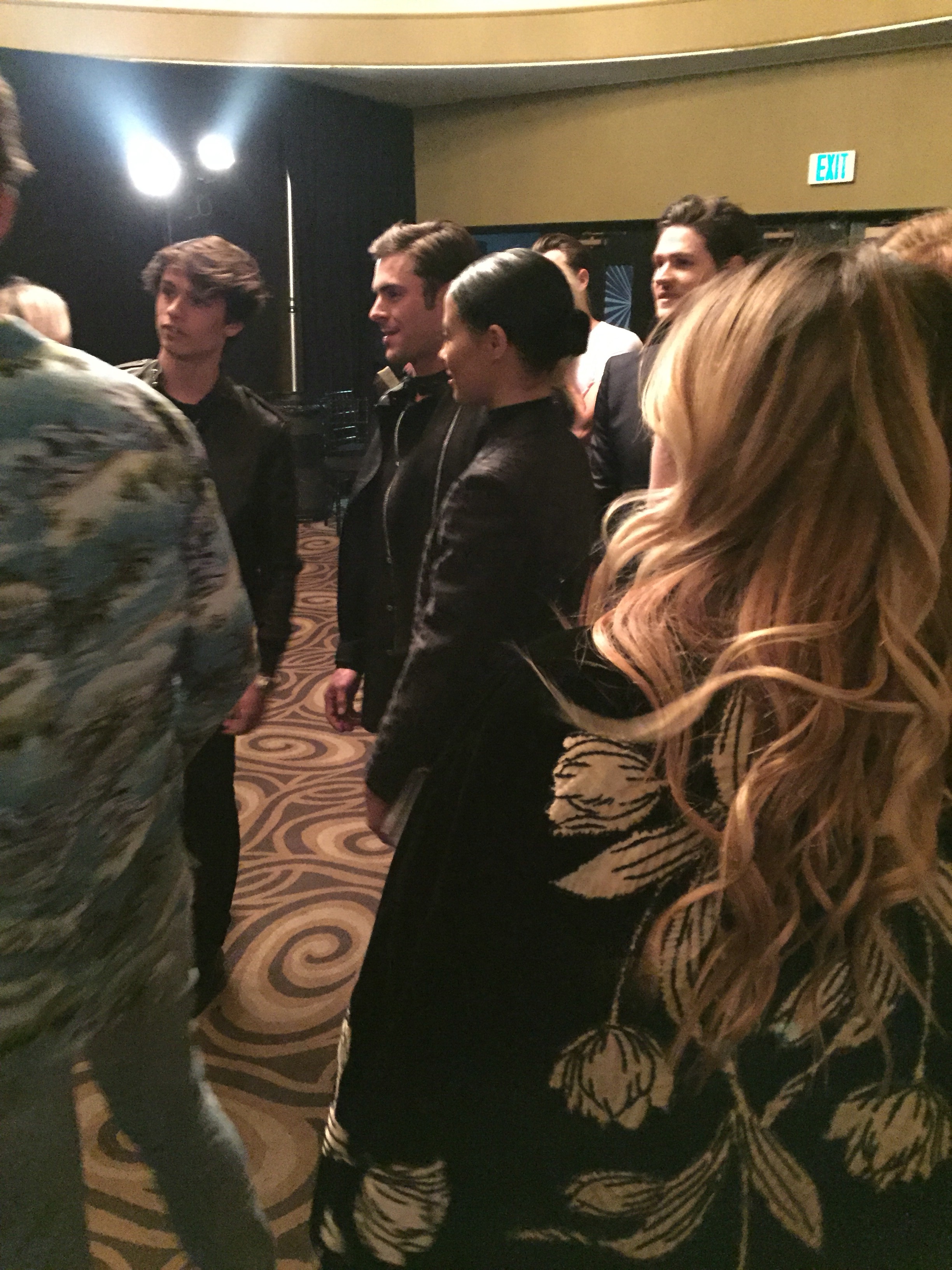 And the biggest superhuman there.
Joan Jett.
JOAN JETT!!!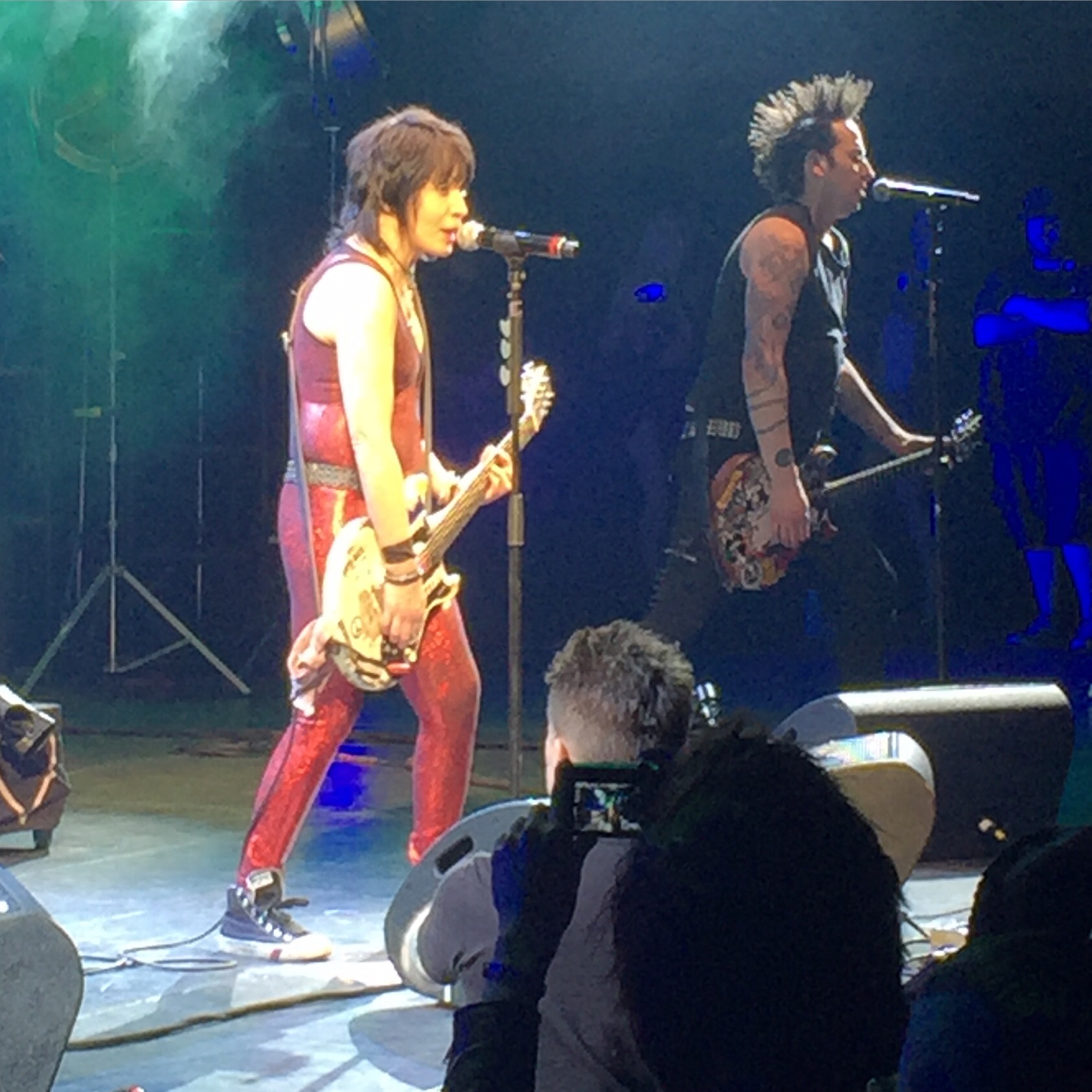 That's been three million pics, right?