It's been ages since I've written about clothing on here.
The shows are now so intense, the rest of the year I tend to run away from thinking about menswear.
But yesterday I got this new jacket by Craig Green, from his autumn/winter 16 collection.
And I wanted to look at it in more detail.
Hey! Let's get nerdy!
Said jacket in question.
It's silk, quilted.
A confession: what I really wanted from the show was one of the insane quilted blankets the models dragged behind them during the show.
Let's nick a photo from Craig's website.
!!!UPSIDE DOWN PHOTO ALERT!!!
+++AS WITH ALL CATWALK IMAGES, I TURN THEM UPSIDE DOWN+++
<<<SO YOU CAN LOOK THROUGH THE ALREADY RECOGNISABLE IMAGE TO SEE THE GARMENT ITSELF>>>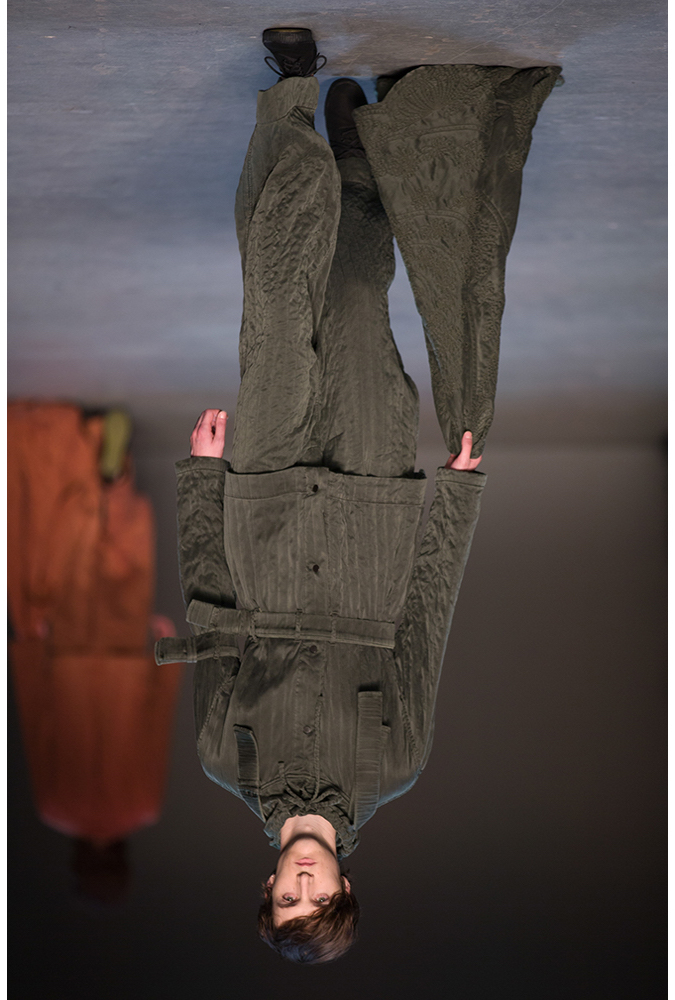 As I'm sure I've said three million times before, I'm obsessed with blankets.
I'd be happy if it they renamed it London Blanket Week.
But the quilt was apparently too expensive to produce, and so it will never reach stores.
🙁
(Ohmygod it's been so long since I've written this sort of nonsense on the site I don't believe I've ever typed an emoji before)
(Exactly the appropriate actions of a 42 year old)
So I got the jacket.
Let's look at it close up.
The jacket, on the examining table.
i.e. my desk.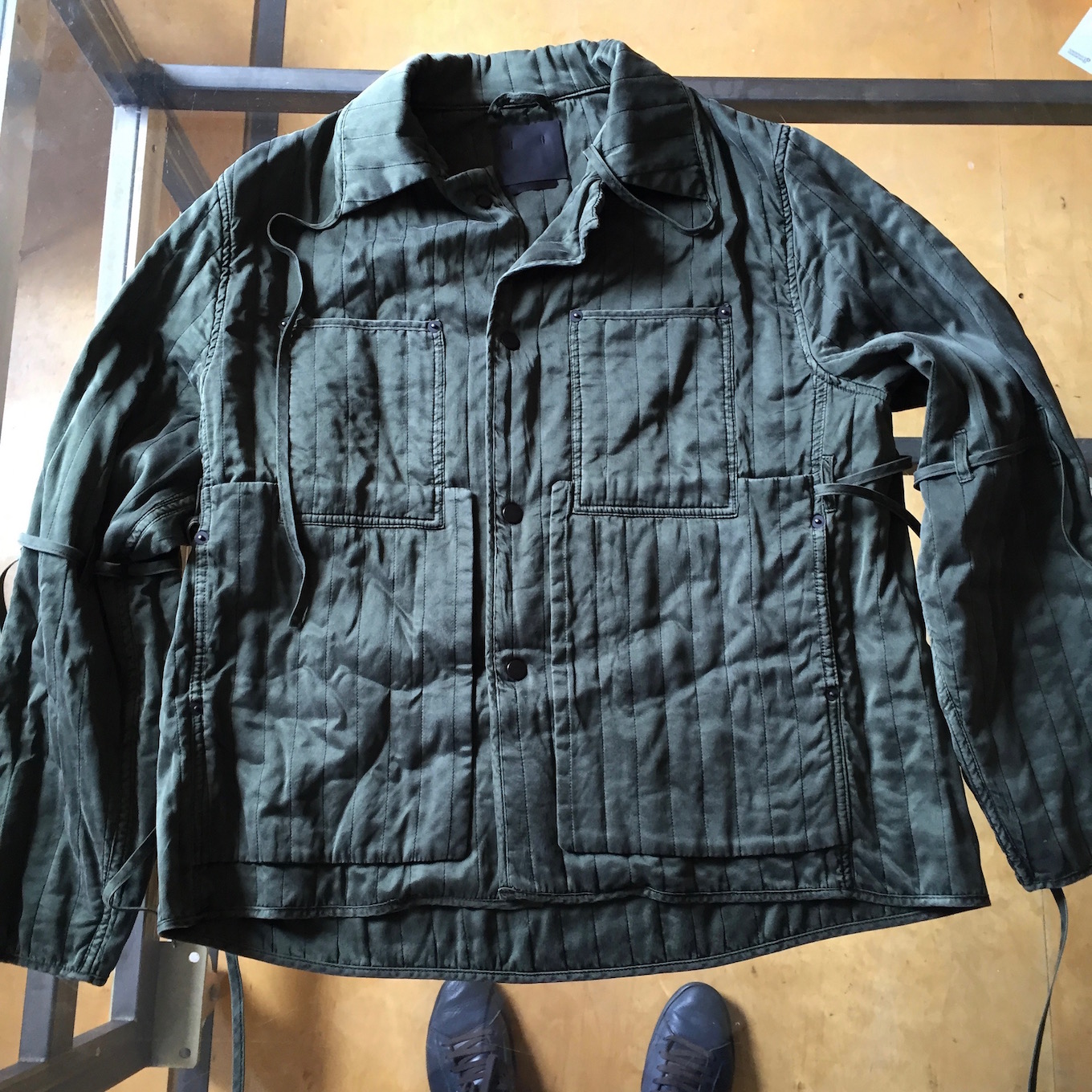 Those overlaid pockets.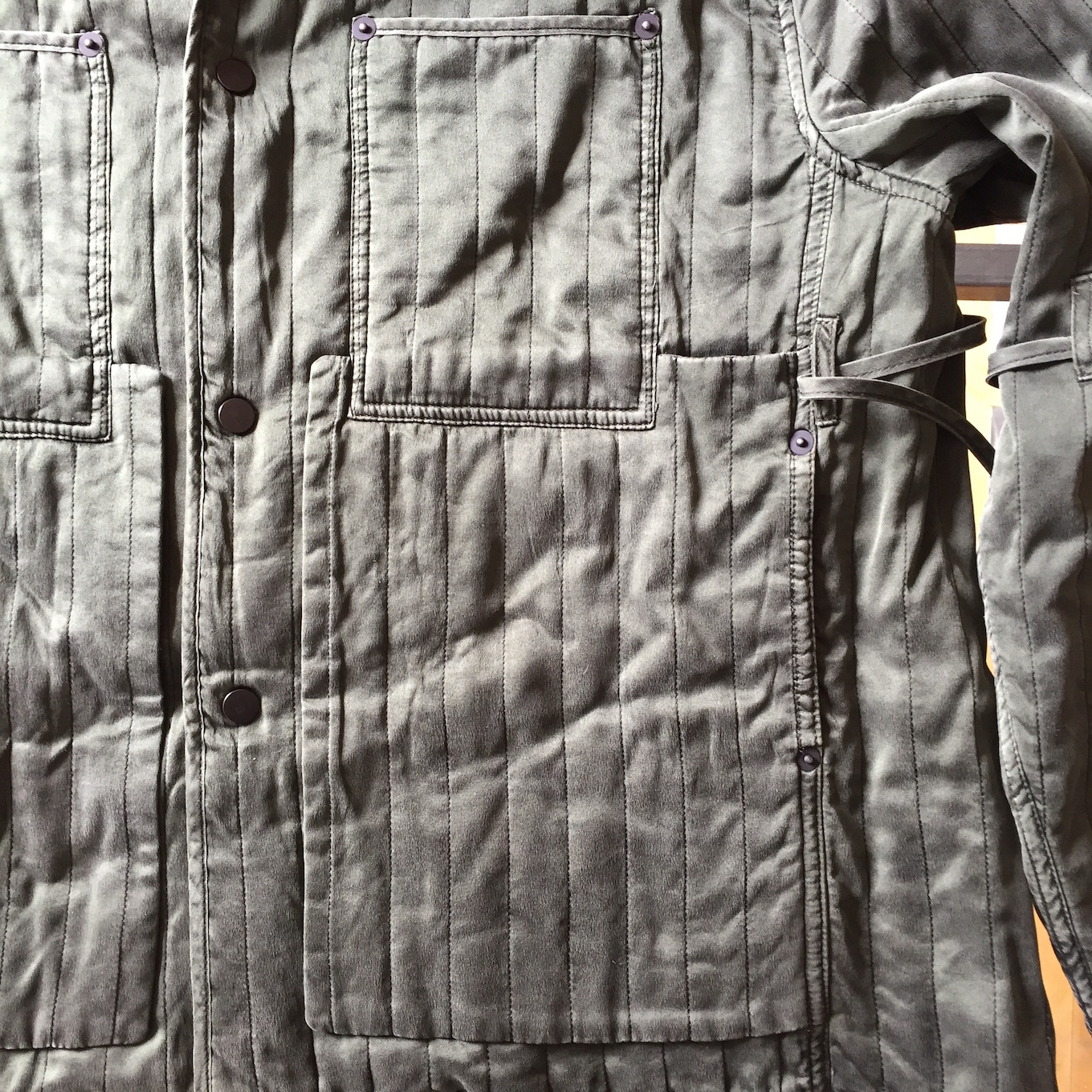 An elbow tie moment.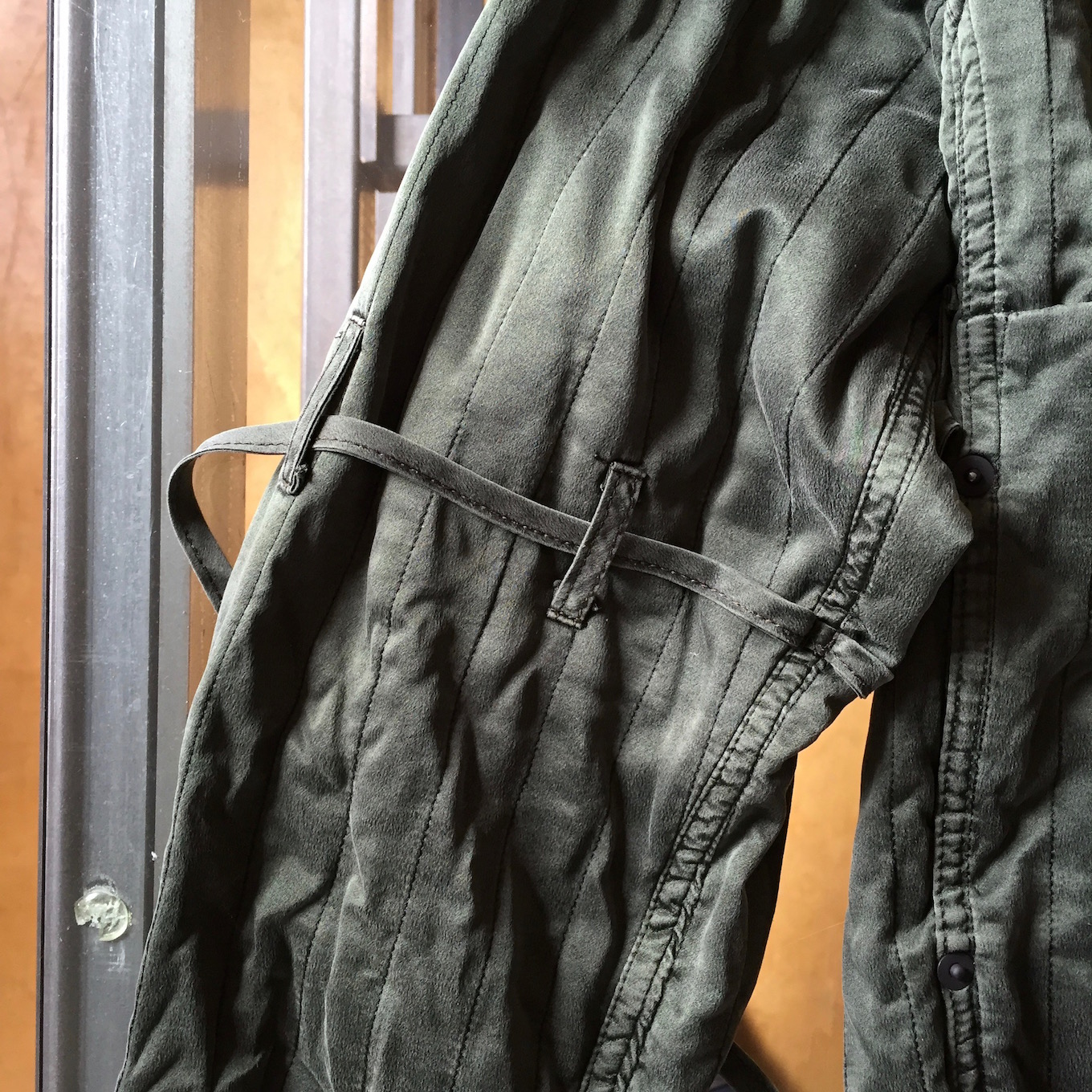 (Yes, my desk does need re-glueing)
The back hem sits slightly lower than the front.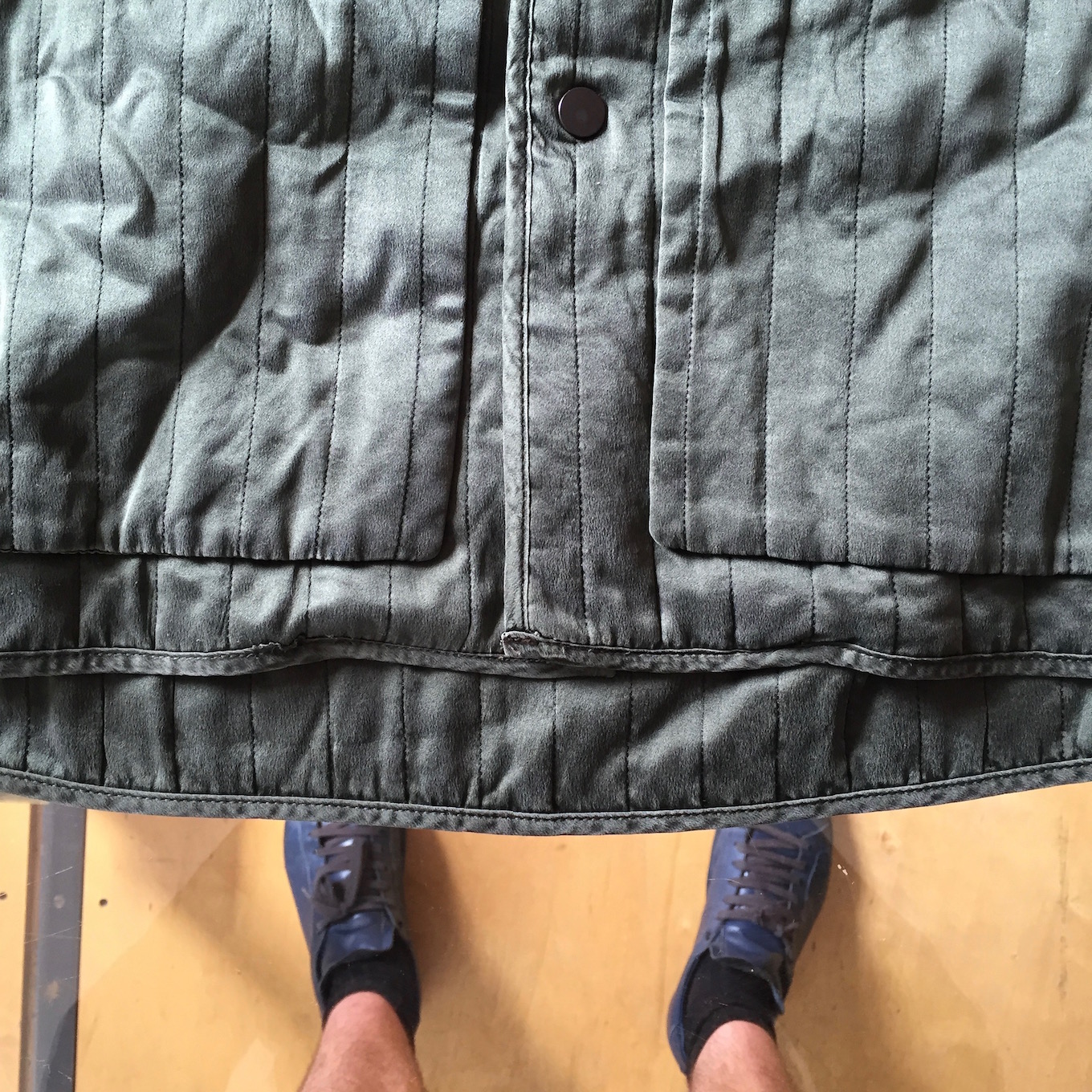 (Yes, I am wearing shorts with socks and sneakers – I was gardening earlier)
But the thing that gets me most with this jacket is the construction of the back.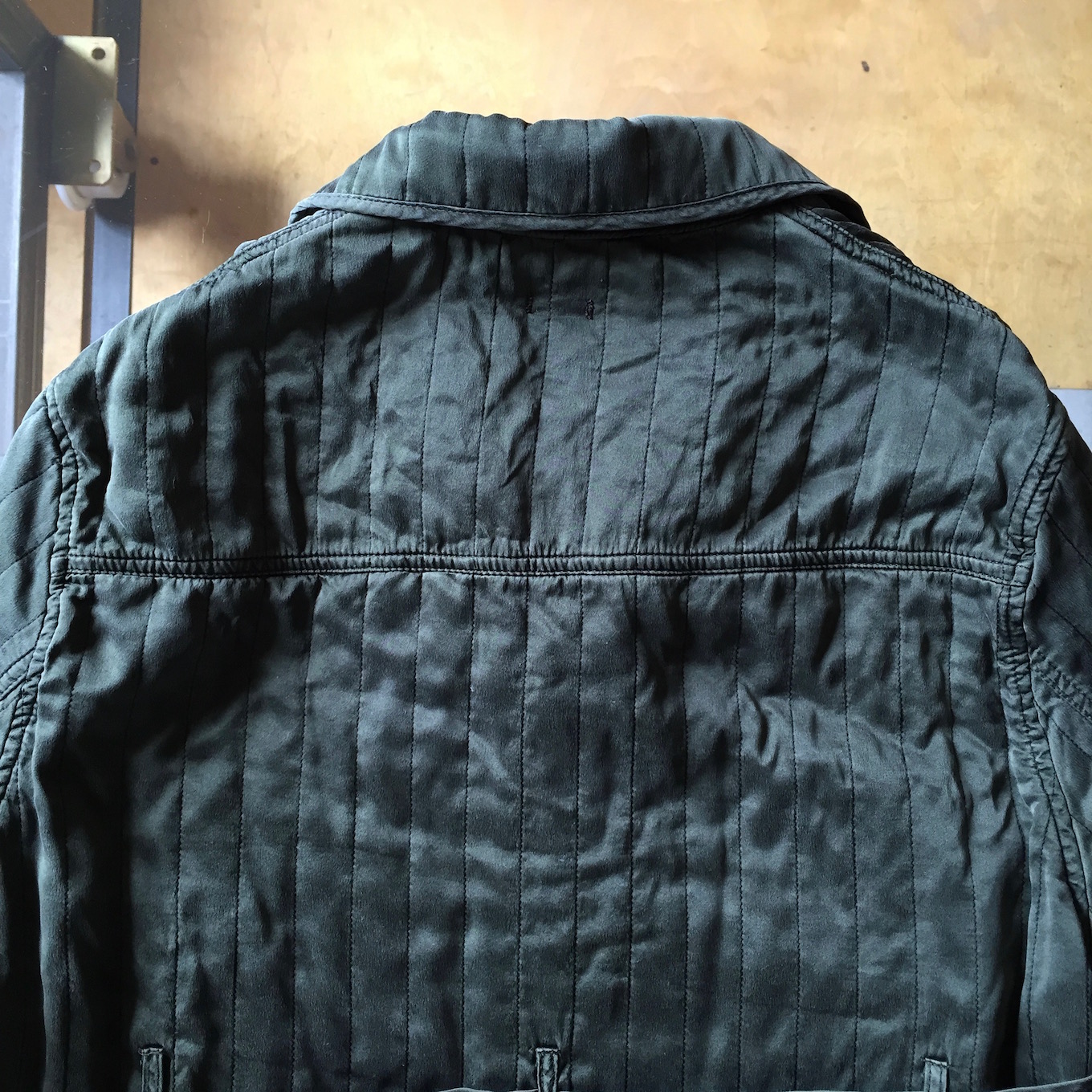 From the beginning, Craig has taken from workwear jackets.
Hence the horizontal line across the back, which I'm guessing comes from a need to strengthen the garment through construction.
It's as opposed to the vertical spine seam of the tailored jacket.
(You don't need me to go and get a tailored jacket and photograph its vertical spine seam do you? Oh you do. Hold on a second. Here's the tailored jacket I've been wearing most this year – by Hedi Slimane when he was at Saint Laurent)
(Excuse the creasing – it's been around a bit)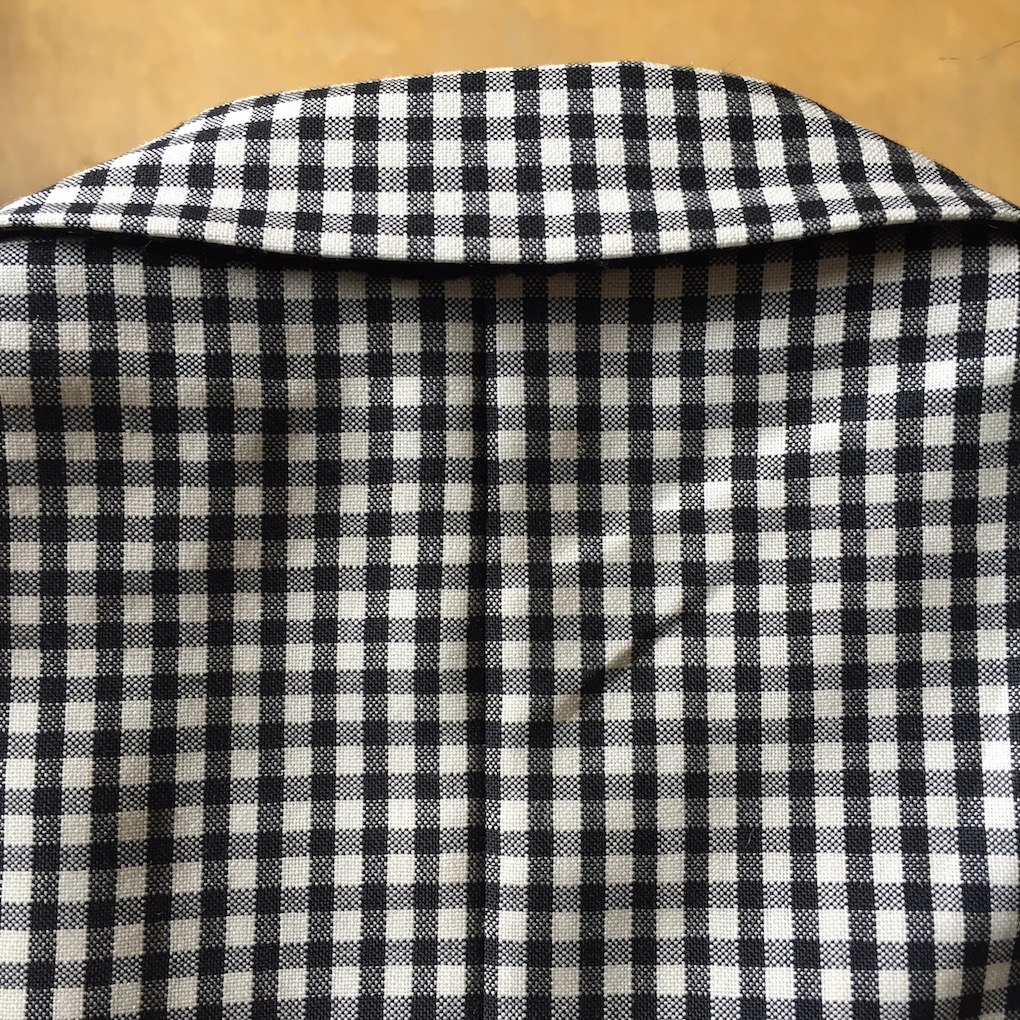 That vertical line is what defines the traditional tailored jacket.
Here's the inside of Craig's.
Simple, right?
Yet it's the horizontal back seam that I find so thrilling in Craig's work.
It denotes an ambition which is humble, because it has its roots in workwear.
But it also more open to possibilities, because this seam offers a new path away from the cul-de-sac of male tailored clothing.
So much of the problem with male tailoring is the assumption of power that the suit jacket has come to denote.
As soon as a man puts on a tailored jacket, he is in some way claiming power and authority.
A man, wearing a suit, claiming power and authority.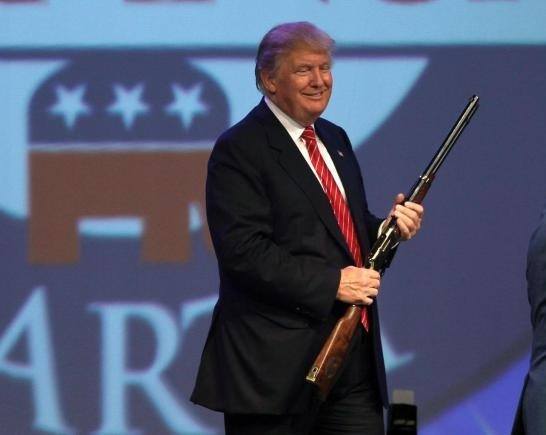 So strange that this fabric in this cut stands for the maximum in virile masculinity, and yet it's basically the same length as a minidress.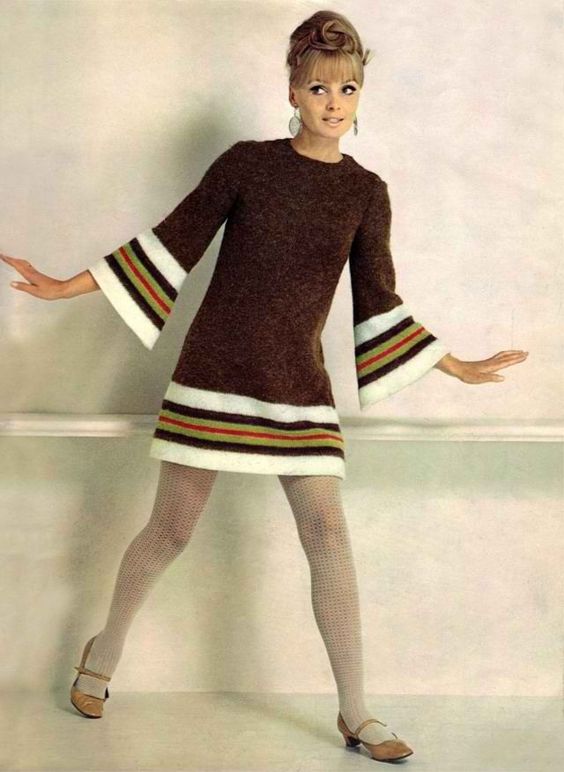 I digress.
Craig has been working with this back seam for a few collections now.
This summer's nylon situation.
The inside.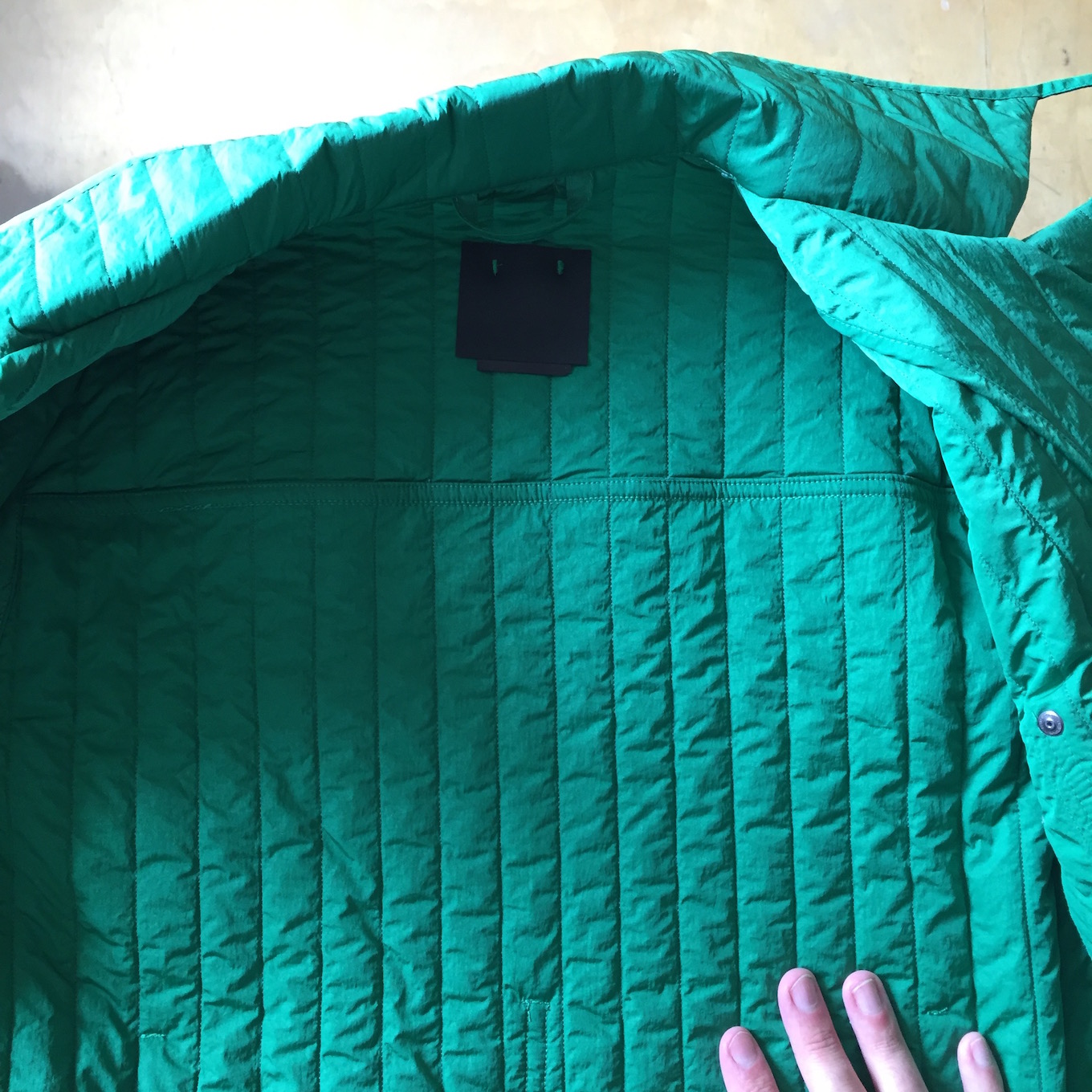 This blue cotton event from one season or another, I can't remember.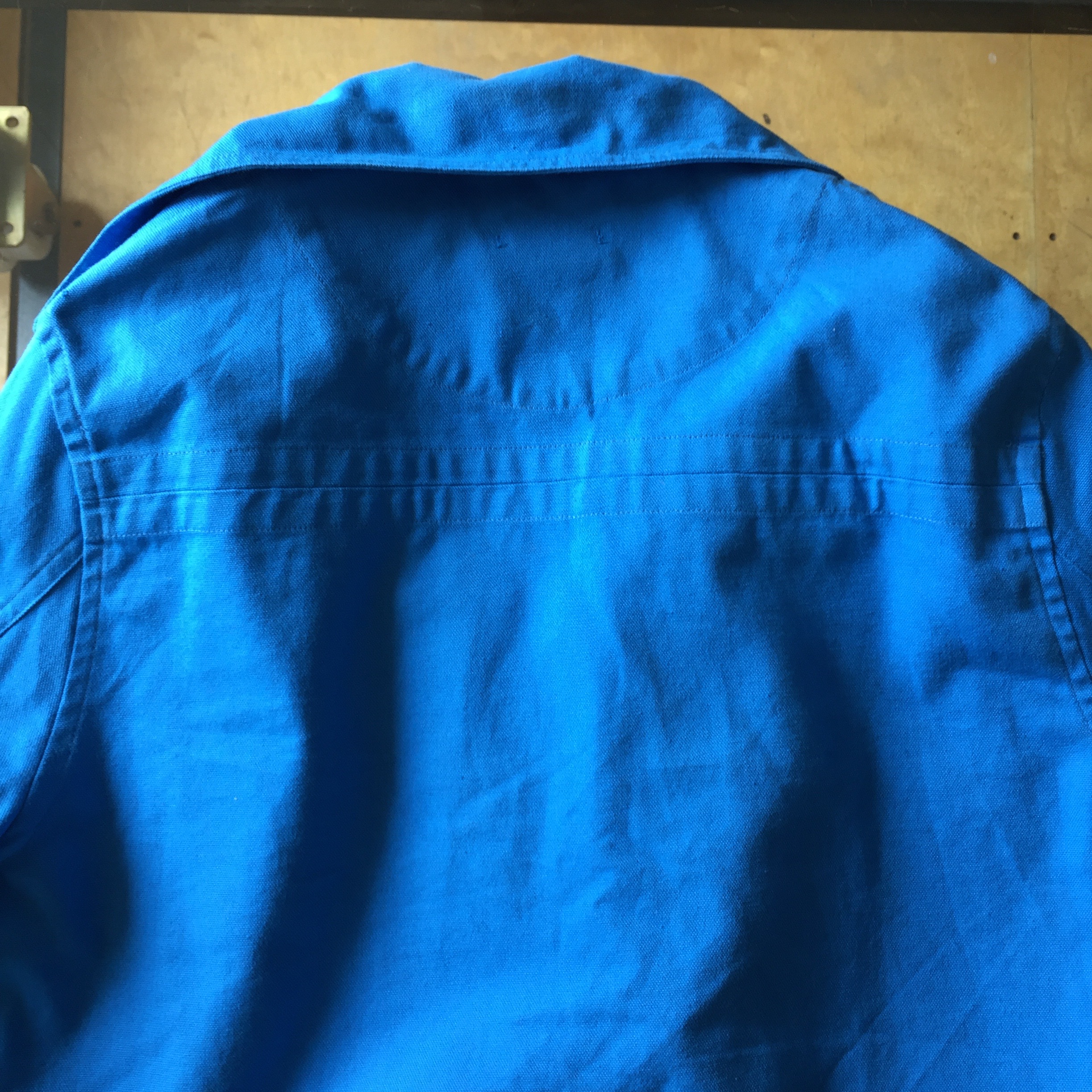 The inside.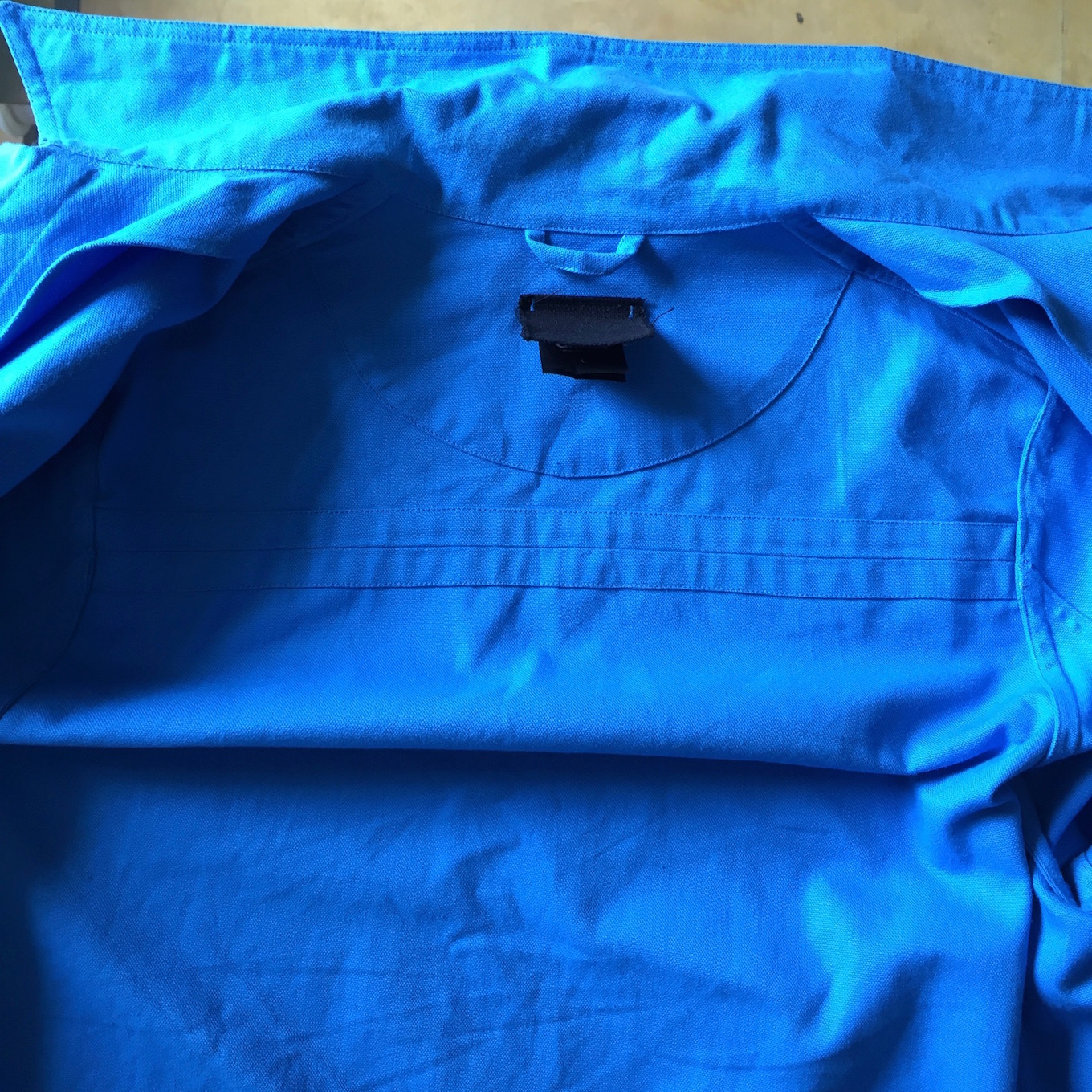 It's this back seam construction that makes his jackets such a pleasure to wear.
And allows them to be unassuming, even if they feature fashion bells-and-whistles (in this instance, the ties at the elbows and waist).
When I was talking about Craig with Andrew Bolton, curator-in-charge of the Costume Institute at The Met, he said that when he and his team first got hold of Craig's pieces, they opened them up, obsessed with how they were constructed.
Such small details are the ones that really matter in the design of clothing.
On Friday evening, after about the 3millionth unit of alcohol of the approx 6million units eventually consumed, I got deep into conversation with someone about data.
He was telling me what counts for brands is the data of their construction; the data of their archive.
My head has gone through twelve million backflips trying to get to grips with this, and I'll return to it again, somewhere.
But I think he means this: that the simple strength and decisiveness of Craig's cut is data, much like the cut of Levi's is data.
And its the data about Levi's that gives it such connection to the generations that have worn its products.
It is the data of Craig's work that is currently building his reputation.
And pointing towards calmer, quieter routes for the male jacket that the tailoring brands cannot provide.
Ohgod that got really convoluted.
Basically, I like the jacket.
Should you wish to buy said jacket, they'll be getting it in black on the DSM e-shop soon (maybe they already have it in store)
Hey! Because this is the fast and speedy World Wide Web, I've been meaning for ages to post all my extraordinarily fascinating newsworthy pictures from the recent menswear shows that happened three years ago or something.
Maybe I'll do that tomorrow.
Or the next day.
Anyway.
Here's a nice record.
Bye!