We're in Venice. It's the Biennale 2019. We've never before been here on opening week.
For us this is a holiday. It means a slowness of pace, a desire to look at things away from the rushed, the business-like.
It might actually be how most people engage in art. How they use it in their lives to help them move away from, and deal with, what they have to live through.
This preview week has a rushed narrative. People to see, places to go, rushed opinions formed.
The work of artists becomes a checklist.
Many artists make work that is happy to be part of a checklist: spectator art, of immediate message and impact.
What if the artist makes work that has no desire to be part of this checklist?
That is the importance of the work of Cathy Wilkes, and of Charlotte Prodger, here in Venice.
Cathy is showing in the Great Britain pavilion, Charlotte for Scotland.
Here is a text written by Cathy. It's at the beginning of a pamphlet handed to visitors. It's a bit creased – we walked around with it all day.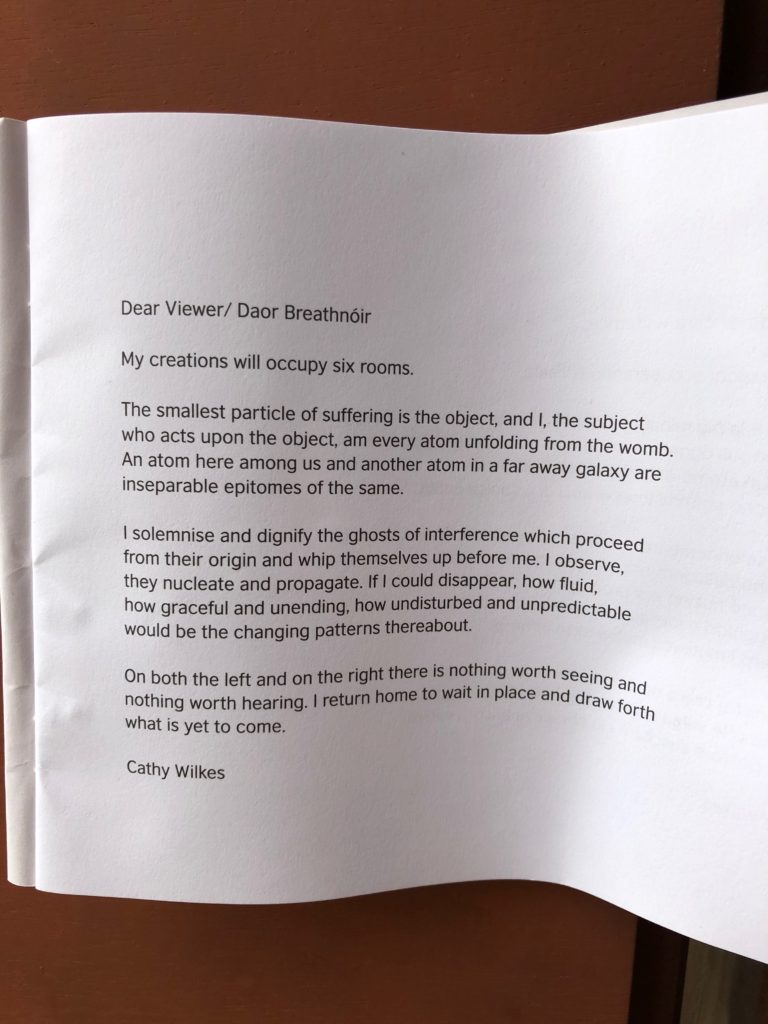 Cathy has made work that is about birth, death, remembrance.
It is of profound, expansive emotion, an accumulation that is other than a checklist experience of art.
A figure in the first room.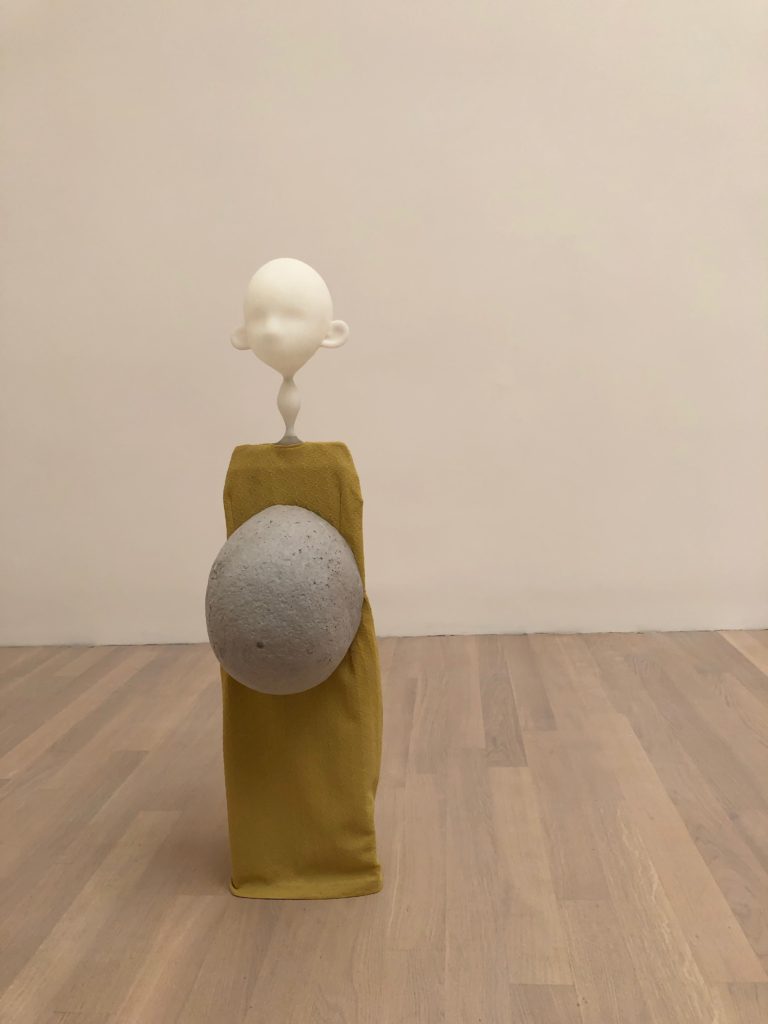 Another view, with a painting behind.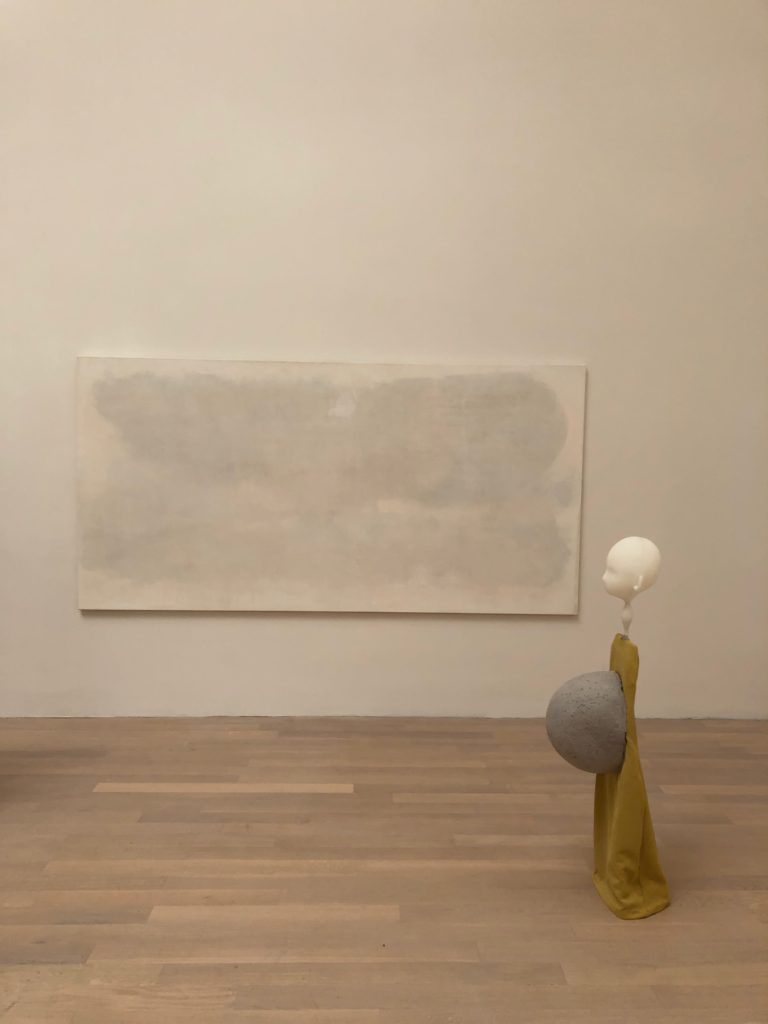 OMG I'M OBSESSED WITH CATHY'S PAINTINGS ! ! !
Obsessed with how she has painting as part of something larger, rather than a deified act.
In the centre of the room is a grave. It is see-through, so that the dead can be seen.
The fabric is made from pineapple leaf, so it is natural and it is alive.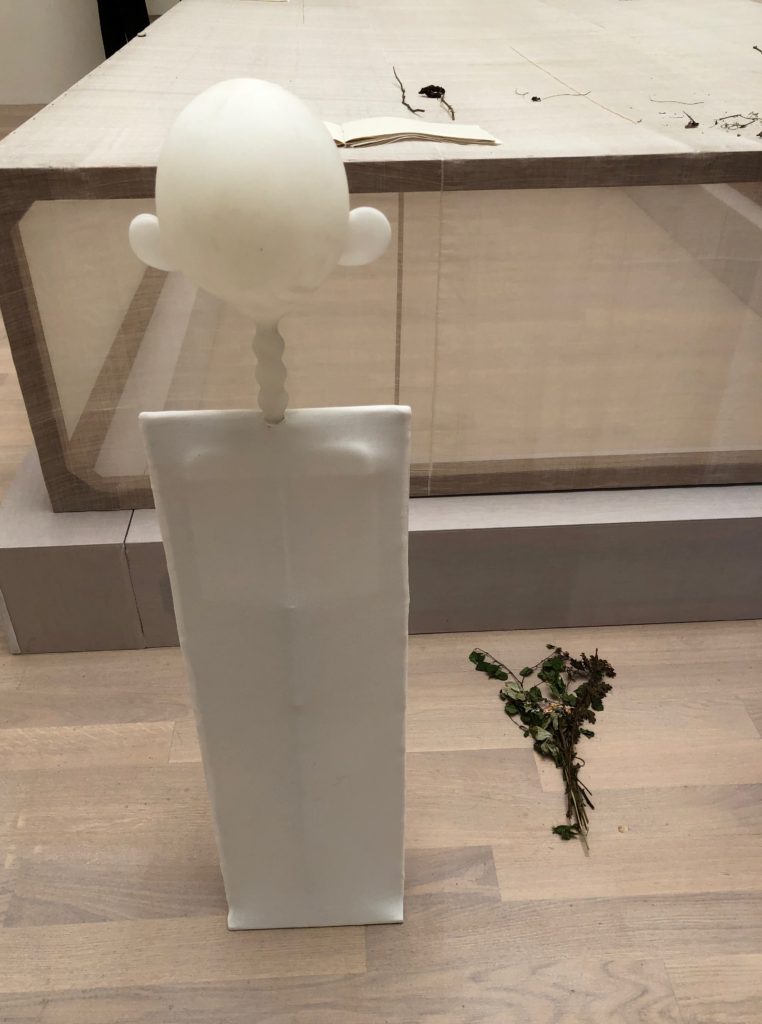 On the wall nearby is this found framed image.
Another figure.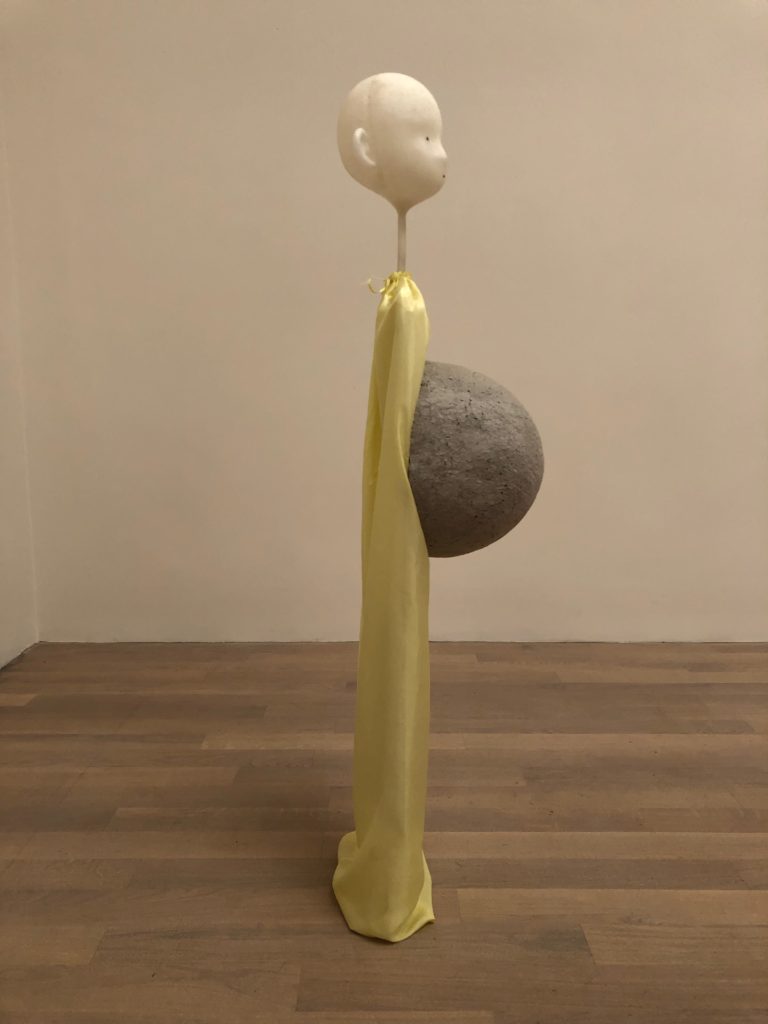 There is so much.
I actually didn't take any photos in the second room. This next one is by my husband.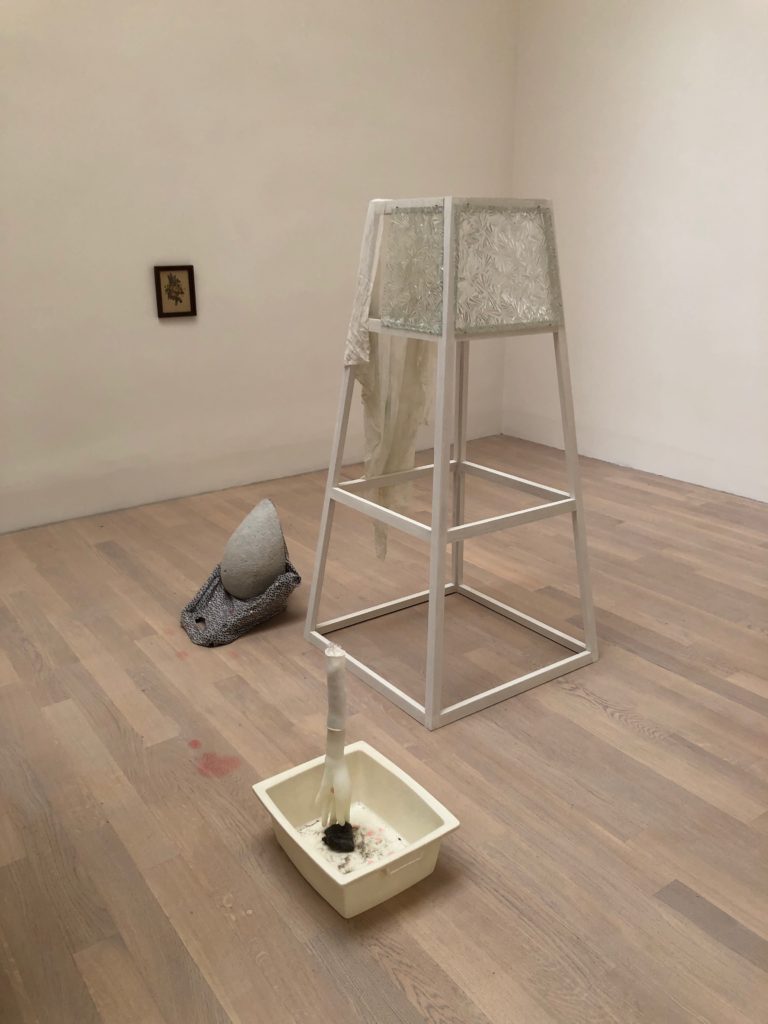 The stains on the floor are intentional, and are part of the work, they represent blood.
The third room floored me.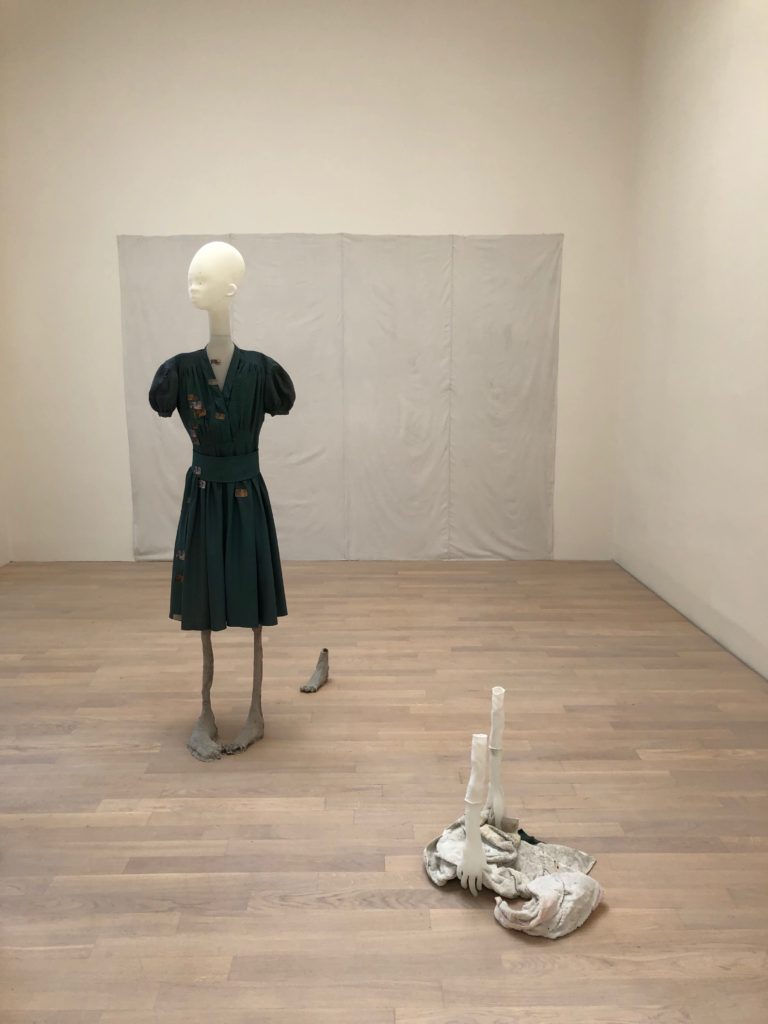 Out of shot, on the wall to the right, is a found image of children from a newspaper.
That image is then repeated as stickers on the dress and the figure.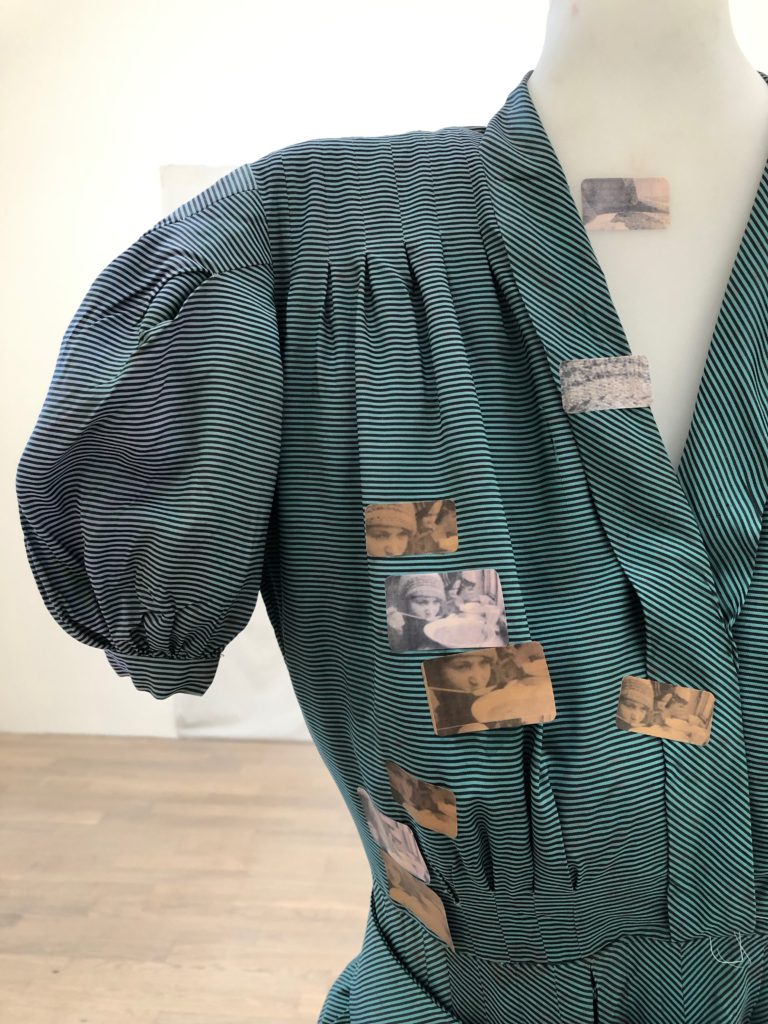 The emotion of this is of such total warmth as to be almost unbearable.
This is what Cathy's work does for me.
It takes so much rigour, so much dedication and distillation, so much strength to get to a place that feels like truth.
Another room.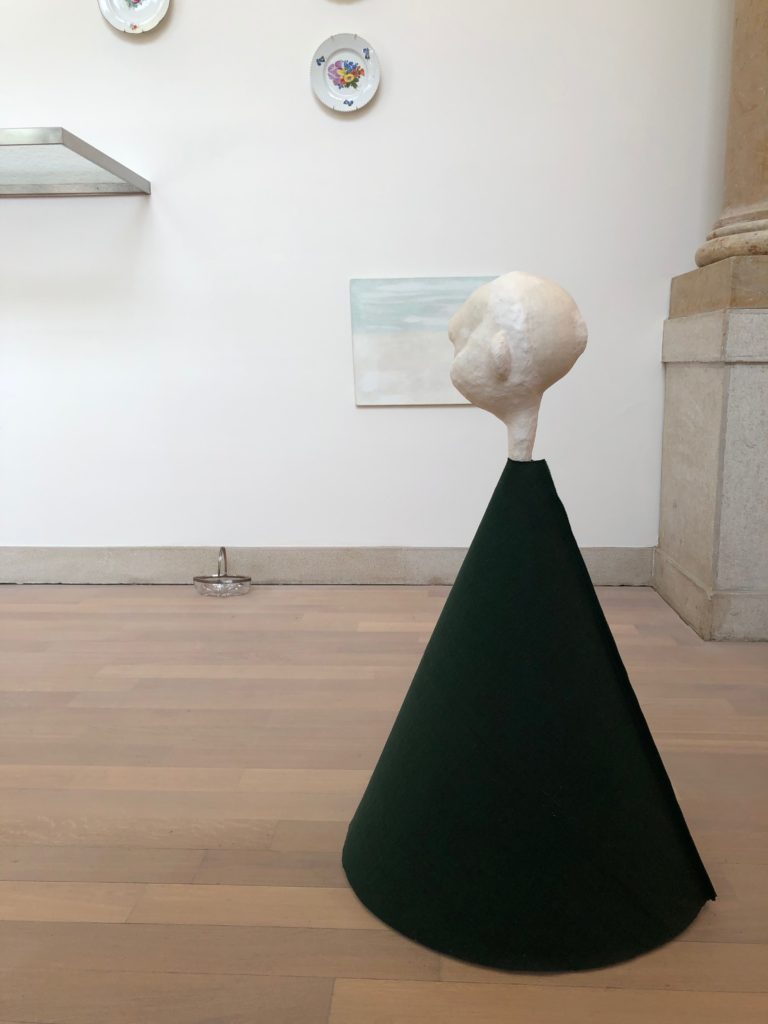 Along that same wall, to the left, found items.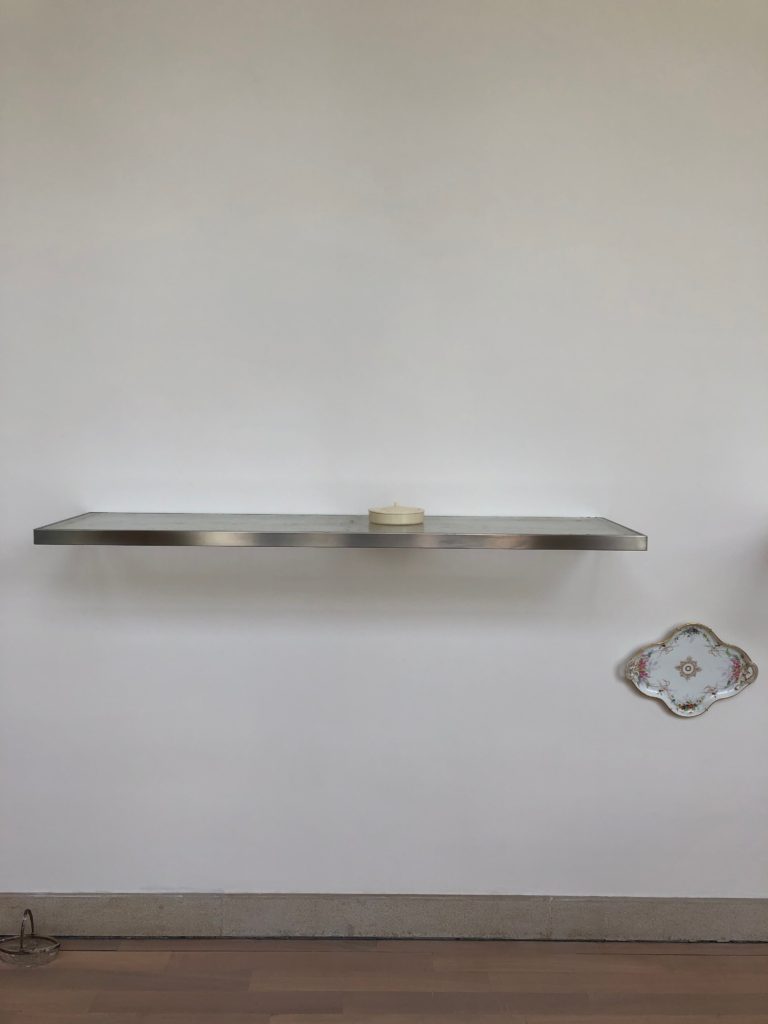 Another painting.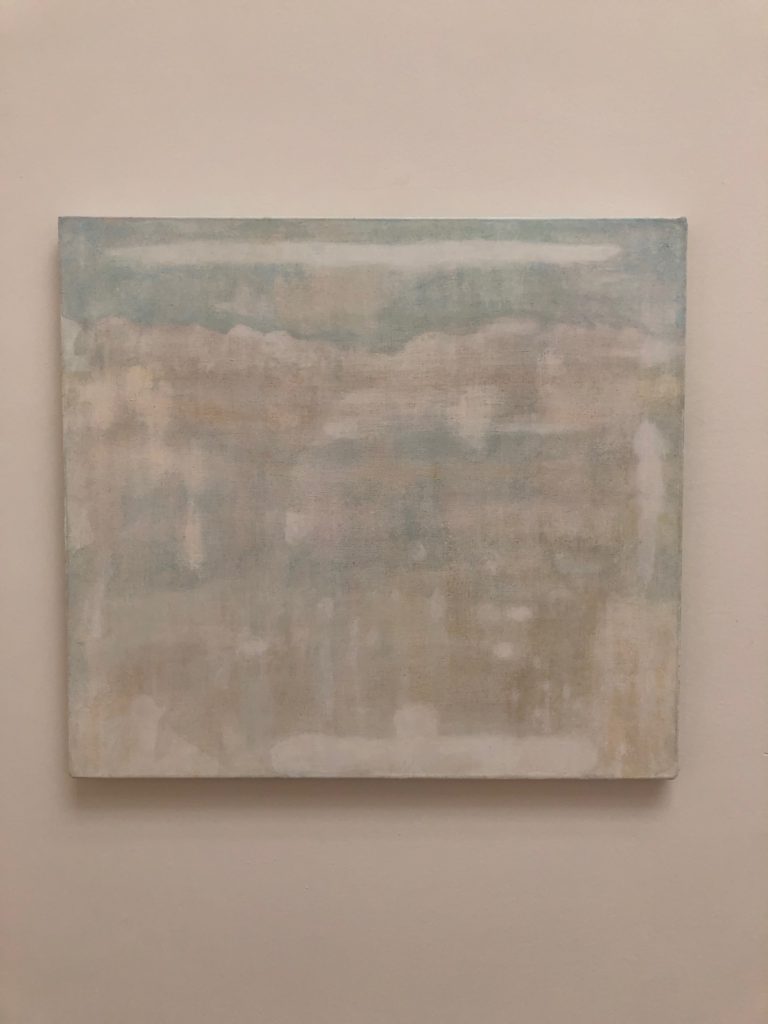 One more – these pencil marks are figures.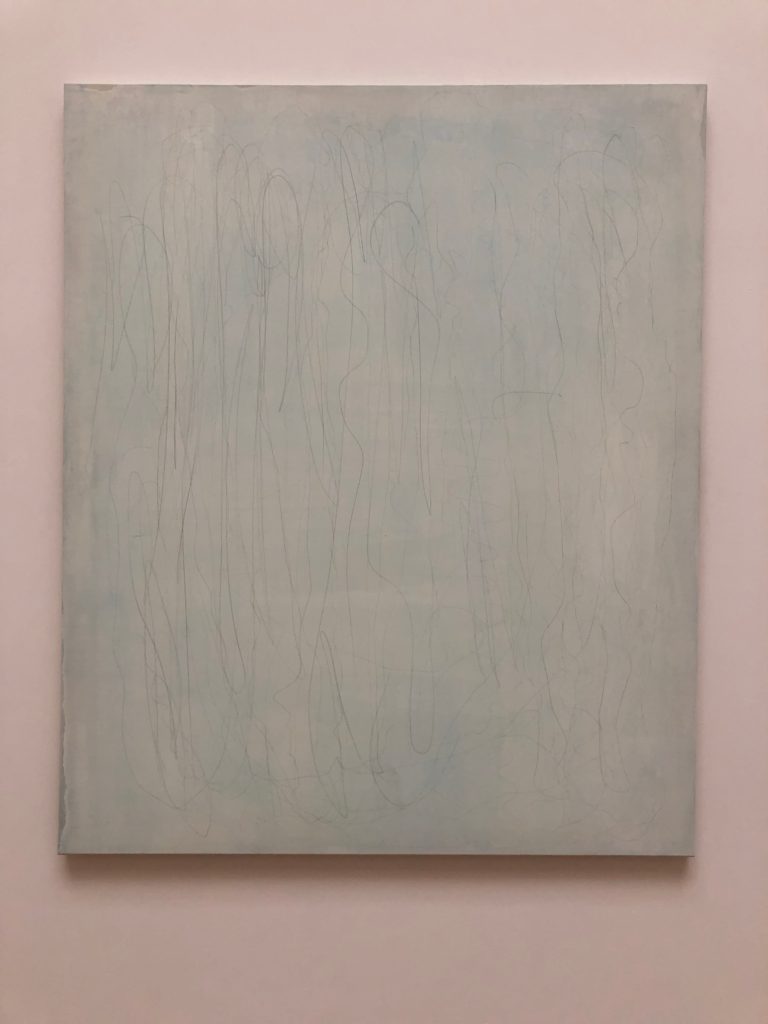 We spent ages in there.
Time removed from time.
What I want art to do to me.
What I want anything of value to do to me.
Cathy's work doesn't tell you how to feel. It has its effect on you or it doesn't.
Part of her radicalism is her lack of neediness. She doesn't need approval.
I'm going to post again the text she wrote for the show.
Let's dwell a moment on her words.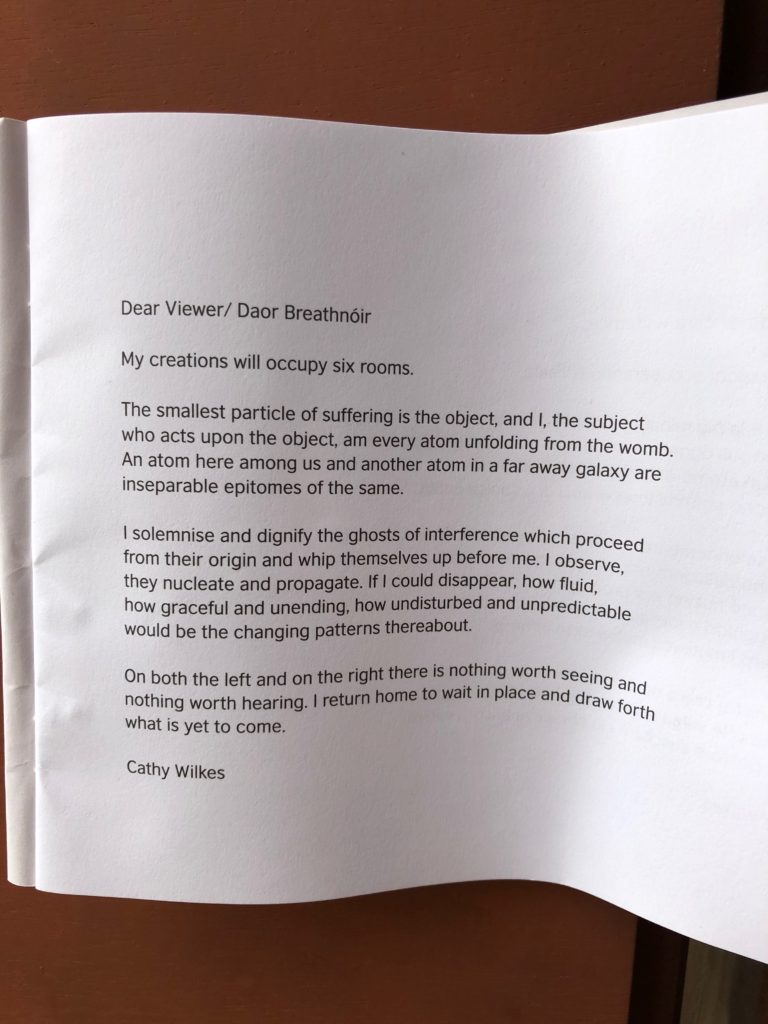 That line.
"If I could disappear, how fluid, how graceful and unending, how undisturbed and unpredictable would be the changing patterns thereabout."
Her project is an extraordinary attempt to encapsulate and understand what it means to live.
It is to the loss and also the embarrassment of the city where I live, London, and its institutions, that there has not been a Cathy Wilkes show in London for ten years.
Perhaps it's because Cathy suggests a way of being, a connection with emotion, that many cannot face.
Maybe soon we'll do a list of shame. A list of artists whose work is not seen in London.
Top of that list will be Nicole Eisenman, who has both paintings and new sculptures here at the Venice Biennale, as part of the group show.
This painting is Weeks on the Train.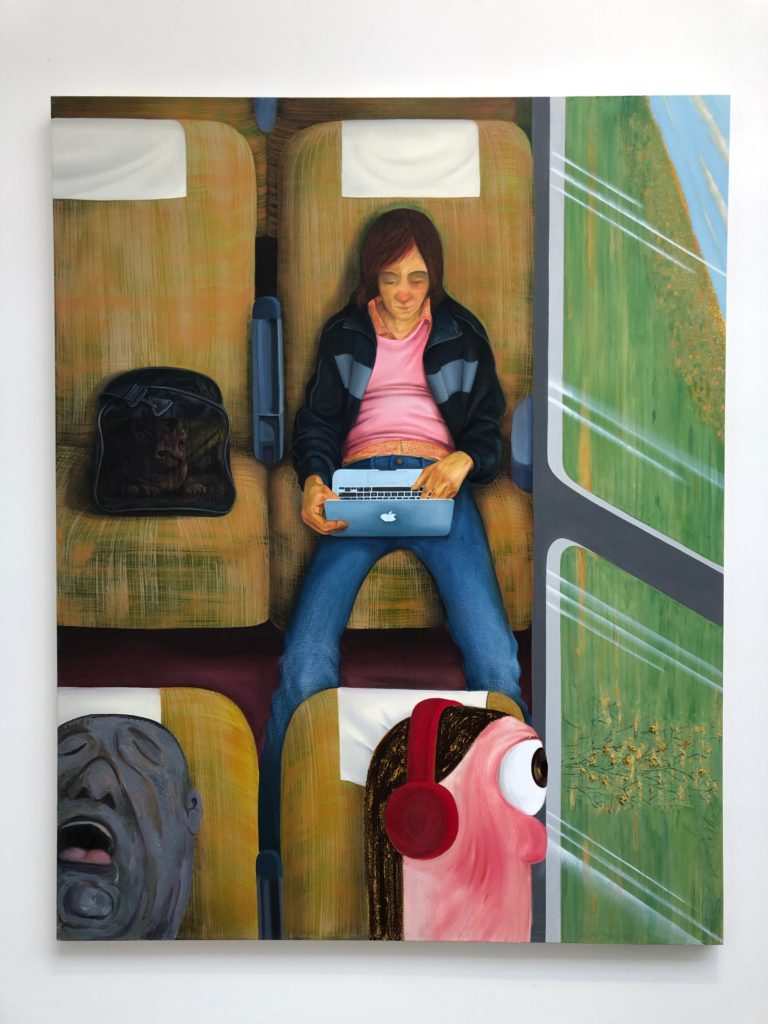 This is Morning Studio.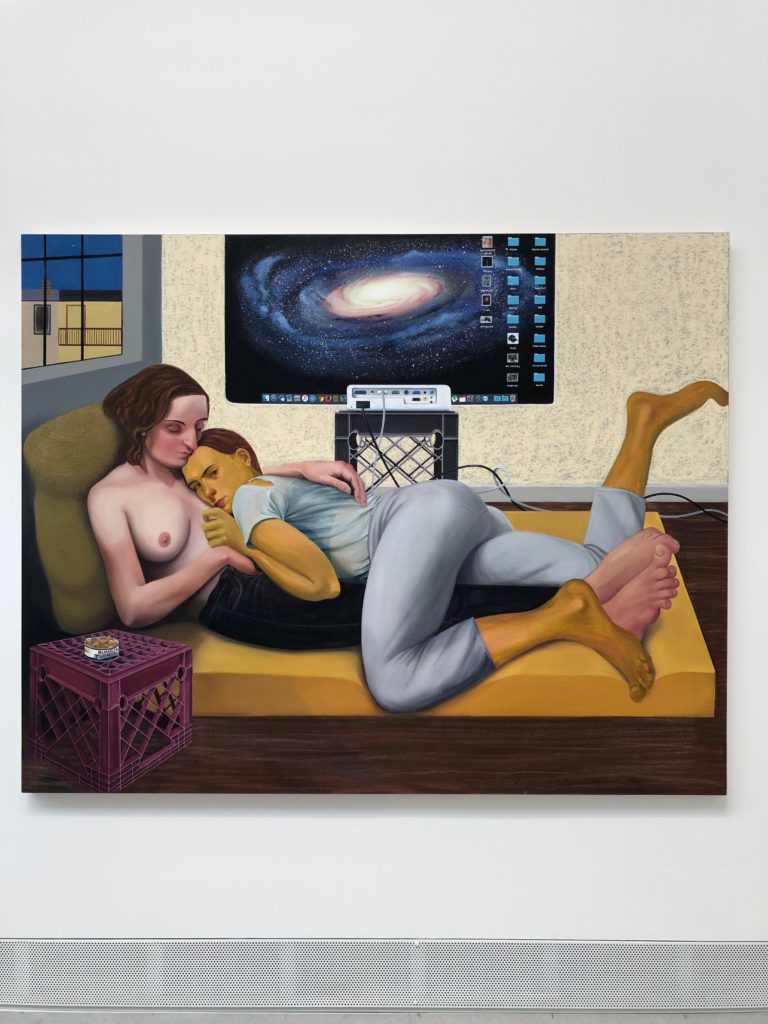 So happy to see these paintings again – I first saw them at Anton Kern in NY in I think 2016.
They have played such an important role in how I think about time, our experience of time, whether time exists.
All of the thoughts that led to the show I curated at Lismore Castle Arts that opened a couple of months ago.
Wait I just realised I never wrote on here about that show.
Maybe I will someday soon.
Nicole made new sculptures for my show in Lismore, and she has created new sculptures here for Venice too.
This is Head with Demon.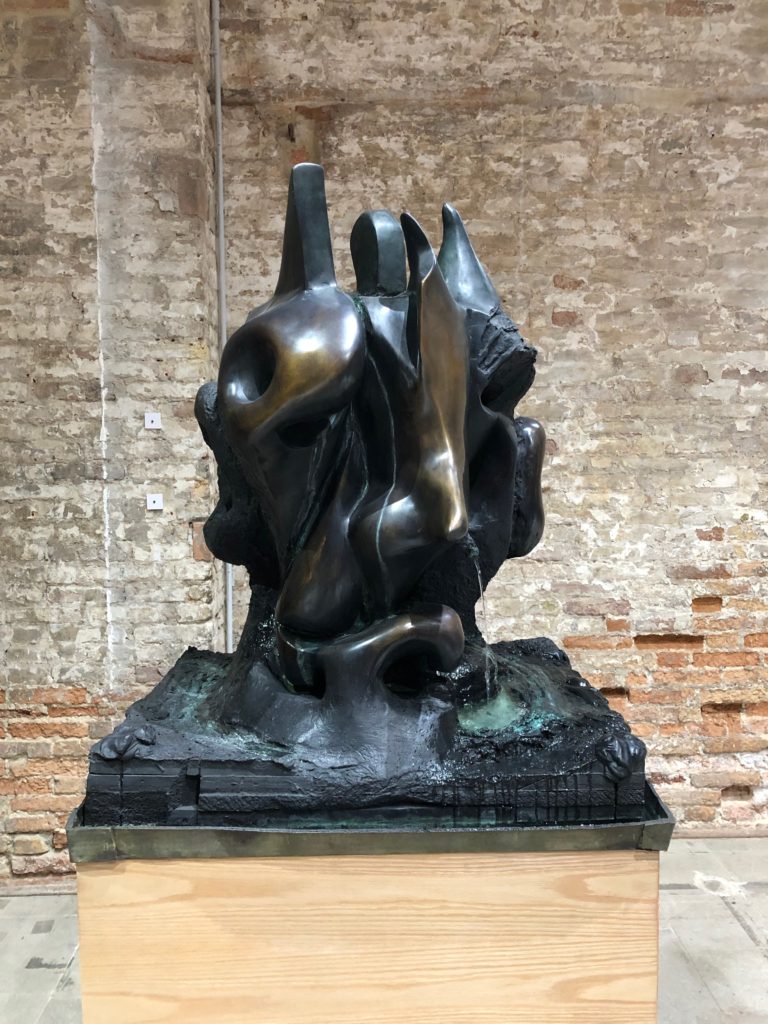 Obsessed!
Please can someone stage a proper decent incredible full rich Nicole Eisenman survey show and new work show and everything show in London very soon please thank you.
The first time I saw Nicole Eisenman's work was the last time it was shown in London – at Studio Voltaire in 2012.
It was also the first time I saw the work of Charlotte Prodger, who was showing in the second space they used to have in the gallery.
What a monumentally fabulous show that was, the two of them together.
Elsewhere in Venice is the Scottish Pavilion and the new film by Charlotte Prodger.
I am a Charlotte Prodger superfan. Here's a conversation I had with her for the issue of i-D I edited last year.
Charlotte's film is titled SaF05 and it is the third of a trilogy of single channel films.
As in, films shown on a screen, rather than as part of a sculpture.
The film is freeing.
For Charlotte, for the viewer.
Charlotte has used the films to look at queerness and nature.
What queerness means when it is in nature.
How queerness becomes even more radical, even more thrilling when it is in nature.
Removed from the tropes and cliches that are assumed to be attached to queerness.
i.e. everything and anything that happened in New York this week at the Met Gala to celebrate the opening of its exhibition on Camp.
Charlotte suggests another way for queerness, which also means another way to be a human.
Through the three films – Stoneymollan Trail, Bridgit and now SaF05 – Charlotte has come to a place that is raw and unafraid and open to possibility.
She does so removing the need for narrative or explanation.
As a viewer, I feel no desire to tell you anything about anything in the film.
That's not the point.
It feels so freeing to realise.
That isn't the point of looking at art.
For me the importance of the film is as much what happens afterwards, the thinking that happens, the feeling, the implications, how the film is still with us.
The queerness of the mental space.
Here's an image, that I've stolen from the Scotland and Venice website.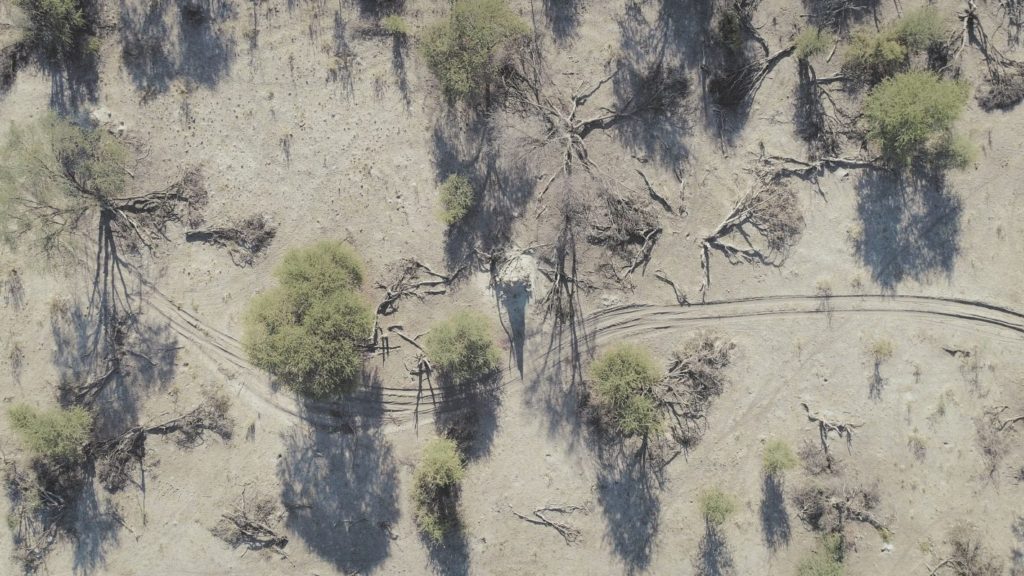 It's taken from a drone, in Africa, above an anthill, Charlotte is speaking over the footage, that's all I'll say.
Charlotte's film is going to tour Scotland over the next few months. If you cannot make it to Venice you have to go and see, the details are here.
I am so very grateful to Cathy, to Nicole, to Charlotte.
I am grateful for the experience they have given us here in this city.
We go slowly, we are not rushed. They have helped us be this way.
That is what art can be.